Enjoy the rich tapestry of flavors with a bowl of traditional Borscht! A symphony of garden-fresh ingredients: vibrant beets, hearty potatoes, aromatic onions, crunchy cabbage, sweet carrots, and a hint of garlic.
This hearty soup, with its mesmerizing ruby hue, not only captivates the eyes but also warms the soul. Whether enjoyed piping hot or chilled, it's a timeless dish that never fails to delight.
This post contains affiliate links. As an Amazon Associate, I earn from qualifying purchases.
What Makes This Warm Borscht the Perfect Soup for Fall and Winter?
Everyone has heard of Borscht, but most people haven't tried it. It's time to remedy that with this warm traditional borscht recipe. Borscht has a lot going for it as a cold-weather soup.
Its main ingredients, beets, carrots, onions, and cabbage, are all hearty enough to grow into the late fall, so you know you won't be eating vegetables that have been sitting around for months. Fresher ingredients mean better taste and more nutrition.
And it is tough to beat Borscht for keeping colds at bay. Delicious, warm, fresh, and healthy; what more could you want when it is cold outside?
Why You Should Try This Recipe
There are so many versions of Borscht out there, and you may want to try them all, but this recipe is a great place to start. The ingredients are inexpensive, and cooking the soup couldn't be any easier besides the prep work.
Getting someone to try a beet-based soup is challenging enough, but cold beet soup is probably a deal-breaker. This warm version makes it a little easier to convince a reluctant diner to taste it! As a bonus, this traditional borscht recipe is vegetarian and vegan-friendly, meaning everyone can enjoy it.
What is the difference between Polish, Russian, and Ukrainian Borscht?
Ukrainian Borscht is a hearty soup with beets, cabbage, potatoes, carrots, onions, garlic, and tomatoes at its core. Often, a piece of meat, pork, is used to prepare the broth. It is usually served with a dollop of sour cream and fresh dill or parsley. Some variations might include beans or bell peppers, and the flavor profile can be slightly sweet-sour due to adding sugar and vinegar or lemon juice.
Russian Borscht shares many foundational ingredients with its Ukrainian counterpart, such as beets, cabbage, potatoes, carrots, and onions. However, it might use tomato paste instead of fresh tomatoes and sometimes incorporate bell peppers and celery. The soup is typically served with sour cream and may accompany black bread or pirozhki. It might be slightly less tangy than the Ukrainian version, and there's also a green variant that uses sorrel instead of beets.
Polish Borscht, often referred to as "barszcz" stands out with its clearer broth and often lacks vegetables like potatoes or cabbage in the final dish. Beets are the star ingredient, complemented by onions and garlic. The soup is typically served with sour cream or clear, accompanied by "uszka" (tiny mushroom-filled dumplings), particularly during Christmas Eve dinner. Barszcz in Poland can be more tangy than its counterparts and cold or hot. Another Polish variation is the "white borscht," based on fermented rye flour with sausage and hard-boiled eggs.
Warm Red Borscht Soup Ingredients
For this Borscht recipe, you'll need:
Fresh Beets
White onions
Potatoes
Cabbage
Medium Carrots
Fresh Parsley
Garlic
Salt
Water
Vegetable oil
White wine vinegar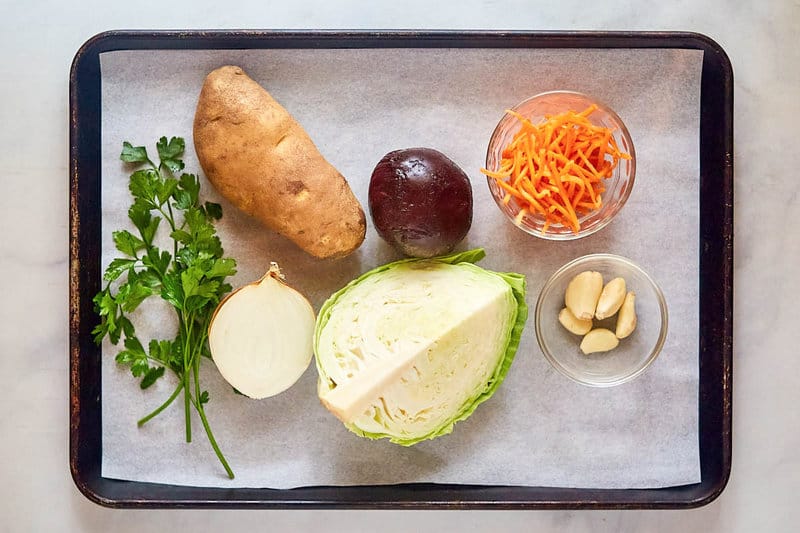 Ingredient Notes and Substitutions
High-starch potatoes like Russets will thicken the soup nicely. For a thinner consistency, try Yukon Gold potatoes.
You can substitute vegetable oil with light olive oil.
You can substitute all or part of the water with vegetable, chicken, or beef broth.
You can substitute white wine vinegar with lemon juice.
Add 1 or 2 bay leaves for extra savory flavor.
Recipe Tip: Red beets will stain your hand and other surfaces. Wear gloves and use a cutting board that you don't mind it getting stained.
How to Make Vegetarian Borscht
To prep the borscht soup recipe:
Peel and slice the white onions into thin strips and set them aside.
Peel and dice the potatoes into medium bite-sized pieces and place them into a water bowl to prevent browning.
Rough chop the parsley and reserve.
Remove the outer leaves of the cabbage and chop into large pieces.
Peel the beets and carrots and shred both vegetables into a bowl.
Mash the garlic and keep it for later.
To cook the borscht soup:
Bring a large pot of salted water to a boil.
Simmer the diced potatoes with the chopped parsley in the water until the potatoes are fork-tender.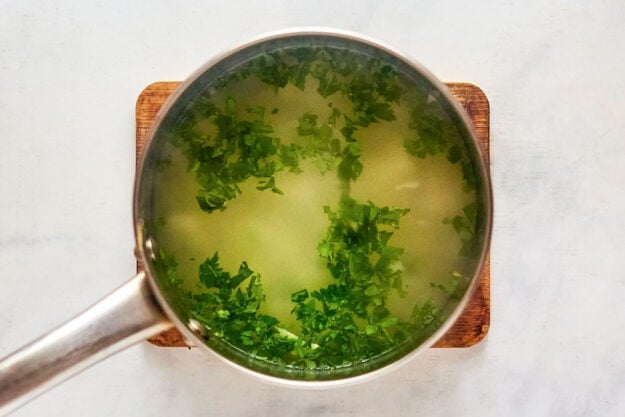 Meanwhile, in a large skillet over medium-high heat, saute the sliced onions in oil until translucent.
Add the shredded beets and carrots to the skillet.
Stir in the white wine vinegar and heat through.
Transfer the vegetable mixture in the skillet to the pot with the tender potatoes.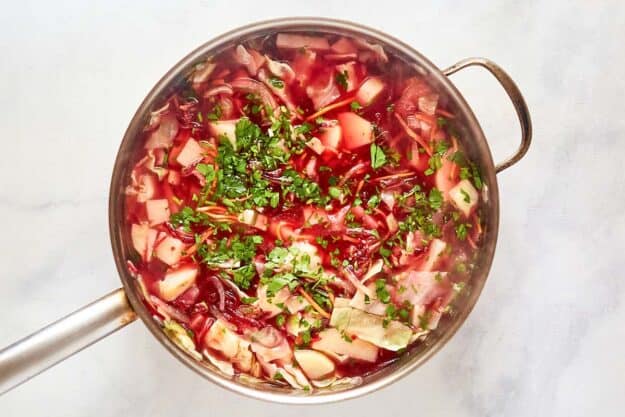 Turn off the heat, add the mashed garlic, and stir well.
Serve warm in a bowl.
What To Top Borscht With
In addition to the almost mandatory dollop of sour cream (you can also use vegan sour cream), there are a few traditional toppings that can take vegetarian Borscht to the next level:
Chopped fresh dill. The herb brightens the soup with its distinct aroma and unique flavor.
Sliced green onions. The mild onion flavor and the crunch of green onions make it a favorite topping.
Freshly grated horseradish. For its aromatic spice and head-clearing ability, horseradish is a welcome addition when the weather is cold.
Hard-boiled eggs. Cut in half and floated in a bowl of Borscht, hard-boiled eggs bring a lot of protein to the dish.
Croutons. Croutons made from stale rye or black bread add a crunch that contrasts well with the soft ingredients and make the soup more filling.
What to Serve With Borscht
Borscht works as a light lunch or a starter for roasts. You can also pair this vegetarian Borscht recipe with side dishes to prepare a full meal. Here are some classic and modern suggestions:
Pampushky is a type of Ukrainian garlic bread that is easy to make and goes well with borsht. Here is a good recipe for Pampushky if you want to try making it.
Cured meats, like sausages, are an easy and delicious way to round out a borscht-based meal.
A hunk of black or rye bread is an excellent, delicious, authentic addition.
How to Store Traditional Borscht
You can keep red borscht in an airtight container in the refrigerator for up to three days.
If you want to keep the soup for a month or more, you can freeze it. Portion the soup into food-safe bags and put the bags into an airtight container in the freezer. Let the frozen borscht thaw overnight in the fridge.
What Is the Best Way to Reheat Borscht?
The key to reheating borscht is to avoid it coming to a simmer:
Put the cold borscht in a saucepan over low heat.
Stir constantly until the soup is at the proper temperature.
Serve with garnishes.
Favorite Soup Recipes
Popular Vegetarian Recipes
Check out more of my easy soup recipes and the best vegetarian recipes on CopyKat!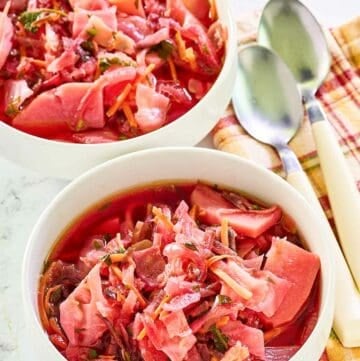 Ingredients
4

quarts

water

2 1/2

pounds

potatoes

peeled and cubed

1/2

cup

chopped parsley

salt

to taste

2

onions

thinly sliced

oil

2

pounds

beets

shredded

1

cup

shredded carrots

white wine vinegar

2

pounds

cabbage

cut into 7-inch chunks

2

teaspoons

mashed garlic
Instructions
Bring the water to a boil in a large pot. Add the potatoes, parsley, and salt and cook for about 12 minutes or until the potatoes are tender.

In a separate deep pan, sauté the onions in oil until translucent. Add the beets, carrots, and vinegar and cook until soft.

Add the cabbage and sauteed vegetables to the pot with the boiled potatoes. Turn off the heat and add the garlic. Taste and add additional salt if necessary.
Notes
When reheating, do not boil or the bright red color will be lost.
Nutrition
Calories:
89
kcal
|
Carbohydrates:
19
g
|
Protein:
3
g
|
Fat:
0
g
|
Saturated Fat:
0
g
|
Cholesterol:
0
mg
|
Sodium:
80
mg
|
Potassium:
629
mg
|
Fiber:
5
g
|
Sugar:
6
g
|
Vitamin A:
1570
IU
|
Vitamin C:
35.7
mg
|
Calcium:
69
mg
|
Iron:
3.2
mg