Almond brittle is delicious and crispy candy enjoyed for generations. It's a great recipe to make for the holidays and homemade gifts.
This post contains affiliate links. As an Amazon Associate, I earn from qualifying purchases.
Homemade Brittle Candy
Almond brittle is the perfect candy to make for the holidays. With this easy recipe, you can add homemade almond brittle to your holiday candy lineup.
What is almond brittle made of?
This is a classic brittle recipe. You will need to make sure that you have your sugar, corn syrup, almonds, and a few other key ingredients in stock in your pantry this holiday.
I promise you will be making this recipe over and over for the perfect homemade gift. Or even just to eat for yourself or a holiday party dessert recipe.
Almond Brittle Ingredients
You probably have a good majority of the ingredients you need for this recipe. But as the holidays come up, you might find yourself running out of ingredients. So take a look at the list and make sure you have everything you need:
Sugar
Light corn syrup
Water
Salt
Butter you can use salted or unsalted butter
Unblanched almonds
Baking soda
How to Make Almond Brittle Without Corn Syrup
If you are wanting to try and make this almond brittle recipe with no corn syrup, I would suggest using golden syrup. It is one of the best substitutes for corn syrup.
If you cannot find golden syrup in your local grocery store, you can purchase golden syrup on Amazon.
Can I use other nuts?
You do not have to use almonds for this recipe. You can use any raw nut that you prefer. Or you can use a mixture of nuts as well.
Here are a few nuts I would suggest using in this recipe:
Peanuts
Pecans
Walnuts
Cashews
How to Make Almond Brittle
Combine sugar, corn syrup, water, salt, and butter in a large pan.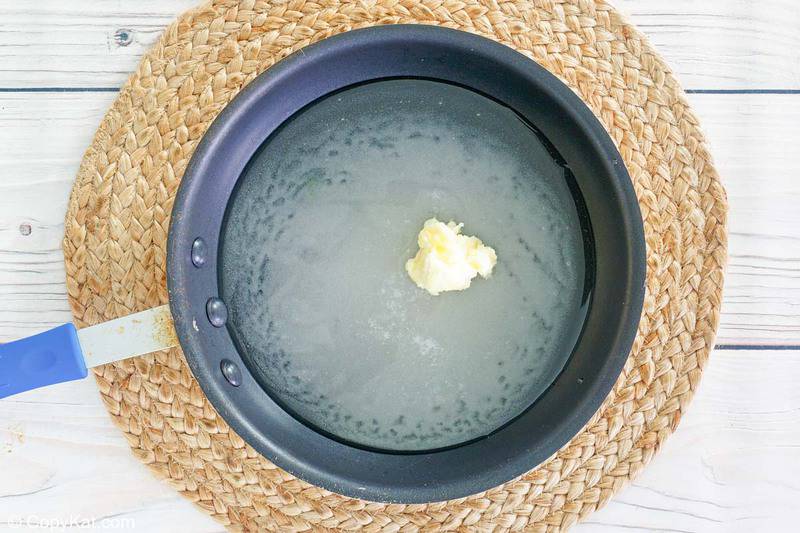 Cook stirring constantly, until sugar dissolves.
Cover pan for one minute to slide down any sugar crystals from the side of the pan.
Uncover pan and insert a candy thermometer into the liquid. Cook until the mixture reaches the soft crack stage.
Remove the pan from the heat and add nuts.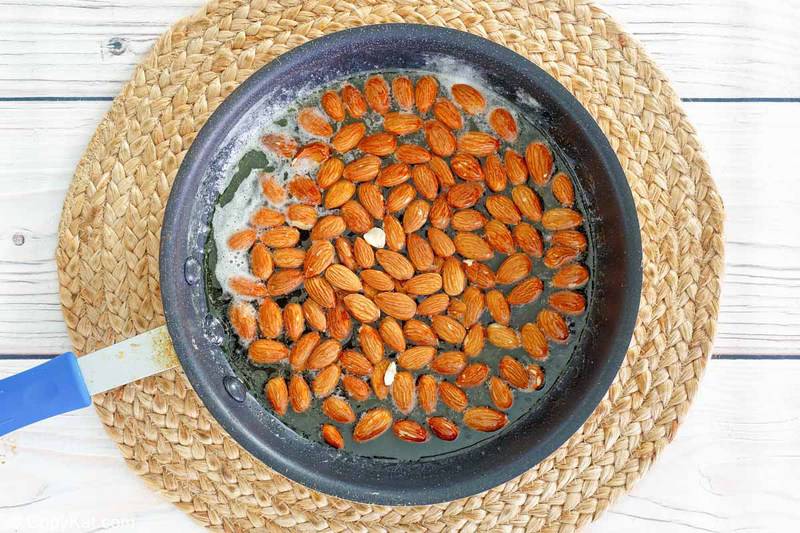 Place the pan back on the heat and cook until hard crack stage.
Remove from heat and add baking soda. Mix well.
Let the foam settle just a little before spreading the mixture on a well-buttered baking sheet.
Allow the brittle to cool and harden then break it into pieces.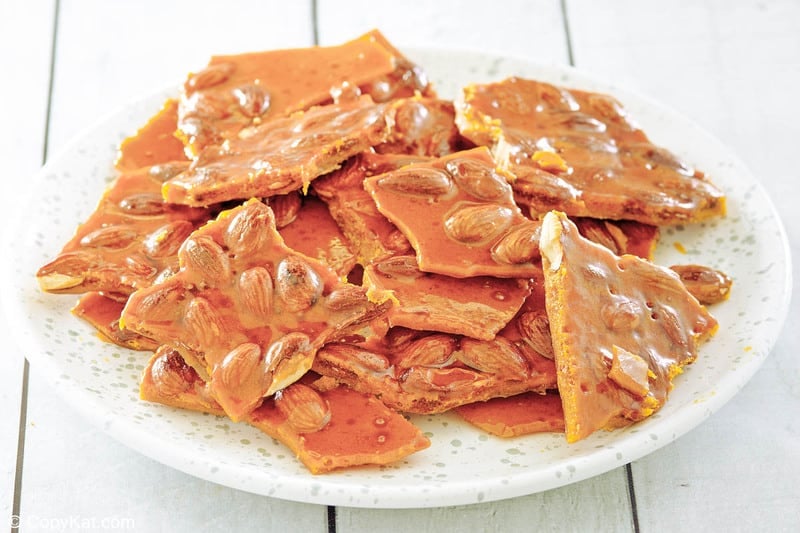 Why is my almond brittle crumbly?
Chances are that if you are having a hard time and your brittle is crumbly, then it was not cooked long enough.
The brittle needs to hit the hard-crack stage in order to set up properly and look smooth. If this does not happen you will definitely not get the consistency of brittle.
That is why using a candy thermometer is very important. You cannot always tell by looking at the mixture in the pan if it has cooked long enough.
But, if you do not have a candy thermometer you will want to see a sugar strand break easily. It should also be dry and not sticky to the touch.
How to Store Almond Brittle
The best way to store almond brittle is in an airtight container at room temperature. When the brittle is stored in the fridge it begins to lose its brittle-like consistency. It will draw the moisture from the fridge and become soft.
When kept at room temperature in a dark place, brittle can last from 6 to 8 weeks.
Can Almond Brittle Be Frozen?
As long as you store the brittle in an airtight freezer-safe container, then yes, this is a great candy to freeze. Almond brittle can be safely frozen for up to 3 months.
I like to freeze my brittle before sending out packages for the holidays to make sure it arrives nice and fresh. However, it is not necessary.
This is a great recipe to send by mail since it does have a longer shelf life and is not extremely fragile.
Enjoy making candy? Try these recipes!
Best Christmas Cookie Recipes
Check out more of my easy candy recipes and the best Christmas recipes here on CopyKat!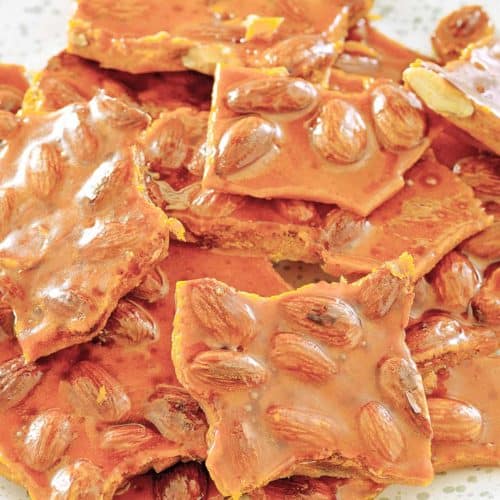 Ingredients
1

cup

sugar

1/2

cup

light corn syrup

1/2

cup

water

1/4

teaspoon

salt

1

tablespoon

butter

1

cup

whole unblanched almonds or peanuts

1

teaspoon

baking soda
Instructions
Combine the sugar, corn syrup, water, salt, and butter in a large saucepan. Cook until the sugar dissolves, stirring constantly.

Cover the pan for one minute to remove any sugar crystals from the side of pan.

Uncover the pan, insert a candy thermometer, and cook until the mixture reaches the soft crack stage (between 270 and 290 F.) Remove from the heat.

Add the almonds or peanuts, and return to the heat until it reaches the hard crack stage (Between 300 and 310 F.) Remove from the heat.

Add the baking soda, and mix well. Let the foam settle just a little before spreading on a well-buttered

cookie sheet

.
Nutrition
Calories:
136
kcal
|
Carbohydrates:
22
g
|
Protein:
1
g
|
Fat:
5
g
|
Saturated Fat:
0
g
|
Cholesterol:
1
mg
|
Sodium:
118
mg
|
Potassium:
63
mg
|
Fiber:
1
g
|
Sugar:
21
g
|
Vitamin A:
20
IU
|
Calcium:
25
mg
|
Iron:
0.3
mg