Recreate the magic of Applebee's signature Red Apple Sangria at home! Dive into this refreshing sangria, a delightful fruity drink with a blend of red apple liqueur, vibrant wine, and a splash of citrus. Every sip is like a bite of autumn, making it the perfect drink for cozy nights or festive gatherings.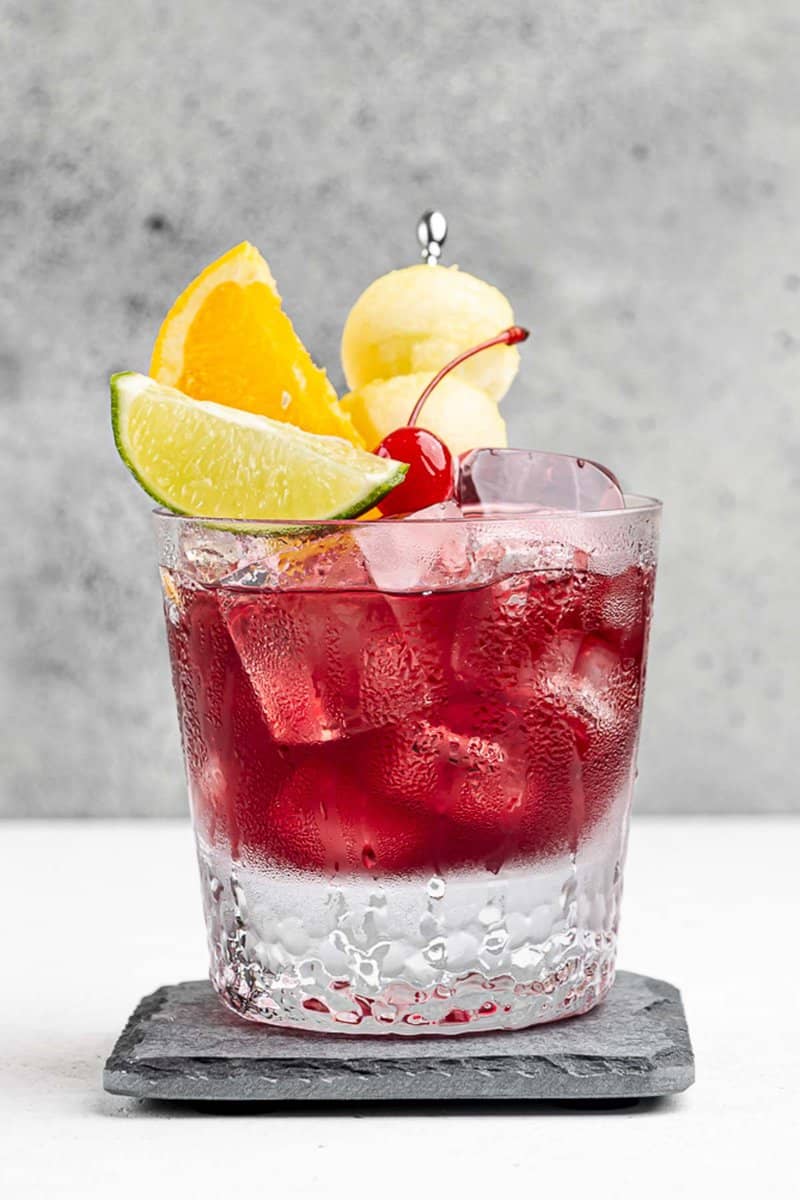 This post contains affiliate links. As an Amazon Associate, I earn from qualifying purchases.
What Makes Applebee's Red Apple Sangria So Good?
This Applebee's Red Apple Sangria will give you a good, boozy kick in the rear. Unlike other versions of this drink, there's no apple cider or time-consuming macerated fruit to deal with, just a shot of red apple schnapps guaranteed to keep you warm.
The pineapple and cranberry juices combine into a sweet and sour component that cuts through the richness of the cabernet, creating a perfectly balanced cocktail.
Why You Should Try This Recipe
This wine-based cocktail recipe plays on Applebee's Signature Cocktail, Red Sangria. Although the ingredients are essentially the same, the only difference is the use of DeKuyper Red Apple Schnapps instead of peach schnapps. The slight change gives this version a much more autumn feel.
And since you won't find Red Apple Sangria on Applebee's menu these days, making it yourself is the only way to enjoy it. But don't worry; you don't have to be a mixology genius to make this drink; it's straightforward.
Are you planning a fall brunch? Mixing up a pitcher is easy, and Red Apple Sangria will store well in the fridge.  Want to try more cocktails? Try these fall-inspired cocktails.
Red Apple Sangria Ingredients
For this copycat Applebee's Red Apple Sangria recipe, you'll need:
Stutter Home Cabernet
DeKuyper Red Apple Schnapps
Grenadine
Pineapple juice
Ocean Spray cranberry juice cocktail
Lemon-lime soda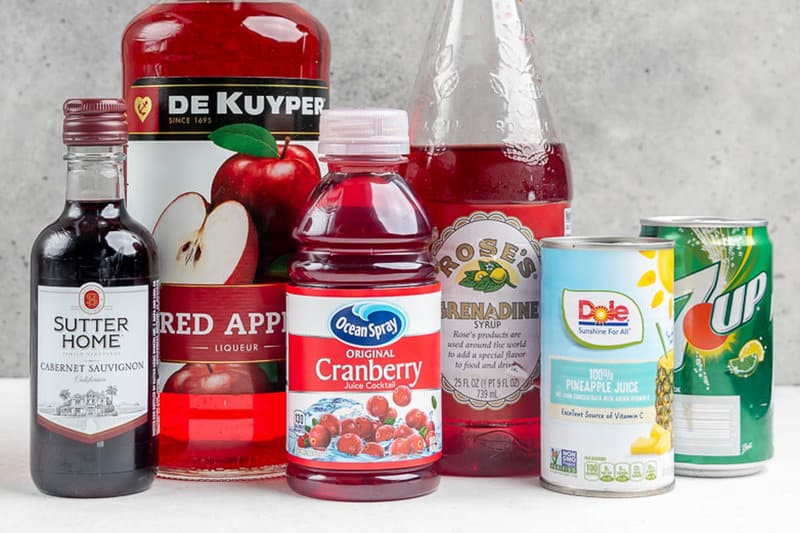 Ingredient Notes
Cabernets are full-bodied and acidic, making them able to stand out in a sangria. But you don't have to use Stutter Home Cabernet. Here are three other inexpensive but good red wine options:
Alamos Cabernet Sauvignon is from Argentina and is very reasonably priced. It has notes of blood orange, coffee, and vanilla. The wine from 2021 is particularly good.
Los Vascos Cabernet Sauvignon hails from Chile and is herbal with the flavor of dark fruits, including plum and black raspberry. The 2020 vintage is well-regarded, and the price reflects that, but other years will be almost as good in this drink.
Columbia Crest Grand Estates Cabernet Sauvignon comes from the US, and although inexpensive, its tart fruitiness, vanilla, and chocolate undernotes blend well with the other ingredients in this drink. The wine from 2018 is preferable, but another year will do just fine.
Grenadine can add more than color to a cocktail when you choose one made with real pomegranate juice, pure cane sugar, and other natural flavors like Liber & Co. Real Grenadine. Yes, it is more expensive than the brands that aren't much more than dye and corn syrup, but it's well worth it.
If you can't find De Kuyper red apple schnapps, you can use Shakka red apple vodka.
Don't use pure cranberry juice in this cocktail since it is too tart. If you don't want to use Ocean Spray, you can use another brand of cranberry cocktail.
7-Up, Sprite, or Sierra Mist will work for the lemon-lime soda.
How to Make The Best Red Apple Sangria
To prepare a single serving:
Pour all the ingredients except the lemon-lime soda into a mixing glass and stir using a bar spoon.
Pour the Red Apple Sangria over ice and top with the lemon-lime beverage of your choice.
Garnish with fresh fruit, a slice of red apple, and/or maraschino cherry if you choose. You can also use a melon baller to make apple balls. Skewer apple ball with a cocktail skewer or a small kebab skewer.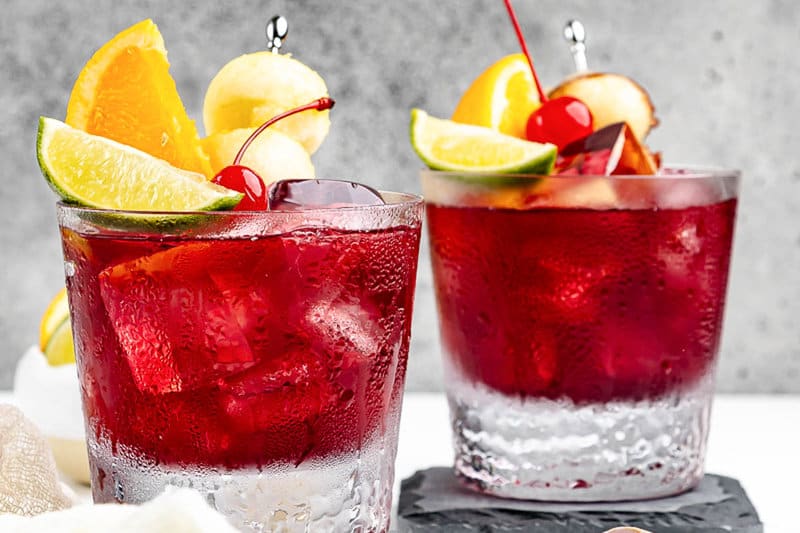 What to Serve This Drink With?
A Red Apple Sangria pairs the best with bright, smoky, and slightly sweet foods. Here are just a few suggestions for you to try:
Grilled chicken with pineapple and citrus salsa. The chicken's slight smokiness complements the wine's oakiness. At the same time, the fruit salsa echos the flavors in the sangria.
Smoked salmon, red onions, capers, tomatoes, and cream cheese on a toasted bagel. The lox and bagel's acidity, creaminess, and salty smokiness heighten the sangria's sweet and sour aspects.
Fruit salad with fruit dip. The sweet acidity of the fruit and the creaminess of the dip pair wonderfully with the flavors of the sangria.
How to Make Applebee's Red Apple Sangria Ahead of Time
Mix up enough Applebee's Red Apple Sangria for eight servings:
Pour a bottle of cabernet into a large pitcher.
Add a cup each of Red Apple Schnapps, pineapple juice, and cranberry juice.
Add half a cup of grenadine.
Stir well and chill in the fridge.
To serve:
Fill serving glasses with ice cubes.
Pour the Red Apple Sangria into the glasses, leaving an inch and a half at the top.
Add an inch of lemon-lime soda to the glass.
Stir, garnish with a quarter slice of red apple, and serve.
How Long Does Red Apple Sangria Last?
The wine will start to oxidize immediately, but you can keep a Sangria made without ice in the fridge for a day or two before serving.
Love Applebee's Food and Drinks? Try these copycat recipes!
Favorite Fruity Cocktail Recipes
Check out more fruity cocktails and the best copycat restaurant recipes on CopyKat!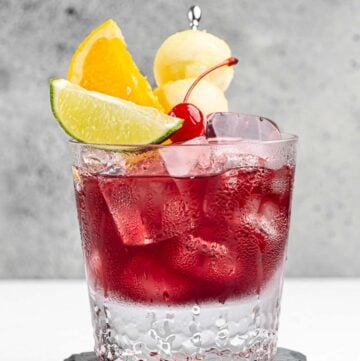 Ingredients
3

ounces

Sutter Home Cabernet Sauvignon

1

ounce

DeKuyper Red Apple Schnapps

1/2

ounce

grenadine

1

ounce

pineapple juice

1

ounce

Ocean Spray Cranberry Juice Cocktail

1

ounce

lemon-lime soda

plus extra
Garnishes
Orange wedge

Lime wedge

Maraschino cherry

Apple pieces

cut with a melon baller
Instructions
Pour the wine, schnapps, grenadine, pineapple juice, cranberry juice cocktail, and lemon-lime soda into a shaker and stir.

Fill a glass with ice. Pour the sangria over the ice and top off with additional lemon-lime soda. Stir slightly and garnish with an orange wedge, lime wedge, cherry, and a few apple pieces.
Notes
Tip: Use a melon baller to cut the apple pieces.
Nutrition
Calories:
223
kcal
|
Carbohydrates:
29
g
|
Protein:
0.2
g
|
Fat:
0.1
g
|
Polyunsaturated Fat:
0.03
g
|
Monounsaturated Fat:
0.01
g
|
Sodium:
8
mg
|
Potassium:
45
mg
|
Fiber:
0.1
g
|
Sugar:
22
g
|
Vitamin A:
4
IU
|
Vitamin C:
15
mg
|
Calcium:
6
mg
|
Iron:
0.1
mg