You can make IHOP buttermilk pancakes just like they do—it is easy to do! We are proud of this long-awaited creation. Enjoy these famous fluffy pancakes at home!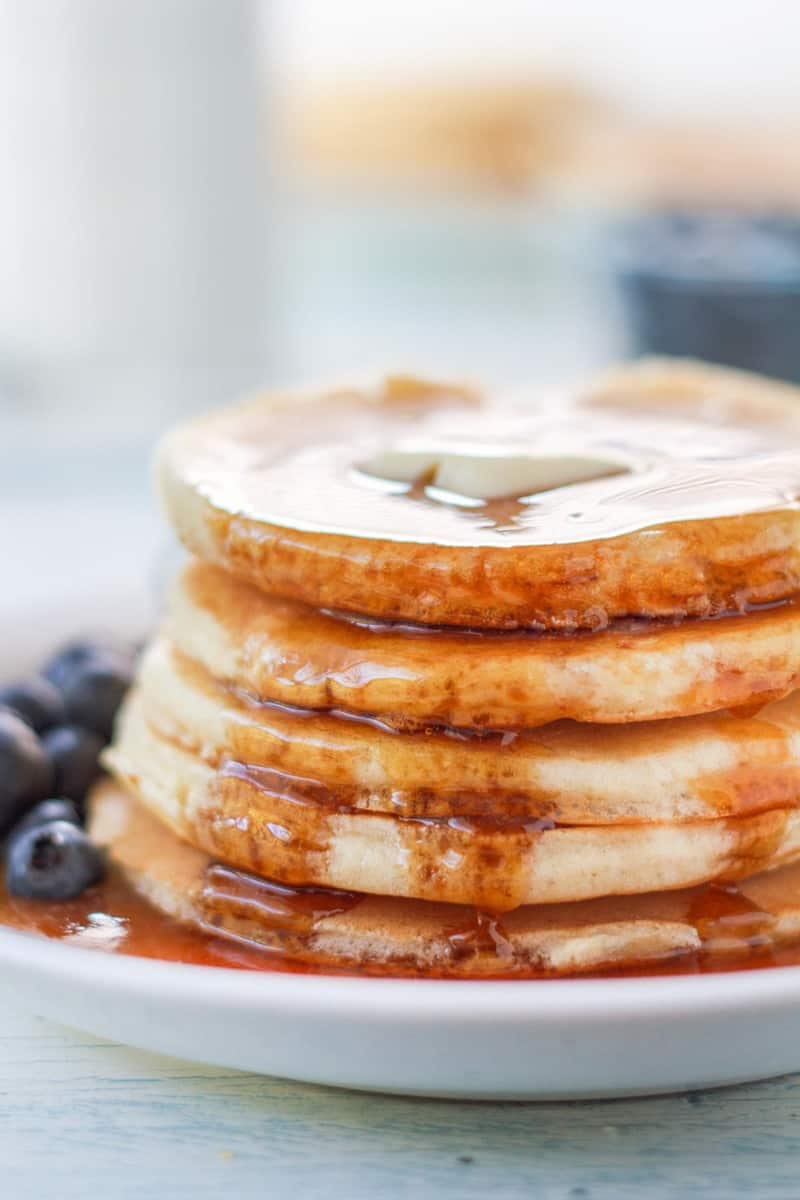 This post contains affiliate links. As an Amazon Associate, I earn from qualifying purchases.
IHOP Buttermilk Pancakes
Who doesn't love a great big stack of IHOP's famous pancakes? Now you can have these anytime without a long line. I sometimes know on the weekend the line can go out the door. When you make breakfast at home, the lines are short! Guess what, your food is just as delicious.
I love these pancakes because they have a wonderful flavor, a little sweet, and the buttermilk gives them a bit of a tang.
They aren't hard to make at all. Sometimes I will make a double batch so I have some to freeze and enjoy later.
What Makes these IHOP Buttermilk Pancakes so Good?
IHOP serves many different kinds of pancakes, but believe it or not, according to a survey by Mashed, the original buttermilk pancakes are still the favorite. It's not too surprising when you think about it.
There is just something comfortingly delicious about the combination of tangy buttermilk, rich butter, and sweet syrup.
What Makes This the Best Recipe to Try for Making IHOP Pancakes at Home?
There are a lot of IHOP pancakes recipes floating around the internet, but this version takes the, uh, cake. It is straightforward and delivers tasty and fluffy pancakes that are just like the ones you get at IHOP. What's not to love?
IHOP Pancake Recipe Ingredients
All-purpose flour
Baking powder
Sugar
Salt
Baking soda
Buttermilk
Vegetable oil
Egg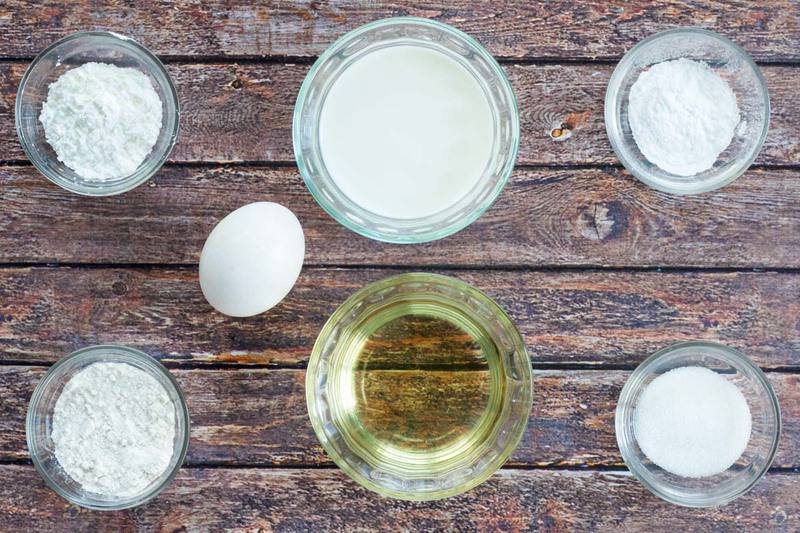 How to Make IHOP Pancakes
To make the batter:
Whisk the flour, baking powder, sugar, salt, and baking soda together in a large mixing bowl.
Whisk the egg, buttermilk, and oil in a separate mixing bowl.
Pour the wet ingredients into the dry ingredients and stir just enough to mix everything. Don't overmix.
Cover the bowl and pop it in the fridge for 10 minutes. Then stir the batter to make sure there aren't any patches of dry ingredients and that most of the lumps are out.
If the batter is a little thick, thin it out with a bit of buttermilk.
To make the pancakes:
Heat a griddle or heavy-bottom skillet (cast-iron is perfect) over medium-low heat.
Once the pan is hot, lightly coat the cooking surface with a thin layer of vegetable oil.
Pour enough batter on the cooking surface to form four-inch pancakes. Space the pancakes so you can easily flip them with a spatula.
Let the pancakes cook until tiny bubbles form on the surface and the edges begin to dry out.
Cook the second side until it is golden brown.
Place the cooked pancakes on a baking tray in a WARM oven (200°F) under an aluminum foil tent and finish cooking the rest of the pancakes.
How to Store, Freeze, and Reheat IHOP Pancakes
Homemade IHOP pancakes freeze beautifully and make a quick and filling midweek breakfast. You can store extra pancakes overnight in an airtight container in the fridge, but for any longer than that, it is best to freeze them.
To freeze pancakes:
Cool the pancakes on a wire rack.
While the pancakes cool, cut parchment or wax paper into squares about the same size as the pancakes.
Stack the pancakes with a sheet of parchment or wax paper between each one and stack them in a freezer bag.
Store in the freezer for up to a month.
The easiest way to reheat pancakes is in the microwave:
Heat three frozen pancakes for about a minute and a half.
Heat pancakes from the fridge for around 45 seconds.
IHOP Pancakes Recipe Toppings
From the mundane to the extraordinary, pancakes toppings seem endless. Here are three exciting toppings to try:
Poached fruit. Apples and peaches are particularly delicious. Don't forget to drizzle some cooking liquid onto the pancakes for extra flavor.
'Smores. Spread a thin layer of Fluffernutter between each pancake, top with chocolate sauce, and sprinkle with crushed graham crackers.
Banana Custard. Spread vanilla pudding between each layer of pancakes. Place a dollop of whipped cream on top of the stack, add a few slices of fresh banana and a sprinkling of crushed vanilla wafers.
FAQs for IHOP Original Buttermilk Pancakes
How Does IHOP Get Its Pancakes so Fluffy?
IHOP Original Buttermilk Pancakes owe their fluffiness to both baking soda and baking powder in the recipe. Baking soda and baking powder are both rising agents that release C02; however, they do it slightly differently.
Baking soda is 100 percent sodium bicarbonate and creates CO2 when it mixes with acid and a liquid, in this case, the only slightly acidic buttermilk. Baking powder contains sodium bicarbonate and powdered acid, so it only needs a liquid to generate CO2.
How Many Calories Are in IHOP Buttermilk Pancakes?
According to the IHOP's nutritional menu, each buttermilk pancake contains around 150 calories and 6 grams of fat. But remember, that is before adding butter and syrup!
What Is the Difference Between Original and Buttermilk Pancakes?
All the various IHOP pancake recipes are based on buttermilk pancakes, but you can find non-buttermilk pancakes elsewhere. The main difference between the two varieties is that regular pancakes use whole milk instead of buttermilk and don't have any buttermilk tang that many people adore.
Love IHOP? Check out these copycat recipes
More Breakfast Recipes
Check out even more of my easy breakfast recipes and copycat food.
Ingredients
1 1/4

cups

all-purpose flour

1 1/2

teaspoons

baking powder

2 1/2

teaspoon

sugar

1/2

teaspoon

salt

1/2

teaspoon

baking soda

1 1/2

cups

buttermilk

plus 2 to 4 tablespoons if needed to thin the batter

2

tablespoons

vegetable oil

plus more for the pan (or nonstick cooking spray)

1

egg

lightly beaten

Syrup,

for

serving
Instructions
Place the flour, baking powder, sugar, salt, and baking soda in a bowl. Whisk to combine.

Add the buttermilk, oil, and egg.

Use a spoon to mix all ingredients until smooth.

If batter seems to be too thick while you're cooking the pancakes, add a little more buttermilk and mix well.

Heat a skillet or a

griddle

over medium-low heat. Brush with a little oil or spray with nonstick cooking spray.

Pour in batter until it spreads to the desired size.

Let the batter start to show small bubbles on top before you turn the pancake over to finish cooking.

Cook the pancakes until golden on both sides.

Serve warm with your favorite syrup.
Notes
This recipe makes about nine 4-inch pancakes.
Turning pancakes is made much easier if you spray your pancake turner with a nonstick spray. The turner does not stick to the uncooked pancake batter when you are turning them.
Nutrition
Calories:
356
kcal
|
Carbohydrates:
37
g
|
Protein:
14
g
|
Fat:
16
g
|
Saturated Fat:
9
g
|
Cholesterol:
235
mg
|
Sodium:
610
mg
|
Potassium:
398
mg
|
Fiber:
1
g
|
Sugar:
7
g
|
Vitamin A:
475
IU
|
Calcium:
208
mg
|
Iron:
3
mg