If you have never tried the Outback Steakhouse Walkabout Soup, you are missing a creamy bowl of soup. This is a creamy onion soup that is hearty and filling. This is a perfect soup for a cold winter day when you want something a little hearty.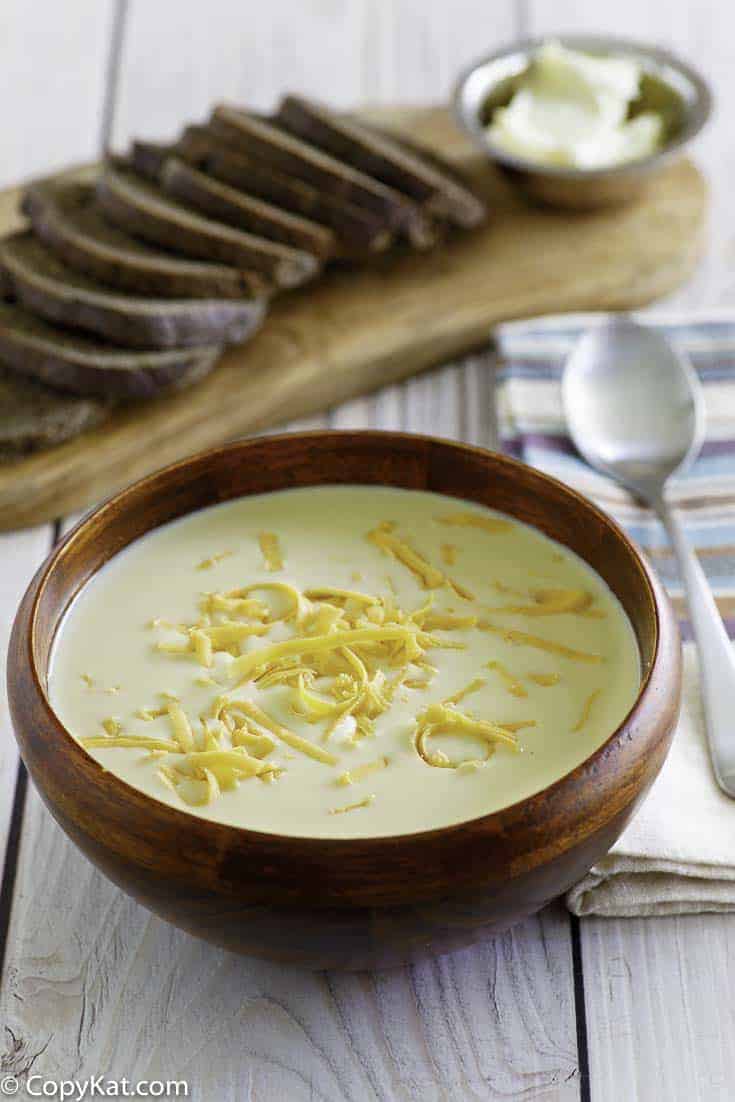 Making the Famous Outback Steakhouse Walkabout Soup
Unfortunately, the Outback Steakhouse Walkabout Soup has gone on a walkabout from Outback Steakhouse. If you've been disappointed when they removed it from their menu, you can recreate this soup while staying at home.
About the Walkabout
The walkabout belongs to the Australian Aborigines. It was a cultural rite of passage in which young Aborigines between the ages of ten and sixteen undertook a journey to help transform them into adults.
This journey could last for up to six months, and the participant had to live and survive all alone in the Australian wilderness.
Only those youngsters who had proven themselves mentally and physically ready were allowed to proceed with the walkabout, and the tribal elders decided who should go.
Ingredients
Here's what you need for this creamy onion soup:
Sweet Yellow Onions
Butter
Chicken Broth
Salt and Pepper
Chicken Bouillion Cubes
All-purpose Flour
Milk
Velveeta Cheese
I like to use Walla onions, but if you can't find them you could use 1015 onions or any other kind of sweet onion. I find that white onions also work well for this recipe.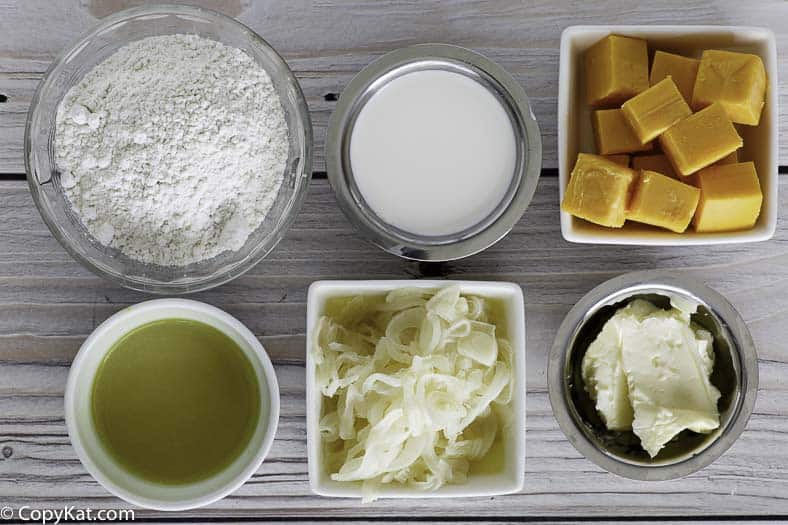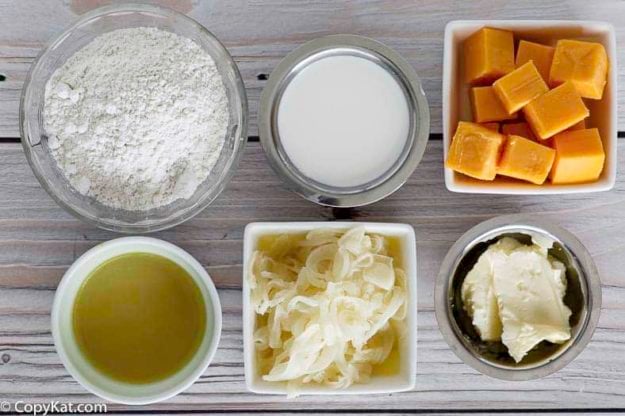 How to Make Outback Walkabout Soup
In a medium-sized saucepan, place butter and sliced onions. Cook at low to medium heat, stirring frequently until onions are soft and clear but not brown.
Add chicken broth, chicken bouillon cubes, salt, and pepper. Stir until completely heated through.
In a small saucepan, melt butter and add flour. Cook on medium heat until the flour turns thick and comes away from the side of the saucepan.
Pour milk into the flour mixture a little at a time and stir constantly. Add salt.
Continue to stir constantly until the mixture thickens and becomes like thick pudding.
Remove from heat and set aside until ready to use for the soup.
Add thickened flour mixture (white sauce) and Velveeta cheese to the onion-broth mixture.
Simmer on medium-low heat until the cheese is melted and all ingredients are blended, stirring constantly.
Turn temperature to warm and let cook for an additional 30 to 45 minutes.
How to Cut the Salt
You may want to use low sodium products when making this recipe, as between the chicken bouillon and the Velveeta cheese this soup may become too salty for some.
You can also use unsalted butter and low-sodium chicken broth. I always like to undersalt slightly when cooking because I can always adjust the seasoning after the fact.
Recipe Tip
You want to make sure your sauce gets hot enough while you are in the roux stage. It needs the heat to get going. Sometimes if you are too timid on the heat, it won't get thick enough.
Anytime when making a roux and your ratio is right, but it isn't coming together, just kick up the heat a bit. It will do the trick.
No Longer on the Menu – But this Soup Remains Tasty
This was one of my favorite soups from Outback Steakhouse. The Walkabout Soup is not only easy to make but has just a few simple ingredients. So, you won't be running out to the store to make this soup.
This recipe makes four small portions which are the perfect starters to a meal. It may become your "go-to" soup, and every last drop will get enjoyed.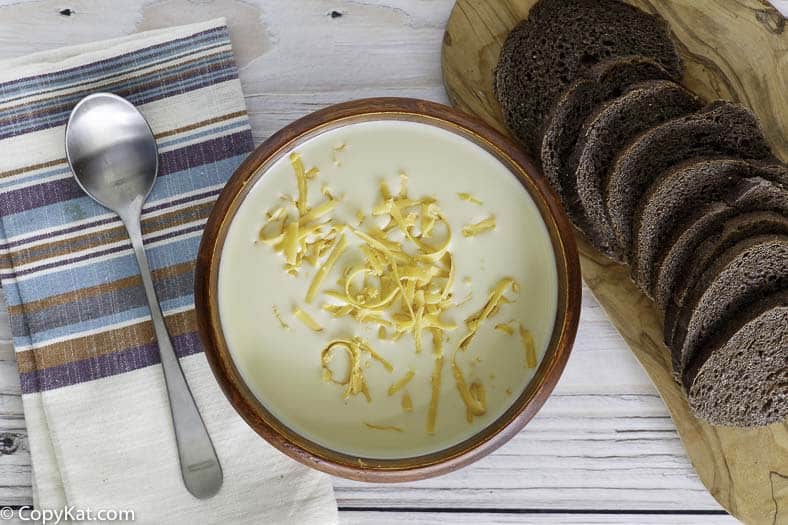 More Comforting Soup Recipes
Popular Outback Copycat Recipes
Be sure to check out more of my copycat restaurant soup recipes and famous restaurant copycat recipes.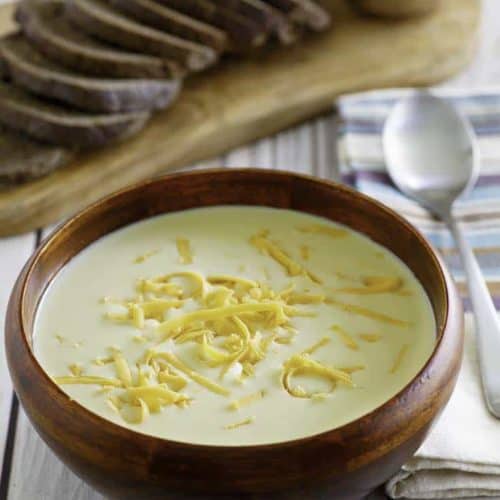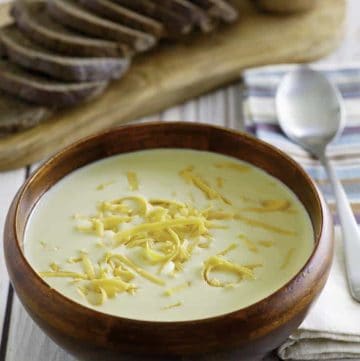 Ingredients
6

tablespoon

butter

divided use

2

cups

thinly sliced sweet yellow onions

14.5

ounces

chicken broth

2

cubes

chicken bouillon

1/4

teaspoon

freshly ground black pepper

1/2

teaspoon

salt

divided use

3

tablespoons

all-purpose flour

1 1/2

cups

whole milk

1/4

cup

Velveeta cheese

Shredded cheddar cheese

to garnish

Dark Russian bread

to serve
Instructions
Place 3 tablespoons of butter and the onions in a 2-quart saucepan and cook over medium-low heat, stirring frequently, until the onions are soft and translucent but have not browned. Add the chicken broth, bouillon cubes, pepper, and 1/4 teaspoon of salt and stir until heated through.

Melt 3 tablespoons of butter in a 1-quart saucepan over medium heat. Add the flour and cook until it thickens and comes away from the sides of the saucepan. Add the milk a little at a time, stirring constantly. Then add 1/4 teaspoon of salt. Keep stirring to prevent any lumps from forming as the mixture thickens to the consistency of thick pudding. Remove from the heat and set aside until ready to use.

Transfer the contents of the smaller saucepan to the larger saucepan along with the Velveeta cheese. Simmer on medium-low heat, stirring constantly, until the cheese melts and all the ingredients are blended. Turn the temperature to warm and cook for an additional 30 to 45 minutes.

Serve with a garnish of shredded cheddar cheese and a few slices of warm, dark Russian bread.
Nutrition
Calories:
297
kcal
|
Carbohydrates:
18
g
|
Protein:
7
g
|
Fat:
21
g
|
Saturated Fat:
13
g
|
Cholesterol:
60
mg
|
Sodium:
1213
mg
|
Potassium:
370
mg
|
Fiber:
1
g
|
Sugar:
9
g
|
Vitamin A:
820
IU
|
Vitamin C:
13.1
mg
|
Calcium:
218
mg
|
Iron:
0.6
mg