PF Chang's Chang Mai Tai is a fruity cocktail perfect for a hot summer day. This delicious drink is made with three types of rum and orange curacao. It really packs a whollop! You are going to love this Mai Tai recipe.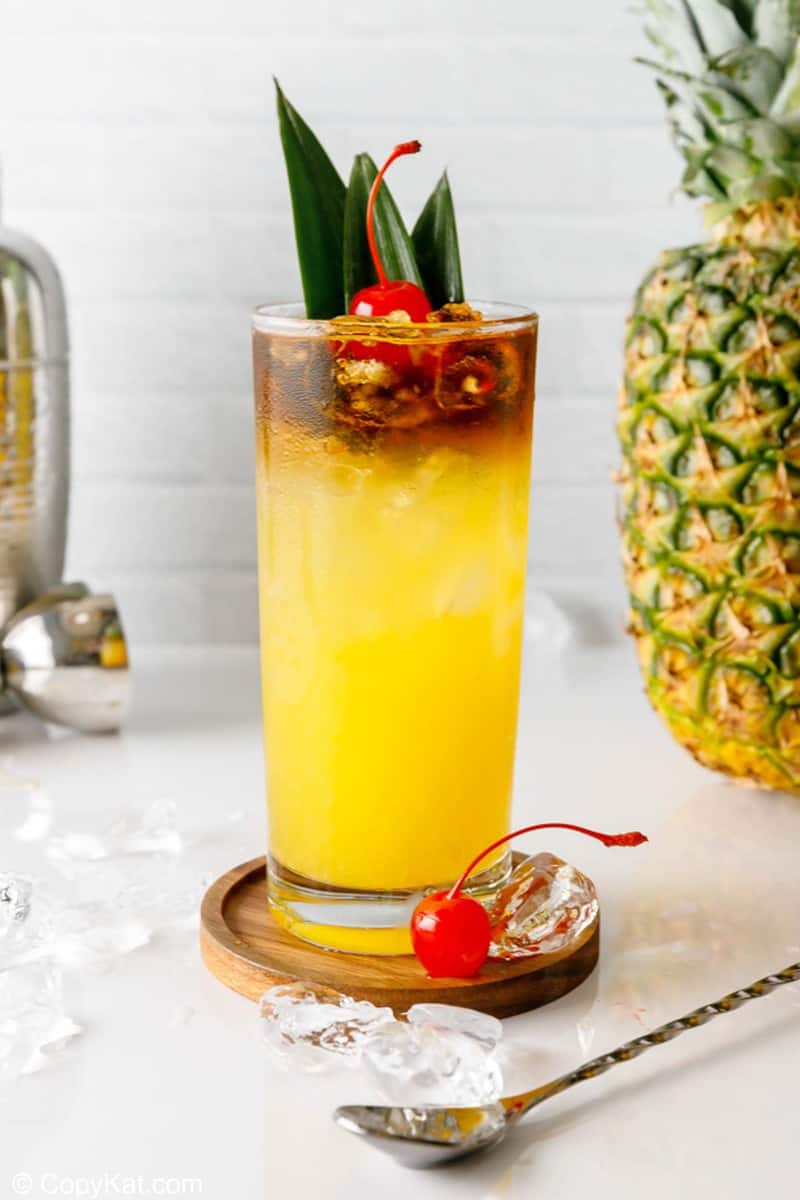 Tropical Mai Tai Recipe
You probably can't escape to a tropical beach this weekend, but that's no reason why you shouldn't drink like you are in paradise. This Mai Tai from PF Chang's China Bistro will transport you to your favorite Tiki Bar fantasy.
PF Changs Mai Tai isn't the typical Mai Tai you will find in most bars. It has a much more complex and sophisticated flavor. You are going to love this delicious summer cocktail recipe. The next time you want to get away, give this recipe a try.
What's in this PF Changs Cocktail?
It takes a lot of different bottles of booze to make a PF Changs Mai Tai:
Bacardi Superior Light Rum One of the most popular rums globally and the standard go-to for mixed drinks, Bacardi Superior Light Rum is crystal clear with a touch of sweetness. At 80-proof, it is definitely not going to knock your socks off, but it's quite respectable. Barcadi makes some of the best bang-for-your-buck rums out there, and almost every liquor store carries Barcardi Superior Light Rum, but any clear rum will work in a pinch.
Hiram Walker Orange Curacao Flavored with the peel of the famous laraha citrus fruits that grow on the Caribbean island of Curacao, this cordial clocks in at just 30-proof. While the taste is extremely similar to the Hiram Walker's Blue Curacao, this one is, well, not going to make your tongue look like you just sipped a blue Icee. Feel free to substitute the blue version of this cordial if you don't mind drinking something that looks awful but tastes excellent. Alternatively, try an equal amount of Triple Sec.
Myer's Dark Rum Dark rums tend to have a more intense flavor than light rums, and Myer's Dark Rum is an excellent example of this type of rum. Tasting experts can pick out honey, raisins, and dark chocolate elements, but most people will only notice its heavier mouthfeel. In this recipe, Myer's Dark Rum is used mainly as a float to add a cool effect to the drink; therefore, any dark rum will work well in this cocktail.
Barcardi 151 Rum At 75.5 percent alcohol, Bacardi 151 Rum is all about adding alcohol content to a drink. While this may not be a rum that is designed for sipping, it is not as harsh as other types of high-proof liquors. Bartenders who are into flair often use this rum in cocktails that they want to set on fire for dramatic effect. An alternative to Barcardi 151 Rum is Trader Vic's, the creator of the Mai Tai, favorite overproof rum, Lemon Hart 151.
Monin Almond Syrup The secret ingredient that turns PF Changs Mai Tai into something unique. Monin Almond Syrup is entirely alcohol-free, and you can buy it in most grocery stores. Monin's Almond Syrup is also 100 percent natural, and you can even find it in a sugar-free version. If you can't find the Monin brand near you, the Torani brand is almost the same. Amaretto offers almond characteristics and, of course, raises the overall alcohol level of the drink.
Tips for Making and Serving a PF Chang's Mai Tai
Don't forget the garnishes! Tiki drinks are all about excess, so don't skimp on pineapple chunks and maraschino cherries. For extra points, use cutlass-shaped swizzle sticks and paper parasols.
You don't need to serve these drinks in a novelty coconut glass, but it sure is fun! Otherwise, use an old-fashioned glass.
Choose juices without pulp. Save that OJ with extra pulp for breakfast!
Check out more of our copykat cocktails on YouTube!
Recipe Ingredients
Here's a list of what you need:
Bacardi Light Rum
Monin Almond Syrup
Hiram Walker Orange Curacao
Myers's Dark Rum
Barcardi 151 Rum
Pineapple slice
Maraschino cherry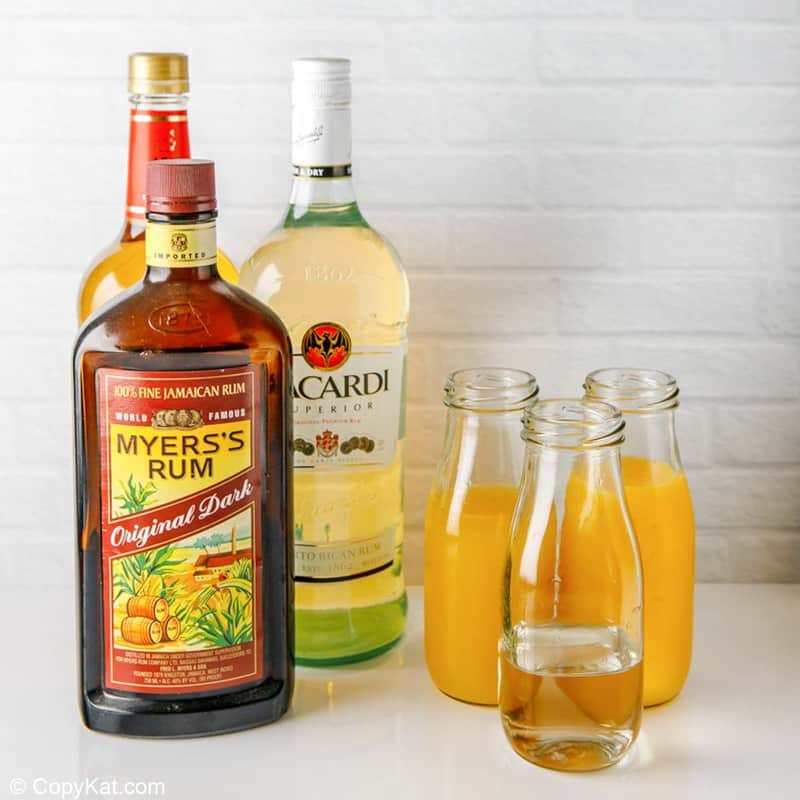 How to Make PF Chang Mai Tai
Fill a cocktail shaker with ice.
Add light rum.

Add almond syrup.

Add orange curacao.

Shake and strain into a highball glass filled with ice.

Pour dark rum and 151 rum on top.

Garnish with pineapple and cherry.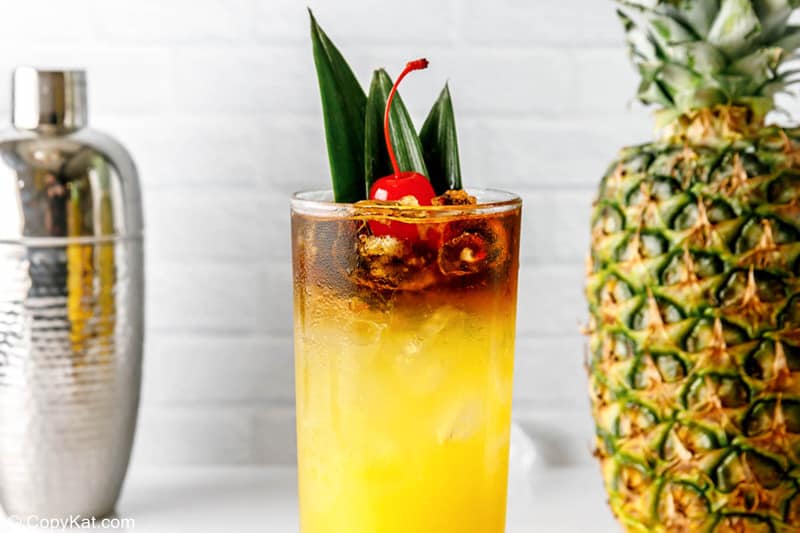 Easy Cocktail Recipes
Favorite Restaurant Copycat Recipes
Check out more of my easy cocktail recipes and the best copycat recipes for casual dining restaurants here on CopyKat!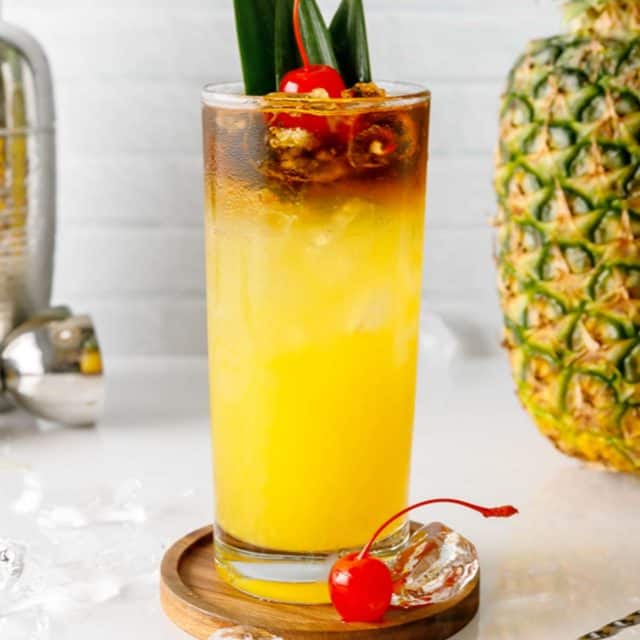 Ingredients
ice

1 1/2

ounces

light rum

1

ounce

almond syrup

1/2

ounce

orange curaçao

1/2

ounce

dark rum

1/4

ounce

151 rum

pineapple slices or chunks

to garnish

maraschino cherry

to garnish
Instructions
Add the light rum, almond syrup, and orange curaçao to a cocktail shaker with ice.

Shake and strain into a highball glass filled with ice.

Pour dark rum and 151 rum on top and garnish with pineapple and a cherry.
Nutrition
Calories:
302
kcal
|
Carbohydrates:
35
g
|
Protein:
1
g
|
Fat:
1
g
|
Sodium:
18
mg
|
Potassium:
91
mg
|
Fiber:
1
g
|
Sugar:
33
g
|
Vitamin A:
31
IU
|
Vitamin C:
5
mg
|
Calcium:
16
mg
|
Iron:
1
mg