Raglan Road located in Downtown Disney makes the most wonderful Guinness dipping sauce. When St. Patrick's Day comes around people are dusting off their recipes for Irish Soda Bread, well I have the perfect dipping sauce for you. Guinness is reduced down along with sugar and makes a wonderful tangy dipping sauce for bread. I would highly recommend dining there if you can, last time I went along with my friend and her husband's family, this place was on the Disney Dining Plan. We loved everything we tried there; we ate, and ate, and ate.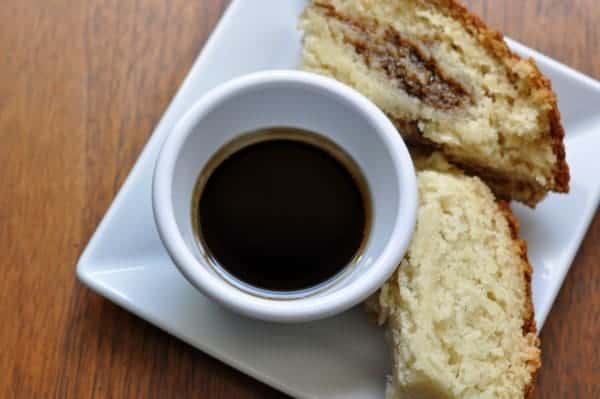 One of the great things about a trip to the Disney Food and Wine Festival is the chance to try as many different restaurants as possible. My most favorite dessert of my visit was Raglan Road's Bread and Butter Bread Pudding. After already being stuffed to the gills, I made room for this wonderfully moist and rich bread pudding. Unlike some bread puddings, this one is not overly spiced; rather, butter notes zing the taste buds. This is one Irish inspired dessert you don't want to miss out on!
Where is the Raglan Road?
If you live in Dublin, Ireland you know all about Raglan Road. It's a quiet road lined with magnificent Georgian houses, but that's not why it's famous. It was made memorable by the Irish poet Patrick Kavanagh who wrote a love poem he called, The Dawning of the Day. In the 1960s, the Irish folk singer Luke Kelly set the poem to music. Raglan Road has since become one of THE Irish songs and has been sung by many well-known artists such as U2, Sinead O'Connor, and Van Morrison. In a tribute to Patrick Kavanagh, a bronze sculpture of the poet was commissioned and now sits outside the Raglan Road Irish Pub and Restaurant in downtown Disney. You can read the poem.
A Real Irish Pub
You'll find an Irish pub in many towns and cities in America, but what makes the one at Disney different? It's a real Irish pub, meaning that it was dismantled in Ireland, shipped across the Atlantic lock stock and beer barrel, and rebuilt in Florida. Everything about Raglan Road is authentically Irish – the food, the musicians, the dancers, the drinks, and many of the staff. It's as Irish as Irish could be. Read more about Raglan Road by clicking here and here.
Make the Famous Raglan Road Bread and Butter Pudding at Home
I adapted this recipe from one I found online that used regular bread. I found that your run-of-the-mill loaf did not have enough body to hold up while baking and the crème anglaise made the bread go soggy. Using French bread or challah worked out just fine. Regarding the butter, I do recommend using Kerry gold if you can find it in your area – it has a richer flavor than most supermarket butters – and it's Irish! My directions are also for a 13 x 9-inch pan, as this size makes preparation easier and gives you smaller serving sizes.
This Bread Pudding is Totally Worth it
This recipe does require a few extra steps, but the results are so worth the effort and it will come out just like the one they have at Raglan Road. You'll get lots of praises from your family, and this will soon be one of your favorite bread pudding recipes.
Links of Interest
Raglan Road Bread and Butter Bread pudding
The Raglan Road Cookbook
History of Guinness Beer
Geekfare – Irish Soda Bread
This blog post contains an affiliate link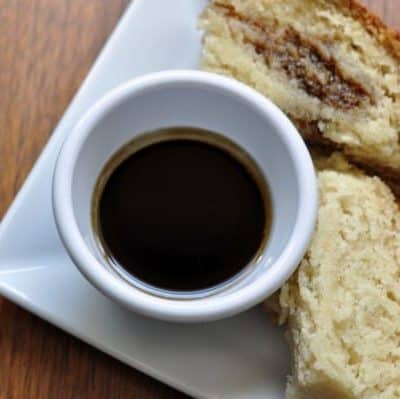 Ingredients
1 3/4

cups

Guniness

1 23

cups

brown sugar
Irish Soda Bread
3

cups

flour

1/2

cup

sugar

1

teaspoon

kosher salt

2 1/2

teaspoons

baking soda

1/4

cup

cold unsalted butter cut into small pieces

1

1/2

cups buttermilk

1

tablespoon

milk
Instructions
In a medium-sized pot combine the Guinness and sugar, simmer on low for approximately an hour. This mixture will reduce by at half if not more. The more this reduces the better, as you will end up with a tangy sauce.

do not walk away while this is cooking, it will bubble up while cooking, and you need to stir it from time to time so it does not bubble over the stove. Let the sauce cool to room temperature before serving.

When you are ready to serve the sauce place equal amounts of the reduction and olive oil (you do not need to use extra virgin, in fact, don't, the flavor won't be right).

Dip pieces of bread into the reduction and enjoy. Irish Soda Bread This is not the Raglan Road's Irish soda bread, this is an Irish Soda bread that I like to make. I couldn't get past the delicious dipping sauce to even begin to focus on their bread.

Preheat oven to 350 degrees. Mix together flour, sugar, salt, and baking soda in a large bowl. Cut butter into flour mixture using a pastry blender until the butter is well dispersed and the mixture is crumbly. Add buttermilk and stir until just moistened. Knead for 1 minute on a floured surface. Shape into a ball and place into a 1 1/2 quart greased casserole. Use a sharp knife to cut and 'X' across the top. Brush with milk and bake for about 45 minutes tented with foil for the last 15 minutes. Turn loaf onto a wire rack to cool.
Nutrition
Calories:
195
kcal
|
Carbohydrates:
33
g
|
Protein:
3
g
|
Fat:
4
g
|
Saturated Fat:
2
g
|
Cholesterol:
10
mg
|
Sodium:
458
mg
|
Potassium:
42
mg
|
Fiber:
0
g
|
Sugar:
8
g
|
Vitamin A:
120
IU
|
Calcium:
9
mg
|
Iron:
1.5
mg