Save money and make a Starbucks Mocha Frappuccino at home with this easy DIY copycat recipe. Enjoy a tasty chocolate coffee frozen drink any time you have a craving.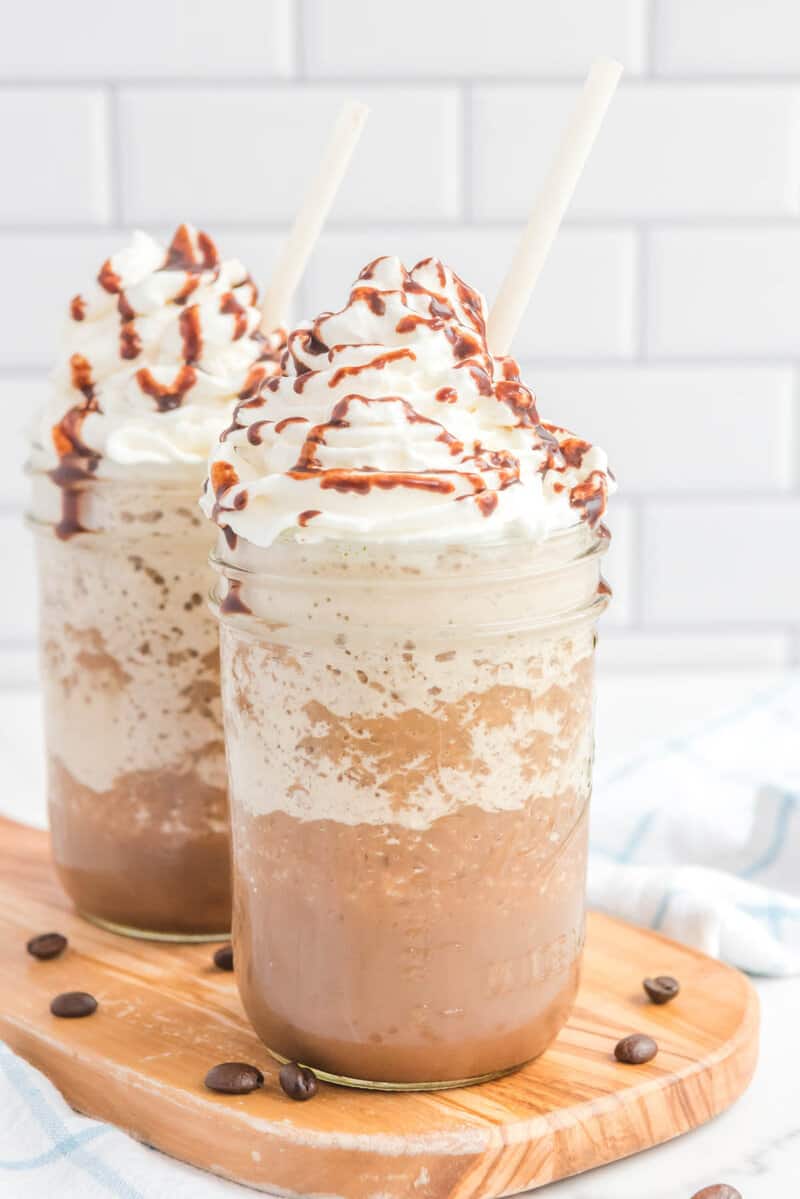 This post contains affiliate links. As an Amazon Associate, I earn from qualifying purchases.
Copycat Starbucks Mocha Frappuccino
It's hard to imagine a better coffee drink experience than Starbucks Mocha Frappuccino! It's so good! Like me, you probably see it as one of your favorite frozen coffee drinks. After all, it satisfies the caffeine craving with syrup, chocolate mocha, and even whipped cream.
Copycat Starbucks Mocha Frappuccino is one of those recipes that's super fast and easy to blend up and drink while relaxing at home or on the go. Once you try the recipe your first time, mixing up the blended drink or any of the yummy variations will be a cinch. You need it ready and available whenever the mood hits. Look at how easy it is.
What Makes Copycat Starbucks Mocha Frappuccino One of the Most Desired Drinks?
Copycat Starbucks Mocha Frappuccinos are frozen drinks made with blenders. Blending ice, milk, coffee, Frappuccino base syrup, coffee, and mocha sauce is easy.
Then, top the drink with whipped cream. This frozen Frappuccino drink is the perfect combo. Making a homemade mocha frappuccino in your blender makes it healthier.
That also means your whole day will be better. To satisfy Frapp cravings, keep a few extra brewed cups in the fridge, just waiting for your caffeinated requirement. You know you'll be brewing coffee in the morning. So, you might as well save some for those later-in-the-day frozen drinks.
Why You Should Try This Recipe
Sometimes you're just in the mood for a Frappuccino, but you don't want to run to the local coffee spot. With this Copycat Starbucks Mocha Frappuccino recipe, you can get the frozen drink you've been craving, particularly on hot summer days, without leaving home.
You don't need an espresso machine. Just use coffee brewed in a regular coffee maker.
A copycat Starbucks Mocha Frappuccino is a delectable frozen drink treat for parties, get-togethers, and just about any special occasion. For those cold days, you can try the hot coffee variation.
You can start enjoying this beverage for holidays, celebrations, and other times of the year. You can bring this special frozen drink every day!
What You Might Need For Copycat Starbucks Mocha Frappuccino
Here are a few of the tools you may need for the Chocolate Mocha Frappuccino Starbucks recipe:
Ingredients
For this recipe, you'll need the following ingredients:
Brewed coffee
Half and half
Ice cubes
Vanilla extract
Maple syrup
Granulated sugar
Chocolate syrup
Sea salt
Whipped cream
How To Make Starbucks Mocha Frappuccino
Combine all ingredients in a blender, except for garnishes.
The coffee mixture should be smooth and thoroughly combined after 1 to 2 minutes of blending at medium speed.
Fill two serving cups with the frappuccino mixture.
Before serving, drizzle chocolate syrup and whipped cream over the frozen drink.
Top Tips for Copycat Starbucks Mocha Frappuccino
Here are just a few of my favorite top tips and tricks I use to make Copycat Starbucks Mocha Frappuccino even better! It's easy to make this recipe even more delectable. You can use trial and error to find your favorite frozen drink. Here are a few top tips.
Make sure you use your favorite brand of coffee.
Fine-ground coffee may have more flavor, but it will be more difficult to filter.
You can also use coarse coffee for the recipe.
Arabica or Robusta blends of coffee roasts might go better with chocolate.
You use 1% or whole milk in this recipe depending on your preference or desire for fewer calories or less fat.
You can also substitute oat, almond, soy, or coconut milk.
Use a spoonful of unsweetened, raw dark cocoa powder instead.
Add toffee or caramel.
Sprinkle mini chocolate chips or chocolate shavings on top.
As you try blends and variations for coffee, milk, and chocolate, you'll discover or rediscover the frozen drink that's perfect for you. You can also adjust the drink with sugar-free and fat-free ingredients to support your health and wellness. Enjoy your guilt-free Mocha Frappe to keep cool and refreshed all year long.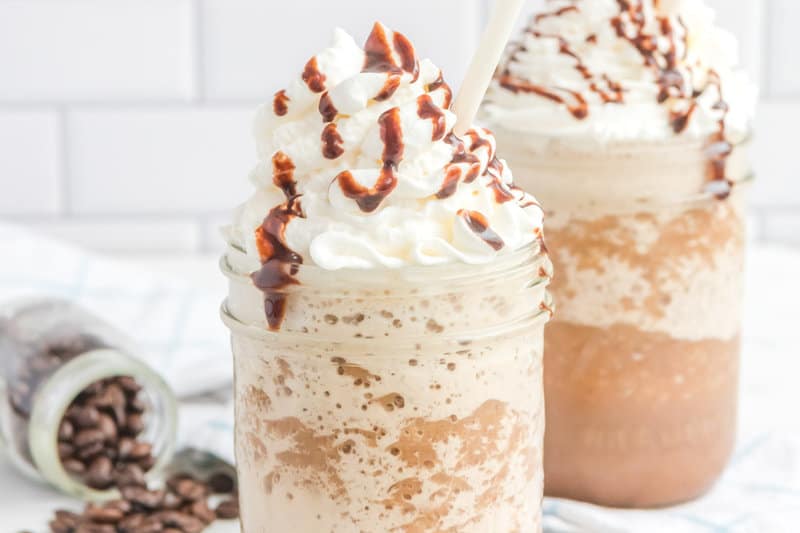 What Can You Serve with a Mocha Frappuccino
Mocha Frappuccino pairs well with a fudge brownie or muffin. It's perfect for breakfast, lunch, or dinner. Of course, the last meal of the day may not be the first one you think of for your Mocha Frappuccino drink, but it's versatile enough to drink any time of the day.
Make a Copycat Starbucks Mocha Frappuccino to serve with your snack. You can also serve it with a side of your favorite ice cream. You can also serve Copycat Starbucks Mocha Frappuccino after-dinner dessert or when you need a bit of that caffeinated goodness to enhance the chocolate and caramel delectability.
How Much Caffeine in Starbucks Mocha Frappuccino
As you determine how much caffeine in Starbucks Mocha Frappuccino, you may know that it has 110 mg. Depending on your health and fitness goals, you can adjust the caffeine levels of this coffee drink to support your needs better. It's so easy to make it decaf or low-caffeine.
More Starbucks Frappuccino Recipes
Favorite Summertime Drink Recipes
Check out more of my easy drink recipes and the best Starbucks copycat recipes on CopyKat!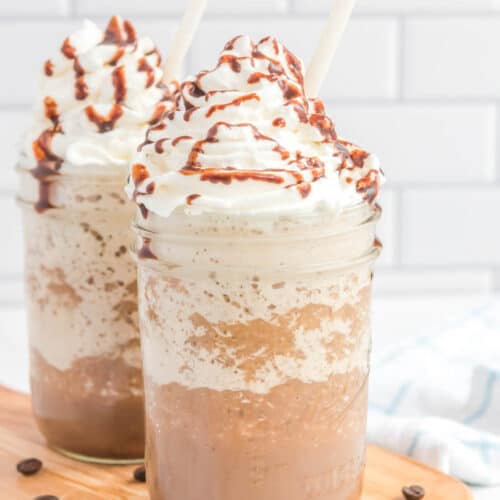 Ingredients
¾

cup

brewed coffee

room temperature or cold

½

cup

half and half

2

cups

ice

1

teaspoon

vanilla extract

1

tablespoon

maple syrup

3

tablespoons

granulated sugar

3

tablespoons

chocolate syrup

plus more for garnish

1

pinch

sea salt

¼

cup

whipped cream

for garnish
Instructions
Add all ingredients except garnishes to a blender.

Blend on medium speed for 1 to 2 minutes or until mixture is smooth and ingredients are fully combined.

Pour the frappuccino mixture into 2 servings cups.

Top with whipped cream and a drizzle of chocolate syrup before serving.
Notes
You may need to gently stir the frappuccino in the middle of the blend cycle.
If the mixture is too icey or hard to pour out of the blender, add ¼ cup of brewed coffee and blend again.
Nutrition
Calories:
285
kcal
|
Carbohydrates:
48
g
|
Protein:
3
g
|
Fat:
9
g
|
Saturated Fat:
5
g
|
Polyunsaturated Fat:
0.4
g
|
Monounsaturated Fat:
3
g
|
Cholesterol:
27
mg
|
Sodium:
93
mg
|
Potassium:
227
mg
|
Fiber:
1
g
|
Sugar:
42
g
|
Vitamin A:
266
IU
|
Vitamin C:
1
mg
|
Calcium:
97
mg
|
Iron:
1
mg