Bring the hearty flavors of Texas Roadhouse Seasoned Rice to your dinner table with this easy copycat recipe! Perfectly spiced, aromatic rice dish is an irresistible side that pairs beautifully with any entrée. A savory blend of herbs and spices ensures a flavorful bite every time.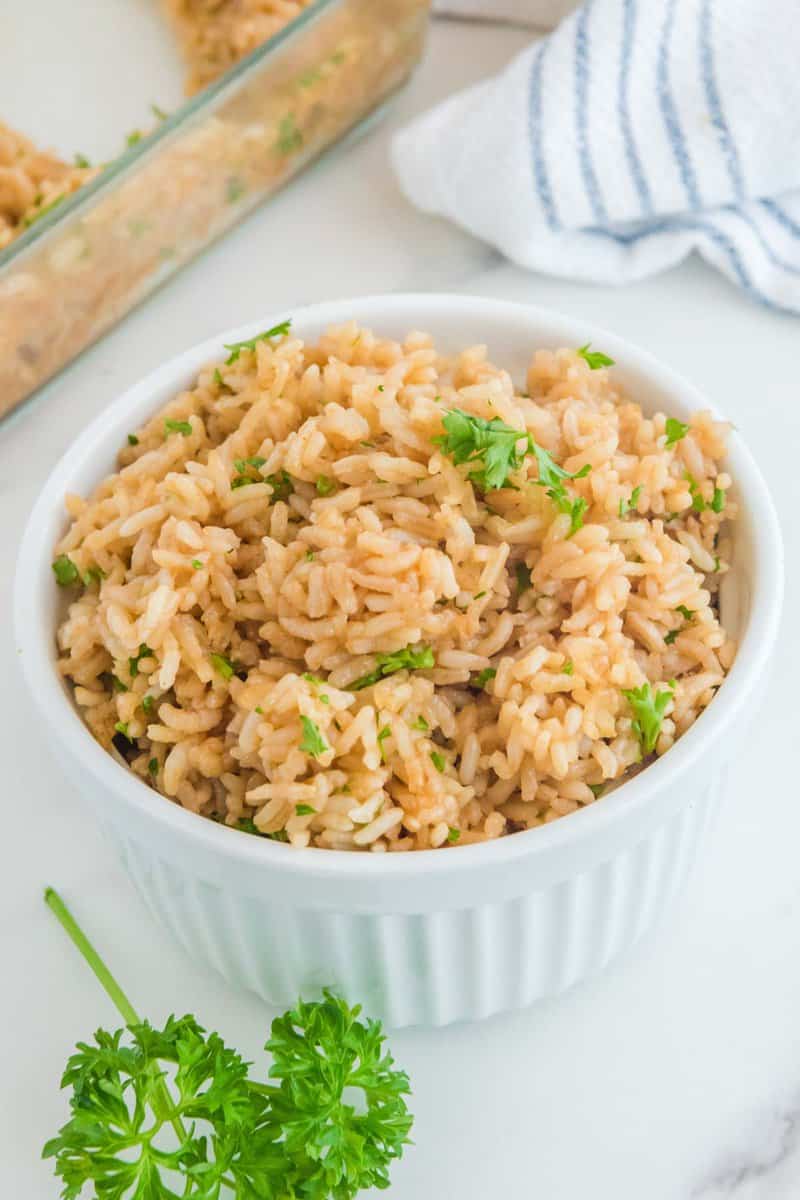 This post contains affiliate links. As an Amazon Associate, I earn from qualifying purchases.
What Makes the Texas Roadhouse Seasoned Rice So Good?
Rice is bland and boring, right? Nope! Not when it's Texas Roadhouse Rice. This long-grain rice pilaf is oven-simmered in beef stock and then seasoned with authentic Creole spices for one of the tastiest and most versatile side dishes you can imagine.
If you have never tried Texas Roadhouse Seasoned Rice before, you don't know what you are missing!
Why You Should Try This Recipe
Tastewise, this is a spot-on version of the seasoned rice served at Texas Roadhouse, but it's still super easy to make. Unlike other copycat recipes for this dish, this one foregoes a long list of ingredients in favor of using a prepared seasoning mix, a shortcut that saves a lot of time and effort.
You don't have to boil rice, just put uncooked rice in a dish with stock, butter, and seasonings then bake it in the oven. It's super quick to prep.
And since most of the ingredients are shelf-stable and the seasoned rice goes with so many main courses, you'll find that this will become one of your go-to side dishes.
Texas Roadhouse Seasoned Rice Ingredients
To make this recipe, you'll need:
Long-grain white rice
Low-sodium beef stock
Tony Chachere's Original Creole Seasoning
Unsalted butter
Fresh parsley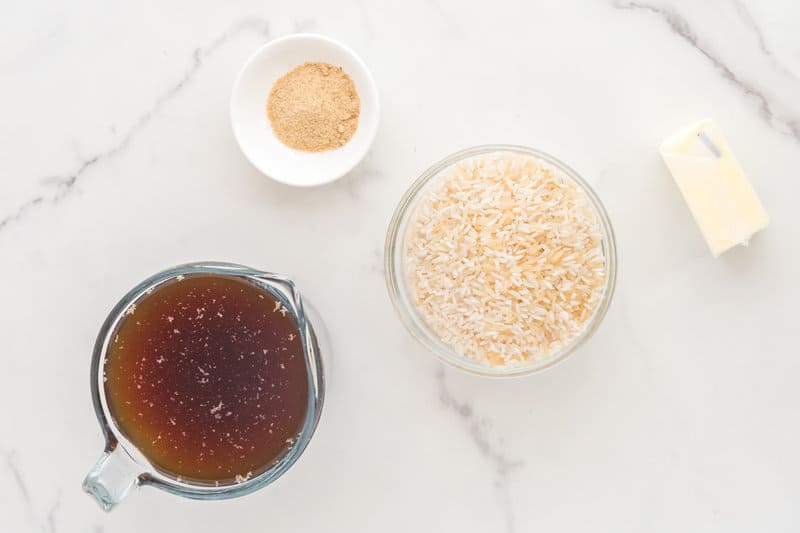 Recipe Notes
Use fragrant long-grain rice like Basmati or Jasmine rice for this recipe. Short-grained rice is not recommended. Use brown rice for a heartier dish.
Since you are adding rice seasoning to the beef stock, a low-sodium beef stock may still be a little too salty for some people. If you are sensitive to salt, choose unsalted beef stock. You can also substitute the beef stock with chicken broth or chicken stock but it won't have the same beefy flavor.
Tony Chachere's is a popular brand making various sauces and seasonings for Creole food. The Original Creole Seasoning works well here, but feel free to choose another version, like the Bold or the Lite options. You can also use another brand of Creole seasoning if you prefer. Or you can make your own spice blend with garlic powder, cayenne pepper, paprika, dried parsley, and other spices.
If you want some veggies in the rice, add ½ cup of chopped onions (yellow onion) and ¼ cup of red pepper (bell pepper).
How to Make Copycat Texas Roadhouse Rice
To prepare this Texas Roadhouse Seasoned Rice recipe:
Preheat the oven to 425 degrees Fahrenheit.
Rinse the rice with cold water until the wastewater is clear. This helps remove excess starch from the rice. Set the washed rice aside for later
Whisk Tony Chachere's Original Creole Seasoning with the beef broth and reserve.
Add the washed rice and low-sodium beef broth into an 8-inch by 8-inch casserole dish with a lid. You can use aluminum foil if your casserole dish has no lid.
Cut the butter into thin slices and spread the pieces out evenly over the rice.
Cover the casserole dish and bake the rice for 45 minutes.
Take the cover off the casserole dish and bake for another 15 minutes.
While the rice is in the oven, finely chop the parsley.
Remove the rice from the oven and stir in the chopped parsley.
Sever immediately.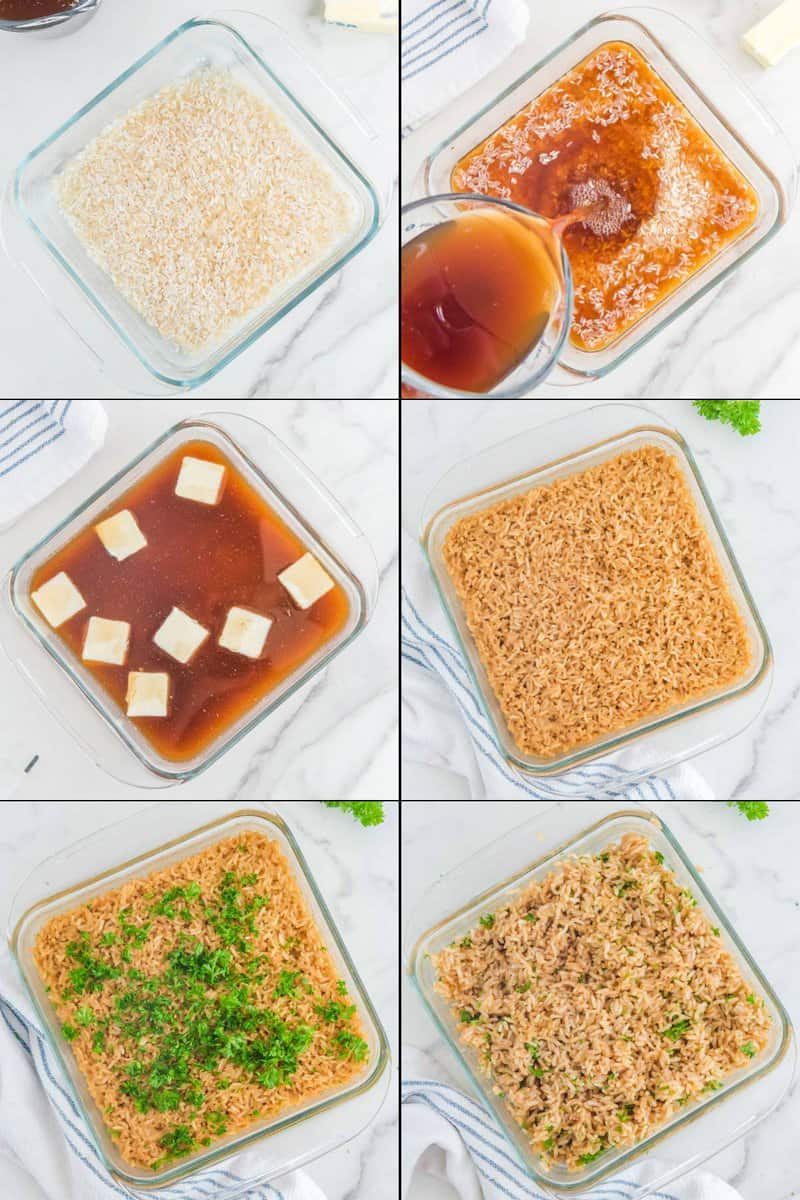 What to Serve With Texas Roadhouse Rice
Copycat Texas Roadhouse Rice is a versatile side dish that goes with a wide range of dishes. Just about anything that comes off the grill or out of the smoker will go great with seasoned rice.
Thick-cut pork chops, grilled chicken, pan-seared steak, and a selection of roasted vegetables all pair wonderfully with this recipe.
How to Store the Leftovers
Cool any extra leftover rice quickly by spreading it out on a rimmed baking tray. Once the rice is at room temperature, transfer it to an airtight container and put it in the refrigerator. It is best to eat within 48 hours.
If you plan on saving the rice for any longer than that, freeze the rice directly on the baking tray and then transfer it to an airtight container. It should stay fresh in the freezer for up to a month. Thaw overnight in the fridge before reheating.
What Is the Best Way to Reheat Seasoned Rice?
The quickest reheating method is to microwave the rice on HIGH for about a minute. Sprinkle a little water or beef stock and stir well before heating.
You can also warm the Texas Roadhouse Seasoned Rice on this stovetop. Put the rice into a small saucepan and stir in some water or beef stock. Heat over medium-low while stirring from time to time to prevent the rice from sticking.
Once you reheat the rice, throw away any leftovers.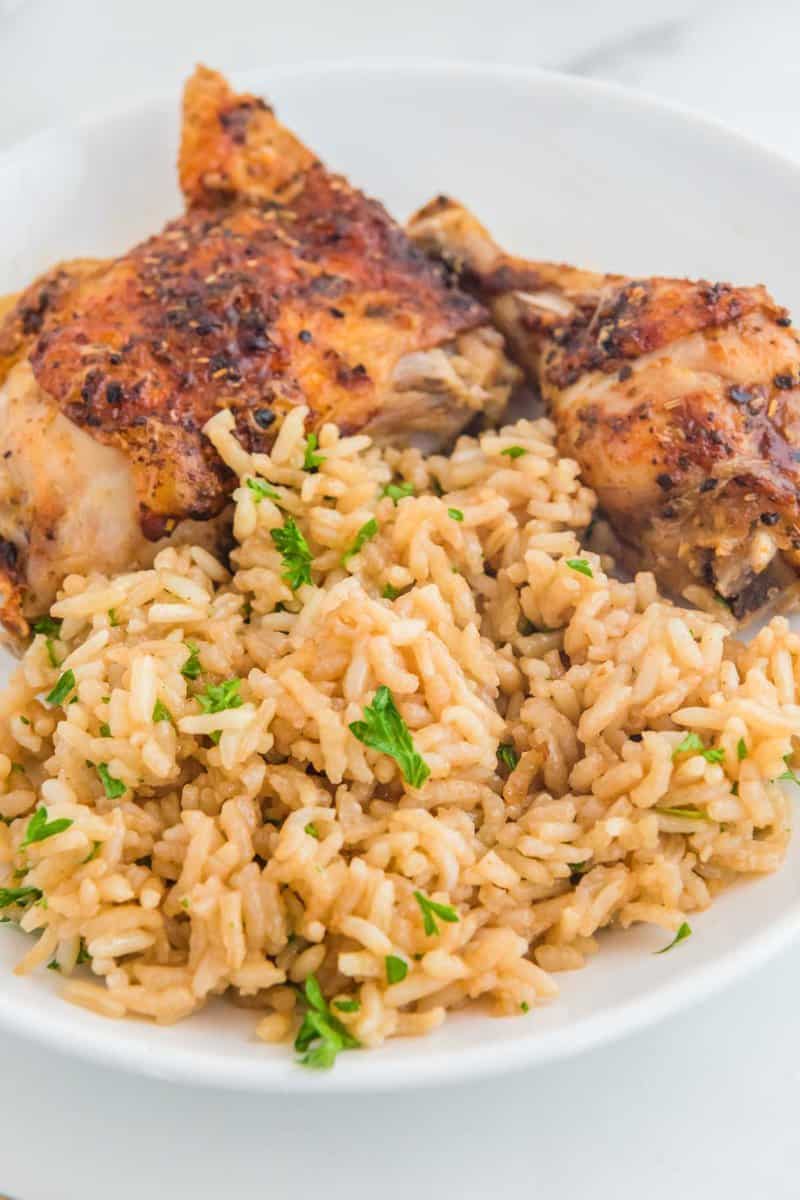 More Texas Roadhouse Copycat Recipes
Favorite Rice Recipes
Check out more of my easy side dish recipes and the best copycat restaurant recipes on CopyKat!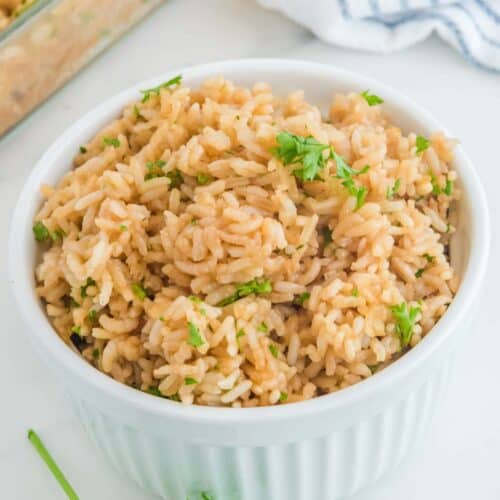 Instructions
Preheat oven to 425°F.

Place the rice, beef stock, and Creole seasoning in an 8 x 8-inch or 1-quart baking dish.

Cut 4 ounces of butter into about 9 thin slices and place the slices over the rice.

Cover the dish with foil.

Bake for approximately 45 minutes.

Remove the foil and bake for an additional 15 minutes.

Sprinkle chopped parsley on top of the rice and stir the parsley into the rice.

Serve immediately.
Nutrition
Calories:
293
kcal
|
Carbohydrates:
39
g
|
Protein:
6
g
|
Fat:
13
g
|
Saturated Fat:
8
g
|
Polyunsaturated Fat:
1
g
|
Monounsaturated Fat:
3
g
|
Trans Fat:
0.5
g
|
Cholesterol:
30
mg
|
Sodium:
1299
mg
|
Potassium:
184
mg
|
Fiber:
1
g
|
Sugar:
0.3
g
|
Vitamin A:
354
IU
|
Vitamin C:
0.1
mg
|
Calcium:
23
mg
|
Iron:
1
mg