Buffalo Chicken Meatballs make for a great appetizer or even a dinner for those who love spicy wings. These take no time to make, and soon you can enjoy an amazing bowl of meatballs.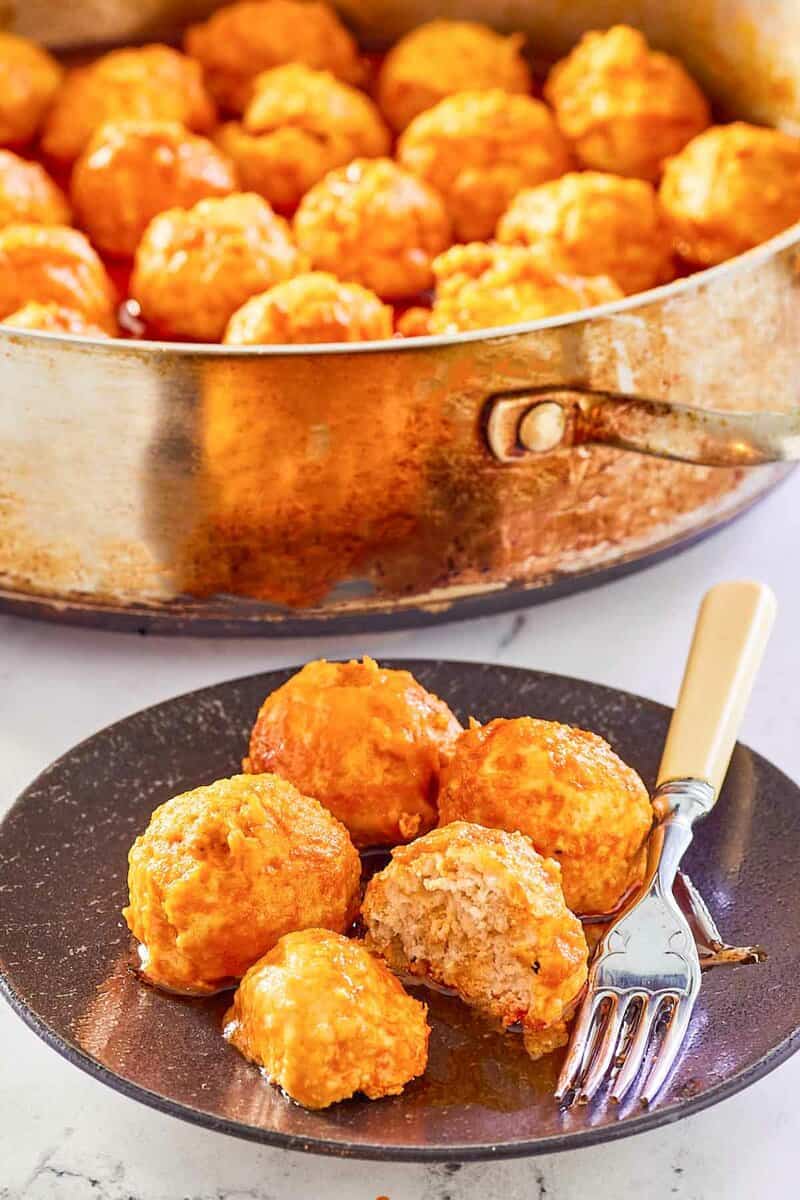 This post contains affiliate links. As an Amazon Associate, I earn from qualifying purchases.
What Makes Buffalo Chicken Meatballs the Perfect Party Food?
Spicy meatballs? Yes, please! This Buffalo Chicken Meatballs recipe is a mashup of two favorite appetizers: Buffalo wings and mini-meatballs. And it just might be better than either!
Serve these meatballs at a party and let your guests serve themselves, or use them as a part of a main course. Either way, these meatballs are anything but ordinary.
Why Should You Try This Recipe?
These meatballs are a super-simple dish that anyone can make. Double or triple the recipe and you have enough to feed a crowd!
Do you want to enjoy your party and not worry about serving your guest? These meatballs will stay piping hot in a slow cooker or chafing dish for hours and allow folks to help themselves.
Buffalo Chicken Meatball Ingredients
For the Frank's Red Hot Buffalo Chicken Meatballs sauce, you'll need:
Butter
Garlic, minced
Frank's Red Hot Sauce
Worcestershire sauce
Feel free to swap out Frank's Red Hot Sauce for the hot sauce you prefer.
For the ground chicken meatballs, you'll need:
Ground Chicken
Salt
Ground black pepper
Onion Powder
Granulated garlic
Panko-style breadcrumbs
Egg, beaten
Vegetable oil
If you don't have Panko-stye breadcrumbs, use any unseasoned breadcrumbs.
How to Make Baked Chicken Buffalo Meatballs
To prepare the Buffalo sauce:
Place a large saucepan over medium heat.
Melt the butter in the pan, and once it stops foaming, add the minced garlic.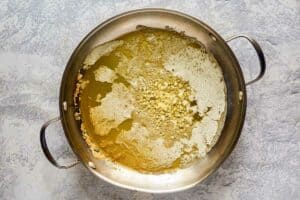 Saute the garlic until it is fragrant and then pour in the Frank's Red Hot Sauce and the Worcestershire sauce.
Stir until the sauce is warm, cover the saucepan, and reserve for later.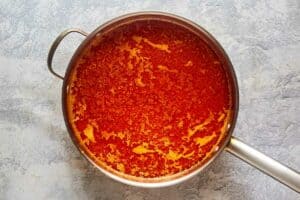 To prepare the ground chicken Buffalo meatballs:
Preheat the oven to 350°F.
Line a baking tray with parchment paper and lightly grease it. Or line it with a silicone mat. Set the baking sheet aside.
Combine all the ingredients for the meatballs in a large mixing bowl.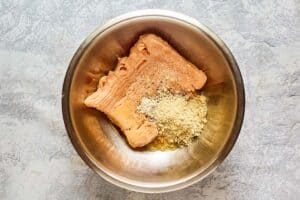 Use your hands to bring the ingredients together. To keep the meatballs light and fluffy, don't over-mix or squeeze the meat.
Wet your hands and form the mixture into meatballs slightly bigger than golf balls. Use a cookie scoop for even portions. Place the meatballs on the prepared baking sheet.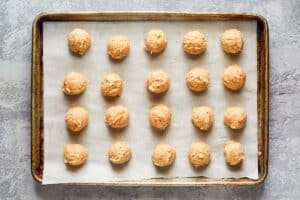 Bake the meatballs in the oven until browned, about 30 minutes. Flip the meatballs after 15 minutes to ensure even cooking.
To serve baked chicken buffalo meatballs:
Place the pan with the sauce over medium-low heat.
Add the meatballs and stir to coat.
Heat until the meatballs and sauce are hot.
What to Serve With These Spicy Chicken Meatballs
Help tame the heat by offering ranch and blue cheese dressing for dipping. Or you can drizzle the dressing on top. Garnish with chopped green onions. A few raw carrot sticks and celery sticks on the side are also a nice touch.
To turn these ground chicken Buffalo meatballs into a complete meal, try these options:
Serve the meatballs on top of grits or mashed potatoes with collard greens.
Turn the meatballs into spicy chicken sliders. King's Hawaiian Rolls adds a sweetness that helps control the Buffalo sauce's heat.
Cut a few room-temperature meatballs in half and toss them with chopped romaine, sliced celery, shredded carrots, and blue cheese crumble. Serve the Buffalo Chicken Salad with a side of ranch dressing.
How to Store Extra Chicken Meatballs and Sauce
It is not a good idea to keep any extra meatballs that have been sitting out for more than a few minutes for safety reasons; however, you can prepare this recipe in advance.
If you plan to use the meatballs within the next day or two, you can store them in the refrigerator in an airtight container. The texture of the meatballs will be best if you keep them out of the sauce while in the fridge.
For storing Baked Chicken Buffalo meatballs longer than two days, try freezing the baked buffalo chicken meatballs without any sauce on a baking tray. Transfer the frozen meatballs to a freezer-safe container and freeze.
Freeze the sauce separately, or better yet, make it fresh when reheating.
How to Reheat Buffalo Chicken Meatballs
Reheat the thawed meatballs and sauce in a covered pot over medium-low heat.
Love Meatballs? Try These Recipes!
Popular Appetizer Recipes
Check out more of my easy appetizer recipes and the best chicken recipes on CopyKat!
Ingredients
2

pounds

ground chicken

1 ½

teaspoons

salt

½

teaspoon

ground black pepper

1

teaspoon

onion powder

1

teaspoon

granulated garlic

½

cup

panko breadcrumbs

1

large

egg

beaten

1 ½

tablespoons

vegetable oil

8

ounces

butter

1

tablespoon

minced garlic

8

ounces

Frank's Red Hot sauce

1

teaspoon

Worcestershire sauce
Instructions
Preheat the oven to 350°F, and spray a baking sheet with nonstick spray.

In a medium-sized bowl, combine the ground chicken, salt, ground black pepper, onion powder, granulated garlic, panko, egg, and vegetable oil. Mix well.

Roll 1 to 1 ½ portion of meat into meatballs. Place on the baking sheet.

Bake the meatballs for 30 to 35 minutes, until they are cooked through and browned on the bottom.

In a large saucepan, combine the butter and minced garlic. Heat over medium heat until the garlic becomes fragrant. Add Frank's Red Hot sauce and Worcestershire sauce. Stir until the sauce becomes uniform.

Add the meatballs to the saucepan. Place a lid on the saucepan, turn the heat to low, and cook until the meatballs are heated through.
Nutrition
Calories:
416
kcal
|
Carbohydrates:
4
g
|
Protein:
21
g
|
Fat:
36
g
|
Saturated Fat:
18
g
|
Polyunsaturated Fat:
4
g
|
Monounsaturated Fat:
11
g
|
Trans Fat:
1
g
|
Cholesterol:
182
mg
|
Sodium:
1602
mg
|
Potassium:
633
mg
|
Fiber:
0.3
g
|
Sugar:
0.4
g
|
Vitamin A:
743
IU
|
Vitamin C:
0.5
mg
|
Calcium:
28
mg
|
Iron:
1
mg