Craving the zesty allure of Buffalo Wild Wings Lemon Pepper Wings? This easy copycat recipe brings that irresistible flavor straight to your kitchen. Imagine crispy chicken wings generously coated in a mouthwatering lemon pepper sauce that's the epitome of tangy and savory goodness.
These wings are a tantalizing symphony for your taste buds. Make the best lemon pepper wings and skip the takeout to revel in a cozy night at home capturing all the zest and spice you adore.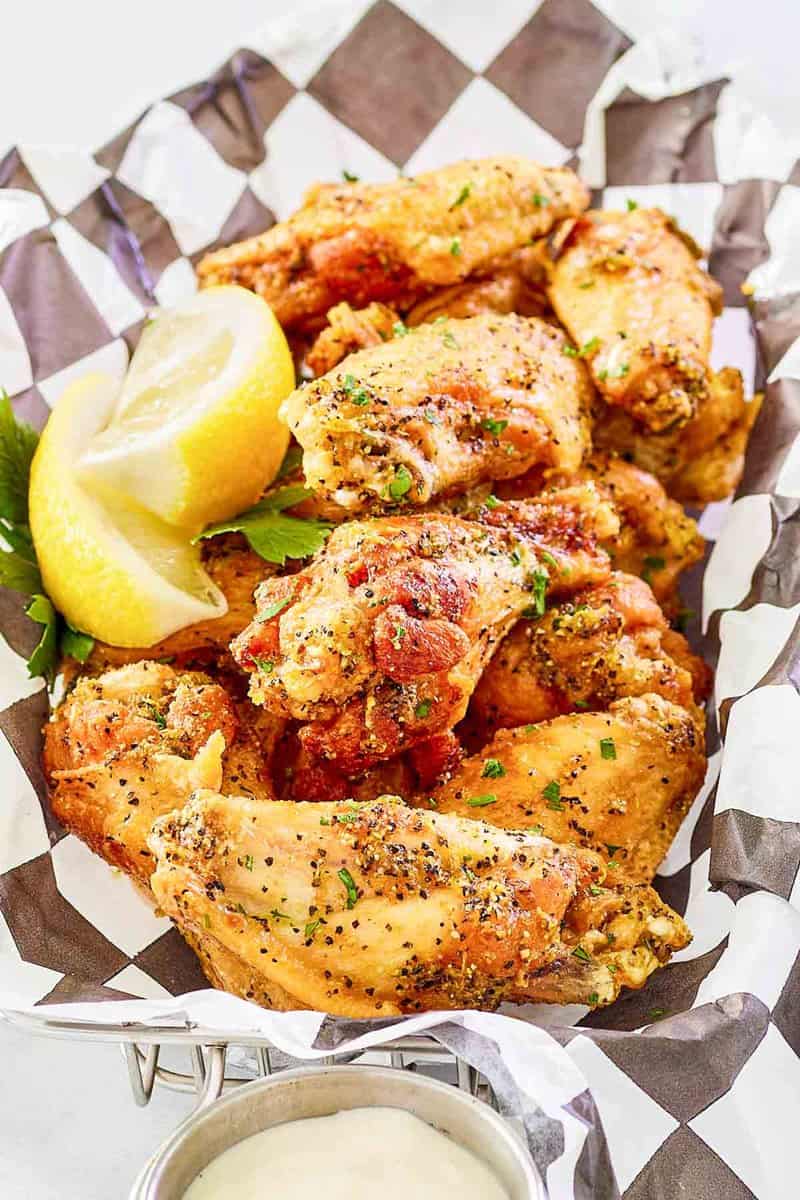 This post contains affiliate links. As an Amazon Associate, I earn from qualifying purchases.
What Makes the Lemon Pepper Wings From Buffalo Wild Wings So Good?
No one said chicken wings have to be spicy to be delicious. And this Buffalo Wild Wings Lemon Pepper recipe proves it. The citrus tang blends perfectly with the crispy wings for an addictive bite that is all flavor and no burn.
Unlike other mild wings that use honey or sugar to tame the heat, this sauce doesn't use any sweeteners at all. Fry up an extra batch of these wings for your next party because your guests are going to love them.
Why You Should Try This Copycat Buffalo Wild Wings Lemon Pepper Wings Recipe
You can never have too many chicken wing sauces, especially ones that will appeal to folks who can't handle the heat. Unlike other copycat recipes for Buffalo Wild Wings Lemon Pepper Sauce, this version with only three ingredients is so easy to make. One taste, and you may find you have a new favorite wing sauce.
Buffalo Wild Wings Lemon Pepper Sauce Ingredients
For the chicken wings, you'll need:
Vegetable oil
Chicken wings, separated
Lemon Pepper Sauce (the recipe is below)
You can purchase prepared chicken wings, but why not save some money by cutting them into drumettes and wingettes yourself? If you make homemade chicken bone broth stock, freeze the wingtips and use them in your next batch.
For the Lemon Pepper Sauce, you'll need:
Lemon
Unsalted butter
Lemon pepper seasoning
Since you'll eat the grated lemon rind, use an organic lemon without any wax and wash it well with a vegetable spray before zesting.
You can pick up Buffalo Wild Wings Lemon Pepper Seasoning in stores, but your favorite lemon pepper blend will work fine for this wings recipe.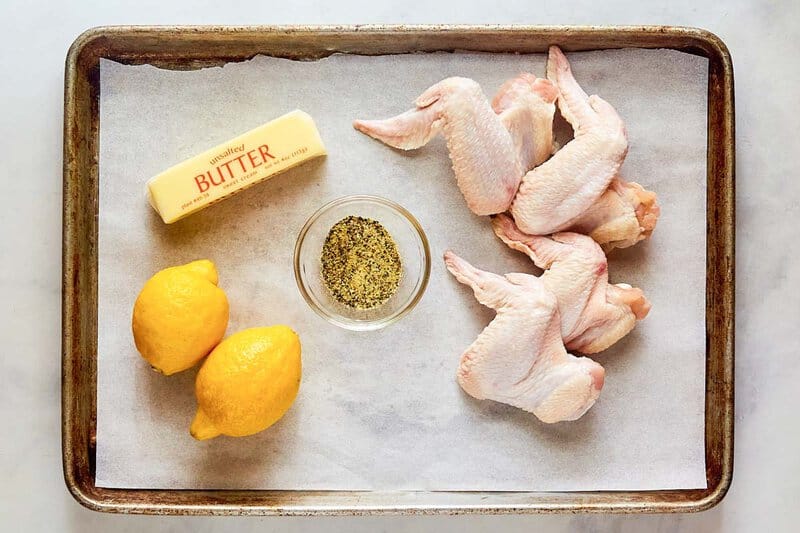 How to Make Lemon Pepper Wings
To fry the chicken wings:
While letting the chicken wings come up to room temperature, preheat the oil to 375°F. Use a deep fryer if you have one, but if not, heat the oil in a pot with a heavy bottom to help control the heat. A good deep-fry thermometer that clips onto the pot is essential. 
Dry off the chicken with a paper towel, and when the oil reaches 375°F, add five or six wings to the pot. Watch the thermometer to make sure it doesn't dip below 350°F.
Fry the chicken for 10 to 12 minutes until cooked through. To be extra safe, use an instant-read thermometer to ensure the internal temp is 165°F.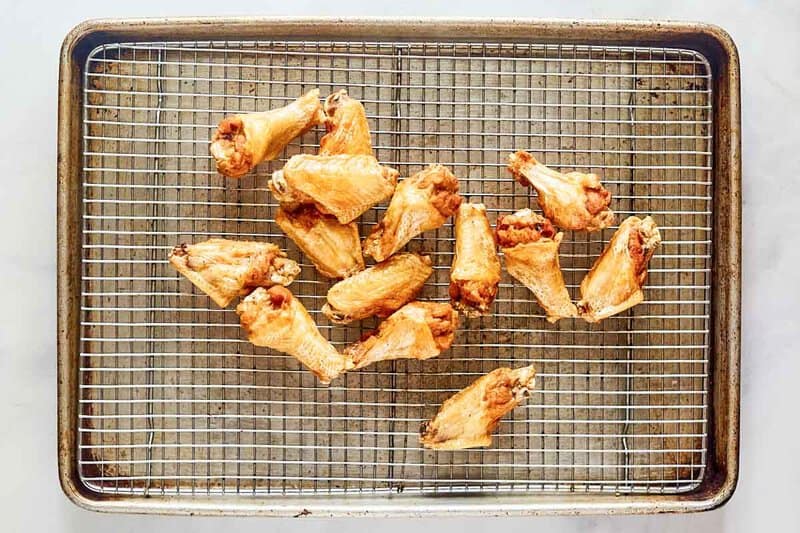 To prepare the Buffalo Wild Wings Lemon Pepper Sauce:
Wash and rinse the lemon. Use a fine grater or a microplane to remove just the yellow part of the lemon rind. Save the zest for later.
Melt the butter in a small saucepan over medium-low heat. The butter should never come to a simmer.
Stir in the lemon zest and lemon pepper seasoning. Skim off the foam if desired.
Remove the saucepan from the heat and cover to keep warm.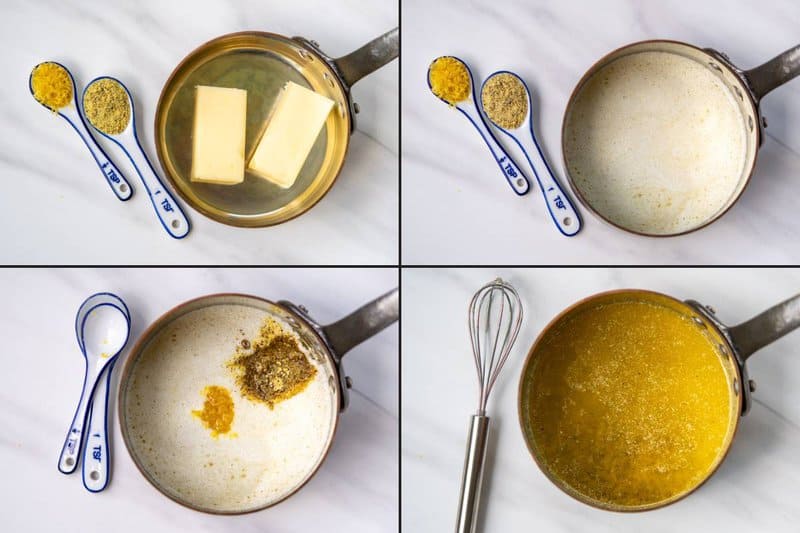 To make the lemon pepper wings:
Place some of the wings in a large bowl.
Add some of the lemon pepper sauce mixture.
Toss to coat the wings with the sauce.
Repeat with the remaining wings and sauce.
Serve and enjoy!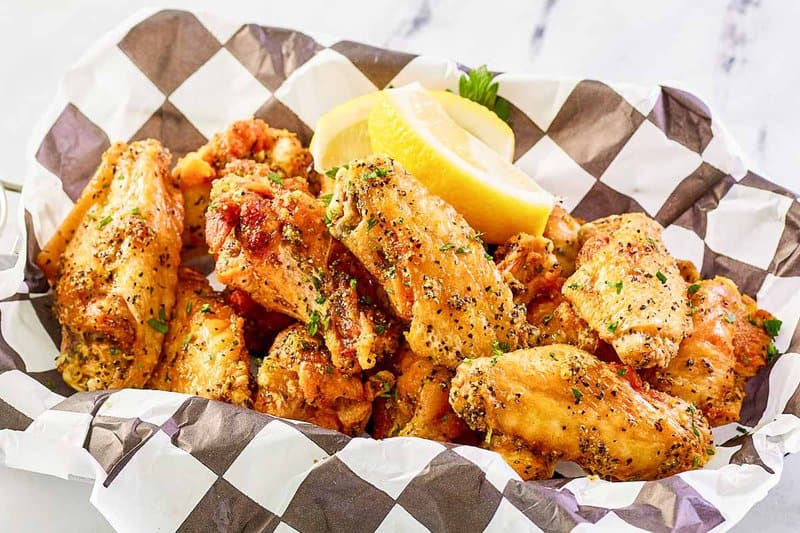 Buffalo Wild Wings Lemon Pepper Sauce vs. Dry Rub
Buffalo Wild Wings sells both Lemon Pepper Seasoning and Lemon Pepper Sauce. Both options have very similar flavor profiles, but the main difference is the melted butter that gives the sauce a richer but less acidic taste.
What to Serve These Wings
Skip the standard raw veggies and fries and get much more creative with the sides:
Coleslaw. Traditional coleslaw is creamy and mild enough to highlight the taste of the wings while still adding a lot of crunch.
Fried Plantain Chips. Although similar to potato chips, plantains are sweeter and taste wonderful with citrus.
Roasted Vegetables. A melody of carrots, parsnips, and potatoes slow-roasted in the oven will bring an earthy sweetness to the meal.
How to Store Lemon Pepper Buffalo Wild Wings
To prevent potential health problems, throw away any extra wings you serve. But you can keep unserved wings and refrigerate them for up to three days.
What Is the Best Way to Reheat Wings
For extra crispy results, warm up wings in an air fryer:
Preheat the air fryer to 350°F.
Spread the wings out in the air fryer and cook them until they reach an internal temperature of at least 165°F, about five minutes.
No air fryer, no problem. Use the oven:
Preheat the oven to 375°F.
Lay a wire rack on a baking tray and spread the chicken wings out on the rack. Heat the chicken wings until they reach an internal temperature of at least 165°F, about 8 minutes. Flip the wing after four minutes.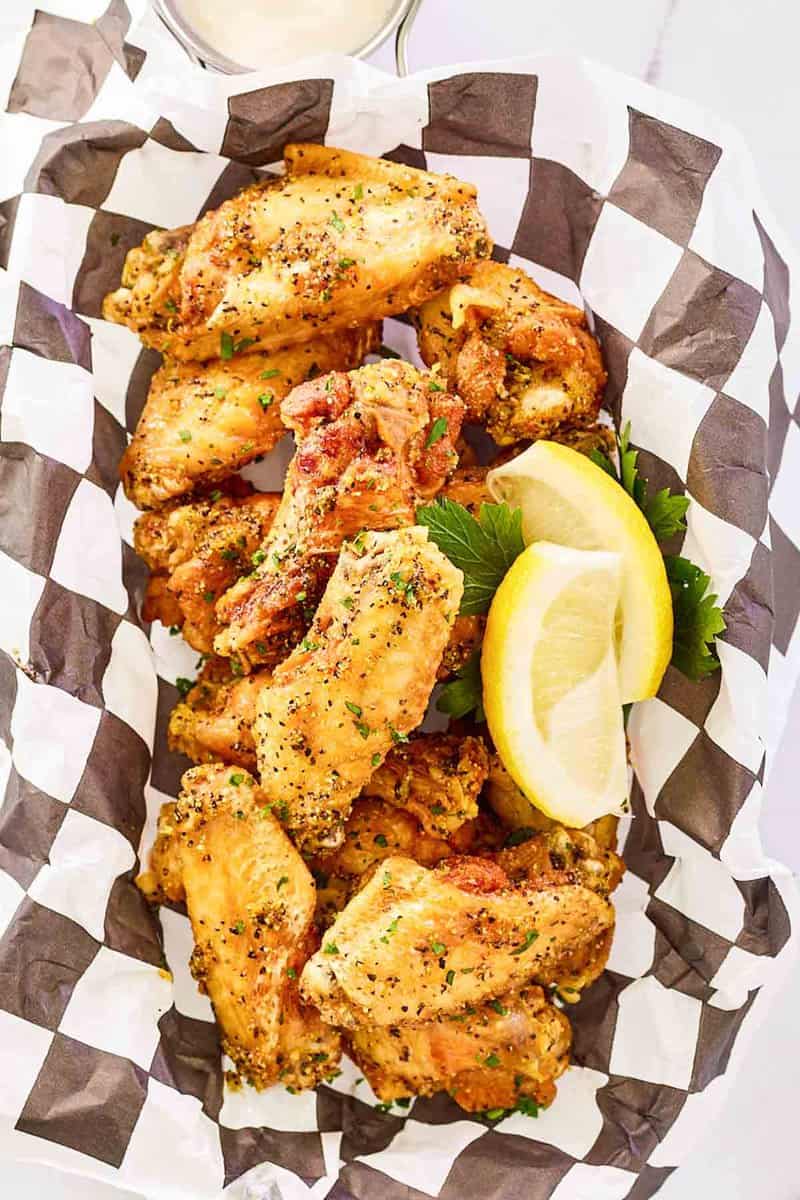 More Buffalo Wild Wings Copycat Recipes
Favorite Lemon Recipes
Make it the most lemony meal from drinks to desserts!
Popular Chicken Wing Recipes
Go beyond the usual wings with Buffalo sauce!
Check out more of my easy appetizer recipes and the best copycat restaurant recipes on CopyKat!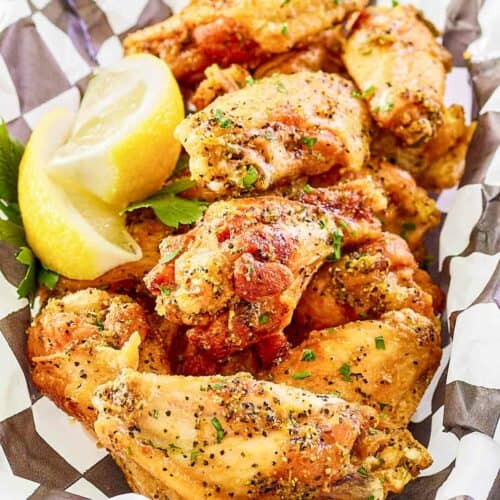 Ingredients
Wings
2

pounds

chicken wings

vegetable or canola oil

for deep frying
Sauce
4

ounces

butter

2

teaspoons

lemon pepper seasoning

1/2

teaspoon

grated lemon zest
Instructions
If necessary, cut the wings into drumettes and wingettes. Be sure to cut off the wing tip (you can save this for making chicken stock). Pat the wings dry with a paper towel.

In a deep fryer, heat the oil to 375°F. Deep fry the chicken wings for 10 to 12 minutes, depending on their size, until they reach an internal temperature of 165°F. Remove the wings from the fryer and transfer to a

wire rack

to drain.

To make the sauce, melt the butter in a small saucepan. Add the lemon pepper seasoning and lemon zest. Stir to combine.

Place 1/4 of the wings in a medium-sized bowl. Add a ladle of sauce and gently toss. Repeat with remaining wings and sauce. Serve immediately.
Nutrition
Calories:
243
kcal
|
Carbohydrates:
0.3
g
|
Protein:
11
g
|
Fat:
22
g
|
Saturated Fat:
9
g
|
Polyunsaturated Fat:
4
g
|
Monounsaturated Fat:
7
g
|
Trans Fat:
0.5
g
|
Cholesterol:
70
mg
|
Sodium:
113
mg
|
Potassium:
103
mg
|
Fiber:
0.1
g
|
Sugar:
0.01
g
|
Vitamin A:
358
IU
|
Vitamin C:
1
mg
|
Calcium:
12
mg
|
Iron:
1
mg