Homemade cherry mash bars are simply divine! Featuring a layer of sweet cherry candy and a layer of rich chocolate peanut butter candy, these bars are a tasty treat. Whether you're serving them as a dessert or snack, cherry mash bars are sure to be a favorite. They are great to make for DIY Christmas and holiday gifts.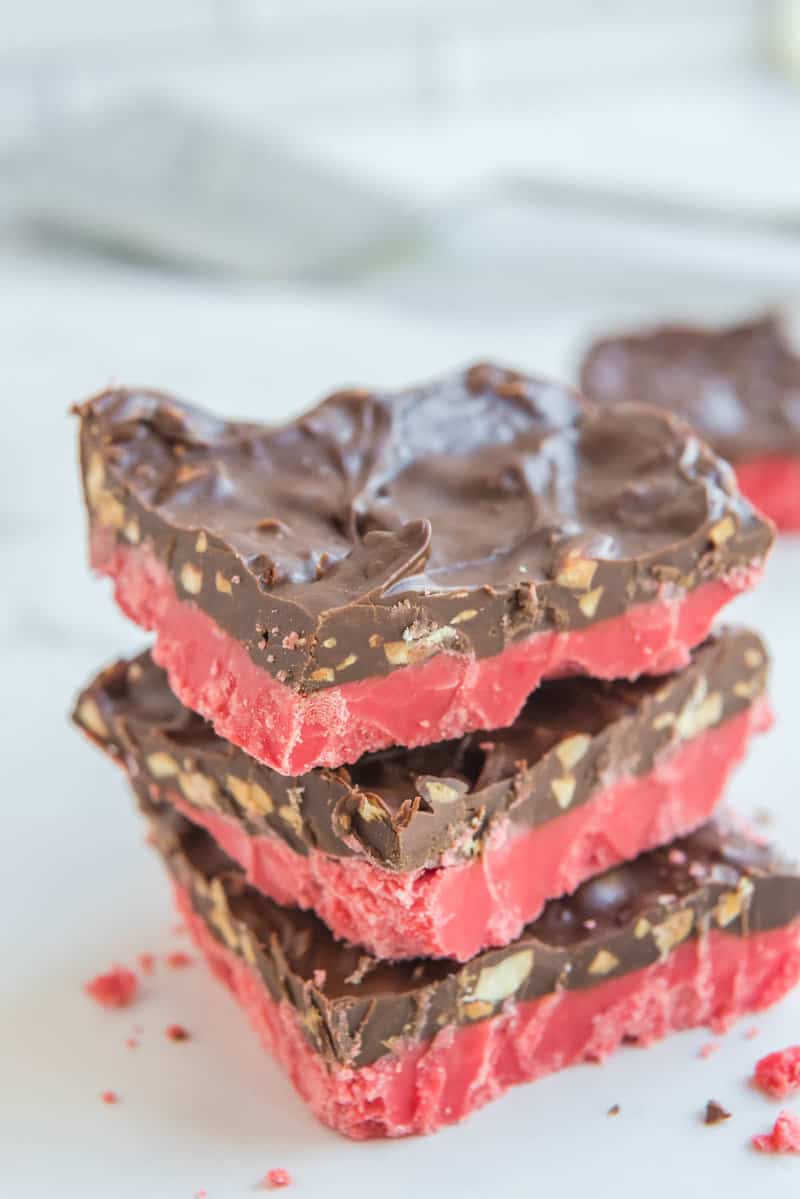 This post contains affiliate links. As an Amazon Associate, I earn from qualifying purchases.
Cherry Mash Candy Bar
If you are familiar with cherry mash candy bars, you will absolutely love this homemade cherry mash bars recipe. Cherry chips, peanuts, marshmallows, and chocolate all combine to make these yummy treats.
Sweet Beginnings
The Chase Candy Company was established in 1876 and led to the creation of the very popular Cherry Mash candy bar. Chase became famous throughout the Midwest for its fine-quality hand-dipped chocolates and peanut candies.
Why You Should Try This Cherry Mash Bars Recipe
These sweet cherry mash bars are very quick and easy to make, and their perfect blend of flavors is sure to make them a family favorite. They are homemade and actually taste better than the candy bar.
A sweet cherry layer is paired with chocolate, peanut butter, and crunchy and salty chopped peanuts — mmmm! They are perfect for the holidays or any time you have the urge for a sweet treat.
Homemade Cherry Mash Bars – Ingredients You Will Need
The only ingredient you might have trouble finding is cherry chips. Here's your list:
Evaporated milk
Margarine
Sugar
Cherry chips
Marshmallows
Semi-sweet chocolate chips
Creamy Peanut butter
Salted peanuts
Vanilla
Salt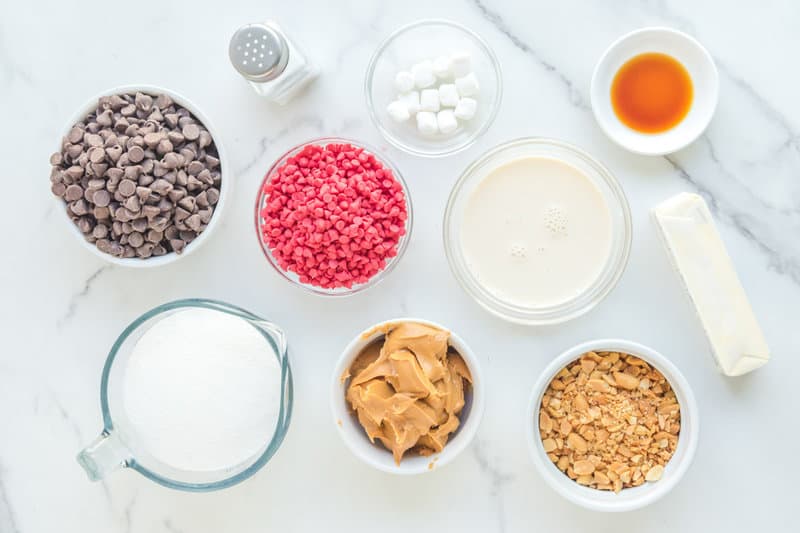 Where to Get Cherry Chips
You may be able to find cherry chips in the baking section of your grocery store. Walmart also sells them, and, of course, there is always Amazon. Another option is to make your own cherry chips – here are the ingredients:
Note: Omit the vanilla from the recipe if you are using cherry extract.
How to Make This Cherry Mash Bars Recipe
Many bar recipes are quick and easy to put together, and this one is no exception. Here's what you do:
Combine the sugar, milk, salt, marshmallows, and margarine and boil for 5 minutes.
Remove from the heat, add the cherry chips and vanilla, and spread it in a baking dish.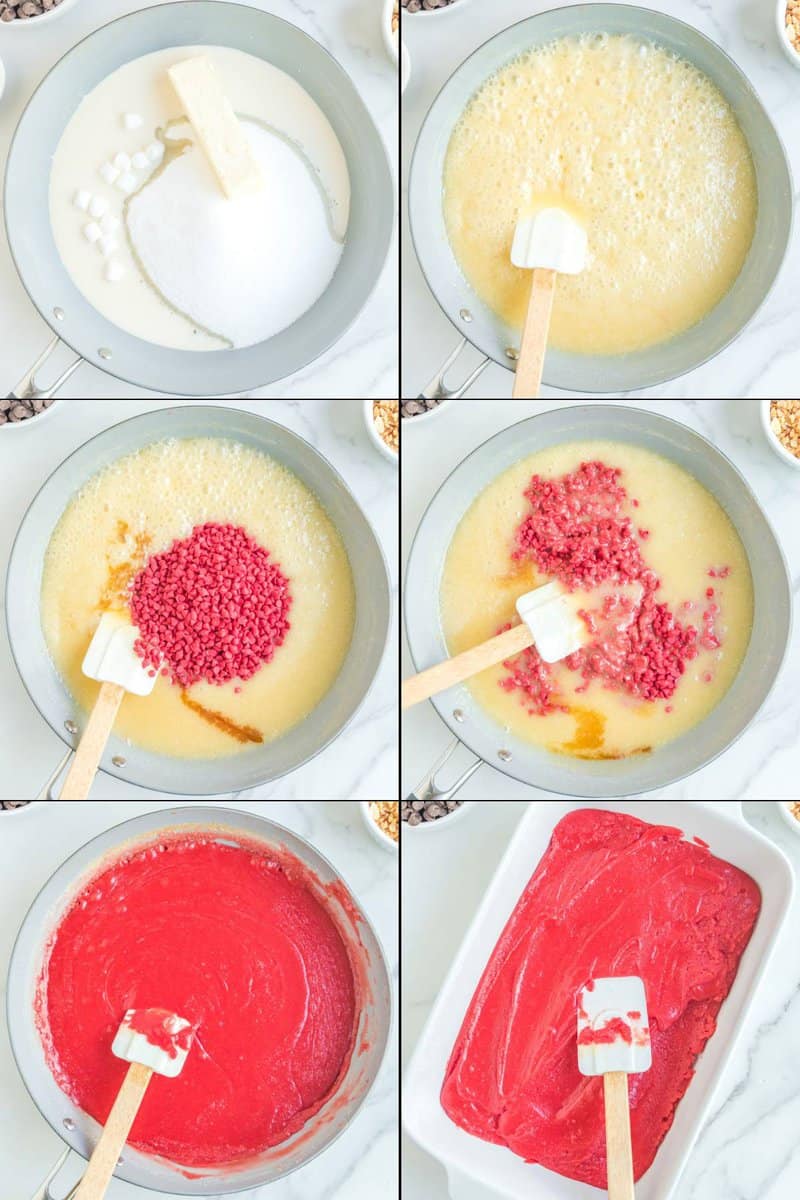 Melt the chocolate chips in a double boiler or bowl over hot water in a saucepan over low heat and add the peanut butter and peanuts. Stir to combine.
Spoon the chocolate peanut butter mixture over the cherry mixture and spread it out evenly.
Refrigerate the candy until thoroughly chilled.
Use a warm sharp knife to cut the chilled candy into squares or rectangles.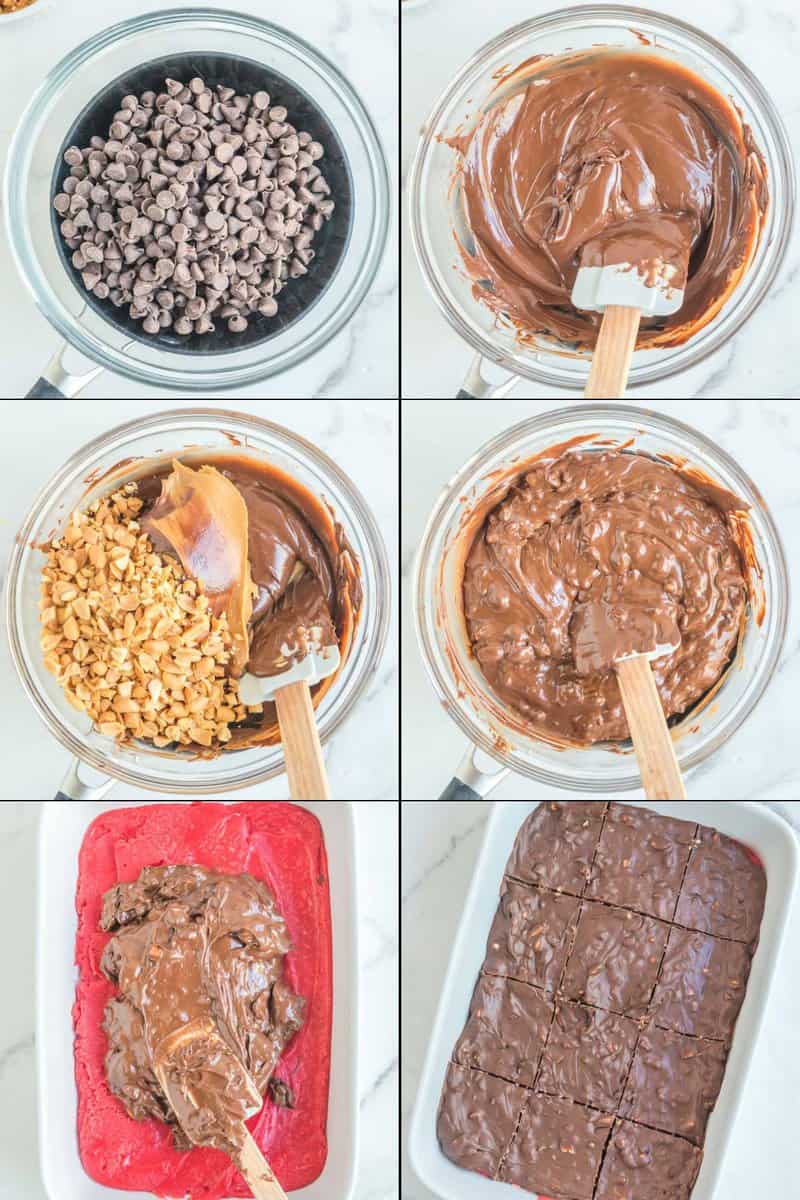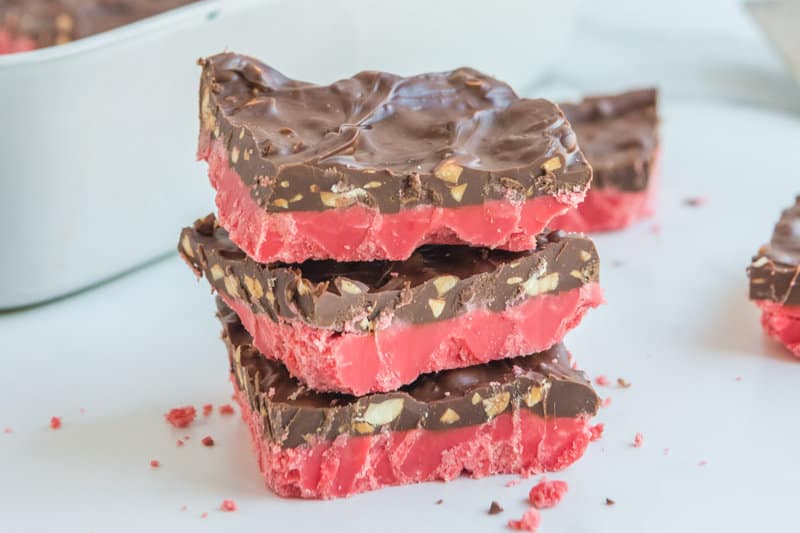 How to Make a Double Boiler
Why go to the expense of buying a double boiler when you can DIY one with equipment you already have? All you need is a medium-sized pot and a heatproof glass or metal mixing bowl.
To melt chocolate, a boil is not necessary – you're only going for gentle heat. Place the bowl containing the chocolate over the top of your pot. It should be a snug fit and should not touch the water (if it does, it will get too hot).
Recipe for Cherry Mash Bars – Possible Variations
Here's how you might want to experiment with the recipe:
If you can't find cherry chips, butterscotch chips can be substituted to make butterscotch mash bars.
For other fruit mash bars, you might want to try raspberry, strawberry, or blueberry chips.
Other ideas for cherry chip substitution are Irish cream chips, caramel chips, or peppermint chips.
If you have someone in your family with a peanut allergy, you can switch out the peanut butter for almond butter and the peanuts for salted almonds. Cashew butter and salted cashews would also work.
How to Serve Cherry Mash Bars
These homemade cherry mash bars have a festive look and are a great addition to your holiday cookie tray. They are great for homemade gifts at Christmas time.
One of these sweet and chocolaty cherry bars is perfect with your morning or afternoon cup of coffee or tea. Kids will love them for a sweet treat.
How to Store Cherry Mash Bars
Store your homemade cherry mash bars in an airtight container for up to 3 days in the refrigerator.
There are many good things about this cherry mash bars recipe, including that these bars freeze easily. This means you can always have some on hand for when you want a cherry mash fix! The bars will last up to 3 months in the freezer.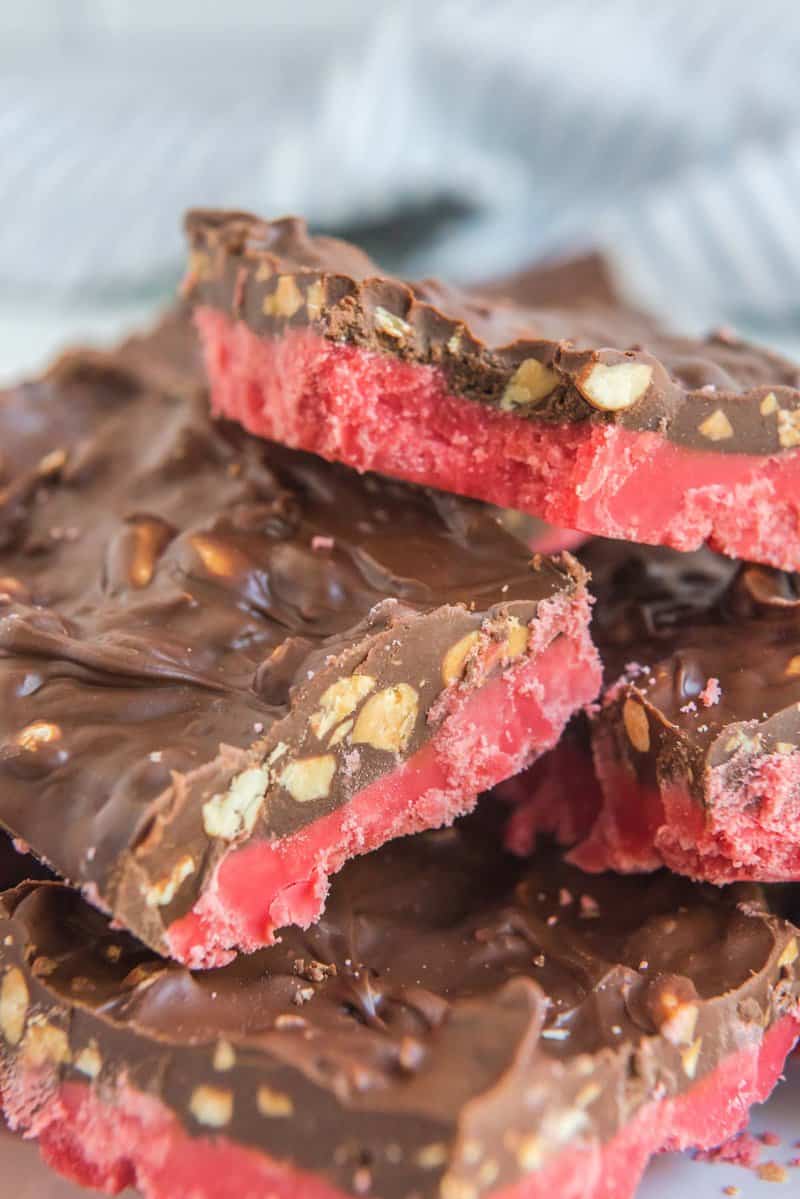 Favorite Candy Recipes
Popular Cherry Recipes
Check out more of my easy candy recipes and the best Christmas recipes on CopyKat!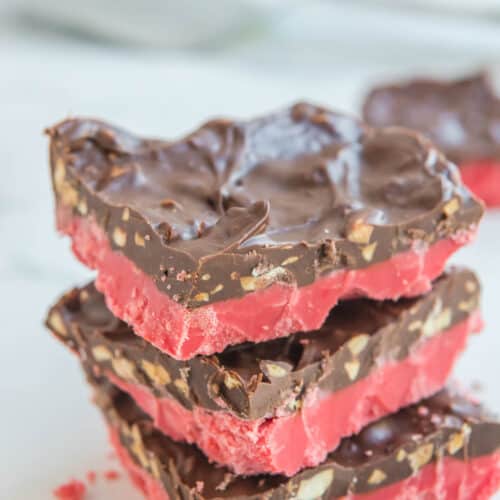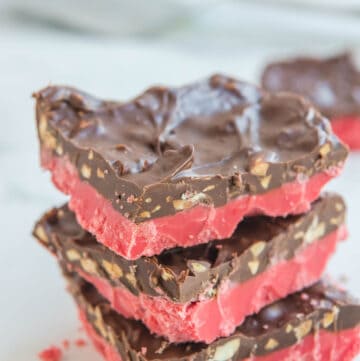 Ingredients
2

cups

sugar

2/3

cup

evaporated milk

1/8

teaspoon

salt

12

marshmallows

1/2

cup

margarine

6

ounces

cherry chips

or substitute 6 ounces white almond bark, 1 teaspoon cherry extract, and red food coloring to the desired color

1

teaspoon

vanilla extract

omit if cherry extract was used

12

ounces

semi-sweet chocolate chips

3/4

cup

peanut butter

1

cup

crushed salted peanuts
Instructions
Butter a 9×13-inch baking dish.

Combine the sugar, evaporated milk, salt, marshmallows, and margarine in a saucepan over medium heat and boil for 5 minutes. Remove the saucepan from the heat, add the cherry chips and vanilla, and stir.

Pour the mixture into the prepared baking dish.

Melt the chocolate chips in double boiler. Add the peanut butter and crushed peanuts and stir to combine. Spread chocolate peanut mixture over cherry mixture in the baking dish and refrigerate.
Nutrition
Calories:
312
kcal
|
Carbohydrates:
31
g
|
Protein:
5
g
|
Fat:
19
g
|
Saturated Fat:
6
g
|
Cholesterol:
4
mg
|
Sodium:
110
mg
|
Potassium:
221
mg
|
Fiber:
2
g
|
Sugar:
27
g
|
Vitamin A:
195
IU
|
Vitamin C:
0.2
mg
|
Calcium:
53
mg
|
Iron:
1.3
mg