One of my favorite sides for any meal is potatoes, of this, an easy potato au gratin has to be at the top of my list. Thinly sliced potatoes baked in a creamy sauce is the perfect addition to almost any meal.
This post contains affiliate links. As an Amazon Associate, I earn from qualifying purchases.
Homemade Potato Gratin
Most people count potato dishes as one of their favorite sides, and this French potato au gratin should be at the top of your potato list. This potato au gratin recipe gives you thinly sliced potatoes baked in a deliciously rich and velvety cream sauce – the perfect addition to almost any meal. And homemade is always better than boxed scalloped potatoes.
These au gratin potatoes are sure to be a family favorite. The creamy cheese sauce and tender potatoes in this classic French dish combine to make a deliciously addictive experience. It's great to make for Easter or Thanksgiving to go along with ham or turkey.
This dish is definitely worthy of a special occasion, but the truth is it's so tasty that eating it is always a special occasion! Hearty homemade au gratin potatoes are the best comfort food – every bite is delicious!
Why You Should Try This Best Potato Au Gratin Recipe
While your gratin potatoes are baking in the oven, you are free to get the rest of your meal ready. Plus, if you put this potato side dish in the oven along with a chicken, both will be ready at about the same time. This is the perfect dish if you like to have a couple of items in the oven at once. Cooking in the oven amounts to carefree cooking for busy cooks.
This au gratin potato dish is so easy and so delish! Everyone will love it, and if you tell them it's potato au gratin, they will congratulate you on your French cooking! To impress them even more, use what this dish is also called – pomme de terre dauphinoise!
French Potato Au Gratin – Ingredients
Fresh potatoes taste much better than those out of a box. Here is what you need to make this best potato au gratin recipe:
Russet potatoes
Heavy cream
Jarlsberg cheese
Garlic
Nutmeg
Salt and pepper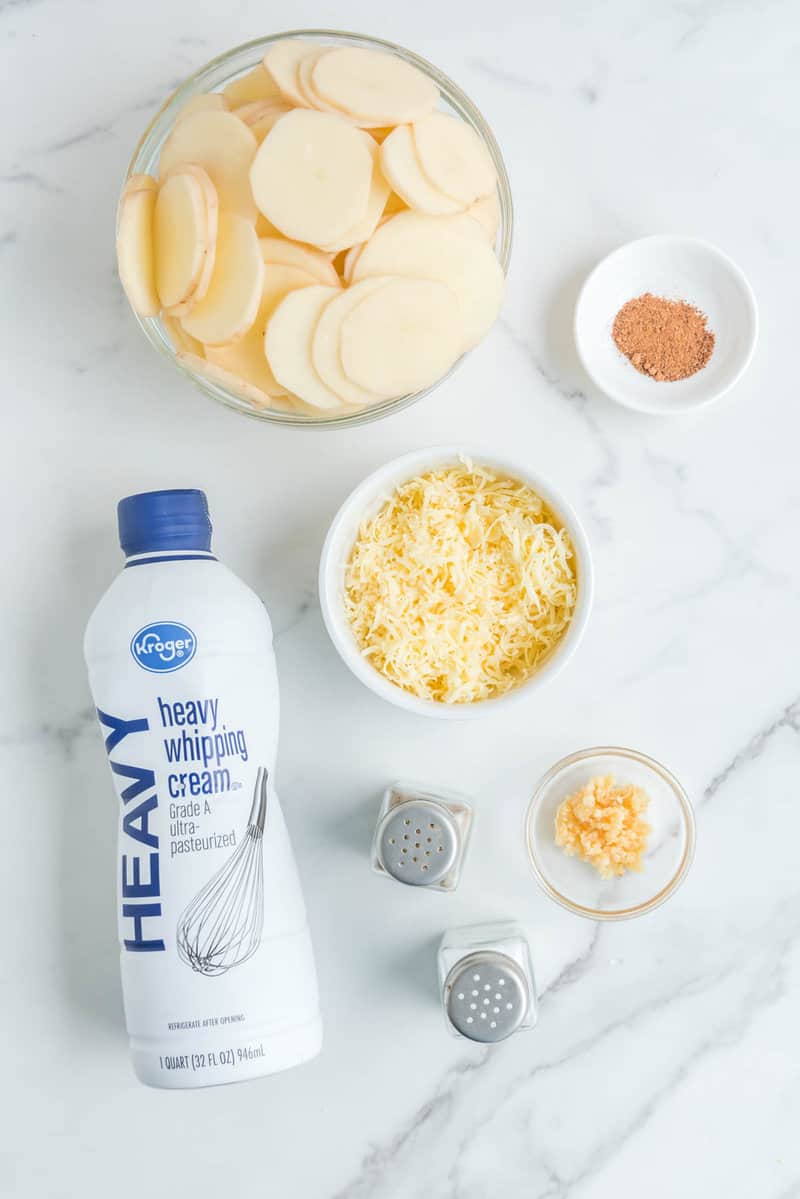 Ingredient Notes
This potatoes au gratin recipe uses heavy cream to give these potatoes au gratin a nice richness. Heavy cream has multiple names – it can also be called whipping cream or double cream. Note that if you substitute whole milk or half and half, you won't get a really creamy potato casserole.
It's best if you grate the cheese yourself. Cheese that comes already grated has an anti-caking agent on it, and this causes it not to melt as well and won't be smooth.
What Are the Best Potatoes to Use to Make the Best Potato Au Gratin Recipe?
For gratin potatoes, you can't go wrong with either russet or Yukon gold potatoes. You want a potato containing a lot of starch so that your potato casserole holds together well.
How to Make Potatoes Au Gratin
This homemade potato au gratin recipe isn't complicated, and you can put it together fairly quickly. Here's what to do:
Heat the cream along with some of the salt and pepper and the garlic. Stir constantly to prevent the cream from scorching.
Pour a portion of the cream mixture into a 13 x 9-inch baking dish.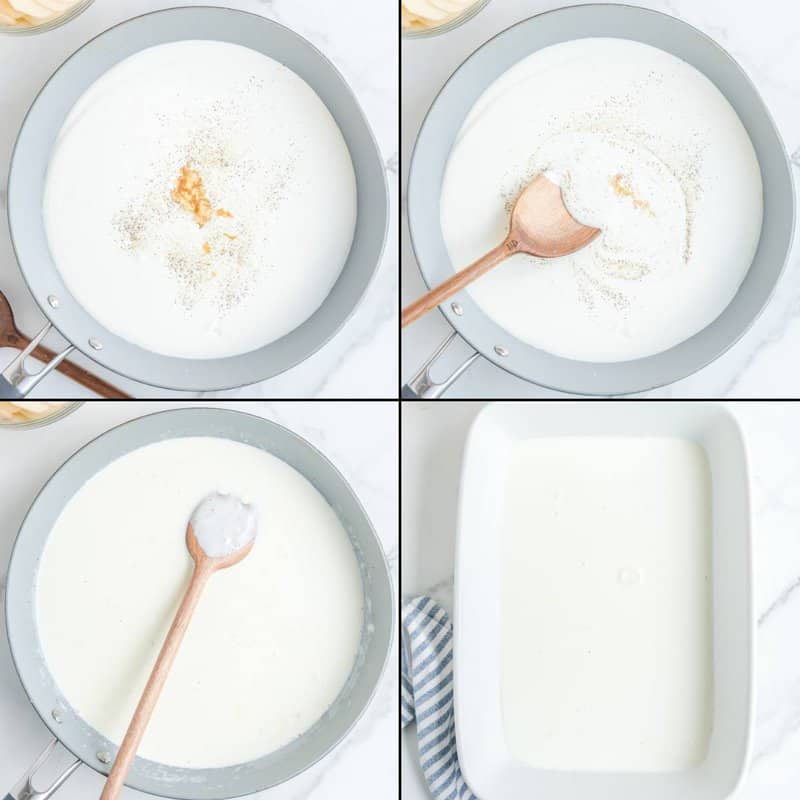 Peel and thinly slice the potatoes (see notes below).
Layer the potatoes and the heavy cream mix in the casserole dish, seasoning each potato layer with salt, pepper, and nutmeg.
Bake for one hour at 350°F.
Remove from the oven, sprinkle cheese on top, and bake for another 15 minutes or until the cheese browns.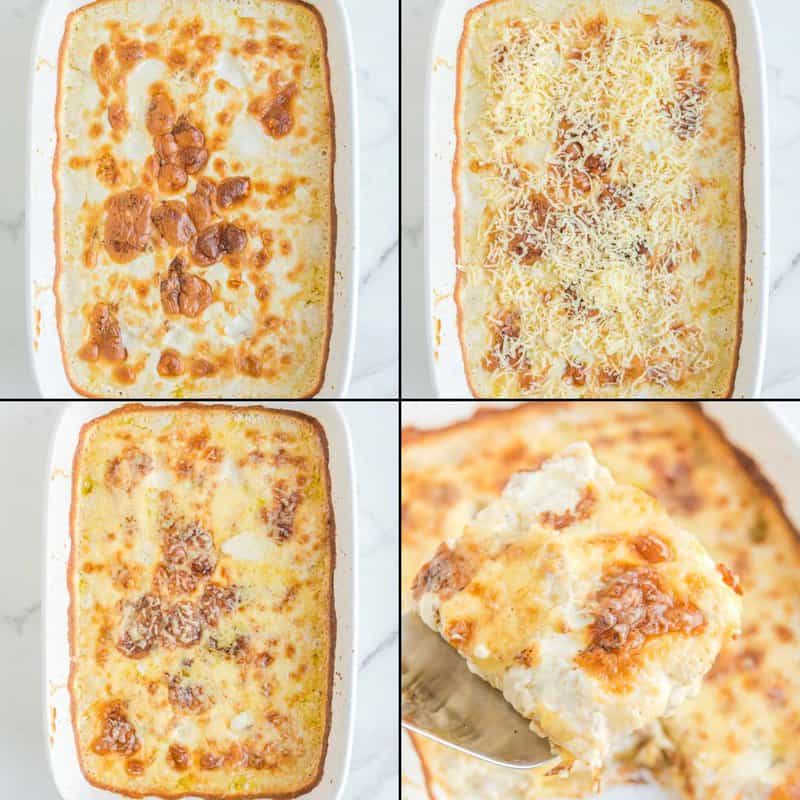 Au Gratin Potatoes Recipe Variations
Cheese: If you don't use Jarlsburg, choose another cheese with a bold flavor such as Swiss cheese, Gruyere cheese, or Cheddar cheese.
Herbs: Add a teaspoon or two of thyme or rosemary.
Onion: Add some thinly sliced onion.
Potatoes au gratin with ham: Include sliced or diced cooked ham. This is a good way to use leftover ham.
Tips on Getting Your Potatoes Sliced Super Thin
Your potatoes should be about 1/8 to 1/4-inch thick. You don't want them any thicker, and slicing them any thinner will have them cooking too quickly and breaking apart. There are three tools you can use to achieve perfect, thinly sliced potatoes:
Sharp Knife – You need a knife such as a Santoku which comes with handy grooves to prevent the potatoes from sticking to the knife.
Food Processor – A food processor is fast and efficient. It's important to set it at the right level per the manufacturer's instructions.
Mandolin – If you use a mandolin, a food holder is recommended, as well as safety gloves to protect your fingers from the sharp blade. Slice off one end of the potato to create a flat surface for the holder to grab onto, and make sure you follow the manufacturer's instructions.
Make Ahead
You can make this French potato au gratin dish 24 hours in advance. Just ensure that the potatoes are completely covered in the sauce, as any exposed bits will discolor slightly.
Cover the dish tightly with plastic wrap and refrigerate. Remove it from the fridge for at least 30 minutes before baking. You may need an additional 10 minutes of baking time.
What to Serve With Potato Au Gratin
This creamy, cheesy side dish pairs with many different entrées. Potato au gratin is the perfect holiday dish next to a roasted chicken, baked ham, roast beef, or pork tenderloin.
How to Store Au Gratin Potatoes
Store any leftovers in a shallow, airtight container in the refrigerator for up to 4 to 5 days. One big plus: when you cook with heavy cream is that the dish will reheat better. Reheat, covered with foil, in a preheated 375-degree Fahrenheit oven until heated through and bubbly.
You can freeze au gratin potatoes but be aware that dairy products, like milk and cheese, tend to separate during the freezing and thawing process. Wrap your potatoes tightly and freeze for up to 2 months. Thaw overnight in the fridge before reheating.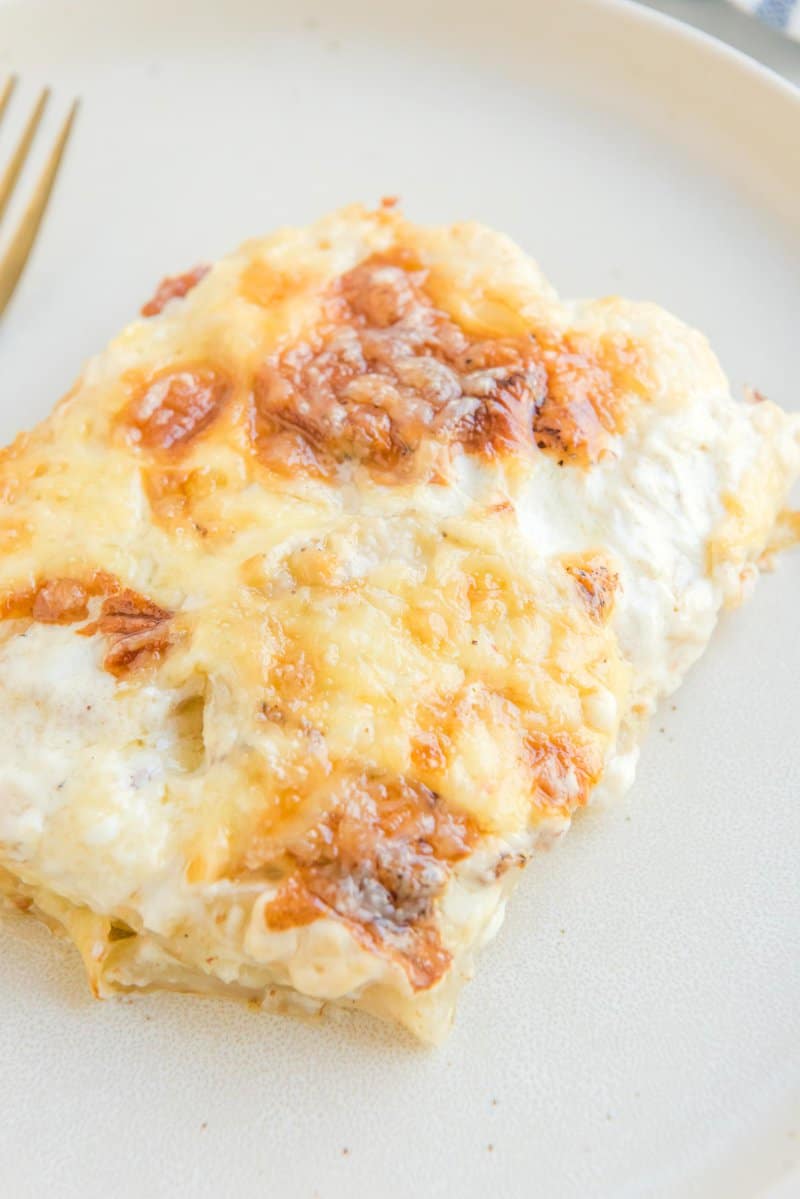 Favorite Potato Recipes
More Au Gratin Recipes
Check out more of my easy side dish recipes and the best holiday dinner recipes on CopyKat!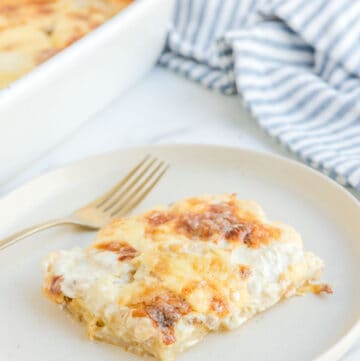 Ingredients
2 1/2

pounds

russet potatoes

1

quart

heavy cream

1

teaspoon

salt

1/2

teaspoon

black pepper

2

teaspoons

chopped garlic

1/2

teaspoon

ground nutmeg

1

cup

shredded Jarlsberg cheese
Instructions
Preheat oven to 350 degrees.

Peel potatoes, and slice them into 1/8 to 1/4 inch slices. You can slice potatoes with either a knife, mandolin, or even a food processor.

Heat cream, 1/2 teaspoon salt, and 1/4 teaspoon black pepper, along with 2 cloves of garlic. Spoon some of the heavy cream into the 13 x 9-inch baking dish. Add a single layer of potatoes into the baking dish.

Season potatoes lightly with salt, pepper, and nutmeg. Spoon heavy cream mixture over the potatoes, and then layer with potatoes, season potatoes, and ladle cream over until there are no more potatoes left.

If there is remaining cream left ladle remaining cream over potatoes. Bake potatoes for 1 hour. Remove from oven, sprinkle cheese on top of baked potatoes, and return to the oven for about 15 minutes or until the cheese begins to brown.
Nutrition
Calories:
574
kcal
|
Carbohydrates:
29
g
|
Protein:
8
g
|
Fat:
48
g
|
Saturated Fat:
30
g
|
Cholesterol:
174
mg
|
Sodium:
418
mg
|
Potassium:
691
mg
|
Fiber:
1
g
|
Sugar:
1
g
|
Vitamin A:
1850
IU
|
Vitamin C:
9
mg
|
Calcium:
202
mg
|
Iron:
1.4
mg