Olive Garden Italian Rum Punch is a delicious cocktail with just the right blend of smooth rum, nutty amaretto, and bright strawberry-passion fruit flavors.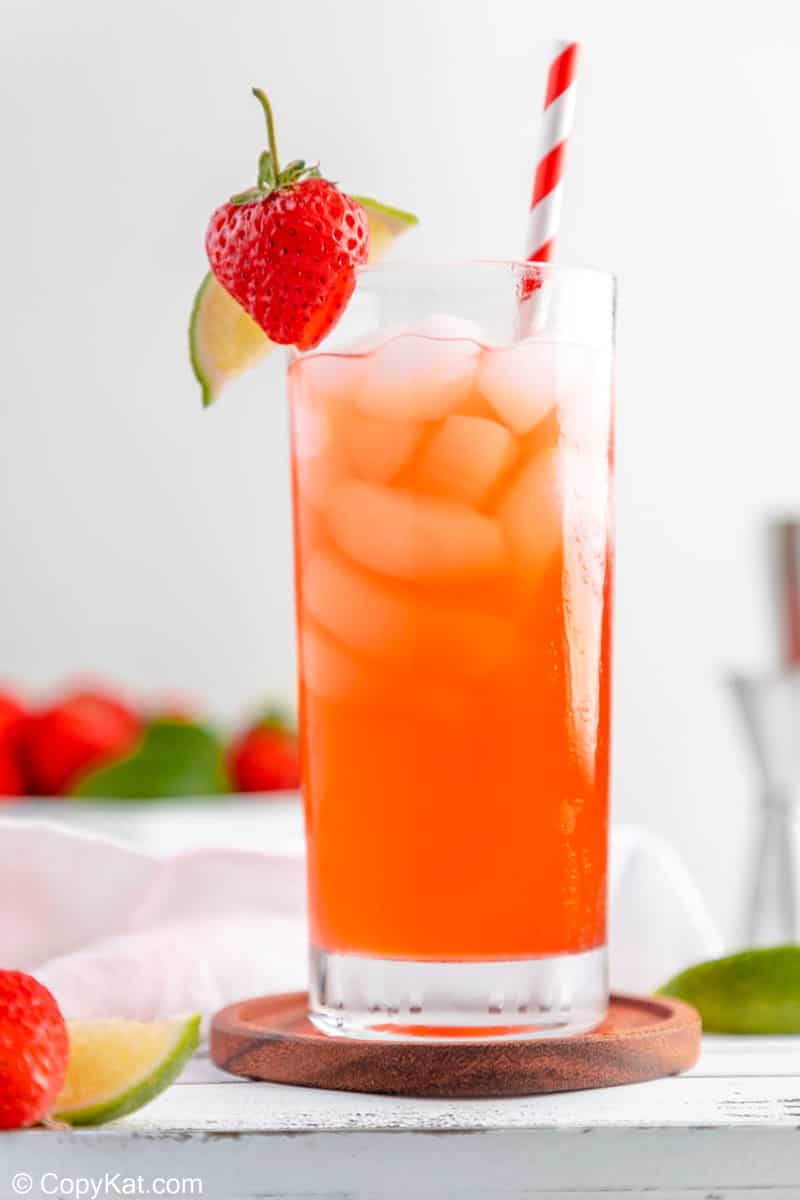 This post contains affiliate links. As an Amazon Associate, I earn from qualifying purchases.
Why this Italian Rum Punch is the Best
While most folks focus on the fantastic wines of Italy, it is a shame to neglect the country's native spirits. This Italian Rum Punch showcases Italy's luxurious amaretto by blending it with fruit juices and white rum.
The result is a complex cocktail that is incredibly simple to make yet wonderfully unique. It is the perfect cocktail for anyone looking for something alcoholic but isn't a big fan of the taste of regular cocktails.
If you can't make it to Olive Garden, why not try mixing up a few at home with this Italian Rum Punch recipe.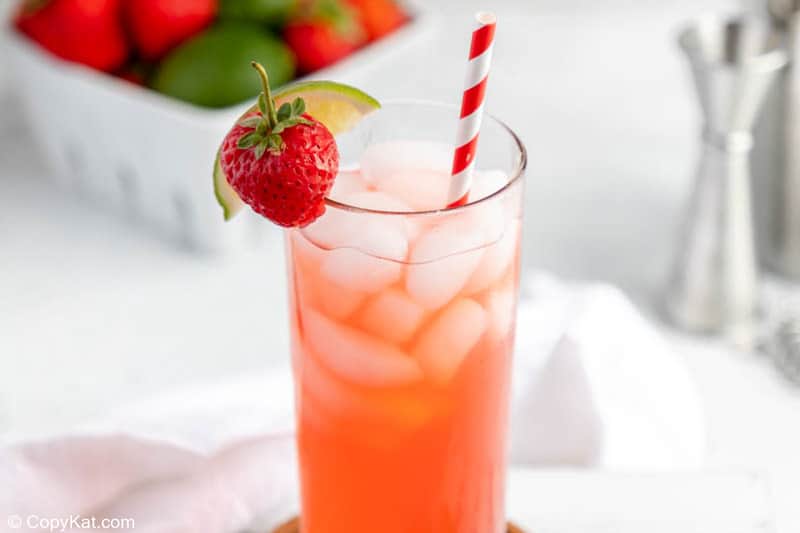 What's in the Italian Rum Punch Olive Garden Recipe?
Most of the Olive Garden Rum Punch ingredients are pretty standard in a well-stocked bar. The fruit syrup is the only exception, and it is available in most supermarkets.
Amaretto
Although this well-loved sweet and slightly bitter digestif tastes like almonds, most distillers make their amaretto using apricot kernels and peach stones.
With an almost syrup-like consistency and relatively low alcohol content, people often prefer to sip it on its own. Still, it also works wonderfully as a part of a cocktail.
Disaronno may be the most famous brand, but Lazzaroni Amaretto or Gozio Amaretto are fine choices as well.
Bacardi Superior Rum
You may hear people refer to Bacardi Superior rum as Bacardi White, Bacardi Silver, or even Bacardi Light, but it is all the same bottle of rum.
Bacardi Superior has a light flavor with hints of fruit and tropic flavors, the ideal white rum for mixing. You'll have no trouble finding Bacardi Superior, but you can use your favorite or give Havana Club a try.
Sour Mix
Often called sweet and sour mix, a sour mix is nothing more than a simple syrup spiked with citrus juices. While you can buy pre-made sour mixes at the store, go ahead and make your own. It's easy.
Start by making a simple syrup by simmering a cup of water over medium-high heat. Stir in a cup of white sugar and reduce the heat. Continue to stir for two or three minutes until the syrup thickens slightly. Remove from the heat and pour in a half cup of lime juice and a half cup of lemon juice. Let the sour mix cool and store it in an airtight container in the fridge for up to a week.
Strawberry-Passion Fruit Syrup
A bit of fruit syrup adds both sweetness and flavor to this rum cocktail. If you can find Strawberry-Passion Fruit syrup, use it. If not, try substituting a half-ounce of Torani Strawberry syrup and a half-ounce of Torani Passion Fruit syrup. If you prefer, use an ounce of either syrup and leave the other one out of the recipe.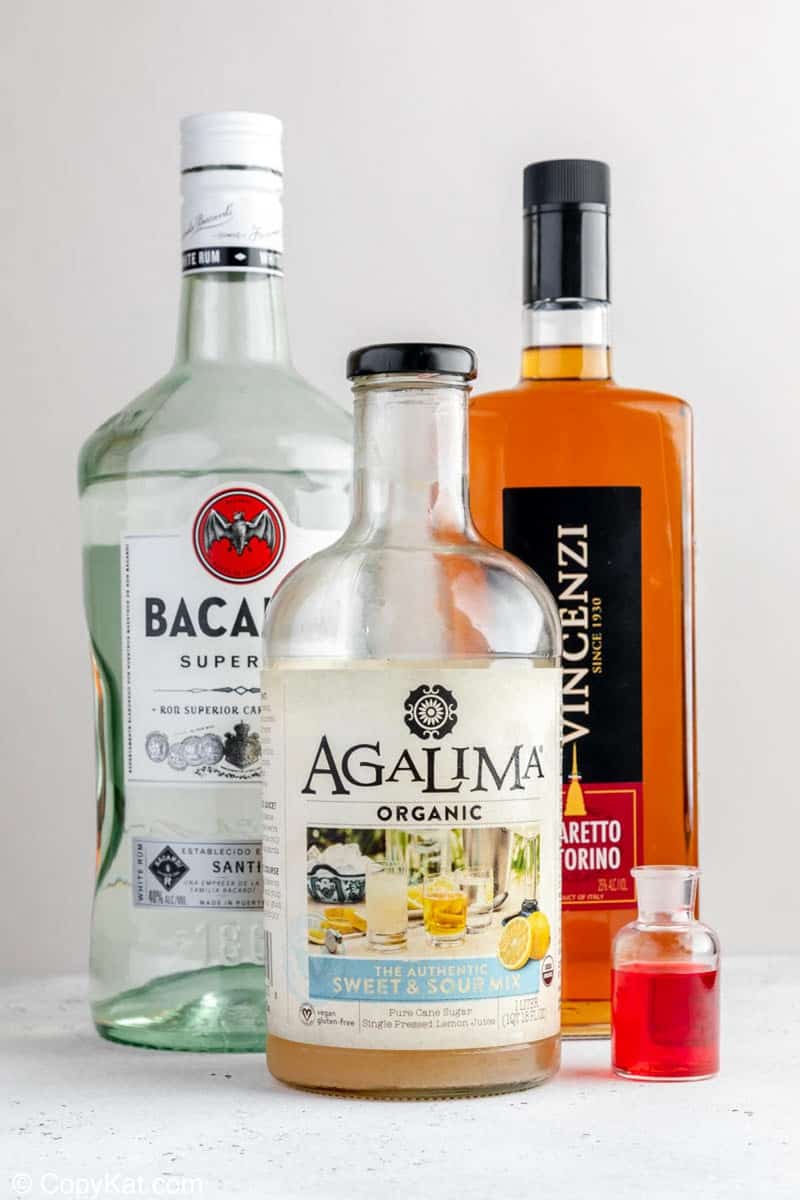 How to Make and Serve this Italian Rum Punch Olive Garden Recipe
Here are the easy steps to make Olive Garden Rum Punch:
Add all the ingredients to a Boston cocktail shaker with ice.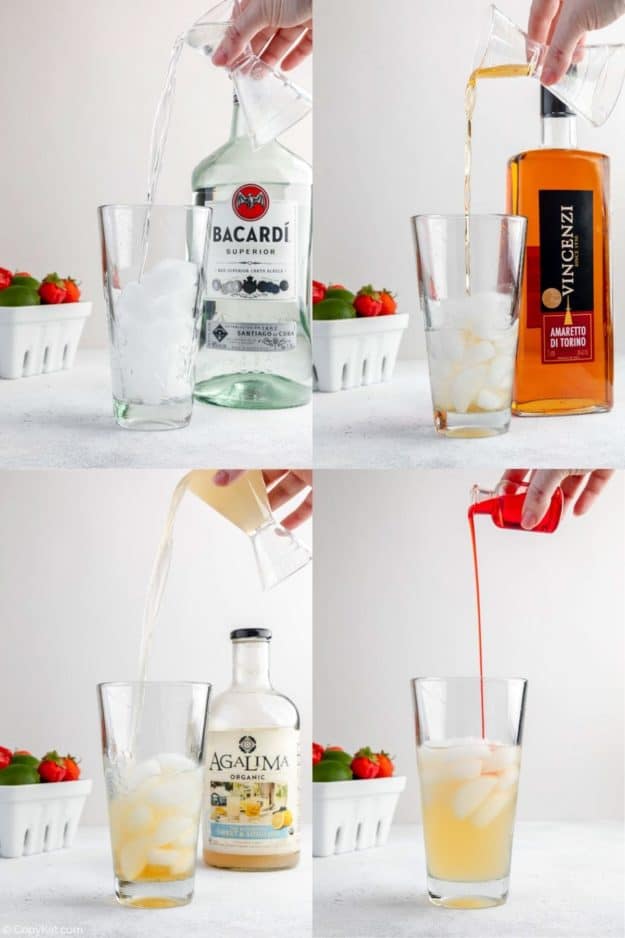 Shake for ten seconds and strain into a highball glass filled with fresh ice.
Serve with a straw and a lime slice and strawberry on the rim of the glass.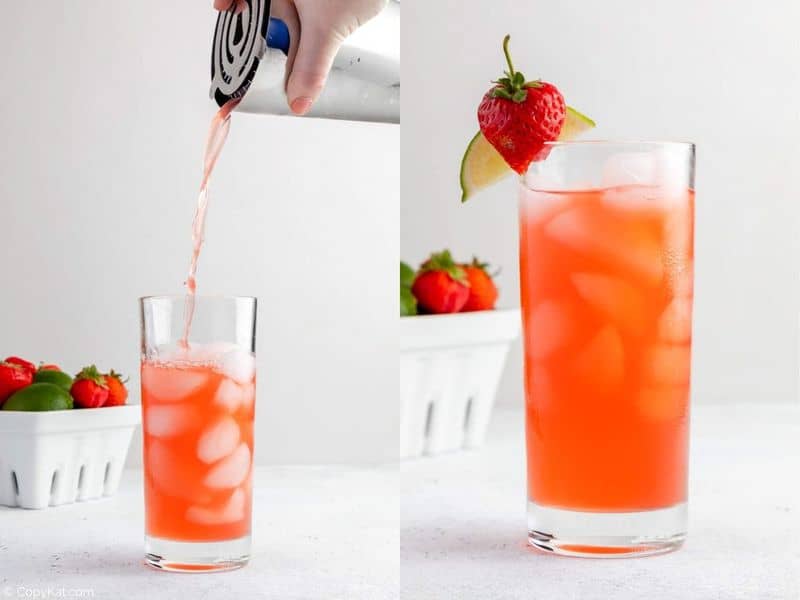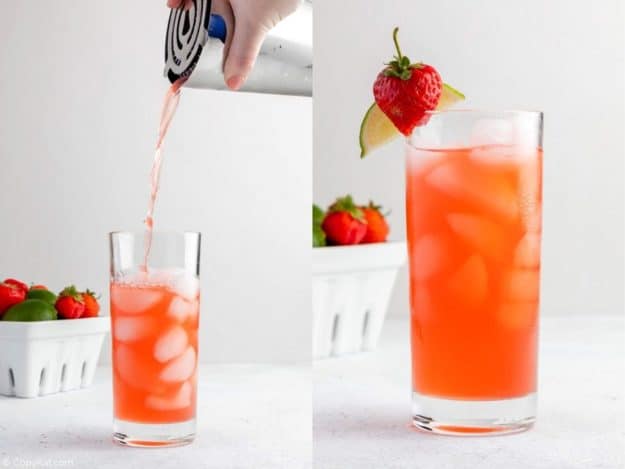 More Olive Garden Drink Recipes
Try these favorites:
Popular Fruity Cocktail Recipes
Be sure to check out more of my easy cocktail recipes and the best Olive Garden copycat recipes.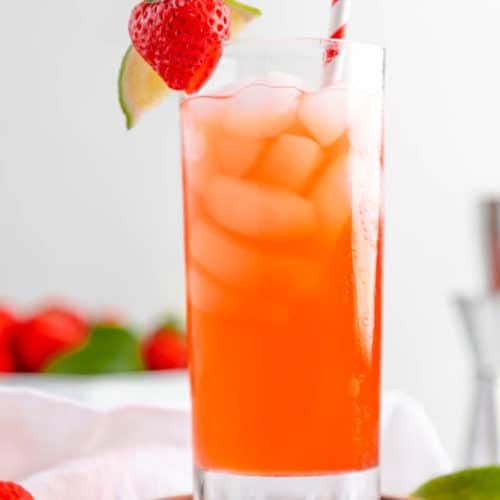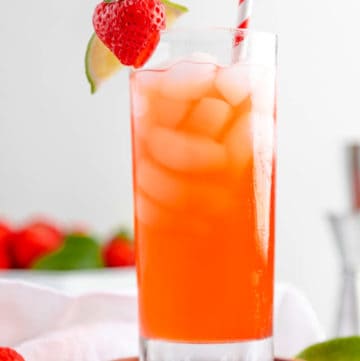 Ingredients
1

cup

ice + extra

4

ounces

sour mix

1/2

ounce

amaretto

1

ounce

strawberry passion syrup

1 1/2

ounces

Bacardi Superior Rum

1

lime wedge

or other garnish
Instructions
Place 1 cup of ice into a Boston shaker.

Add sour mix, amaretto, strawberry-passion syrup, and rum.

Shake for about 30 seconds.

Fill a Tom Collins glass ⅔ full of ice.

Strain the rum punch into the glass.

Garnish with a lime wedge or other garnish of your choice.
Notes
A Tom Collins glass is a tall glass with a 10 to 14-ounce capacity.
Nutrition
Calories:
296
kcal
|
Carbohydrates:
47
g
|
Protein:
1
g
|
Fat:
1
g
|
Saturated Fat:
1
g
|
Polyunsaturated Fat:
1
g
|
Monounsaturated Fat:
1
g
|
Sodium:
27
mg
|
Potassium:
91
mg
|
Fiber:
2
g
|
Sugar:
40
g
|
Vitamin A:
34
IU
|
Vitamin C:
20
mg
|
Calcium:
26
mg
|
Iron:
1
mg