Red Lobster Crispy Brussels Sprouts with soy-ginger glaze and fried onions are a tasty side dish. These roasted Brussels sprouts are crispy on the outside and tender on the inside. Fried onions add a little crunch and the ginger-soy glaze gives this dish a touch of sweetness.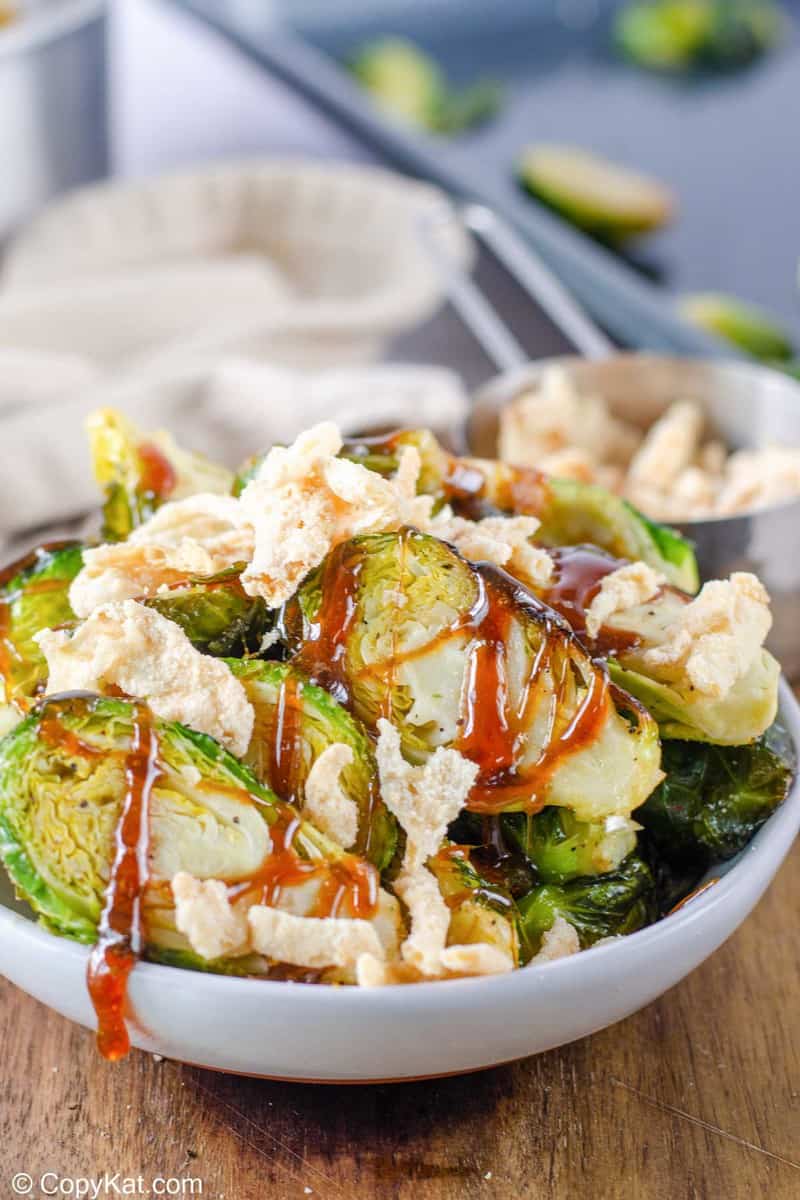 This post contains affiliate links. As an Amazon Associate, I earn from qualifying purchases.
Best Brussel Sprouts
Many folks claim they can't stand Brussels sprouts, but that probably stems from some food-related trauma during childhood. Yep, when cooked poorly, Brussels sprouts can be nasty soggy balls of bitterness.
On the other hand, they are absolutely delicious when made correctly; and this crispy Brussels sprouts recipe from Red Lobster is sure to convert even the reluctant veggie eater. The sweet soy-ginger glaze balances the natural earthiness of the Brussels sprouts, while the fried onions add a crispy texture and another layer of flavor.
This roasted Brussel sprouts recipe is so good that even your kids will be begging for you to make it again.
Red Lobster Crispy Brussels Sprouts Recipe Ingredients
Here's a list of what you need:
Brown sugar
White granulated sugar
Reduced sodium soy sauce
Minced fresh ginger
Brussels sprouts
Olive oil
French's original crispy fried onions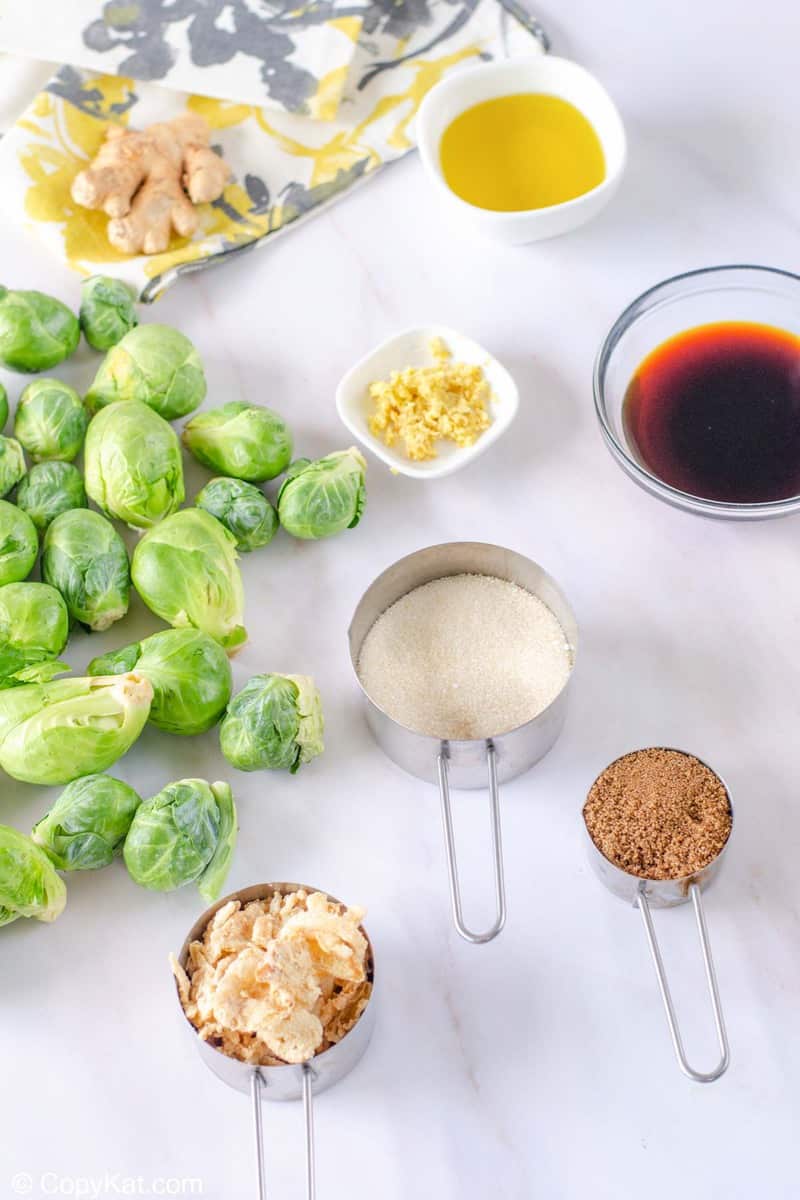 How to Trim Brussels Sprouts
Trimming the Brussels sprouts for this recipe isn't difficult, but if you haven't done it before, here are the steps.
Put the Brussels sprouts in a colander and rinse them off in cold water. Dry thoroughly.
Use a sharp knife to cut off the brown, woody bottom where the sprout attached it to the plant. Be sure not to slice off too much, or the leaves will begin to separate.
Remove the first layer of leaves and examine the ones underneath. If they are firm and free of any bruising or insect damage, stop peeling. Otherwise, repeat until you like the look of the leaves.
Cut the Brussels sprouts in half through the core.
How to Make Soy-Ginger Glaze
The soy-ginger glaze is front and center in this recipe, so it is well worth taking your time to do it properly. Make sure that you are using a soy sauce with the lowest amount of sodium you can find to avoid it becoming overly salty.
If you prefer not to use a soy-based product, you can prepare this glaze with an equal amount of low-sodium coconut aminos.
Place a small saucepan over medium heat. Use a one-quart pan with a thick bottom if you have it to prevent scorching.
Add the white sugar, brown sugar, and soy sauce to the pan and stir to combine. Be careful that the sauce does not overcook, and bubble too much, the sauce may burn.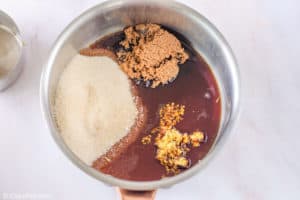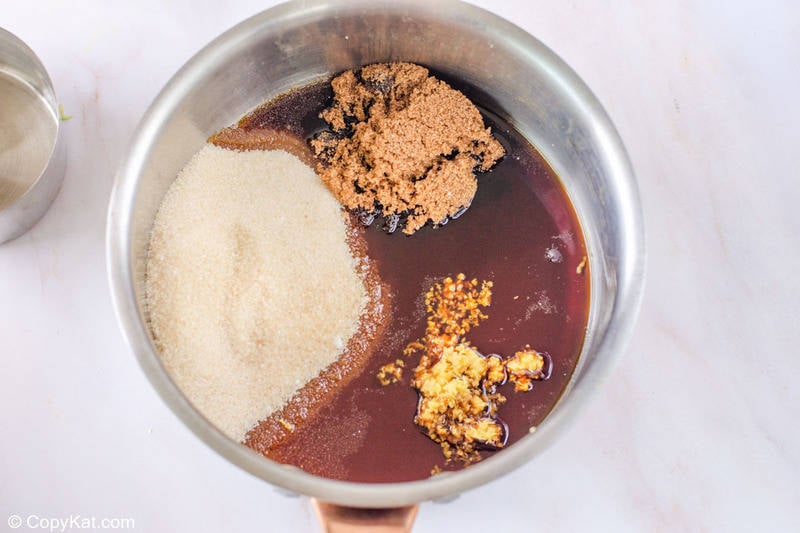 Cook and continuously stir the mixture in a figure-8 pattern until it reduces by half.
Add ginger and remove the pan from the stovetop and allow the glaze to cool.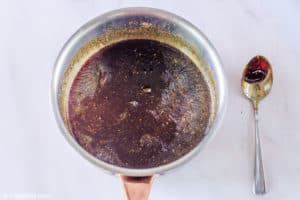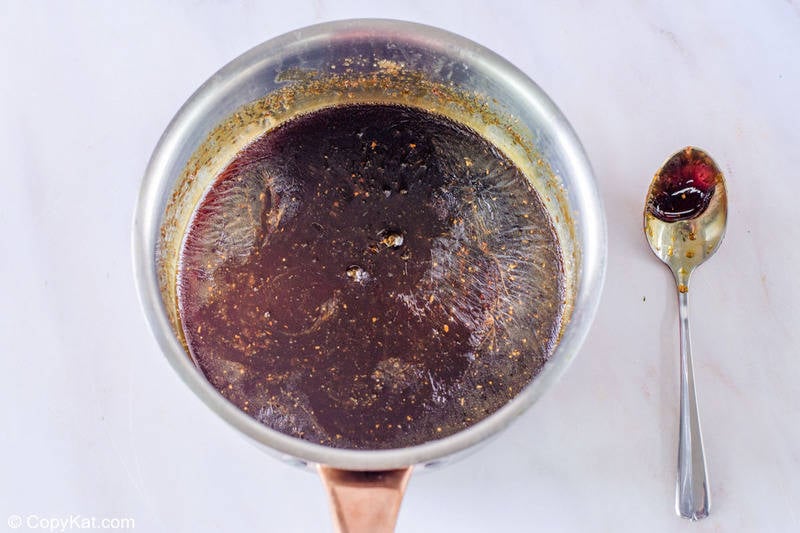 Strain the sauce into a jar or bowl to remove the ginger before using.
How to Make Red Lobster Crispy Brussels Sprouts
Wash and cut the Brussels sprouts in half. Pull off any yellowed leaves.
Place Brussels sprouts and olive oil in a bowl. Toss to coat Brussels sprouts with oil.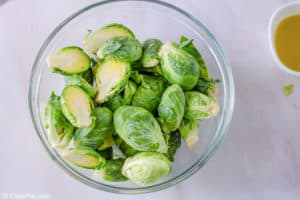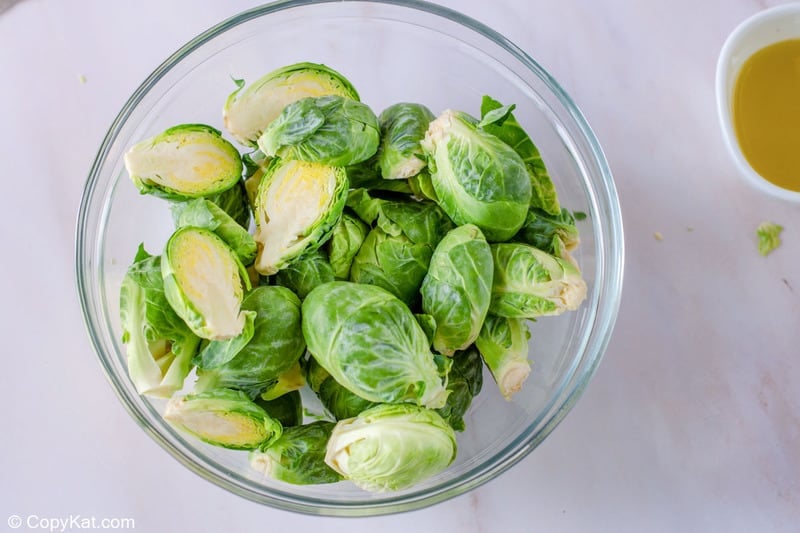 Place Brussels sprouts on a rimmed sheet pan.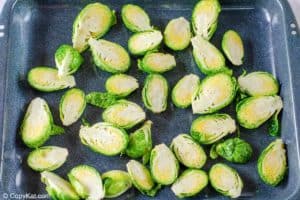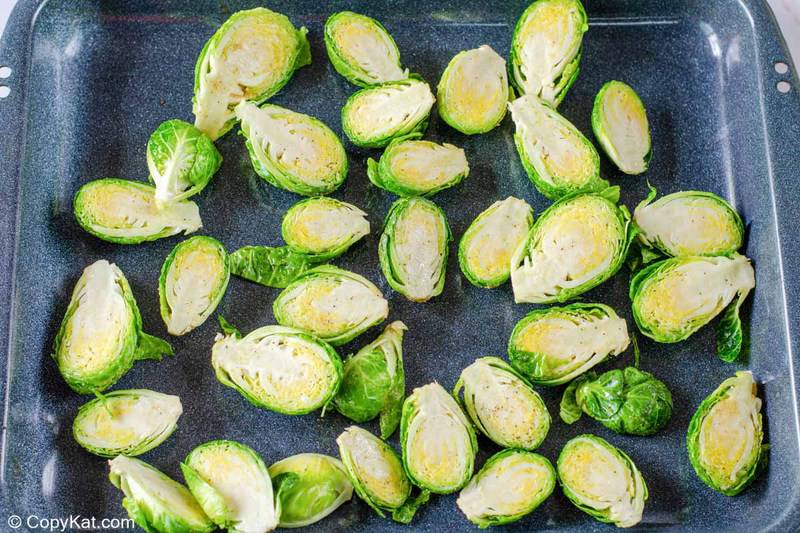 Roast the Brussels sprouts at 400 degrees for 35 to 40 minutes. Shake the pan halfway through to brown the sprouts evenly.
Place Brussels sprouts onto a plate, drizzle the soy-ginger glaze over them, and then sprinkle on some of the crispy fried onions on top.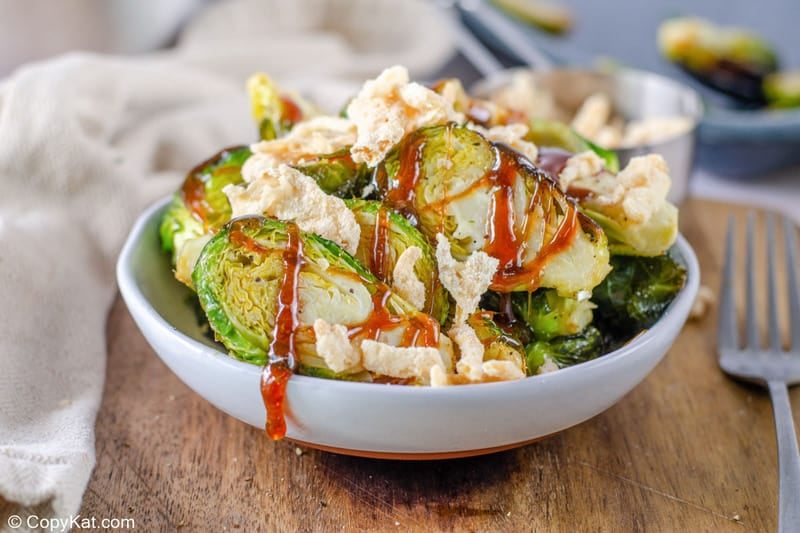 Tips for Making Red Lobster Menu Crispy Brussels Sprouts
Preheat the sheet pan in the oven. Placing a room temperature sheet pan in a hot oven will significantly drop the cooking temperature and prevent the Brussels sprouts from crisping up.
For super-crispy Brussels sprouts with the cut-side down, you can roast them cut side up. The hot pan will caramelize them beautifully.
Transfer the cooled soy-ginger glaze to a clean squeeze bottle. The glaze is very sweet, and it's easier to use a squeeze bottle to control how much glaze you add to the Brussels sprouts.
Hold off topping the Red lobster Brussels sprouts with the fried onions until just before serving to retain the most amount of crunch.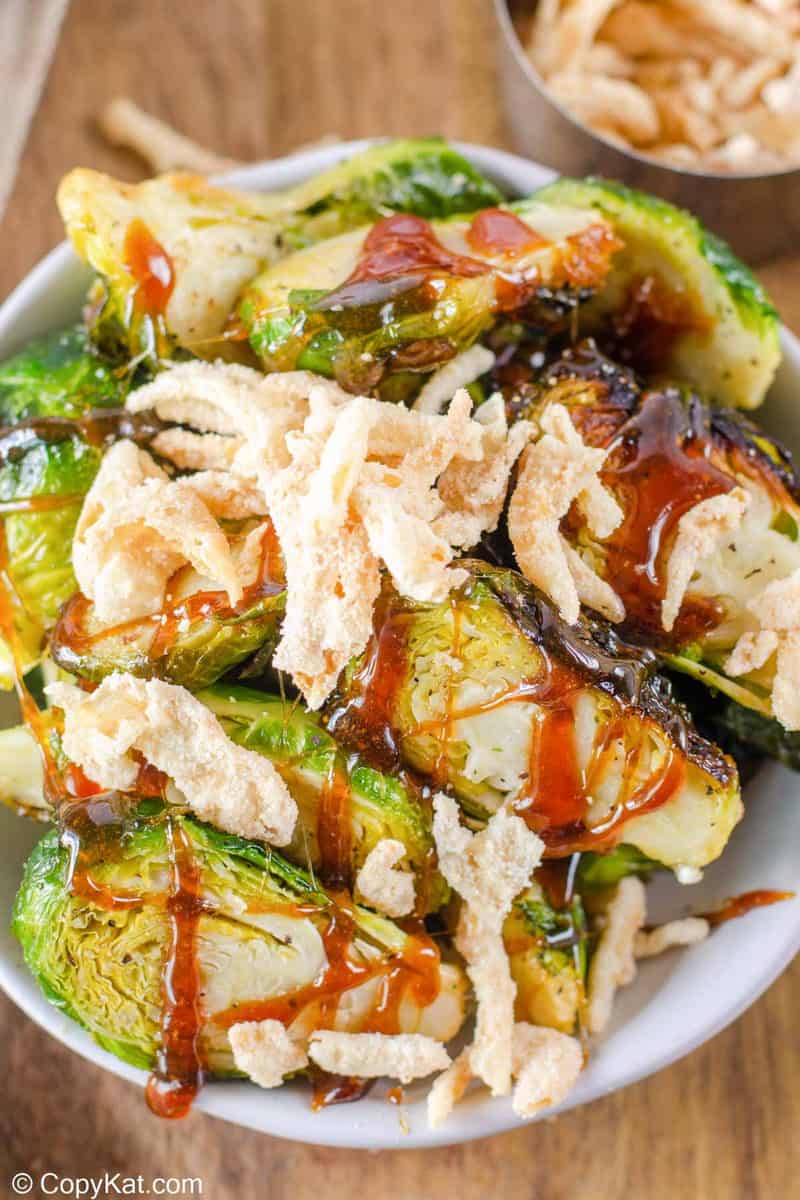 Love Red Lobster? Try these copycat recipes!
Favorite Vegetable Side Dishes
Check out more of my delicious vegetable side dish recipes and the best Red Lobster recipes here on CopyKat!
See what we are up on Facebook!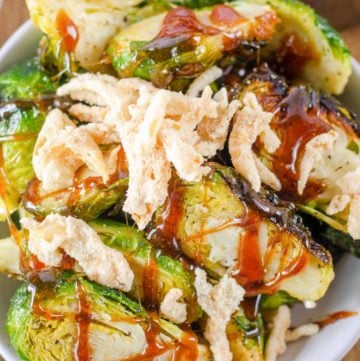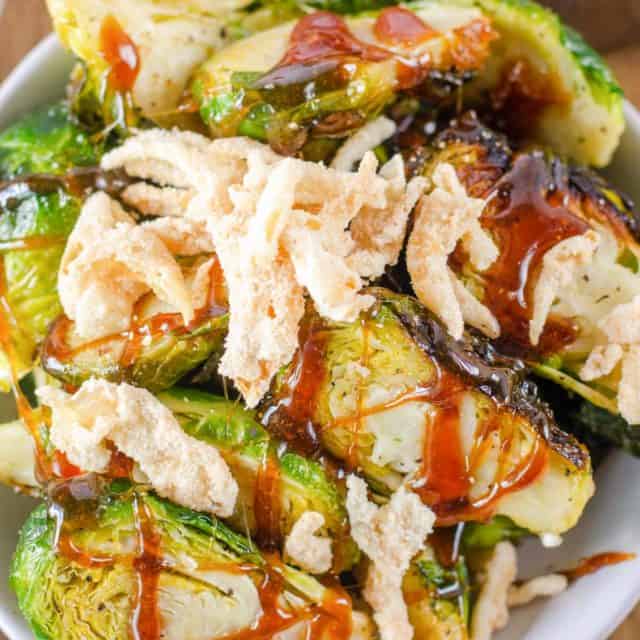 Ingredients
Soy ginger glaze ingredients
1/2

cup

brown sugar

3/4

cup

white granulated sugar

1 1/4

cup

reduced sodium soy sauce

1

tablespoon

minced fresh ginger
Brussel Sprouts
32

ounces

Brussels Sprouts

4

tablespoons

olive oil
Topping
1/2

cup

French's crispy fried onions
Instructions
Soy Ginger Glaze
This is best made the day before, or at least several hours before, the sauce will thicken as it cools.

In a small saucepan combine brown sugar, white granulated sugar and soy sauce. Turn on medium to medium-high heat. You will need to stir constantly as this sauce reduces by ⅓ to ½. Then add in ginger, give it a stir or two, and remove from the heat.

This must cool completely or the sauce will not thicken. Store sauce in an air tight container, this will make a lot of sauce, it can be stored for up to 1 month.
Preheat oven to 400 degrees.
Wash and cut the Brussels sprouts in half, pull off any yellowed leaves. Mix them in a bowl with the olive oil.

Place the Brussels sprouts on a rimmed sheet pan and roast for 35 to 40 minutes. Shake the pan halfway through to brown the sprouts evenly.

When ready to serve, portion some of the Brussels sprouts onto a plate, drizzle the soy ginger glaze, and then sprinkle on some of the crispy fried onions on top.
Nutrition
Calories:
258
kcal
|
Carbohydrates:
46
g
|
Protein:
6
g
|
Fat:
7
g
|
Saturated Fat:
1
g
|
Sodium:
1361
mg
|
Potassium:
539
mg
|
Fiber:
5
g
|
Sugar:
35
g
|
Vitamin A:
855
IU
|
Vitamin C:
97
mg
|
Calcium:
66
mg
|
Iron:
3
mg