Panera Bread Autumn Squash Soup is a delicious soup that you don't want to miss. Now you can make this classic fall soup anytime with this copycat recipe.
Panera Bread is known for a menu that changes seasonally. During the fall their Autumn Squash Soup can't be missed. This unique soup is a cornucopia of flavors. This soup combines butternut squash, pumpkin, vegetable broth, apple juice, cinnamon, and curry powder. You will love this combination of flavors.
I use a fresh butternut squash for this recipe and canned pumpkin. Canned pumpkin is my personal choice to do it this way. I think canned pumpkin is good tasting, and can be used for recipes quickly. I roast fresh butternut squash. If you are lucky, your store may have some on hand already cut and ready to be roasted. When I roast this butternut squash, I try not to let it get too brown. I don't want a brown color of the soup.
Panera Bread uses vegetable broth for this recipe. So this recipe is vegetarian. For a change you could use chicken broth, so it is up to you what type of broth that you use. This soup uses a couple of different spices; we use curry powder and cinnamon. The curry powder is going to add just the right amount of heat. The cinnamon adds the familiar fall flavor that we all love.
For this recipe, we also use pumpkin seeds. So we are using only the inner portion of the seeds, pumpkin seeds can come with an outer shell that is white. The meat of the seed is green. I like to toast these in the oven because I think it adds just the right flavor.
I hope you enjoy my version of Panera Bread Autumn Squash soup. If you like Panera Bread, be sure to check out these other recipes.
Panera Bread Macaroni and Cheese
Panera Bread French Onion Bistro Soup
Panera Bread Broccoli Cheese Soup
Panera Bread Autumn Squash Soup
Author:

Stephanie Manley

Recipe Type:

Soup

Prep time:

15 minutes

Cook time:

45 minutes

Serves:

10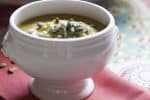 Enjoy this lovely Panera Bread Autumn Squash soup with this copycat recipe.
Ingredients
1 butternut squash that is between two and three pounds

2 tablespoon vegetable oil (divided use)

1 cup chopped white onion

1 small can pumpkin (15 ounces)

2 cups vegetable stock

2 teaspoons curry powder (you may want to add more)

1/2 teaspoon cinnamon

1 cup apple juice

1 tablespoon honey

1/2 cup heavy cream

pumpkin seeds (shell removed)
Directions
Preheat oven to 350 degrees. Peel and cut a butternut squash into 1-inch cubes. Drizzle 1 tablespoon vegetable oil over the butternut squash and stir to coat it well. Bake for about 30 minutes or until the butternut squash is fork tender. Do not let the squash brown.
In a large stock pot add 1 tablespoon vegetable oil and saute onions until they are translucent. Sprinkle a little salt over the onions as you saute them. By salting the onions you will pull moisture out of the onions and the onions will cook more quickly.
When the onions are translucent add pumpkin, butternut squash, vegetable stock, curry powder, and cinnamon, apple juice, and honey. Heat through. When the soup is hot, use an immersion blender to make the soup smooth. You can use a blender to make the soup if desired. Add cream to the soup, and stir the cream.
Toast the pumpkin seeds in a small skillet. Heat through until they become fragrant. Remove from heat immediately.
Print Recipe