Applebee's Perfect Margarita is a classic Mexican cocktail to enjoy for any occasion.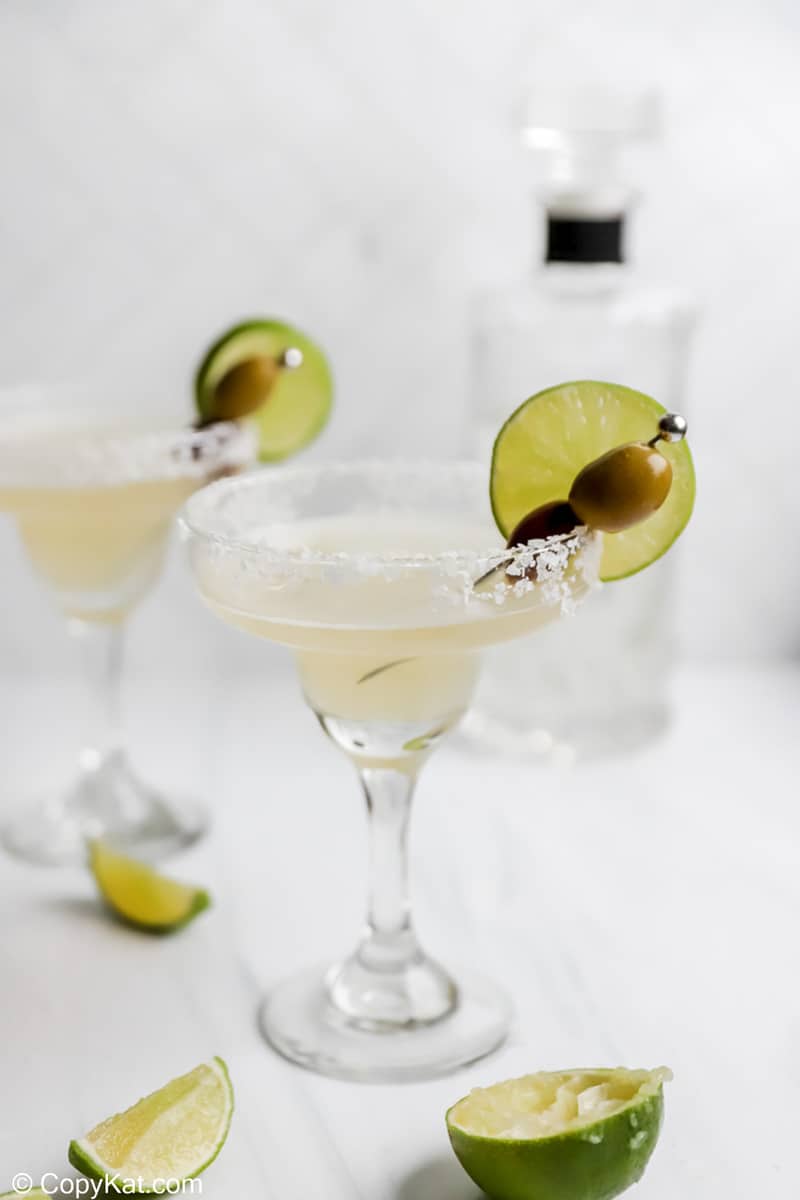 There is so much to enjoy when sipping on this perfect margarita. From premium ingredients to a unique olive garnish, every sip is a happy one.
Applebee's is the perfect neighborhood hangout with great food at a good price, so it is no surprise that the restaurants offer the Perfect Margarita. Applebee's Perfect Margarita takes an everyday cocktail to the next level with top-shelf alcohol. Whether you are unwinding after a hard day or want to celebrate with your friends, this is the drink you should be sipping.
Premium Ingredients for the Perfect Margarita
Sure, these ingredients are a little on the expensive side, but it is so worth it!
1800 Reposado Tequila. All reposado tequila spend some time in oak barrels to age, but not all are crafted from 100% Tequilana Weber blue agave that is up to 12 years old. All that time and care gives 1800 Reposado Tequilla a more pronounced taste than tequilas you might typically find in a Margarita. Some people describe 1800 Reposado Tequilla as having caramel and black pepper flavors with a hint of smokiness. For the best flavor, let this tequila breath for a few minutes like a wine before mixing.
Cointreau. This top-shelf liqueur in the Perfect Margarita recipe replaces the usual Triple Sec in the everyday Margarita. Few folks will dispute the fact that Cointreau is one of the finest orange liqueurs you can drink, and that is why it has been the star of many cocktails since its creation in the 1800s. With its fresh, clean taste of citrus fruit and just a touch of sweetness, you can't do better.
Grand Marnier. In this cocktail, the Grand Marnier brings not only another layer of subtle orange flavor but also the heaviness and complexity of fine brandy. Along with grounding the cocktail, this brandy strengthens the oaky notes present in the 1800 Reposado Tequilla and adds a touch of vanilla. Although Grand Marnier is not a major player in this cocktail, leaving it out would result in a less substantial drink.
Bring Out the Blender
Although this high-end cocktail is best when shaken and served on the rocks, for some people, a Margarita is just not a real Margarita unless it takes a spin in the blender.
For those folks, blending up a frozen Applebee's Perfect Margarita recipe deserves special attention.
Use a powerful blender that can do the job properly. No one wants to find huge chunks of ice floating around in a frozen cocktail.
Add all the liquids first, followed by the ice. For the best results, you should use small ice cubes or pre-crushed ice.
Start on the lowest setting, and then gradually increase the speed. Don't over blend.
Tips for Mixing and Serving an Applebee's Perfect Margarita
Use a proper shaker. Don't try to get away with stirring this drink. A great Margarita demands a few hard shakes in a Boston shaker to slightly dilute and aerate the cocktail.
Skip the bottled sour mix. Don't ruin your premium spirits with a bad mixer. You can find a recipe to make your own sour mix on Serious Eats.
Salt the rim with real Margarita salt. Salt adds to the experience of drinking a Margarita, and it just isn't the same without it. You can buy premade Margarita salt, use slightly crushed plain kosher salt, or make your own Margarita salt at home.
See what we are cooking up these days on Pinterest.
Ingredients
Here's a list of what you need:
Tequila
Cointreau
Grand Marnier
Simple syrup
Sweet and sour mix
Lime
Salt for rimming glass
Green olive for serving
How to Make Applebee's Perfect Margarita
Rub a lime wedge around the rim of a margarita glass and dip the rim in salt.

Squeeze the lime to get fresh lime juice.
Place the tequila, Cointreau, Grand Marnier, simple syrup, sour mix, and lime juice in a cocktail shaker filled with ice.

Shake, strain, and pour into the salt-rimmed margarita glass.

Serve with an olive and a slice of lime.

Love Applebee's? Try these copycat recipes!
Favorite Cocktail Recipes
Check out more of my easy cocktail recipes and the best copycat restaurant recipes here on CopyKat!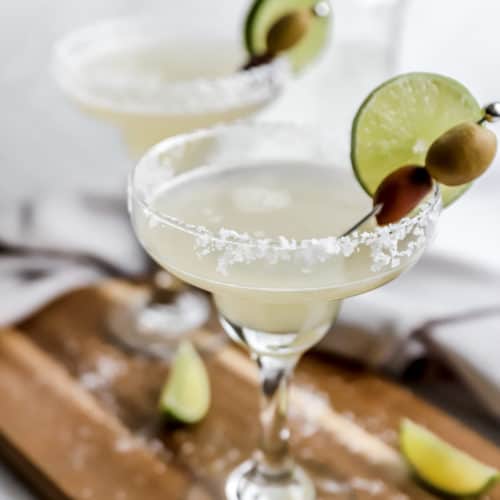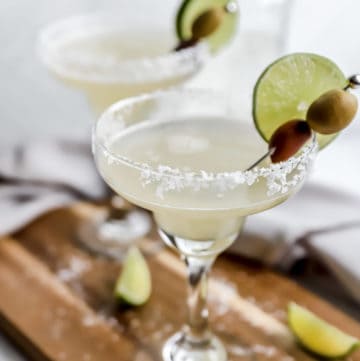 Ingredients
1 1/2

ounces

1800 Reposado tequila

1/2

ounce

Contreau

1/2

ounce

Grand Marnier

1/2

ounce

simple syrup

1 1/2

ounces

fresh lime juice

4

ounces

sweet and sour mix
Instructions
Place all in ingredients in a boston shaker, fill with ice.  Shake.  Pour into a salt-rimmed margarita glass filled with fresh ice, serve with an olive and a slice of time.
Nutrition
Calories:
539
kcal
|
Carbohydrates:
106
g
|
Protein:
1
g
|
Fat:
1
g
|
Saturated Fat:
1
g
|
Sodium:
78
mg
|
Potassium:
139
mg
|
Fiber:
1
g
|
Sugar:
103
g
|
Vitamin A:
21
IU
|
Vitamin C:
13
mg
|
Calcium:
23
mg
|
Iron:
5
mg