Apple Bread Pudding with Caramel Sauce is a dish that is perfect for when you want to serve a dessert that will impress. I love making a good old-fashioned bread pudding. Bread puddings are easy to make and they taste, oh so good.
Caramel Apple Bread Pudding
Buttery apple cinnamon bread is baked in a creme anglaise (creamy vanilla sauce) and then served with a rich caramel sauce. You are bound to fall in love with this bread pudding.
I like to serve this bread pudding while it is still warm and fresh from the oven. It does reheat well, so if you can't enjoy it in one sitting, you can reheat it and enjoy it later.
Recipe Ingredients
Here's a list of what you need:
French bread
Butter
Sugar
Apples
Cinnamon
Eggs
Vanilla bean or vanilla extract
Heavy cream
Brown sugar
Salt
Best Apple for Bread Pudding
If you haven't had a chance to try Opal Apples, this is a good opportunity to try this special apple.
If you haven't had a chance to try an Opal apple, I will encourage you to find these apples. One of the characteristics of these apples is that they don't brown. We all know that when you cut into an apple, they brown. These don't brown because of the natural properties of this apple.
They are also the first apple that is Non-GMO certified. So if you are concerned about GMO in your food, this apple is one that you will enjoy.
These apples are crisp, sweet, and they lend themselves to baking. They do not get too soft and stand up well. I think these would also make fantastic applesauce, apple dumplings, apple cocktails, and of course, bread pudding.
You could use other apples that are ideal for baking, I would recommend Granny Smith apples, Jonagold, Honeycrisp, Braeburn, Mutsu, Winesap, or Pink Lady.
Best Bread for Bread Pudding
This bread pudding is made with leftover French bread. I like to buy day-old bread and turn it into bread pudding, it has a nice dense texture, and it is perfect.
If you don't have any French bread on hand you can use brioche, Italian, challah, croissant, or panettone. I suggest something hardier than your everyday sandwich bread.
How to Make Apple Bread Pudding with Caramel Sauce
Wash, peel, core, and thinly slice apples. Mix butter and sugar together.
Slice the bread and spread the sugar-butter mixture on the slices. Make small apple sandwiches with buttered bread, apple slices, and a sprinkle of cinnamon.
Place the apple sandwiches into a buttered 9 X 13-inch baking dish. Add apple slices between each sandwich.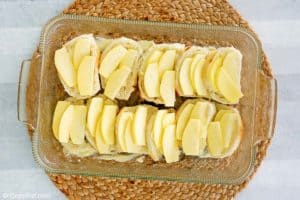 Make a vanilla cream sauce and pour it over the sandwiches.
Cover and bake at 375 degrees for approximately 40 minutes. Remove the cover and bake uncovered for 10 minutes.
Make the caramel sauce while the bread pudding is baking.
Serve apple bread pudding with caramel sauce drizzled on top.
How to Prepare a Water Bath for Baking
For this recipe, I suggest that you use a water bath. We bake delicate foods such as bread pudding this way because this will keep the bread pudding from burning or drying out.
It is key to use two pans for your water bath, one large shallow dish, and then the baking dish with the bread pudding. You may want to also place a dish towel into the larger pan, so the smaller pan doesn't move around in the pan.
To make the water bath, set the smaller pan into a larger pan and fill about halfway with water. This is the right amount of water in the water bath. You will want to check during the baking to make sure the water does not evaporate while baking.
How to store apple bread pudding
I recommend storing this bread pudding at room temperature when wrapped with plastic wrap for 2 days. If you need to hold it for longer I recommend storing the caramel apple bread pudding in an airtight container in the refrigerator for up to five days.
This can freeze for up to 3 months when placed in an airtight container in the refrigerator.
I hope you give this apple bread pudding recipe a try! It is packed full of delicious apple flavor. You could serve this warm out of the oven with a scoop of vanilla ice cream.
Love apples? Try these recipes!
Want even more? Check out this list of over 100 apple recipes everyone will love.
More Bread Pudding Recipes
Check out more of my easy dessert recipes and the best fall recipes here on CopyKat!
Ingredients
1/2

pound

sugar

1 cup plus 2 tablespoons

1/2

pound

butter, chopped into large pieces

+ extra for the baking dish

1

loaf

French bread, sliced to 3/8-inch

2

apples

peeled, cored, and thinly sliced (as with a mandolin)

1

teaspoon

cinnamon
Sauce Anglaise
3

egg yolks

1

cup

sugar

1

pint

heavy cream

1

vanilla bean

or 1 teaspoon vanilla extract
Caramel Sauce
1/4

pound

butter, chilled

3/4

cup

brown sugar

1

pint

heavy cream

1/2

teaspoon

salt
Instructions
Bread Pudding Instructions
Preheat the oven to 375°F. Butter a 9×13-inch baking dish.

Mix the sugar, salt, and butter together in a bowl until well blended.

Spread the sugar and butter mixture onto one side of each slice of bread. Make small sandwiches by placing 2 or 3 apple slices and a sprinkle of cinnamon between two slices of buttered bread. Repeat until you've used all of the bread.

Place the apple sandwiches into the baking dish. Between each sandwich add 1 or 2 apple slices.

Combine the egg yolks and sugar in a bowl, and whisk well.

Heat up the cream and vanilla in a saucepan on the stove until it almost starts to boil. Then remove from the heat.

To temper the eggs, ladle a small amount of cream into the egg yolk mixture and mix well. Then transfer the yolk mixture back into the pot of cream and whisk so that it does not curdle. Place over a low flame for 2 minutes, whisking until it starts to thicken.

Pour the sauce over the bread in the baking dish.

Cover the dish, place it into a water bath, and bake for approximately 40 minutes. Remove the cover and bake for another 10 minutes.

While the bread pudding is in the oven, prepare the caramel sauce.
Caramel Sauce Instructions
Combine the butter and brown sugar in a pot over medium-high heat, and whisk to combine. When the sugar is melted and starts to boil, remove from the heat, add the cream, and whisk to combine. Allow the sauce to cool to room temperature.

To serve, place a portion of the bread pudding on a plate and drizzle with caramel sauce.
Nutrition
Calories:
960
kcal
|
Carbohydrates:
89
g
|
Protein:
7
g
|
Fat:
65
g
|
Saturated Fat:
40
g
|
Cholesterol:
264
mg
|
Sodium:
618
mg
|
Potassium:
194
mg
|
Fiber:
1
g
|
Sugar:
63
g
|
Vitamin A:
2375
IU
|
Vitamin C:
2.2
mg
|
Calcium:
112
mg
|
Iron:
1.8
mg