Have you tried Chicken Katsu in a Japanese restaurant? You can make this delicious boneless chicken cutlet at home. No need to dine out when you can make these chicken cutlets in minutes!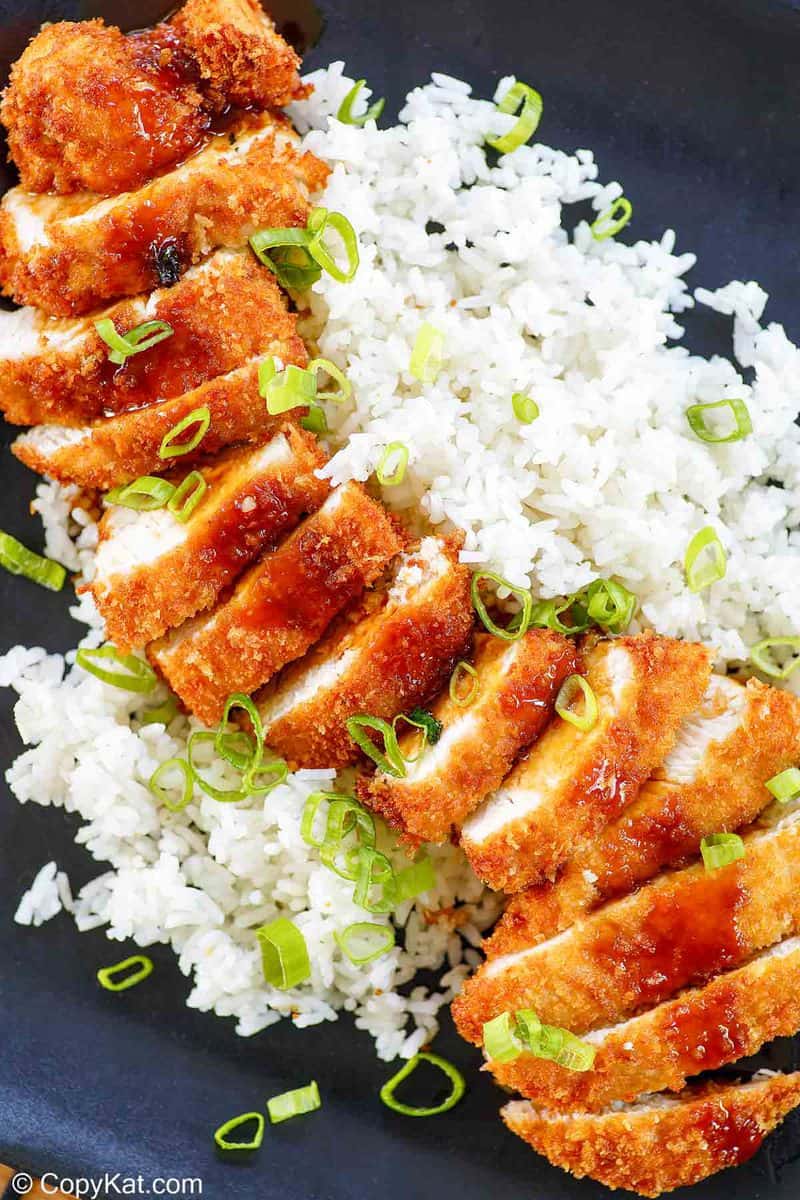 This post contains affiliate links. As an Amazon Associate, I earn from qualifying purchases.
Easy Japanese Chicken Recipe
Are you tired of your current library of chicken recipes? You can make a wonderful weeknight meal with this easy chicken dish. It's not difficult at all to make Japanese cuisine at home!
What is Chicken Katsu?
The Japanese word katsu means cutlet in English and refers to meat that's been pounded thin before being cooked. Chicken katsu is a Japanese dish that is also known as panko chicken or tori katsu. Think of it as Japanese-style fried chicken.
Seasoned chicken is coated with panko breadcrumbs that are so light and crispy when cooked. You get a satisfying crunch and then a taste of moist and juicy chicken.
Chicken katsu is traditionally served with white rice and tonkatsu sauce, a thick and tangy Japanese vegetarian brown sauce. (You can see how to make this sauce below.) Don't be afraid of making a Japanese dish – this one is really easy.
This easy chicken katsu recipe can also be used to make tonkatsu (Japanese-style fried pork) – just substitute pork cutlets for the chicken.
What does Katsu taste like?
If you have never tried Katsu before it is essentially a crispy and crunchy breading that is deep-fried. If you like chicken cutlets or chicken tenders you are going to love this flavor.
If you have never been to a Japanese restaurant I think this is one of the most approachable chicken entrees you can try. This Japanese chicken cutlet is like an elevated chicken fried chicken steak.
What is the difference between Katsu and Tonkatsu?
Chicken Katsu is made of thinly sliced chicken breasts. Tonkatsu is the same dish but made with pork. So if you want to make this recipe with pork, I recommend using thin slices of pork loin. Simply follow the same directions as listed below.
What are panko breadcrumbs?
If you're not familiar with panko, rest assured that it's not anything strange or complicated. Panko is simply a type of breadcrumbs that's just a little bit different from ordinary breadcrumbs.
The difference lies in the particular kind of white bread that panko is made from. The word panko is derived from a Japanese word and is used extensively for light breading in Japanese cooking.
Panko bread crumbs are lighter, crispier, and flakier than ordinary breadcrumbs. Because panko is not heavy, it absorbs less oil and grease resulting in a wonderfully light and crispy coating.
You can make your own panko or buy it at most supermarkets and, of course, from Amazon.
What is tonkatsu sauce?
Tonkatsu sauce, aka Chicken Katsu sauce, is a Japanese-style barbecue sauce. It's rich and tangy and perfect for dipping your favorite fried food or drizzling on sandwiches. You can also buy this sauce already prepared.
You can easily make this sauce yourself with ingredients that you probably already have on hand – ketchup, Worcestershire Sauce, soy sauce, and a little bit of freshly minced garlic or even garlic powder.
What does tonkatsu sauce taste like?
If you have never tried this savory sauce before, it is like steak sauce, but with a slightly different kick with soy sauce. It is the perfect sauce for this dish, you may want to try it with other fried meats, it's so easy to make and when you make it at home, you always have enough!
Tonkatsu sauce tastes great on chicken, pork, and beef. I have even used it to dip egg rolls into!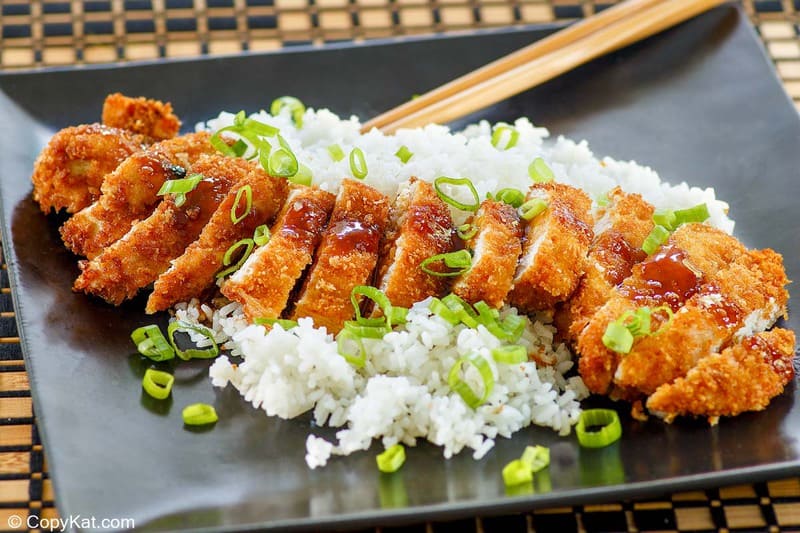 Chicken Katsu Ingredients
There are two components to this chicken katsu recipe, the katsu chicken and katsu sauce.
Here's what you need for the katsu chicken:
Boneless, skinless chicken breasts
Salt
All-purpose flour
Large eggs
Water
Panko breadcrumbs
Vegetable oil for cooking
Here's what you need for the chicken katsu sauce:
Ketchup
Soy sauce
Brown sugar
Mirin (rice wine)
Worcestershire sauce
Fresh ginger root
Garlic cloves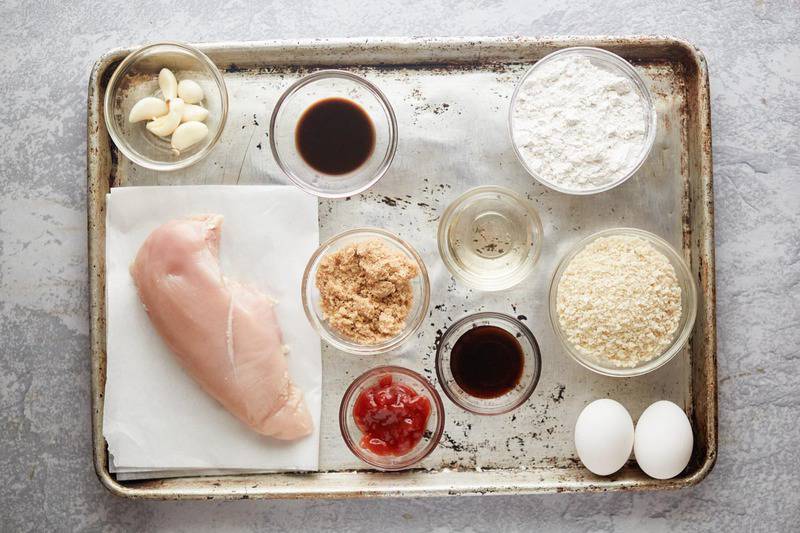 How to Make Tonkatsu Sauce
Place ketchup, soy sauce, brown sugar, mirin, Worcestershire sauce, grated ginger, and finely minced garlic in a bowl. Stir to combine.
Prepare the sauce at least 30 minutes prior to using it.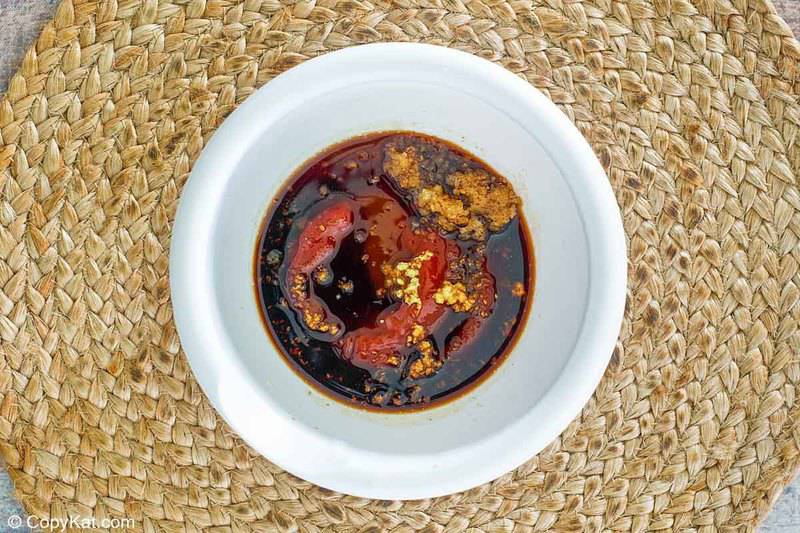 How to Make Chicken Katsu
Place halved chicken breasts between plastic wrap and gently pound out the chicken to about ¼-inch thick.
Salt the chicken liberally, cover it, and place it in the refrigerator for about 1 hour.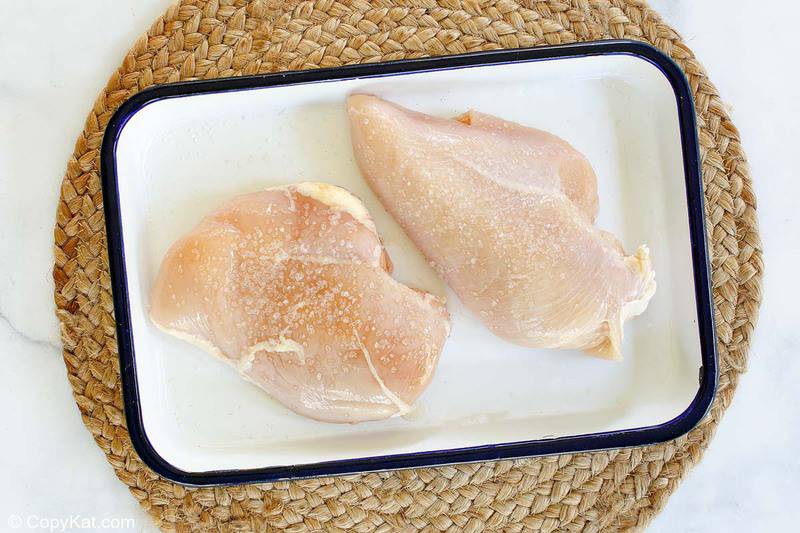 Set up a breading station with three shallow bowls. The first one with all-purpose flour, the second one with eggs beaten with water, and the third one with panko breadcrumbs.
Place chicken in the flour, turn to coat it on all sides, then shake off any excess flour.
Dip the floured chicken into the egg mixture, coat it well, then shake off any excess.
Dredge the chicken in Panko breadcrumbs. Shake off excess.
Place the breaded chicken on a wire rack.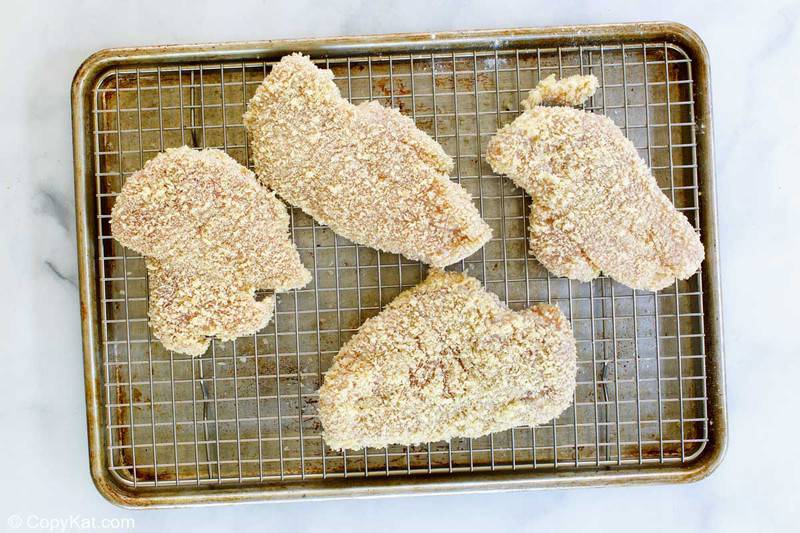 Preheat the oven to 200°F.
Add enough vegetable oil or canola oil to a large cast-iron or stainless steel skillet to be ½-inch deep. Heat the oil over medium-high heat to 350 degrees F.
Deep fry the chicken in the pan and cook it for 1 to 2 minutes, just until the crust sets. Flip the chicken over and cook it for 1 to 2 minutes. Continue cooking the chicken and flipping it over until it is golden brown on both sides.
Remove the chicken from the skillet. Drain excess grease by placing it on a clean wire rack over a baking sheet. I don't recommend using placing the chicken on paper towels because it will steam and the crust will get soggy. Place the chicken in the 200°F oven to finish cooking (until the internal temperature is 165°F degrees when checked with an instant-read thermometer).
Cut the chicken into thin strips and serve with katsu sauce and rice.
Make Chicken Katsu for Dinner!
Everyone loves fried chicken, and everyone will love this crunchy and delicious copycat chicken katsu recipe. It's a winner dinner! Serve with tonkatsu sauce or your favorite barbecue sauce. (See above for how to make your own tonkatsu sauce.) Let me know how your family enjoyed this Japanese fried chicken recipe – I love hearing from my fellow cooks.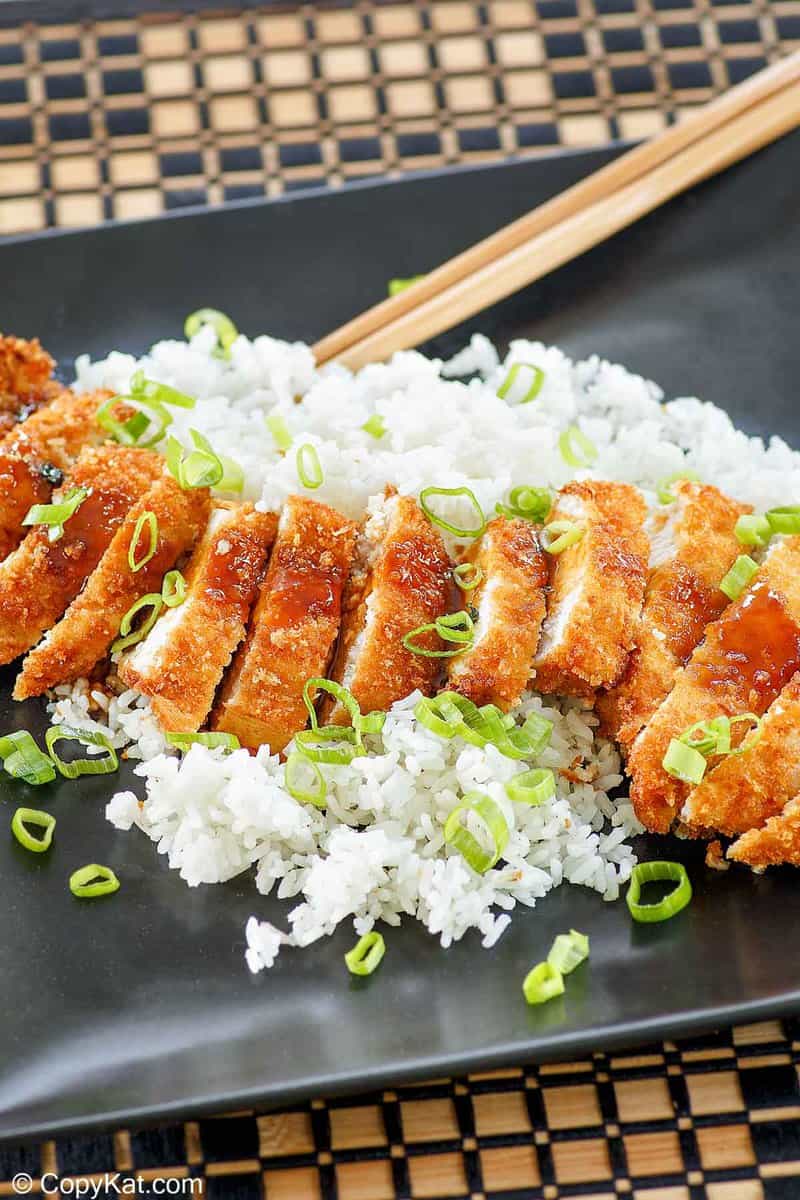 How to Store Chicken Katsu Leftovers
Refrigerate – in an airtight container for up to 5 days. I recommend waiting until the chicken has cooled to room temperature so it remains super crispy.
Freeze – Place in the freezer in an airtight container or you can double wrap it in plastic wrap for up to 3 months.
Best Ways to Reheat Chicken Katsu
I know when you reheat this you will want to keep the breading crispy. Because of this, I recommend reheating in an air fryer at 350°F for 4 to 5 minutes or heating it in the oven at 350°F for 5 to 8 minutes until it is just warm.
Want to try your hand at more copycat Japanese recipes? Here are some for you
Best Crispy Chicken Recipes
Be sure to check out more of my Japanese and Chinese meals and the best chicken copycat recipes.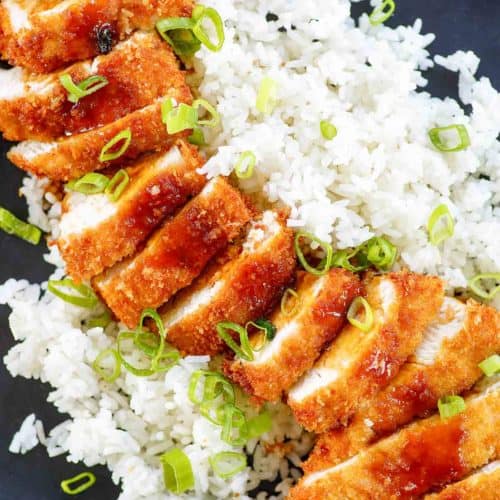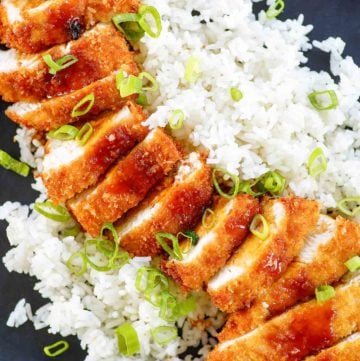 Ingredients
Katsu Sauce
1/2

cup

ketchup

2

tablespoons

soy sauce

2

teaspoons

brown sugar

1

tablespoon

mirin

2

teaspoons

Worcestershire sauce

1

teaspoon

freshly grated ginger

1

teaspoon

finely minced garlic
Chicken Katsu
1

pound

boneless skinless chicken breast

cut in half horizontally

salt

1 1/2

cups

all-purpose flour

3

eggs

1 1/2

tablespoons

water

3

cups

panko breadcrumbs

vegetable oil for cooking
Instructions
Katsu Sauce
Place all of the ingredients in a small bowl, and stir to combine.

Let the sauce rest at least 30 minutes before serving.
Chicken Katsu
Place halved chicken breast between some plastic wrap and gently pound out the chicken until it is about ¼ inch thick.

Salt the chicken liberally, cover, and place in the refrigerator for about 1 hour. This will help the chicken break down and become super juicy. You could omit this step, but the chicken will come out better if you let the chicken rest.

Set up a breading station with three bowls. Place the all-purpose flour into one bowl. Beat the eggs and 1 1/2 tablespoons of water together very well, and pour into a second bowl. Place the panko breadcrumbs into the third bowl.

Coat the chicken as follows: Place the chicken into the flour and shake off any excess. Dip into the egg wash, coat well, and shake off any excess. Dredge in the panko breadcrumbs.

Preheat the oven to 200°F.

Add enough vegetable oil to coat the bottom ½ inch of either an iron skillet or a stainless steel pan and heat to 350°F. Your pan should be large enough not to overcrowd the chicken.

Add the chicken to the pan and cook for 1 to 2 minutes, just until the crust sets.

Flip over and cook for another 1 to 2 minutes.

Continue cooking the chicken and flipping it over until it is golden brown on both sides.

Remove the chicken and place on a clean wire rack. Place into the preheated oven to finish cooking. Depending on the thickness of your chicken, the chicken may need another 7 or 8 minutes of cooking. Chicken should be 165°F before consuming.

When the chicken is fully cooked, cut into thin strips that you can pick up with chopsticks.

Serve with rice, tonkatsu sauce, or your favorite brown sauce.
Nutrition
Calories:
760
kcal
|
Carbohydrates:
68
g
|
Protein:
39
g
|
Fat:
36
g
|
Saturated Fat:
25
g
|
Cholesterol:
195
mg
|
Sodium:
509
mg
|
Potassium:
603
mg
|
Fiber:
3
g
|
Sugar:
3
g
|
Vitamin A:
212
IU
|
Vitamin C:
1
mg
|
Calcium:
114
mg
|
Iron:
5
mg