Honey Baked Ham is a delicious addition to your holiday meals. Hams from places like The HoneyBaked Ham Company are very expensive. Yes, they are very tasty, but you can make one for about one-third of the price if you catch your ham on sale.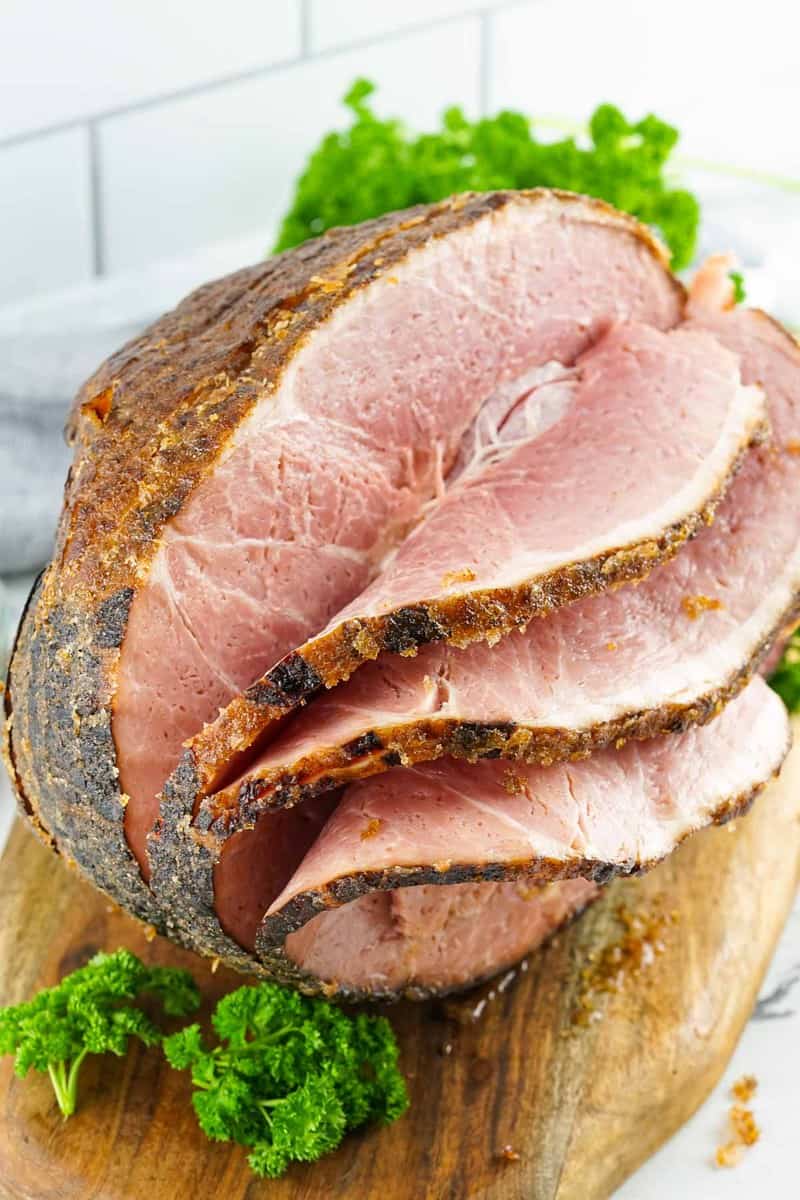 This post contains affiliate links. As an Amazon Associate, I earn from qualifying purchases.
Honey Baked Ham Copycat Recipe
Have you ever wondered how to make Honey Baked Ham? Honestly, these are some of the best-tasting hams you can buy. But you may not live near where you can easily purchase one. And they can be a little pricey. These spiral hams are the perfect addition to Easter, Thanksgiving, or even your Christmas dinner. Just imagine the wonderful leftovers you can prepare with the ham bone.
When you are on a budget, it can be somewhat of a stretch to spend a king's ransom on just one part of your meal. So, if you have ever wondered how to cook a honey baked ham at home, let me show you how.
About the Honey Baked Ham Co.
In 1957, Harry Hoenselaar opened the first Honey Baked store in Detroit, Michigan. He aimed to produce the best-tasting ham in the world.
He did so by selecting only the highest quality smoked ham-on-the-bone and creating a special curing procedure that brings out a one-of-a-kind taste, which is enhanced by a crunchy sweet glaze.
Today, the Honey Baked Ham Co. is still a family-owned business serving customers at over 400 retail locations in the US as well as online. Read more about the history of HoneyBaked Ham Company.
Special Spiral Slicing
Harry's spiral-slicing process has been patented and makes his Honey Baked Ham an easy-to-serve centerpiece for holiday dinners.
What Makes HoneyBaked Ham so Good?
For many families, honey baked hams are a treasured part of their holiday traditions, and the best honey baked hams are the ones from HoneyBaked.
HoneyBaked's crackly sweet and savory crusted hams are legendary, and not just for their outstanding flavor. These hams make serving a crowd easy, and because they are so versatile, using up leftovers is never a problem.
Why This Is the Recipe for HoneyBaked Ham You Should Try?
Really, the only bad part about HoneyBaked hams is that they take such a huge bite out of any party budget. But you can turn an inexpensive spiral-cut smoked ham into something spectacular with this recipe and save money for other holiday splurges.
Don't give up on this recipe because you feel intimidated by the glazing process. It is much simpler than you think and worth the effort.
Ingredients
Here's a list of what you need:
Sugar
Onion powder
Ground cinnamon
Ground nutmeg (freshly ground, if possible)
Ground ginger
Ground cloves
Paprika
Bone-in spiral-sliced precooked ham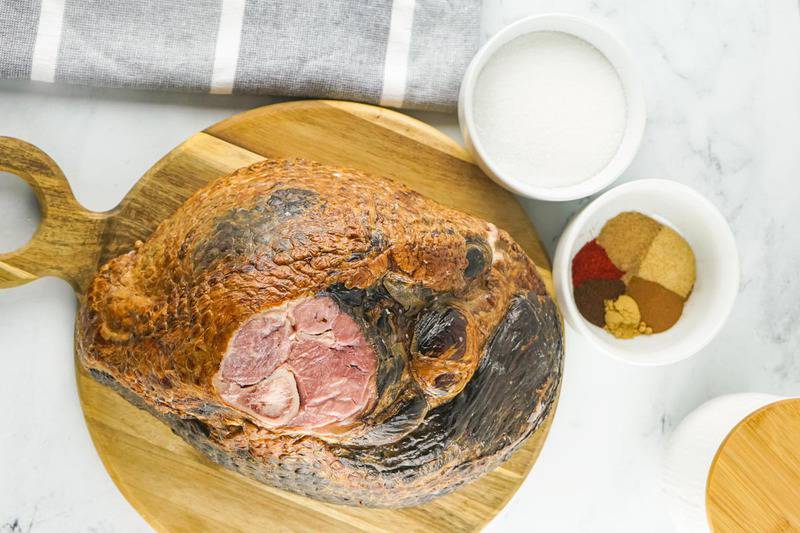 How to Make Honey Baked Ham at Home
Combine sugar and spices in a small bowl.
Cover a baking sheet with aluminum foil.
Place the ham open meat side down onto the pan.
Sprinkle the ham with the seasoned sugar mixture.
Press the sugar onto the outside of the ham.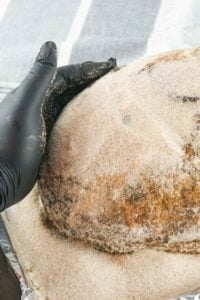 With a blowtorch, gently heat the seasoned sugar mixture on the ham until browned.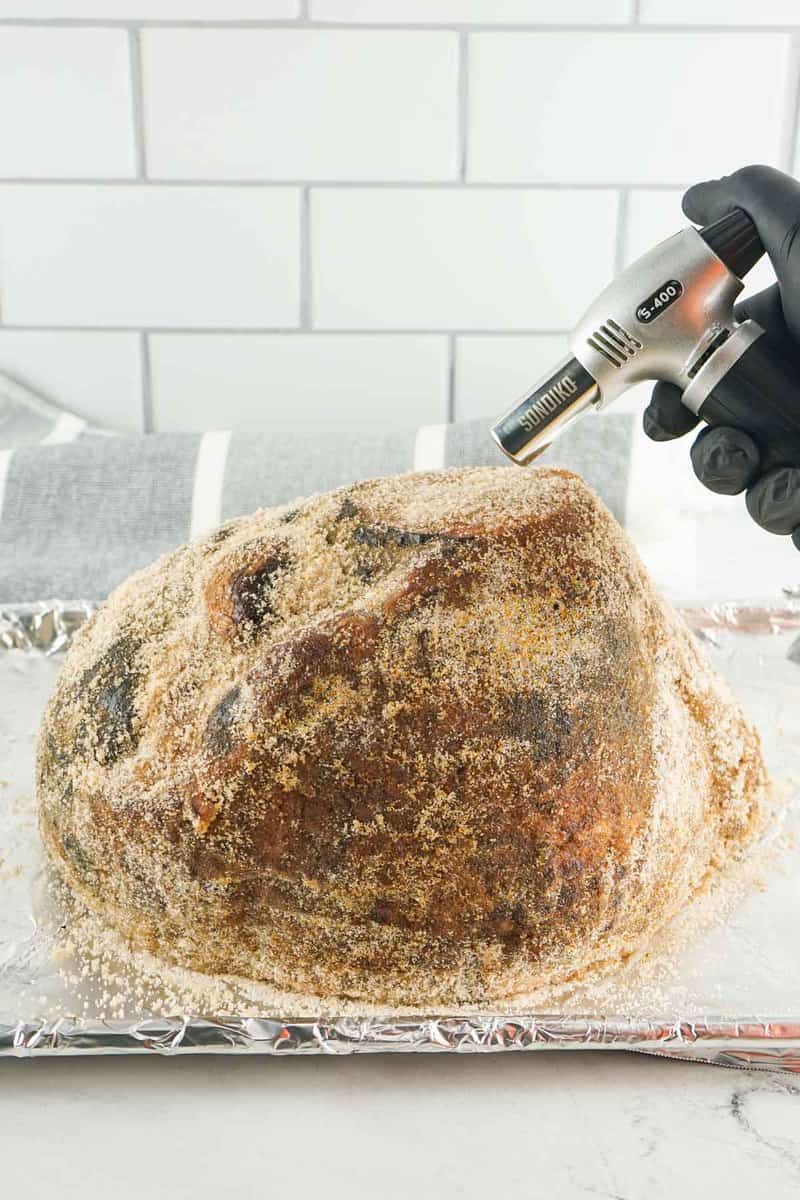 Serve immediately or warm the ham in the oven prior to serving.
Scroll down to the recipe card below for detailed instructions and video.
Does Ham Need to be Cooked?
Now, one question I have received multiple times is: do you need to cook your ham when making this recipe? The answer is no if you buy a cured ham.
Most hams are already cured and this means they are ready to eat. It's your personal preference to choose to serve your ham warm or cold.
I personally like to just heat my ham in a 300-degree oven for about 20 to 30 minutes. This will not give you a hot ham, but it takes the refrigerator chill off of it and warms it up to something a bit warmer than room temperature.
Using a Blow Torch
One suggestion I have is to prepare the ham inside your house. It's often windy outside and you will find that your blow torch will go out all of the time.
I use a blowtorch I got from the Home Depot. It was inexpensive and works great. You can spend money on those gourmet ones but they are three times the price.
My philosophy is why spend extra cash when you don't have to? You can save so much money when you make honey baked ham from scratch.
Don't be intimidated by cooking with a blow torch. It's easier than you think! Once you unlock the secrets of blow torch cooking, you will soon be a master at creme brulee!
How to Heat a Honey Baked Ham
The best way to enjoy HoneyBaked ham is at room temperature or straight from the fridge, but some people prefer their ham a little warmer than that. If you fall into this group, here is how to heat a honey baked ham the right way.
Slice the ham into serving portions. Heating an entire ham can dry it out.
Wrap the slices of ham in aluminum foil and place in a 300-degree oven until warm. Depending on the thickness of the ham, reheating should take between 5 and 15 minutes,
Make sure to consume any honey baked ham that you heat immediately and throw out any leftovers.
How Long Can Honey Baked Ham Stay in the Refrigerator?
After you glaze the honey baked ham, it will last in the fridge for up to a week as long as the use-by date on the original packaging is not sooner.
What Goes with Honey Baked Ham
Besides making the perfect sandwich, you can enjoy honey baked ham in many ways. Here are a few:
With eggs. Chopped and stuffed inside an omelet, as part of Eggs Benedict, or fried and served with sunny-side-up eggs, you can beat ham and eggs.
In a ham salad. Using honey baked ham in a ham salad recipe adds a whole new depth of flavor.
For a quiche. Make a Quiche Lorraine with any leftovers for another festive meal.
How to Store Leftover Ham
You can keep honey baked ham in the refrigerator for up to a week when it's wrapped tightly in aluminum foil. Just remember when serving honey baked ham, slice off only what you want to eat and immediately return the rest to the fridge to prevent spoilage.
You should throw away any honey baked ham that remains on the buffet table after a party.
How to Freeze Honey Baked Ham
To freeze leftover ham:
If you have more ham than you can use at one time, portion it into smaller pieces. Remember that you cannot refreeze the ham once you thaw it.
Wrap each piece of ham tightly in aluminum foil individually and put it into a large freezer bag.
Store in the freezer for up to six weeks
Defrost the ham in the fridge overnight and eat within two days.
Recipes for Leftover Ham
Favorite Holiday Main Dishes
Be sure to check out more of my ham recipes and the best main dish recipes here on CopyKat!
Ingredients
2

cups

sugar

1

teaspoon

onion powder

1

teaspoon

ground cinnamon

1

teaspoon

freshly ground nutmeg

1/2

teaspoon

ground ginger

1/2

teaspoon

ground cloves

1/2

teaspoon

paprika

1

8-pound

bone-in spiral-sliced precooked ham
Instructions
In a small bowl, combine the sugar, onion powder, cinnamon, nutmeg, ginger, cloves, and paprika. Mix well.

Cover a baking sheet with aluminum foil, and place the ham sliced side down onto the foil. If you do not use aluminum foil, you may have burnt sugar on your pan, and it will take a while to clean off.

Sprinkle the outside of the ham with the seasoned sugar, pressing the sugar onto the ham. You might not use all of the sugar.

With a blowtorch, gently heat the seasoned sugar on the ham. Wave the flame quickly over the sugar – you want it to brown, not burn. Staying in one area, and slowly moving out from there will make this easier, as you will be heating the sugar in a continual direction. This process will take about 15 minutes, so be patient. If you prefer a thicker crust, you can sprinkle more sugar on top of the already browned parts of the ham. Be sure to brown the newly added sugar.

When you are happy with the crust, you can either reheat the ham or serve it cold.
Nutrition
Calories:
649
kcal
|
Carbohydrates:
25
g
|
Protein:
48
g
|
Fat:
38
g
|
Saturated Fat:
13
g
|
Cholesterol:
140
mg
|
Sodium:
2692
mg
|
Potassium:
648
mg
|
Fiber:
0
g
|
Sugar:
24
g
|
Vitamin A:
30
IU
|
Calcium:
17
mg
|
Iron:
2
mg