Olive Garden is known for its salads. The salad and the Olive Garden salad dressing are served with every meal. Their cold, crisp salad is hard to beat, and you can make this recipe anytime when you have the copycat Olive Garden Salad Dressing whenever you want.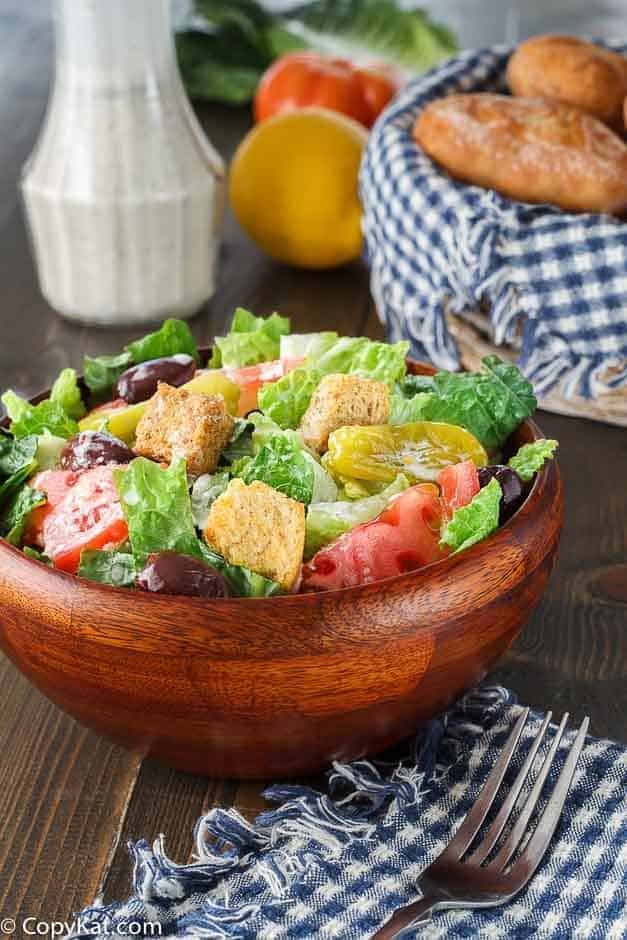 This post contains affiliate links. As an Amazon Associate, I earn from qualifying purchases.
What makes the Olive Garden Salad dressing so good?
I don't know about you, but I love the Olive Garden Soup and salad combination. The hard part is deciding between the Zuppa Toscana and the Pasta e Fagioli, but you know what isn't hard? Digging into their crispy salad. It has the perfect balance of flavors. Their take on Italian dressing has the perfect combination of herbs, tartness, and sweetness.
Ingredients you will need to make the homemade Olive Garden Salad dressing
First, gather all the ingredients. Here's what you need:
Mayonnaise – I prefer Hellman's or Duke's
White vinegar
Vegetable oil – you could use extra virgin olive oil, they do not use olive oil
Light corn syrup – this gives the salad dressing the right texture
Grated Parmesan cheese
Grated Romano cheese
Garlic powder or 1 garlic clove
Dried Italian seasoning
Dried parsley flakes
Lemon juice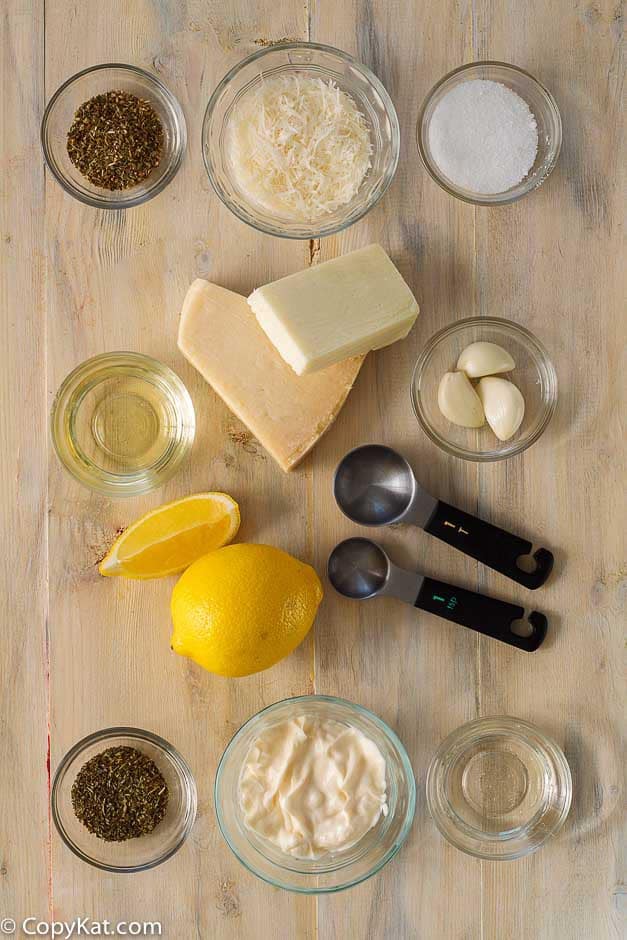 How to Make Olive Garden Salad Dressing at Home
It doesn't get much easier than this to make this salad. If you do not have a blender, grab a bowl and a whisk. Or you could put all of the ingredients and place them in a jar, fasten a lid, and shake vigorously.
Place all ingredients in a blender until well mixed. If this is a little too tart for your personal taste, add a little extra sugar.
How long does homemade Olive Garden dressing last?
You can enjoy your Olive Garden salad dressing for about ten days if stored in an airtight container in the refrigerator.
Other uses for Italian salad dressing
Another great use for the Olive Garden salad dressing is as a marinade for vegetables or even meats that you might like to grill. So you can see the Olive Garden salad dressing can be used in more than one way. This salad dressing also makes a great dressing for your favorite pasta salad.
What do you need to make an Olive Garden Salad?
Now you have your dressing, but what else do you need to make it complete. I love making a salad at home, this way I get to add all of the tomatoes and croutons I want. Here is what you will need.
Iceberg lettuce
Romane lettuce
Red onion
Pepperoncinis
Black olives
Roma tomatoes
You can get the exact portions right there Olive Garden Salad.
Making Olive Garden Salad Dressing at home is easy to do. You can make other recipes that taste just like they do in a restaurant.
How about Applebee's Dressing for Oriental Chicken Salad? This is a terrific way to bring the taste of a restaurant home with this recipe.
Update
Yes, this dressing can be purchased at many stores such as Wal-Mart, Sam's, and other grocery stores. Why would you want to make this from scratch? This recipe still has fewer preservatives, and you can always tweak a recipe when you make it from scratch.
So you can add a little more sugar, or maybe you want to add a few more spices. I know their bottle does not say it has mayonnaise on it. It does say oil and eggs, and when you beat those two together you get an emulsion that looks a lot like mayonnaise.
Looking for more Olive Garden copycat recipes? Check these out
Popular Homemade Salad Dressings
Be sure to take a look at more of the best Olive Garden copycat recipes and easy salad dressing recipes.
Did you enjoy this copycat recipe? Sign up to be notified when new copycat recipes are released.

Subscribe to CopyKat.com
Love CopyKat Recipes? Be notified when new recipes are released.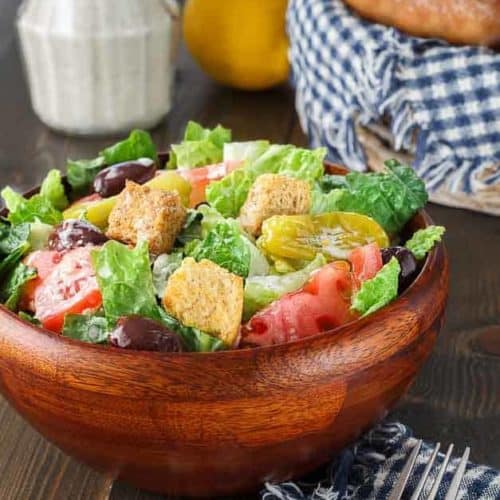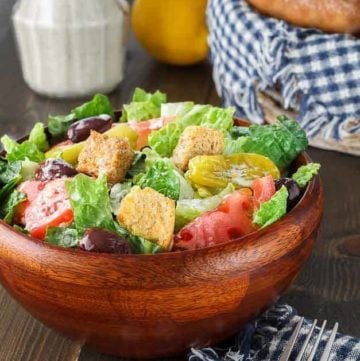 Ingredients
1/2

cup

mayonnaise

1/3

cup

white vinegar

1

teaspoon

vegetable oil

2

tablespoons

light corn syrup

2

tablespoons

grated Parmesan cheese

2

tablespoons

grated Romano cheese

1/4

teaspoon

garlic salt, or 1 garlic clove, minced

1/2

teaspoon

dried Italian seasoning

1/2

teaspoon

dried parsley flakes

1

tablespoon

lemon juice
Instructions
Combine all the ingredients in a blender until well mixed.

If this is a little too tart for your own personal taste, add a little extra sugar.

Store dressing in an airtight container.
Nutrition
Calories:
102
kcal
|
Carbohydrates:
3
g
|
Protein:
0
g
|
Fat:
9
g
|
Saturated Fat:
1
g
|
Cholesterol:
6
mg
|
Sodium:
101
mg
|
Fiber:
0
g
|
Sugar:
3
g
|
Vitamin A:
15
IU
|
Vitamin C:
0.6
mg
|
Calcium:
23
mg
|
Iron:
0.1
mg