Red Lobster Mai Tai is a fruity Hawaiian cocktail. This classic rum cocktail with pineapple, orange, lime, and grenadine is perfect for sipping on a hot summer day.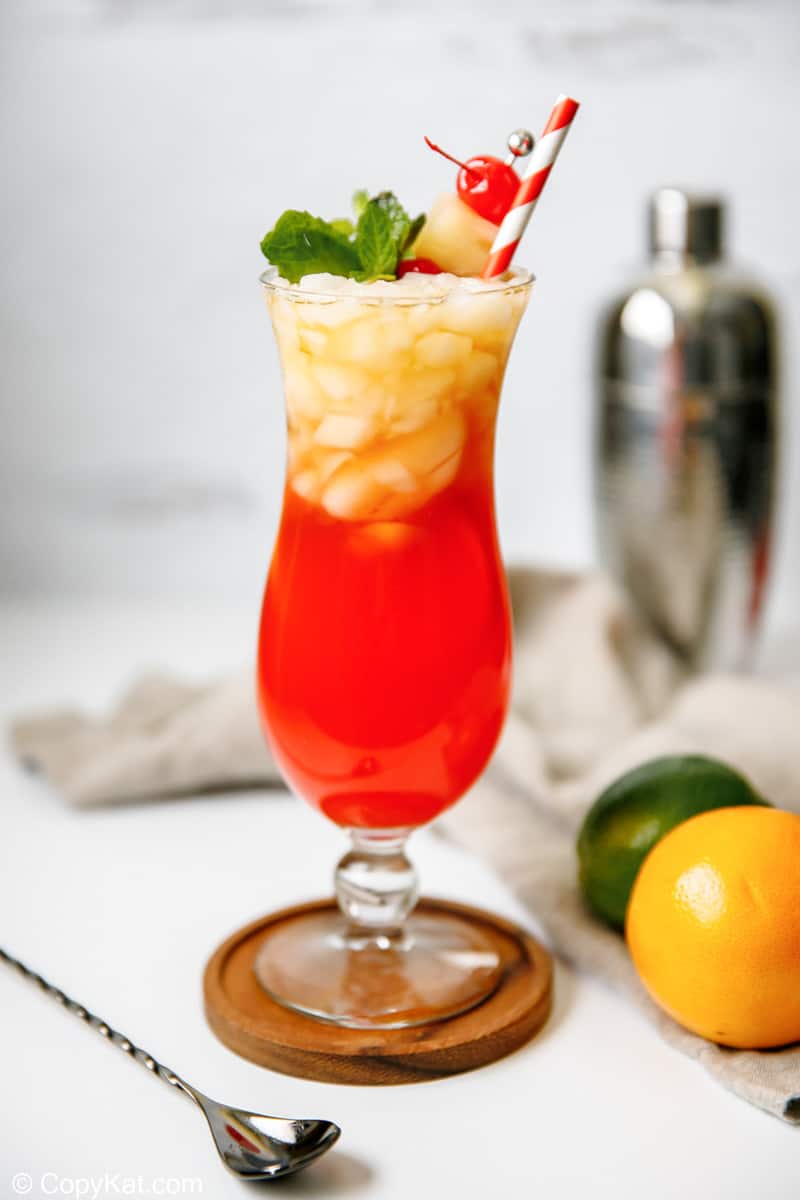 It is hard to describe the mass appeal of the Tiki culture during the 1940s and 50s. The mish-mash of Cantonese cooking and idealized Pacific Islander culture took America by storm, and Tiki bars began cropping up all across the US. Bamboo decor, pseudo-Polynesian carvings, Hawaiian shirts, grass skirts-wearing waitresses, torches, and of course a kooky drink menu were de rigor at these Tiki-themed lounges. One of the most popular Tiki drinks of the day was the Mai Tai, a rum-based cocktail with plenty of tropical fruit juices. Although most Tiki bars have long since closed, the Mai Tai cocktail remains continually popular because it is both nostalgic and darn delicious. Try this Tiki Rum Mai Tai recipe the next time you want to get into the island spirit.
What's in a Mai Tai Drink?
A Mai Tai is one of those drinks that begs bartenders to put their spin on the classic recipe. While the Mai Tais served at Red Lobster are a far cry from the originals at the legendary Trader Vic's bar, they still taste pretty great and are more in line with what modern drinkers want in a fun cocktail.
A Mai Tai is all about the rum, and most bartenders prefer to use two different varieties to make this drink. While this Mai Tai recipe calls for floating Bacardi Dark rum on top of the glass (a suggestion that you should stick to), it doesn't mention what type of rum to use in the shaker. Traditionally, aged Jamaican rums were the most popular, but they can be a bit on the expensive side. Good white rum is perfectly acceptable. The only hard and fast rule for the rum in this recipe is avoiding spiced or flavored rums.
Triple Sec is an orange-flavored liqueur that helps to sweeten the cocktail and up its alcohol content. If you don't have Triple Sec, you can substitute an equal amount of Curaçao, Grand Marnier, or Cointreau.
Bartenders originally made grenadine syrup with pomegranate juice, but most commercial producers these days use nothing more than dyed corn syrup with flavoring. Its primary purpose in this recipe is to add color, and if you don't mind a less visually appealing drink, you can leave it out. If you decide to use it, find a brand that uses real pomegranate juice or make your own syrup at home.
Mixing Up a Perfect Mai Tai Cocktail
Mai Tais need a good shake to blend correctly. Fill a cocktail shaker with fresh ice and all the Mai Tai ingredients except the Bacardi Dark rum. Hold the shaker with one hand on the bottom and the other on top and shake horizontally for about 10 seconds. Strain the drink into a hurricane glass and garnish with a maraschino cherry and a pineapple spear.
Tips for Making and Serving a Tiki Rum Mai Tai
Make a batch in advance for your next party. Everyone loves Mai Tais, so to save time, consider mixing up a dozen or more servings in a clean milk jug and keeping it in the fridge. When someone wants a Mai Tai, shake the jug and pour the drink and float the dark rum on top.
Go crazy with the garnishes. The Tiki culture was known for going overboard on just about everything. Few free to go wild by adding a wooden parasol or an edible tropical flower to the glass to really impress your guests.
Check out more of our Tiki cocktails on YouTube!
Ingredients
Wondering what is in a Mai Tai? Here's a list of what you need:
White Rum
Dark Rum
Triple sec
Grenadine
Lime juice
Pineapple juice
Orange juice
Pineapple for garnish
Maraschino cherries for garnish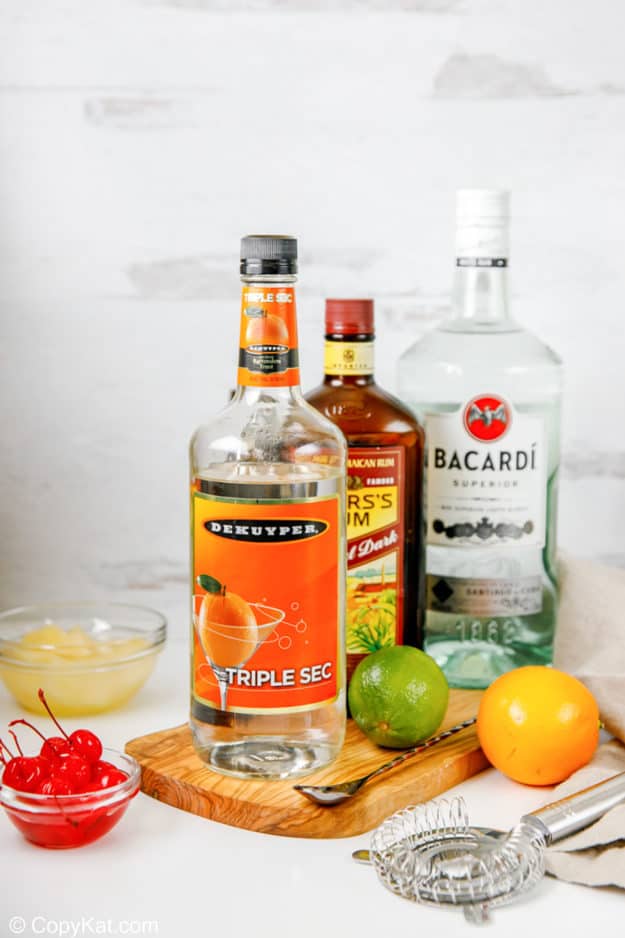 How to Make a Mai Tai
Pour white rum into a cocktail shaker.

Add triple sec.

Add orange juice.

Add lime juice.

Add pineapple juice.

Add grenadine.

Shake and pour into a hurricane glass.
Add ice.
Pour dark rum on top.
Garnish with pineapple and cherries.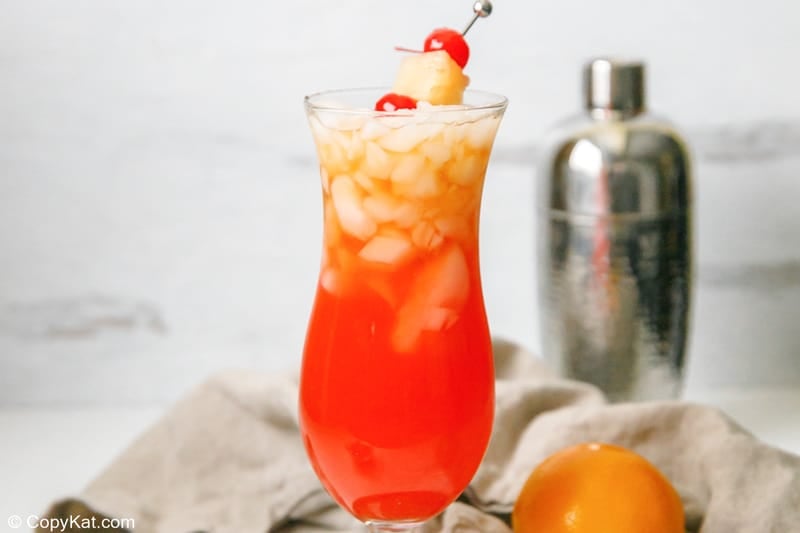 Popular Cocktail Recipes
Favorite Red Lobster Copycat Recipes
Check out more of my easy cocktail recipes and the best Red Lobster recipes here on CopyKat.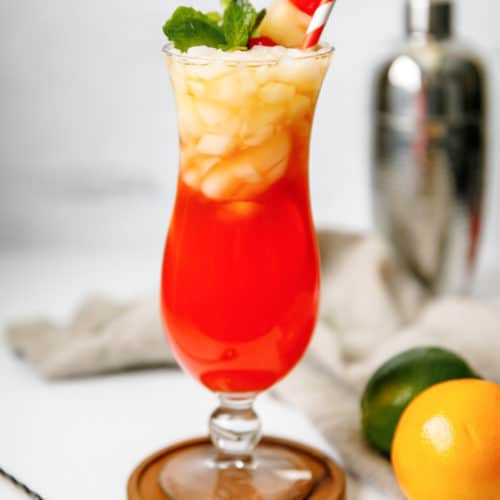 Ingredients
1 ½

ounces

white rum

½

ounce

triple sec

½

ounce

lime juice

1

ounce

pineapple juice

1

ounce

orange juice

½

ounce

grenadine

¾

ounce

dark rum

2

pieces

chopped pineapple

for garnish

2

maraschino cherries

for garnish
Instructions
Pour white rum into a cocktail shaker.

Shake and pour into a hurricane cocktail glass.

Garnish with pineapple and cherries.
Nutrition
Serving:
1
g
|
Calories:
278
kcal
|
Carbohydrates:
26
g
|
Protein:
1
g
|
Fat:
1
g
|
Saturated Fat:
1
g
|
Sodium:
7
mg
|
Potassium:
124
mg
|
Fiber:
1
g
|
Sugar:
21
g
|
Vitamin A:
71
IU
|
Vitamin C:
22
mg
|
Calcium:
15
mg
|
Iron:
1
mg