Wendy's Chili just can't be beat. Wendy's makes this classic recipe fresh every day, and you can do the same. You can make Wendy's Chili Recipe just like they do. Tomato juice really enhances the flavor of this chili, as does the chili powder, though you may want to start off with a little less chili powder. I find that 1/4 cup isn't too hot, and is still very flavorful.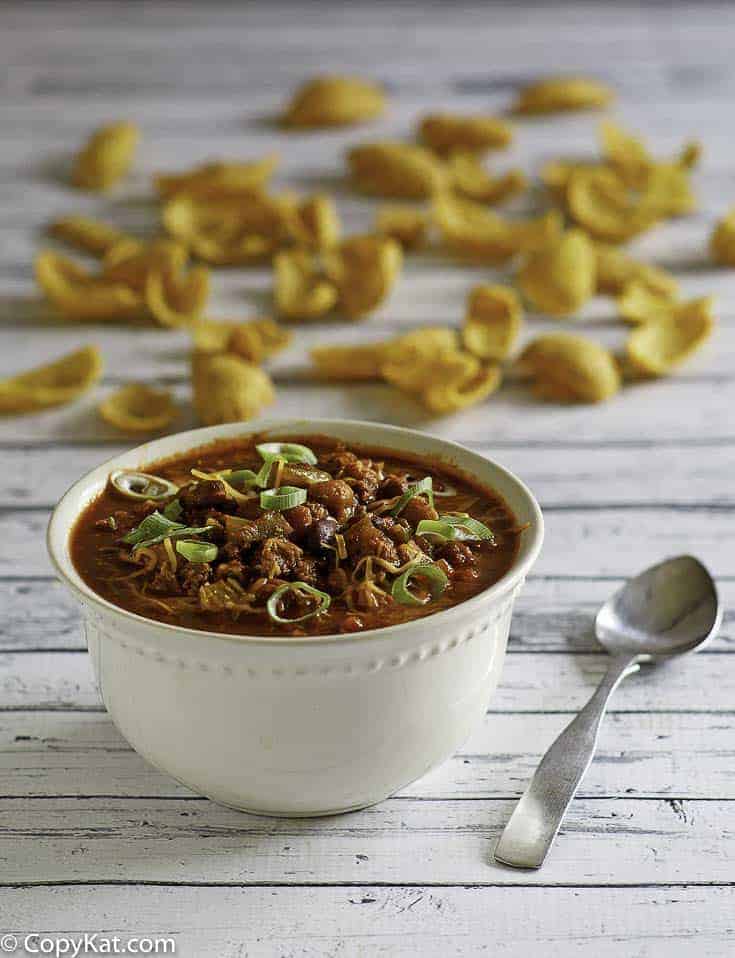 Wendy's Chili
Now, it is said that Wendy's chili is made from grilled hamburger patties that didn't make it into their burgers. You don't have you start out with hamburger patties, but the fresh ground beef. We think it is easier to start out this way when you make your own chili. We suggest that you brown the beef very thoroughly before making your chili. If you are a die-hard Wendy's Chili fan you can start out with about 2 pounds of ground meat, fry it up as hamburgers, but you must cook them until they are very well done.
Did you know??
Wendy's Chili is gluten free.
There are lots of fresh ingredients in this chili, and you can put this recipe together in no time. This recipe has onions, celery, green bell pepper, two types of beans, beef, and chili seasoning.    You won't be disappointed when you make a delicious bowl of this amazing chili from scratch.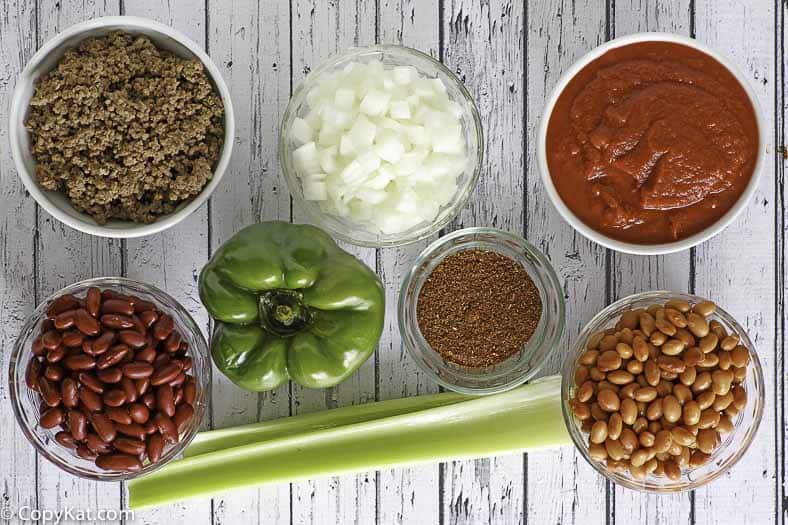 It is important to cook this chili for the entire time as listed in the recipe.  The flavors mellow and change over the cooking time.  I understand that some people also feel that 3 tablespoons of chili powder are too much.   I think if you stick with standard brands of chili powder this is best.  Chili powder is a combination of several spices, there isn't a chili powder plant.    Stick with a well-known brand, and if you naturally like foods that are less spicy consider using less.   Again, I fully stand behind the 3 tablespoons as listed in the recipe below.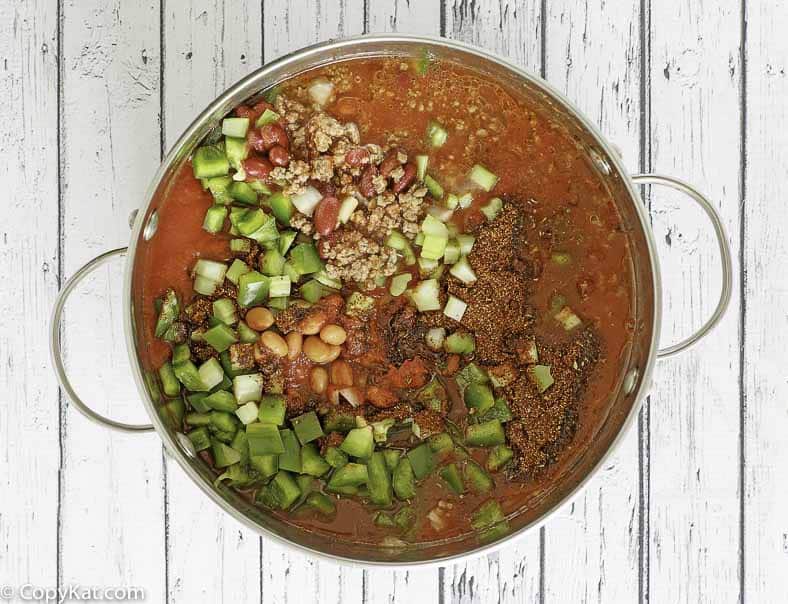 I hope you enjoy this recipe and check out my other Wendy's copycat recipes.
Wendy's Chili for the Instant Pot
Wendy's Summer Berry Chicken Salad
Wendy's Apple Pecan Salad
Wendy's Barbeque Ranch Chicken Salad
Wendy's Fondue Fries
Ingredients
2

pounds

fresh ground beef

1

quart

tomato juice

1

(29-ounce)

can tomato puree

1

(15-ounce)

can red beans, drained

1

(15-ounce)

can pinto beans, drained

1

large

onion, chopped (about 1 1/2 cups)

1/2

cup

diced celery

1/4

cup

diced green bell pepper

1/4

cup

chili powder (you may want to use less, as some people find this is too much)

1

teaspoon

cumin

1

1/2

teaspoons garlic powder

1

teaspoon

salt

1/2

teaspoon

ground black pepper

1/2

teaspoon

oregano

1/2

teaspoon

sugar

1/8

teaspoon

cayenne pepper
Instructions
In a skillet, brown the ground beef; drain. Put the drained beef and the remaining ingredients in a 6-quart pot. Cover the pot; let it simmer for 1 to 1 1/2 hours, stirring every 15 minutes.
Nutrition
Calories:
257
kcal
|
Carbohydrates:
6
g
|
Protein:
16
g
|
Fat:
18
g
|
Saturated Fat:
6
g
|
Cholesterol:
64
mg
|
Sodium:
308
mg
|
Potassium:
508
mg
|
Fiber:
0
g
|
Sugar:
4
g
|
Vitamin A:
11.5
%
|
Vitamin C:
28.3
%
|
Calcium:
3.5
%
|
Iron:
13.2
%