Barbecue shrimp is a New Orleans specialty, there is no barbecue sauce in there, and this isn't done on a grill. A spicy compound butter infused with the flavors of New Orleans is the base for the shrimp to be cooked in. Be sure to serve this with bread so you can dip your bread into this tasty sauce. This recipe is from the San Antonio Express-News.
You can recreate this famous appetizer from Ruth Chris Steakhouse at home. It isn't difficult to make this classic Barbeque shrimp at home. Ruth Chris is one of the best steakhouses around, and you don't want to miss this amazing shrimp dish.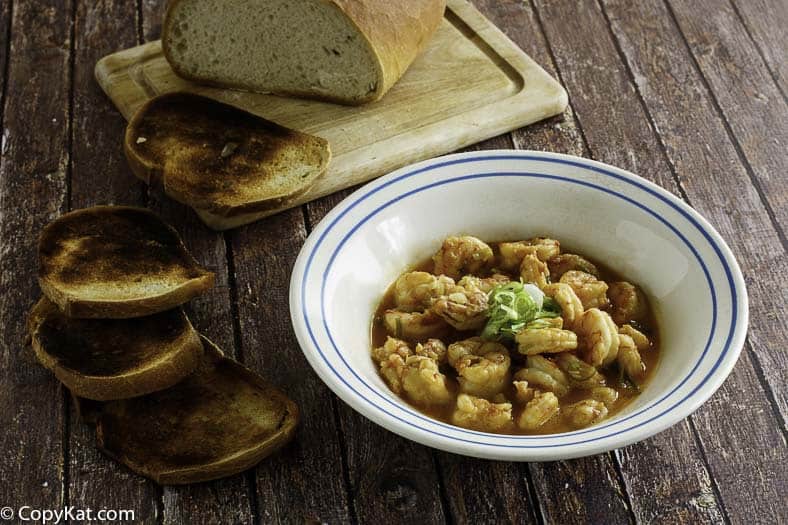 I love recreating famous restaurant recipes at home, you can take and appetizer and turn it into a meal. This meal can make it from the kitchen to the table in under 30 minutes. This recipe shrimp could be turned into a main dish when served with some buttered rice. Don't forget to serve this recipe with plenty of bread, you will want to sop up all of the sauce you can.
Looking for other great shrimp recipes? Try these.
Pineapple Barbecue Shrimp
Grilled Teriyaki Shrimp Kabobs
Bubba Gump Shrimp
Ruth's Chris Steak House Barbecue Shrimp Orleans
Author:

CopyKat Recipes

Recipe Type:

Appetizer Recipes, CopyKat Recipes, Seafood Recipes

Prep time:

30 minutes

Cook time:

10 minutes

Serves:

4
This shrimp is tangy and flavorful! This would make a great starter!
Ingredients
1 pound butter

Scant 2 teaspoons black pepper

Scant 1/4 teaspoon cayenne pepper

1 1/2 teaspoons paprika

1 teaspoon salt

1/2 teaspoon whole dried rosemary leaves (measured, then finely chopped)

2 ounces (1/4 cup) garlic, finely chopped

2 teaspoons Worcestershire sauce

1 teaspoon Tabasco sauce

1 1/2 teaspoons water

Shrimp

1 tablespoon plus 1 teaspoon olive oil

1 pound Shrimp (16-20 count), cleaned, peeled and deveined

1/4 cup chopped green onions

1/2 cup dry white wine

Sourdough bread, for serving
Directions
For Barbecue Butter: Soften butter at room temperature to 70-80 degrees. Place butter in mixing bowl; add pepper, cayenne pepper, paprika, salt, rosemary, garlic, Worcestershire, Tabasco, and water. Whip on high speed 3 minutes or until thoroughly blended. Refrigerate to 40 degrees. The following shrimp recipe will use 1 cup of the butter; reserve extra for another use.
Makes about 2 1/2 cups
For Shrimp: Pour olive oil in a hot saute pan. Add shrimp to the saute pan and cook on one side for 1-2 minutes. (Don't crowd; if necessary, use 2 pans. A 12-inch pan will accommodate 1 pound of shrimp.) Reduce heat to medium, turn shrimp, and add the chopped green onion. Cook for an additional 1 to 2 minutes. Add white wine and cook until reduced to 1/4 cup. Stir in 1 cup cold Barbecue Butter, reduce heat to low and cook and stir frequently until shrimp are just done (white throughout, moist and tender), approximately 1 1/2 minutes. Take care not to overcook the shrimp. Serve immediately in a bowl preheated to 160 degrees.
Print Recipe