Sonic Cherry Limeade is a classic drink that everyone loves, and you can make it at home very easily.

Sonic has over 100,000 drink combinations, and the Sonic Cherry Limeade is one of their favorite drink combinations. In college, a friend of mine, Russ Stevens, introduced me to this drink and I still think it is one of my favorite drink combinations at sonic.
You can put together one of these at home. For the cherry juice, you have a couple of options. You can purchase a jar of or you may want to buy a bottle of Maraschino cherries, and simply use some of the juice or you can buy a bottle of the juice like The Royal Cherry Maraschino Syrup,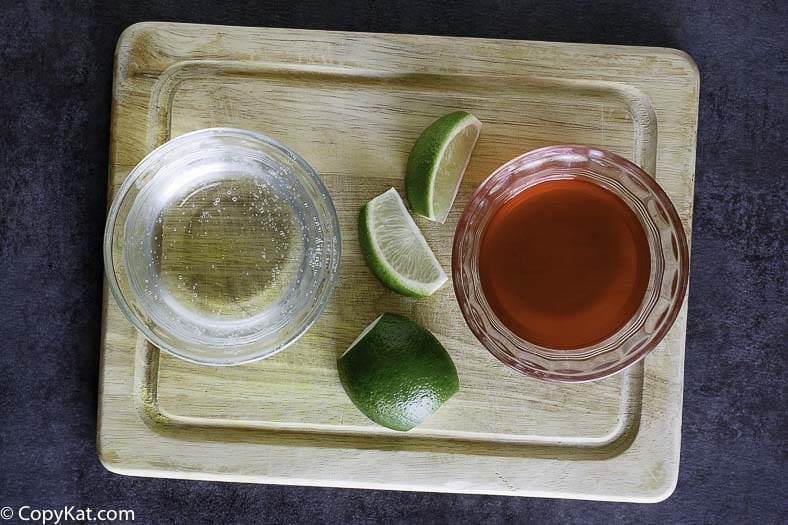 Hands down this have to be one of the most popular recipes at Sonic Drive Inn; it is their Sonic Cherry Limeade. Everyone loves this drink.
Do you love Sonic copycat recipes? Get all of my Sonic copycat recipes.
This blog post contains an affiliate link
Sonic Cherry Limeade
Author:

CopyKat.com

Recipe Type:

Copycat Restaurant Recipes, CopyKat Recipes, Drink Recipes

Prep time:

10 minutes

Cook time:

10 minutes

Serves:

1
This refreshing drink is wonderful for an afternoon pick me up!
Ingredients
1 12 ounce can of Slice Lemon Lime or Sprite

2 tablespoons Cherry Syrup

1/3 of a lime
Directions
In a tall glass add the Cherry syrup, squeeze lime and put it into the glass. Pour in Sprite, and add some ice. If you like you can add a cherry. Recently a manager of a Sonic suggested to me that you should use Grenadine to get a slightly more bitter flavor :-) If you have access to Slice Lemon Lime made by Pepsi please use this instead of Sprite. It does provide a better taste.
Print Recipe