Raglan Road located in Downtown Disney makes the most wonderful Guinness dipping sauce. When St. Patrick's Day comes around people are dusting off their recipes for Irish Soda Bread, well I have the perfect dipping sauce for you. Guinness is reduced down along with sugar and makes a wonderful tangy dipping sauce for bread. I would highly recommend dining there if you can, last time I went along with my friend and her husband's family, this place was on the Disney Dining Plan. We loved everything we tried there; we ate, and ate, and ate.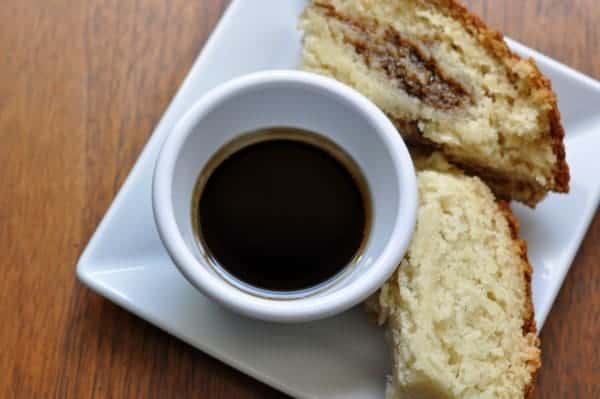 Raglan Road Guinness Dipping Sauce
Links of Interest
Raglan Road Bread and Butter Bread pudding
History of Guinness Beer
Geekfare – Irish Soda Bread
Raglan Road Guinness Dipping Sauce
Ingredients
1

3/4

cups Guinness

1

3/4

cups brown sugar

Irish

Soda

Bread

3

cups

flour

1/2

cup

sugar

1

teaspoon

kosher salt

2

1/2

teaspoons baking soda

1/4

cup

cold unsalted butter cut into small pieces

1

1/2

cups buttermilk

1

tablespoon

milk
Instructions
In a medium sized pot combine the Guinness and sugar, simmer on low for approximately an hour. This mixture will reduce by at half if not more. The more this reduces the better, as you will end up with a tangy sauce. Do not walk away while this is cooking, it will bubble up while cooking, and you need to stir it from time to time so it does not bubble over the stove. Let the sauce cool to room temperature before serving. When you are ready to serve the sauce place equal amounts of the reduction and olive oil (you do not need to use extra virgin, in fact, don't, the flavor won't be right). Dip pieces of bread into the reduction and enjoy. Irish Soda Bread This is not the Raglan Road's Irish soda bread, this is an Irish Soda bread that I like to make. I couldn't get past the delicious dipping sauce to even begin to focus on their bread. Next, time though, I will work on their bread. Preheat oven to 350 degrees. Mix together flour, sugar, salt, and baking soda in a large bowl. Cut butter into flour mixture using a pastry blender until the butter is well dispersed and the mixture is crumbly. Add buttermilk and stir until just moistened. Knead for 1 minute on a floured surface. Shape into a ball and place into a 1 1/2 quart greased casserole. Use a sharp knife to cut and 'X' across the top. Brush with milk and bake for about 45 minutes tenting with foil for the last 15 minutes. Turn loaf onto a wire rack to cool.