Denny's is a dinner we all love. Did you know you can make your own copycat Denny's Moons Over My Hammy at home?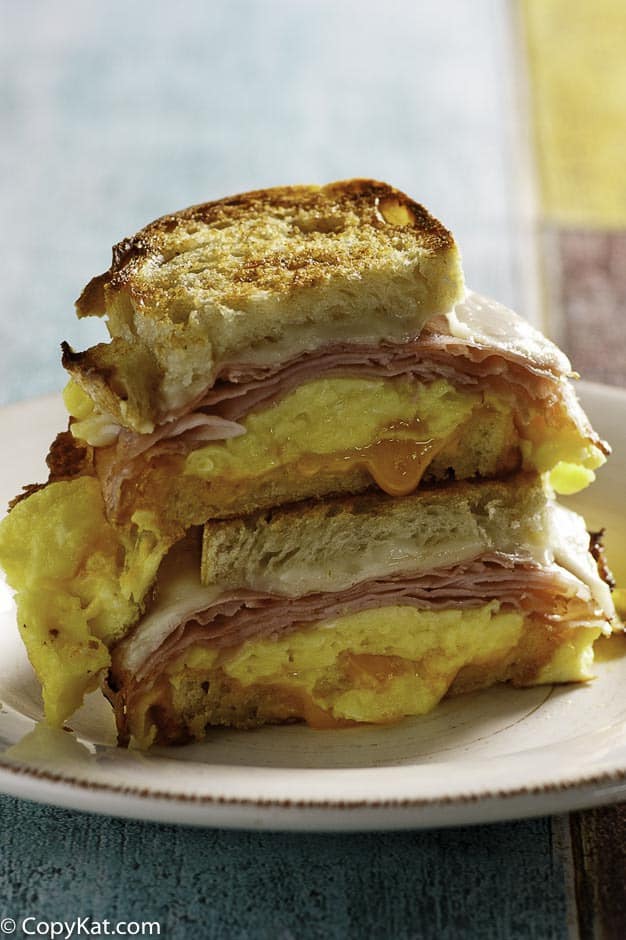 Denny's is known as one of America's Diners. Everyone goes there, and it's a diner we all love, and not least for Denny's imaginative naming of their food! I think that Moons Over My Hammy takes the gold, but how about The Super Bird, Lumberjack Slam, and Choconana Pancake Breakfast?
Three Things You May Not Know About Denny's Slams
The Grand Slam pays tribute to Hank Aaron. The combo was introduced at an Atlanta Denny's in 1977 to celebrate the city's hero, Hank Aaron, who had crushed Babe Ruth's 714-hit home-run record.




Denny's served two million free Grand Slams in one day following Super Bowl XLIII. Denny's aired an ad during the game, promising an irresistible free Grand Slam to absolutely every customer who came into a Denny's between 6 am and 2 pm. 

At the now-closed Manhattan Denny's, you could order a $300 Grand Cru Slam, a special breakfast for two that included a bottle of Dom Pérignon.
To read about some more things you may not know about Denny's, click here.
Make This Denny's Favorite at Home
Did you know you can make your own copykat Denny's Moons Over My Hammy at home? It's a great sandwich to eat for breakfast, lunch, or dinner – it doesn't matter which meal you choose. This sandwich combines sourdough bread, ham, scrambled eggs, and American and Swiss cheese. Does it get any better than this? I don't think so!
Ingredients in the Denny's Moons Over My Hammy
The Denny's Moons Over My Hammy is like an extra-fancy grilled cheese sandwich. By adding ham, scrambled eggs, and a second cheese, you end up with a sandwich full of delights. Serve this up with homemade hash browns or some country fried potatoes, and you have a hearty meal.
Cheese Choices
I like to make this sandwich with American cheese that comes from the deli. American cheese has its place, and the deli variety is much better than the cellophane-wrapped kind we often associate with this cheese. So, go to the deli and buy exactly what you need. You may want to experiment with some honey ham or some Virginia baked ham to give this classic breakfast sandwich some extra love.
Love Denny's?
Want more copykat Denny's recipes that taste just like they do at Denny's?
Just click here and get busy.
Copycat Denny's French Toast
Denny's Bacon Maple Sundae
Make your own CopyKat Denny's Moons Over My Hammy