Denny's is a dinner we all love. Did you know you can make your own copycat Denny's Moons Over My Hammy at home?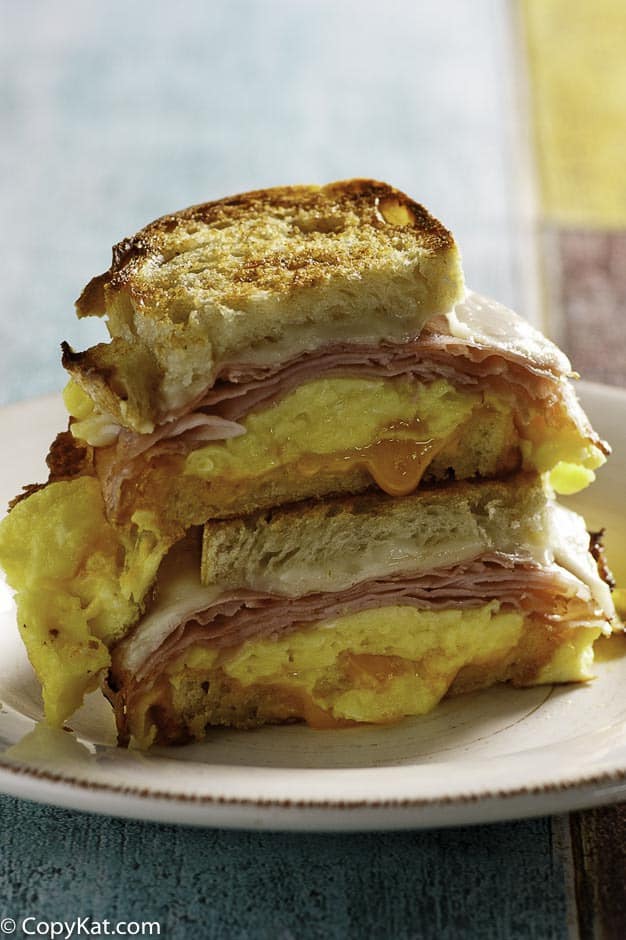 Denny's is known as one of America's Dinners. Everyone goes here, it doesn't matter if it is breakfast, lunch, or dinner. The Moons Over My Hammy is great for breakfast, lunch, or dinner. This sandwich combines sourdough bread, ham, scrambled eggs, American cheese, and Swiss cheese. Does it get better than this? I don't think so!
Ingredients In the Denny's Moons Over My Hammy
The Denny's Moons Over My Hammy is like a fancy grilled cheese sandwich by adding ham, scrambled eggs, and a second cheese you send up with a delightful sandwich. You could serve this up with home homemade hashbrowns, or some country fried potatoes and you have a hearty meal.
I like to make this sandwich with American cheese that comes from the deli. American cheese has its place, and it is much better than the cellophane wrapped cheese we often associate with this cheese. Go to the deli and buy exactly what you need. You may want to experiment with some honey ham, or some Virginia baked ham to give this classic breakfast sandwich some additional love.
Denny's Moons Over My Hammy
Author:

Stephanie Manley

Recipe Type:
Prep time:

5 minutes

Cook time:

5 minutes

Serves:

1
Enjoy this classic dinner recipe at home.
Ingredients
2 slices sourdough bread

8 slices deli sliced ham (thin)

2 slices American deli cheese

2 slices Swiss processed cheese

2 large eggs

1 tablespoon milk

2 tablespoons softened butter divided use

1/4 teaspoon salt

1/4 teaspoon ground black pepper
Directions
To make the sandwich, first, scamble the eggs. In a small bowl combine the two eggs, and the milk. Whisk them together until they uniform. Heat a small non-stick skillet over low-medium heat. Add 2 teaspoons of butter of the skillet. Once the butter has melted add the eggs. Season eggs with salt and pepper. Stir the eggs continually until they have set firm. Set aside.
Wipe out the pan, and place the ham slices in the pan. Cook the ham for a couple of minutes, flip the ham, and cook on the other side for an additional 2 minutes. When the ham has heated through set aside.
Build sandwich by buttering one slide of bread, and putting buttered side down into the skillet, then add two slices of American processed cheese, then the eggs, then ham, the Swiss cheese, top with the remaining slice of sourdough bread, and butter the top piece of bread. Cook on low to low-medium heat for 1 to 2 minutes on each side or until the bread is toasted brown. Cut sandwich in half when serving.
Print Recipe