Chick Fil A Sauce to me, is almost as good as the Chick Fil A sandwich. Now it may be only my opinion, but I believe this recipe, while not the real recipe, tastes like the Chick Fil A sauce.
Be sure to use this sauce with my Chick Fil A chicken nuggets. And serve Chick fil A Mac and Cheese with them.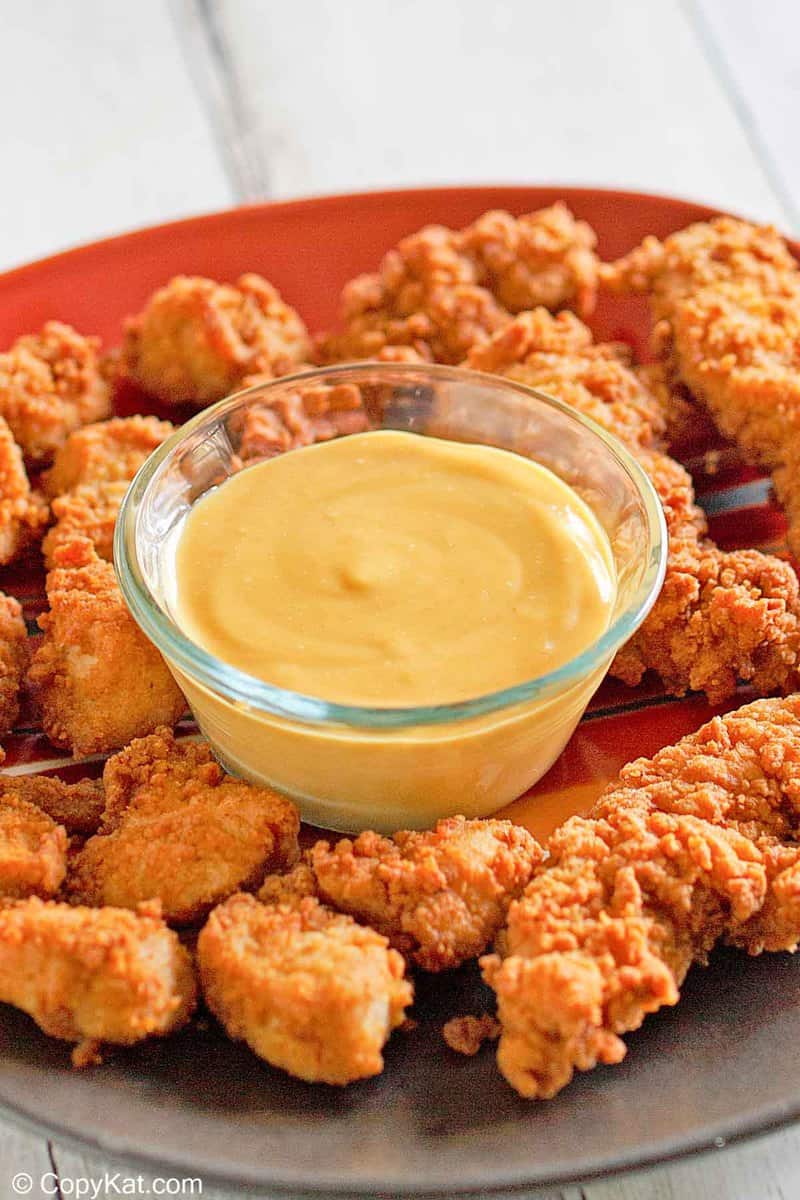 Home of the famous Chick Fil A Chicken Sandwiches
Chick Fil A is famous for its chicken sandwiches. Its well-known slogan "EAT MOR CHIKIN" is very apt and makes cows happy. Serving a boneless, breaded chicken breast was a novelty for its time – it's hard to believe, but no other fast food restaurant had a chicken sandwich on its menu.
Truett Cathy, Chick Fil A's founder, experimented for years to finally arrive at the perfect chicken sandwich in 1964. That capital "A" means "grade A top quality." Truett's happy customers told him, "We like it, don't change it again," and it never has been.
Read more about Chick Fil A's history by clicking here.
More Yummy with Sauce
A Chick Fil A chicken sandwich is even more delicious when spread with Chick Fil A Sauce. I don't have access to Chick Fil A's recipe, but I believe my version tastes just like their sauce and is just as good.
Unfortunately, some people live in a Chick Fil A "desert". If you don't have a Chick Fil A around, you can make this famous sauce in your own kitchen and even enjoy it on a Sunday when all Chick Fil A restaurants are closed.
What makes Chick Fil A Sauce so Good?
The sauce began as a happy accident when an employee who wasn't paying attention put honey mustard dipping sauce into a dispenser containing barbecue sauce. This combination created something magical and led to the famous Chick Fil A Sauce.
Somehow, this sauce's blend of honey mustard, barbecue sauce, and mayonnaise is much better than any of those sauces alone. The taste is honey mustard with piquant undertones of barbecue – and the mayonnaise adds a smooth creaminess.
Chick fil A Sauce Ingredients
Here's a list of what you need:
Honey
Yellow prepared mustard
Dijon mustard
Mayonnaise
Barbecue Sauce
Lemon juice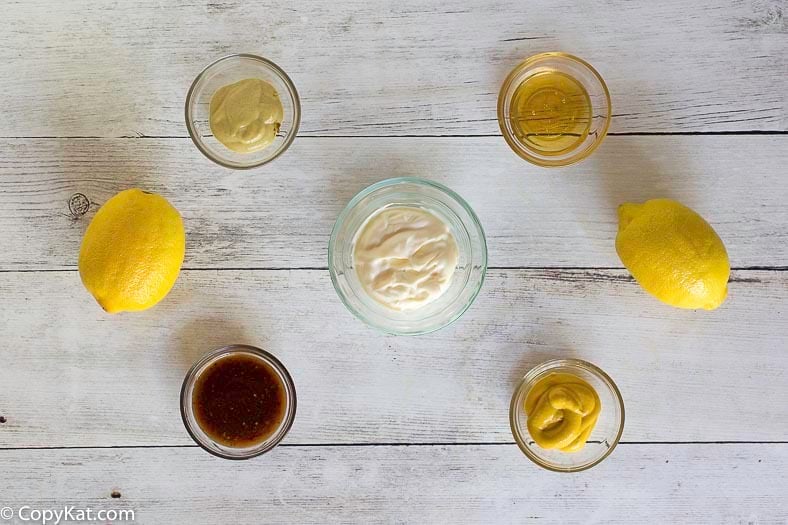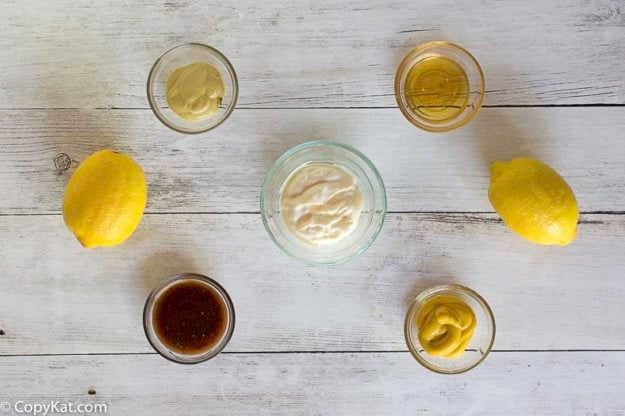 How do you make Chick-fil-a sauce from scratch?
Place all ingredients in a small bowl.
Stir to combine.
Refrigerate sauce when not serving.
This sauce will stay fresh in the refrigerator for up to 10 days.
Is Chick Fil A Sauce Dairy Free?
Chick Fil A Sauce does not contain milk, cream, or cheese. It does contain mayonnaise.
Can You Buy Chick Fil A Sauce?
If you're like many people and you can't live without Chick-fil-A Sauce, you can ask for extra when you order at Chick-fil-A. You can also buy the sauce on Amazon along with the chain's other tasty sauces – Polynesian, Garlic & Herb Ranch, and Zesty Buffalo.
Make Chick Fil A Sauce at Home
It's super easy and perfect for dipping chicken, fries, or whatever else your heart desires.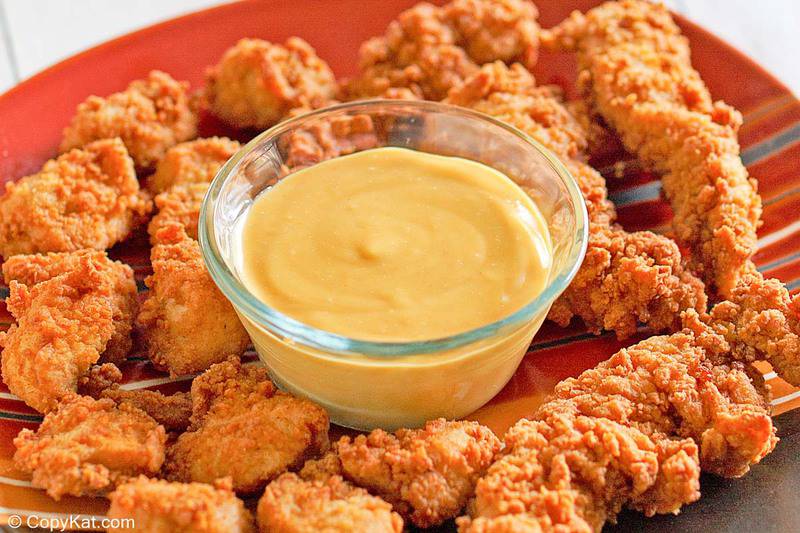 Best Dipping Sauces
More Copy Kat Favorite Recipes
Want something different? Make bacon wrapped scallops.
Be sure to check out more of my copycat restaurant recipes and the best dips and sauces.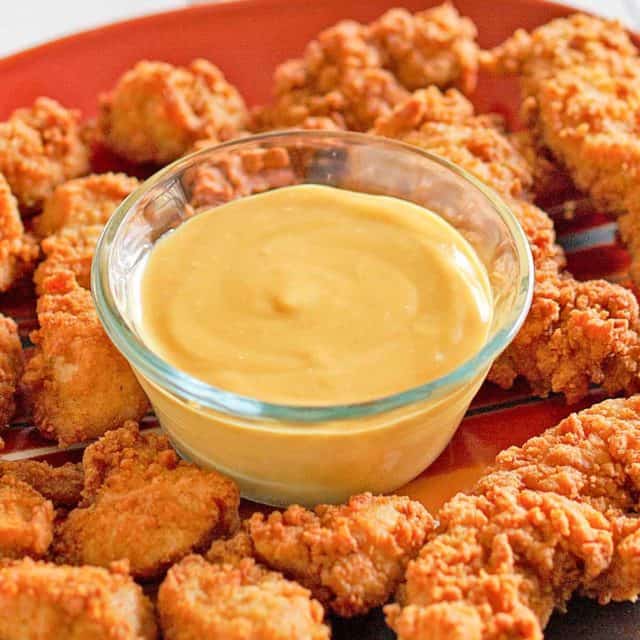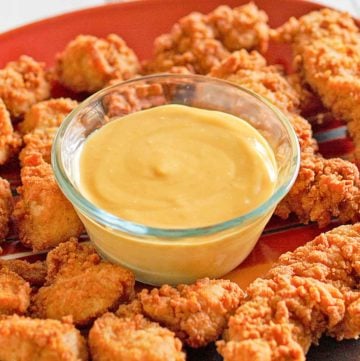 Ingredients
2

tablespoons

honey

1

tablespoon

yellow prepared mustard

2

teaspoons

Dijon mustard

1/4

cup

mayonnaise

2

tablespoons

Barbecue Sauce

Heinz Classic Original Barbecue Sauce is recommended

2

teaspoons

lemon juice
Instructions
Place all ingredients in a small bowl.

Refrigerate the sauce when not serving.
Notes
This will stay fresh in the refrigerator for up to 10 days.
Nutrition
Calories:
97
kcal
|
Carbohydrates:
8
g
|
Protein:
0
g
|
Fat:
7
g
|
Saturated Fat:
1
g
|
Cholesterol:
3
mg
|
Sodium:
166
mg
|
Potassium:
13
mg
|
Fiber:
0
g
|
Sugar:
7
g
|
Vitamin A:
15
IU
|
Vitamin C:
0.7
mg
|
Calcium:
2
mg
|
Iron:
0.1
mg