Frito pies are well-known in the south, you can create this comfort food at home. Made from Frito chips, chili, cheese, and more. This is perfect for a quick and easy dinner, game night, and for tailgating.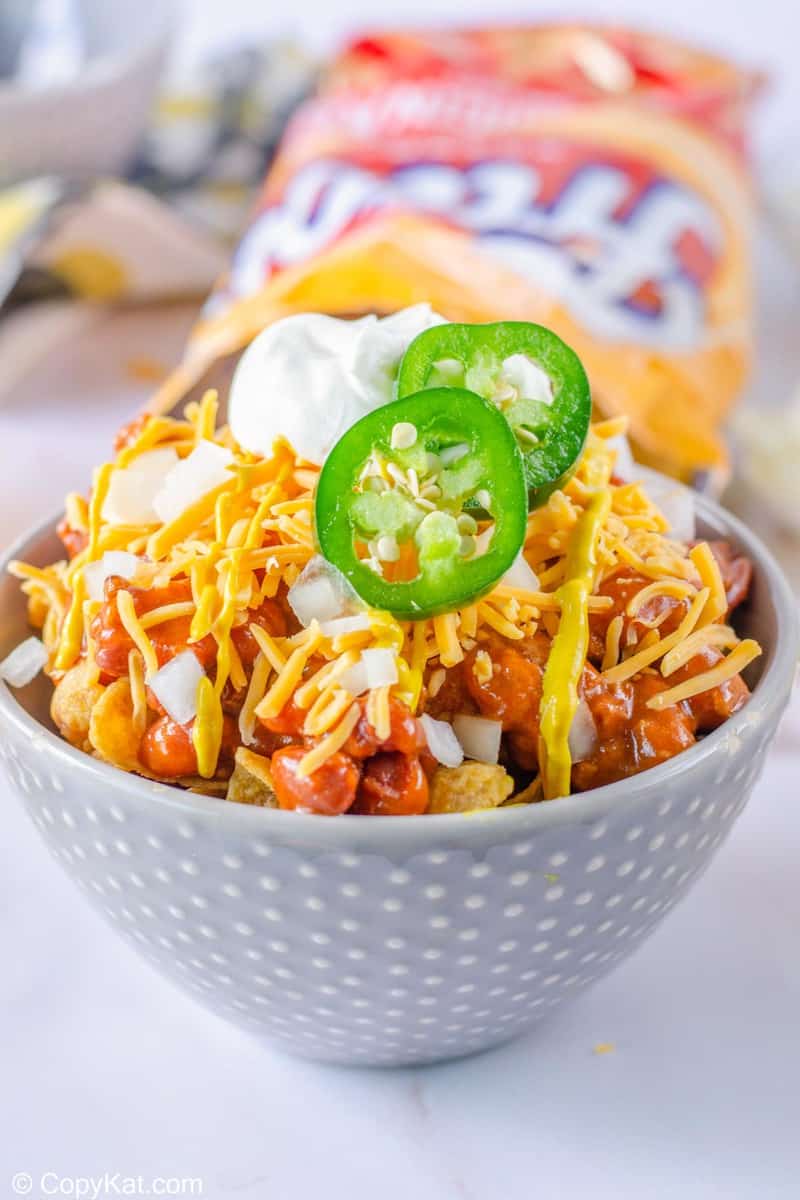 I didn't grow up in the South but moved to Texas when I was fifteen. Someone asked me if I wanted a Frito pie. I had no clue. And, if you don't live in the South, you also may never have heard of it. And honestly, even in the South, not many places serve it. I know you can get one at Jason's Deli and at Sonic if you ask very nicely.
I was making a batch of my Wendy's Chili, which is a wonderfully tasty dish, and my follow-up thought was, oh man, I wish I had a Frito pie. That's when I decided to create this Frito pie recipe.
Sonic put its Frito pie inside rolled up flour tortillas and sells them as Frito Wraps. They are very good and you can even make your own!
So, What Is a Frito Pie?
A Frito chili pie is simply a dish of Fritos covered with chili and topped with cheese sauce, chopped onions, and a squirt of mustard. Yes, this pie may be heartburn in the making, but you just can't beat the crisp saltiness of the Fritos smothered in chili and topped with cheese. While that half back I was in love with in high school is now a fading memory, I can make a Frito pie in my own kitchen any time, and so can you.
Frito pies were originally created in Mexico, and today they are very popular in the South and the Midwest. They are also known as walking tacos, Frito boats, or Frito chili pies.
How to Serve Frito Pie
You can serve this Frito chili pie up as a casserole or in individual portions inside the chip bags. Walking Frito pies are great for game nights or some other appropriate gathering. And, no dishes to clean up!
There are two ways to open a chip bag for a walking Frito pie. The easier way is just to open up the top of the bag and fold it over, but the smaller opening makes it a little harder to eat. A better way is to turn the bag on its side and cut along the long edge with a pair of scissors to make an opening that's nice and big.
Display the filled bags with plenty of forks and napkins and surround them with small dishes of toppings. You could also keep the chili warm in a slow cooker nearby and let your guests go to town.
You can use homemade chili or canned chili (I recommend Wolf brand chili)
Ideas for Frito Pie Toppings
Lettuce, sliced jalapenos, and sour cream
Tomatoes, onion, and sour cream
Sliced hot links (spicy smoked sausage links)
Sour cream and banana peppers
Salsa
Guacamole
Sliced black olives
Lime wedges
Mustard
I would like to know if you live in the South and have tried Frito pie. If so, what do you top yours with? Better yet, share some of your guilty pleasures.
Frito Pie Recipe
You don't have to live in the South to fall in love with this Frito pie recipe. It could become one of your secret pleasures.
Frito Pie Recipe Ingredients
This is what you need to make a classic Frito Pie:
Fritos Corn Chips
Canned or homemade chili
Shredded Cheese
Chopped onions
Optional toppings:
Sour Cream
Jalapeno peppers
Mustard
How to Make Frito Pie
Heat the chili in a small pan or in the microwave.
Place Fritos in the bottom of a bowl.

Pour the heated chili on top of the Fritos.

Sprinkle cheese on top.

Sprinkle chopped onions on top.

Place sour cream, jalapeno slices, and mustard on top if desired.

Do you live in the South? Have you tried Frito Pie before? If so, what do you top yours with? Better yet, share some of your guilty pleasures.
I would never invite someone over for a Frito Pie, but I would sure make one if you hinted you wanted one 😉
Love pie for dinner? Try these savory pie recipes!
Favorite Comfort Food Recipes
Check out more of my savory pie recipes and the best comfort food recipes here on CopyKat!
Thanks to my friend Denise we have the Frito Bandito!
Ingredients
1

cup

Fritos corn chips

10

ounces

chili

¼

cup

shredded cheddar cheese

1

tablespoon

chopped onions
Optional Toppings
Sour Cream

Yellow mustard

Jalapeno pepper slices

canned or fresh
Instructions
Heat chili in a pan or in the microwave.

Place the Fritos corn chips in a bowl.

Ladle hot chili on top of the Fritos.

Sprinkle cheddar cheese on top.

Sprinkle onions over the cheese.

Top with sour cream, jalapeno slices, and mustard if desired.
Nutrition
Calories:
687
kcal
|
Carbohydrates:
81
g
|
Protein:
17
g
|
Fat:
35
g
|
Saturated Fat:
9
g
|
Cholesterol:
29
mg
|
Sodium:
680
mg
|
Potassium:
1031
mg
|
Fiber:
8
g
|
Sugar:
16
g
|
Vitamin A:
2980
IU
|
Vitamin C:
407.4
mg
|
Calcium:
388
mg
|
Iron:
4.3
mg