Fuzzy Navel is a classic peachy orange cocktail served on ice. This refreshing drink is perfect for summer or anytime you want to enjoy a simple fruity cocktail.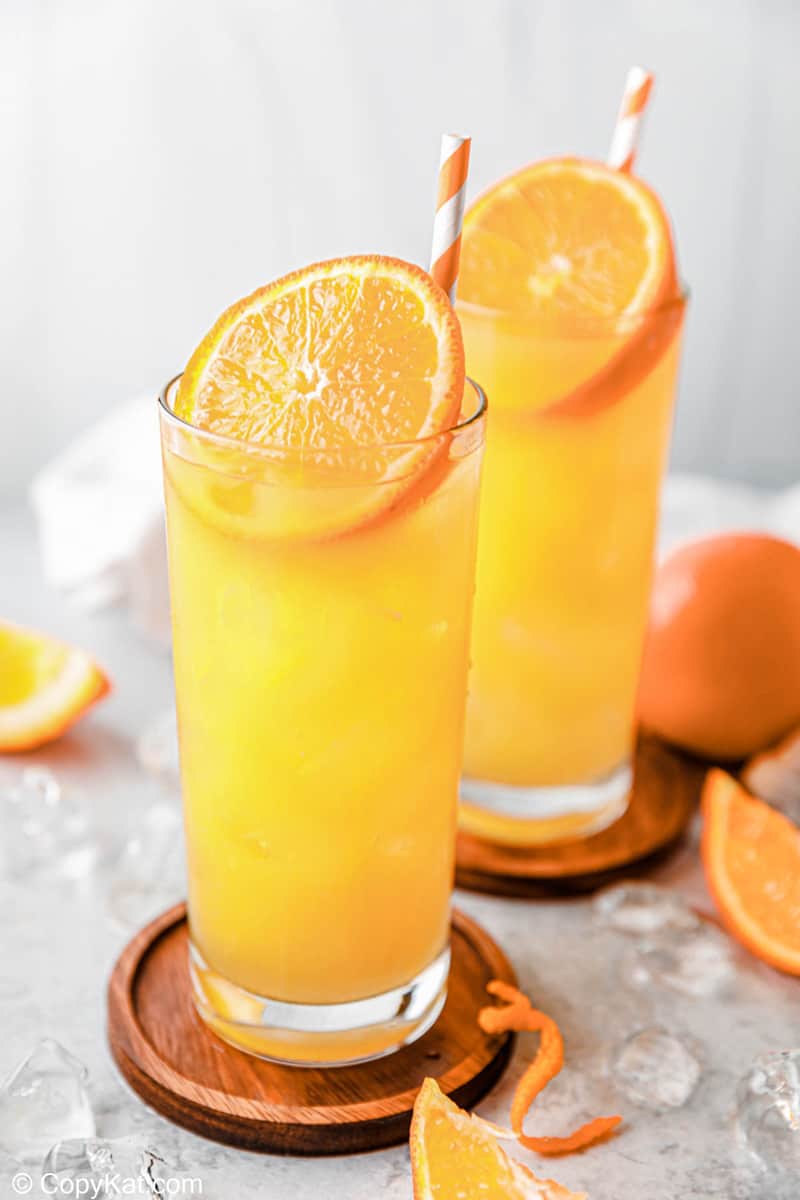 Fuzzy Navel — it's a funny name for a less than serious cocktail. During its heyday in the hedonistic 80s, this super-simple drink was one of the most requested cocktails in American bars, although its popularity has definitely wavered recently. That's not to say that you should toss it out like your Day-Glo leg warmers and that neon jacket with the shoulder pads you still have in the back of your closet. The Fuzzy Navel is a tasty concoction that belongs as much on today's brunch tables as it does on an 80s retro bar menu. Even if you weren't drinking them when they were all the rage, now is an excellent time to give one a try.
The History of the Fuzzy Navel Drink
Like so many other famous cocktails, the Fuzzy Navel was first created as a marketing tool. In the case of the Fuzzy Navel cocktail, the alcohol was DeKuyper Peachtree Schnapps, a new product from National Distillers that wasn't selling well.
The story is, back in 1984, Jack Doyle, an executive at National Distilled, called his old buddy, Ray Foley, a one-time joke writer for Johnny Carson, into his office. Doyle explained the situation of sagging sales to Foley and asked if he could help come up with a new cocktail the company could use to promote it. Being a practical guy, Foley mixed equal portions of the peach-flavored schnapps and orange juice and gave it to Doyle. Doyle liked it. In fact, the new drink was so fresh and fruity that people say he remarked that he could still taste the "fuzz from the peaches." Hence, the Fuzzy (from the peach) Navel (from the navel oranges) was born.
How to Make a Good Fuzzy Navel
For such a bare-bones cocktail, there are surprisingly many ways to mess it up, and using the wrong peach schnapps is the easiest one.
To make a Fuzzy Navel, you really ought to use DeKuyper Peachtree Schnapps. It is the original, and it's still the best choice for this drink. Whatever you do, don't mistake DeKuyper Peach Pucker for DeKuyper Peachtree Schnapps. You won't be happy.
If you cannot find DeKuyper Peachtree Schnapps, there are other peach schnapps out there, but make sure to buy American-style schnapps. Most distillers making American-style schnapps use a heavily sweetened and strongly flavored neutral grain alcohol as a base spirit, while European schnapps is much milder and less sweet.
As for the orange juice, there are two things to keep in mind. The first is to use fresh-squeezed oranges if you can, and the second is you have to strain out any pulp.
Once you have the right ingredients, mixing a Fuzzy Navel cocktail is a snap.
Fill a highball glass with fresh ice.
Pour three ounces of peach schnapps and three ounces of orange juice into the glass.
Stir it with a bar spoon.
Drop in a straw and garnish with an orange wheel.
Tips for Making Fuzzy Navel Drinks
Add drama to your drink by floating the orange juice on top of the peach schnapps. Pour the juice slowly over the back of the bar spoon.
Are peach schnapps drinks a little too sweet for you? Make it a Fuzzy Navel Vodka, instead. Peach schnapps can be a bit too much for some people. You can up the alcohol content while reducing the sweetness by replacing half the peach schnapps with vodka. Some folks call this variation a Hairy Navel.
See more of our cocktail recipes on YouTube.
Fuzzy Navel Ingredients
Here's a list of what you need:
Peach schnapps
Freshly squeezed orange juice
Orange slice
Ice cubes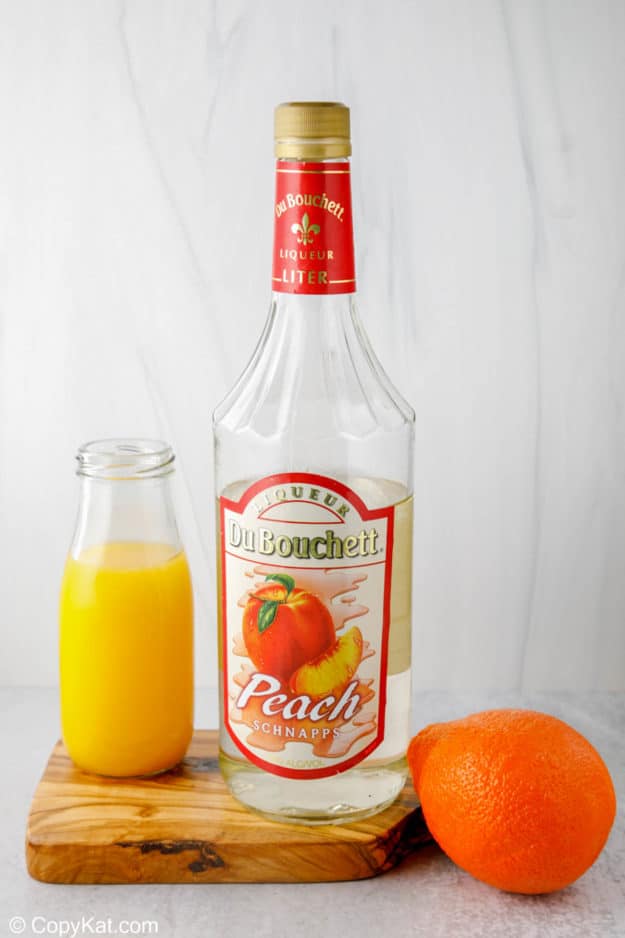 How to Make a Fuzzy Navel
Fill a highball glass with ice.

Add peach schnapps.

Add orange juice.

Garnish with an orange slice.
Love homemade cocktails? Try these recipes!
Tasty Non-alcoholic Summer Drinks
Check out more of my easy mixed drink recipes and the best non-alcoholic drinks recipes here on CopyKat!
Ingredients
ice

3

ounces

peach schnapps

3

ounces

freshly squeezed orange juice

1

orange slice

to garnish
Instructions
Fill a highball glass with ice.

Add the schnapps followed by the orange juice.

Garnish with an orange slice.
Nutrition
Calories:
257
kcal
|
Carbohydrates:
29
g
|
Protein:
1
g
|
Fat:
1
g
|
Saturated Fat:
1
g
|
Sodium:
1
mg
|
Potassium:
172
mg
|
Fiber:
1
g
|
Sugar:
27
g
|
Vitamin A:
172
IU
|
Vitamin C:
43
mg
|
Calcium:
10
mg
|
Iron:
1
mg