Hot Buttered Rum is a classic winter cocktail. You can prepare the batter ahead of time to have it ready for making the drink anytime. It's the perfect hot buttered rum mix to have on hand for a delicious cocktail. This festive drink is great for a holiday Christmas cocktail party or New Year's Eve celebration.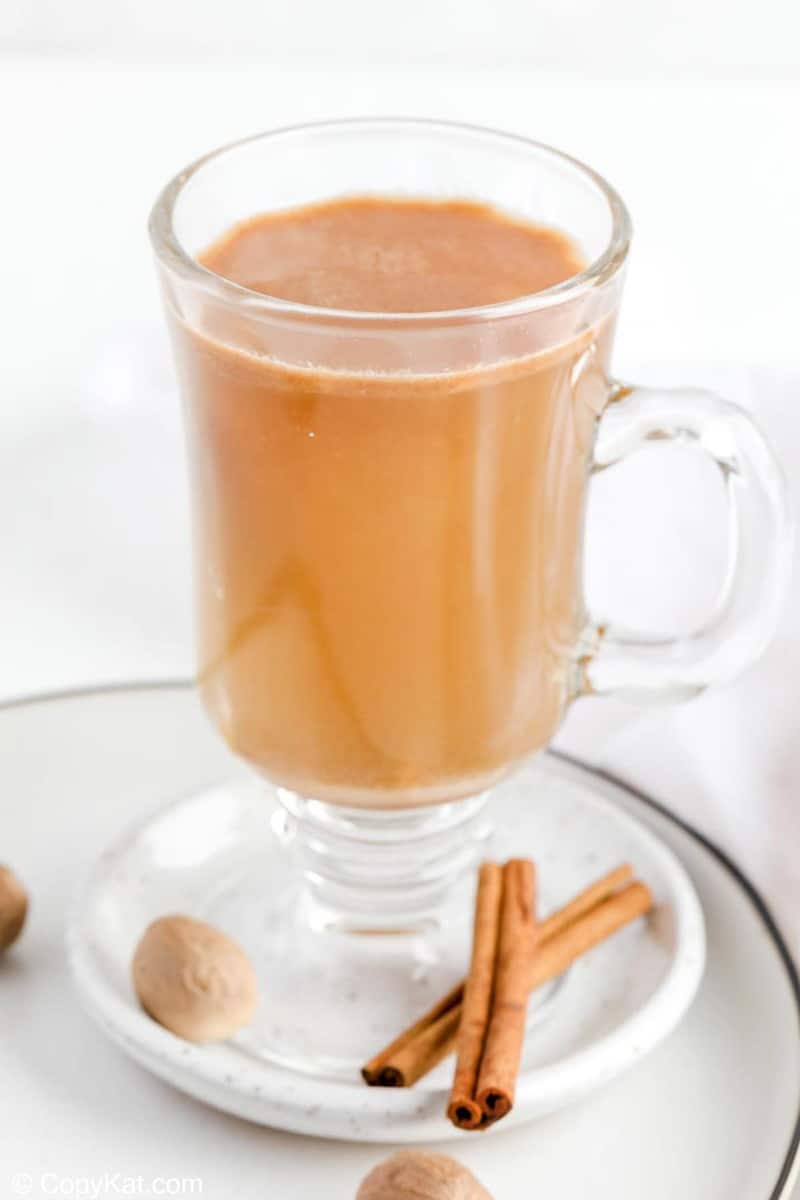 This post contains affiliate links. As an Amazon Associate, I earn from qualifying purchases.
A Holiday Tradition
Sure, you probably heard about Hot Buttered Rum, but if you are like most people, you probably thought it was a part of Christmas lost to the past, like playing Snap-Dragon or roasting chestnuts. However, this classic hot toddy is not only incredibly delicious, but it's not at all difficult to make, you are going to love this hot buttered rum recipe.
This timeless drink definitely deserves to become one of your holiday (and wintertime) traditions.
Perfect for Wintry Nights
Rum is a tropical alcoholic drink made from molasses and other byproducts of sugarcane. Although not everyone has a taste for rum, there is something supremely irresistible about the word "rum" when it's appended to the words "hot" and "buttered."
What do you immediately think of? How about the jingle of sleigh bells, cold snowy nights, blazing hot fires, and sugar-dusted cookies piled high on a plate?
Why This is the Best Recipe For Hot Buttered Rum
There are countless recipes available online, but if you want to know how to make Hot Buttered Rum with as little fuss as possible, this is the one for you.
With just a few ingredients that you already have in your pantry, you can rediscover what previous generations knew was the best way to warm your body and soul on even the most blustery days. Adding the optional vanilla ice cream makes this Hot Buttered Rum mix recipe richer and tastier.
Recipe Ingredients
This recipe has two parts: the hot buttered rum batter mix and assembling the drink.
To make the Hot Buttered Rum mix, you'll need:
Butter
Dark brown sugar
Powdered sugar
Ground cinnamon
Ground nutmeg
Vanilla ice cream (optional)
To make the drink, you'll need: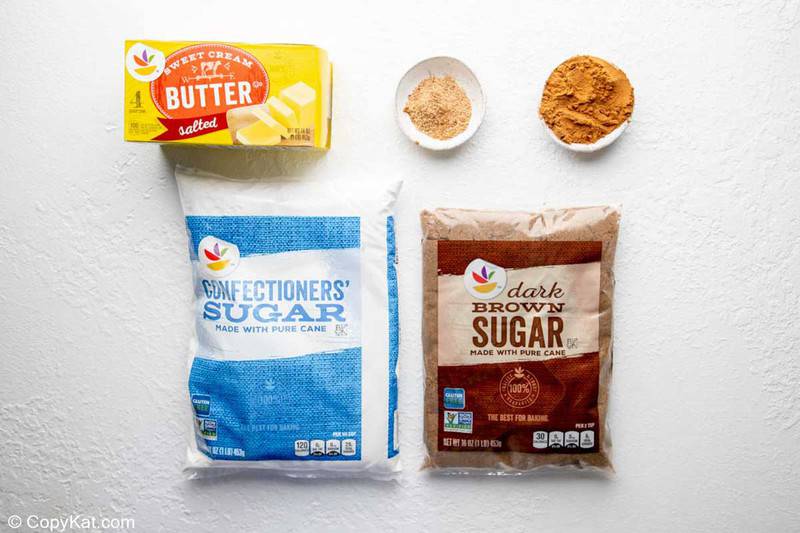 Ingredient Notes
Use the best quality unsalted butter you can find. European-style butter is a good choice as it has a slightly higher butterfat content and usually a lovely yellow hue. Whatever you do, stay away from cultured butter for this recipe.
Go ahead and use any dark rum you have, but if you plan on buying a bottle to make this recipe, choose a black rum for the best flavor and color. Cruzan and Gosling's make good, mid-price black rums. I have also made this with a spiced rum like Captain Morgan's or Sailor Jerry's Spiced rum.
Fresh ground spices give you the most flavor, and heating the cinnamon and nutmeg in a dry pan before adding them to the hot buttered rum batter helps to bring out their essential oils.
Ingredient Substitutions
This recipe is too good not to share with people who can't or don't want to drink alcohol. Rum is a major flavor component, so you still need the taste, but you can use an alcohol-free rum like the ones made by Ronsin and Ritual Zero Proof.
Alternatively, you can go for a rum extract or a rum flavoring. The brand you choose should tell you how much of the extract equals one tablespoon of rum. Remember, one jigger equals about three tablespoons, so there are about 4.5 tablespoons of rum in each serving of this recipe. Any way you look at this, everyone is going to love it when you mix up a batch of hot buttered rum mix.
It is also important to note that some extracts and flavorings still contain alcohol, so check before serving to someone who can't have any.
Vegans can use vegan-friendly butter, like plant-based Earth Balance, as a direct substitution for regular butter in the recipe.
How to Make Hot Buttered Rum Batter and the Drink
The first part is to make a hot buttered rum mix:
Bring the butter up to room temperature to soften it. Check out the recipe variation in the next section to find out how to incorporate the optional vanilla ice cream.
If you are using freshly ground cinnamon and nutmeg (and you really should for the best flavor), grind them as finely as possible.
An optional step, but highly recommended, is lightly toasting the spices in a dry skillet over medium heat to bring out their essential oils. Cool the spices before adding them to the batter.
Combine the softened butter, dark brown sugar, powdered sugar, cinnamon, and nutmeg in a mixing bowl.
Mix the batter until spices, sugar, and butter combine. You can use a stand or hand mixer if you want, but it is easy enough to mix with a wooden spoon.
The second part is to make a hot buttered rum cocktail:
Boil water. While the water is coming to a boil, add a heaping tablespoon and a half of the butter mixture to a hot toddy glass or small coffee cup.
Add 1½ ounces of rum.
Fill the mug with boiling water.
Stir to combine. You can garnish the drink with cinnamon stick if desired.
Recipe Variation
Adding a pint of vanilla ice cream to the Hot Buttered Rum mix recipe helps cut some of the greasiness of the drink and make it even creamier.
If you want to include the ice cream, let it soften but not melt completely in the fridge, not the countertop, before mixing it into the batter in Step 1 of the directions above.
Hot Buttered Rum History
Hot buttered rum, also called a hot toddy, comes with a long history attached to it. The drink originated in Europe where hot, spiced alcoholic beverages have for centuries been used to fortify people against bitterly cold winters.
After the British Royal Navy arrived in Jamaica in 1655, rum began to replace brandy as the daily alcohol ration for sailors.
Rum in the American Colonies
The US colonists started importing rum and soon progressed to setting up distilleries in the Northeast to make their own rum from cheap imported molasses. American-made rum gradually found its way into traditional beverages like the toddy which was concocted from rum, honey or sugar, and spices.
And, in the case of hot buttered rum, this drink mix was enriched with a pat of golden butter.
Not Everyone Approved of Adding Butter
Hot buttered rum may sound inviting, but the drink did have its detractors, according to Wayne Curtis, who wrote And a Bottle of Rum: A History of the New World in Ten Cocktails. Curtis quotes David Embury, author of The Fine Art of Mixing Drinks, a classic cocktail book that was published in 1948, as follows:
The lump of butter is the final insult. It blends with the hot rum just about as satisfactorily as warm olive oil blends with champagne!
Buttered Rum Done Right
Although no one would think of adding olive oil to champagne, Curtis maintained that when done properly, hot buttered rum is the absolute "comfort food in a mug." The key, he said is to make a thick batter consisting of softened butter, brown and white sugar, spices, and softened vanilla ice cream.
This batter is placed in a mug along with rum and boiling water is stirred in. According to Curtis, the ice cream prevents the "odious slick" of grease from forming on the drink's surface.
How to Serve Hot Buttered Rum
Serve Hot Buttered Rum in a hot toddy glass or an Irish Coffee mug. Garnish with a cinnamon stick or float star anise on the top for the most impact.
What Goes Well With Hot Buttered Rum?
Hot Buttered Rum is both sweet and savory, so you don't need to serve anything with it, but shortbread cookies or biscotti certainly wouldn't hurt.
How to Store Hot Buttered Rum Mix
Use the batter immediately or freeze in a freezer-safe bag for up to six months.
Try freezing the batter into premeasured servings using a silicone mold before transferring to a freezer-safe bag to make things much more manageable.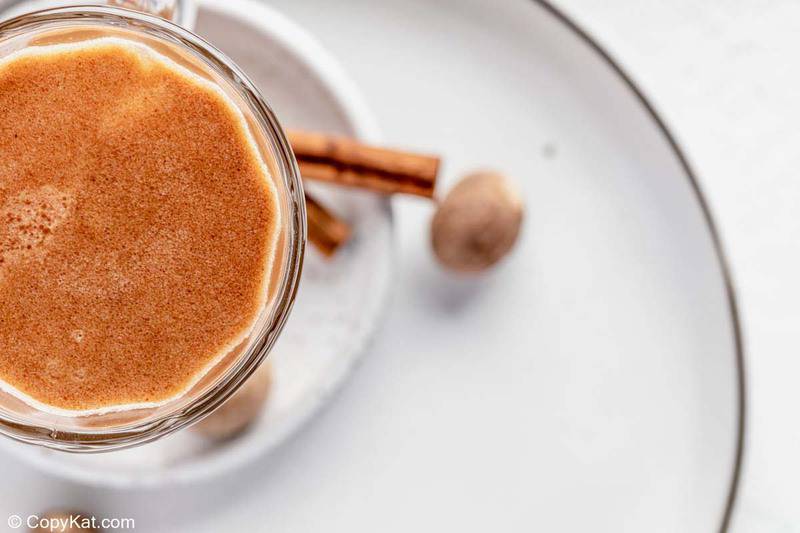 Looking for more drinks to warm up with? Try these!
Favorite Holiday Cocktail Recipes
Check out more of my easy cocktail recipes and the best Christmas recipes here on CopyKat!
Thanks to Mari for sharing this recipe.
Ingredients
Mix
1

pound

butter

softened at room temperature

1

pound

dark brown sugar

1

pound

powdered sugar

4

teaspoons

ground cinnamon

2

teaspoon

ground nutmeg
Drink
1 1/2

ounces

rum

1 jigger

Boiling water
Instructions
To make the hot buttered rum mix, place the butter, dark brown sugar, powdered sugar, cinnamon, and nutmeg in a bowl and use an electric

mixer

to blend until smooth.

To assemble each drink, place a heaping 1 1/2 tablespoons of the butter mixture into a mug. Add the rum. Fill the mug with boiling water and stir to combine.
Notes
Hot buttered rum mix will last indefinitely in the freezer.
Nutrition
Calories:
287
kcal
|
Carbohydrates:
25
g
|
Protein:
1
g
|
Fat:
10
g
|
Saturated Fat:
7
g
|
Polyunsaturated Fat:
1
g
|
Monounsaturated Fat:
3
g
|
Trans Fat:
1
g
|
Cholesterol:
27
mg
|
Sodium:
94
mg
|
Potassium:
22
mg
|
Fiber:
1
g
|
Sugar:
25
g
|
Vitamin A:
316
IU
|
Vitamin C:
1
mg
|
Calcium:
16
mg
|
Iron:
1
mg