Cinnamon Coffee is simply delicious! It's perfect to enjoy after a meal or when sitting by a roaring fire in the fireplace. This easy recipe will show you how easy it is to dissolve cinnamon in coffee and infuse coffee with cinnamon with a drip coffee maker. In no time at all you can sip on this warm drink and just feel your energy levels rise.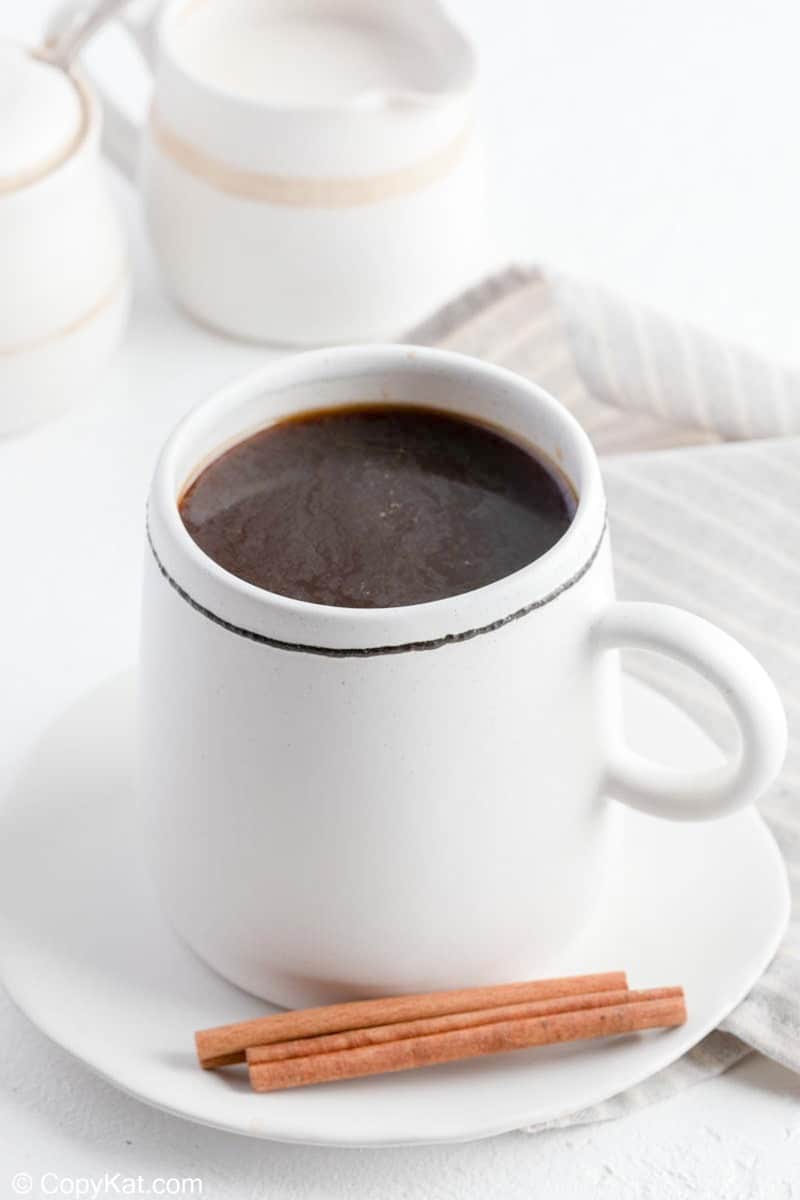 This post contains affiliate links. As an Amazon Associate, I earn from qualifying purchases.
Cinnamon in Coffee
Aromatic cinnamon adds a rich flavor to your cup of coffee. This tasty and cozy cinnamon coffee recipe is very easy to make.
Cinnamon is one of those flavors that taste good year-round, but when the weather turns chilly, this spice is indispensable – the scent alone can make your home feel warm! This is definitely a snowed-in-brunch type of coffee!
What Is Cinnamon Coffee?
Adding cinnamon to coffee transforms a regular ole cup of coffee into something enticingly delicious. It's amazing what that little extra boost of flavor does! The cinnamon tang is not overpowering; just a subtle extra something that boosts the coffee and leaves a pleasing aftertaste.
Why Add Cinnamon to Your Coffee?
Cinnamon gives you a fun and easy twist on the classic cup of Joe. Also, there are several benefits of cinnamon in coffee and great reasons to add this spice to your brew. Here are just three:
Clears your sinuses: If you have a cold or are struggling with allergies, cinnamon in your coffee will act as a decongestant.
Lowers your appetite: Cinnamon helps satisfy that sweet craving and suppresses appetite. You feel satisfied for longer, so it's great for those trying to lose weight or stretch the gap between snacks.
It's nutritious: Cinnamon is a flavorful bark that's a great source of fiber and nutrients, including calcium, manganese, iron, and Vitamin K.
Why This Is the Best Recipe for Cinnamon Coffee
What makes this cinnamon coffee recipe so great? So often, flavored coffees come with a variety of chemicals. In contrast, this recipe is made only with wholesome ingredients and gives you just a subtle hint of cinnamon – it tastes really good.
You will also love how simple this cinnamon-flavored coffee recipe is. This handcrafted coffee is sure to become a big favorite in your house.
You don't need any fancy coffee equipment – just a regular drip coffee brewer. Once you've tried coffee with cinnamon, you might never make coffee any other way again!
No need to buy expensive flavored ground coffee ever again. All you need is some cinnamon.
Recipe Ingredients
With just four few simple ingredients (plus water), you can make this great-tasting cinnamon coffee drink at home. Here's what you need to stock up on to make this cinnamon coffee recipe:
Ground coffee
Ground cinnamon
Whole cinnamon sticks
Brown sugar
Water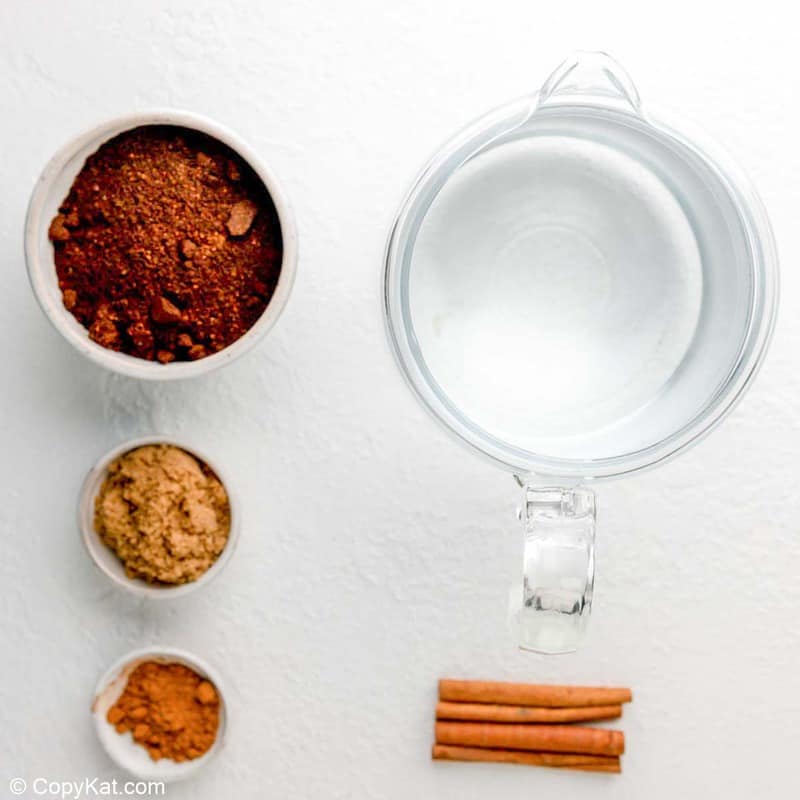 Ingredient Notes
Omit the brown sugar if you do not want sweetened coffee, or adjust the quantity to make it less sweet.
Cinnamon has a naturally sweet flavor, so adding it to your brew will mellow your coffee and make it less necessary to add sweeteners. This makes adding cinnamon to your coffee ideal if you are watching your sugar intake.
How to Make Cinnamon Coffee
Pour water into your drip coffee maker's water reservoir.
Place a coffee filter in the brew basket.
Place ground coffee and ground cinnamon in the filter-lined brew basket.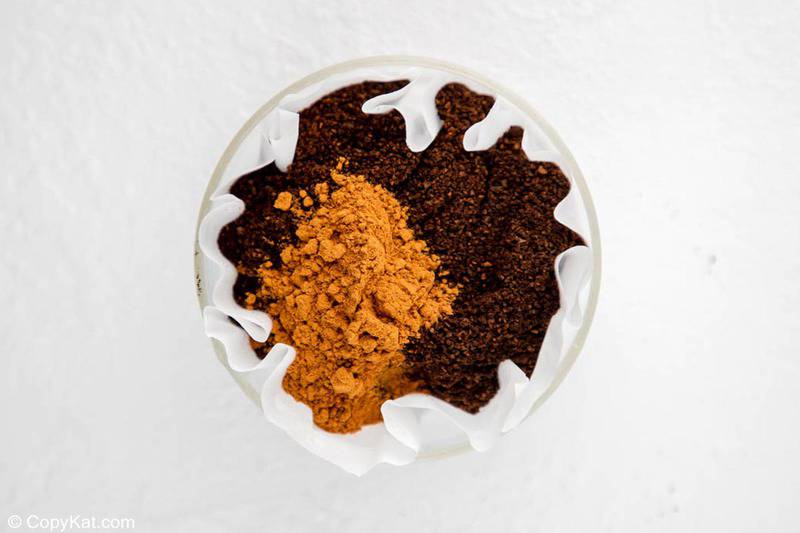 Place cinnamon sticks and brown sugar into the coffee maker's carafe.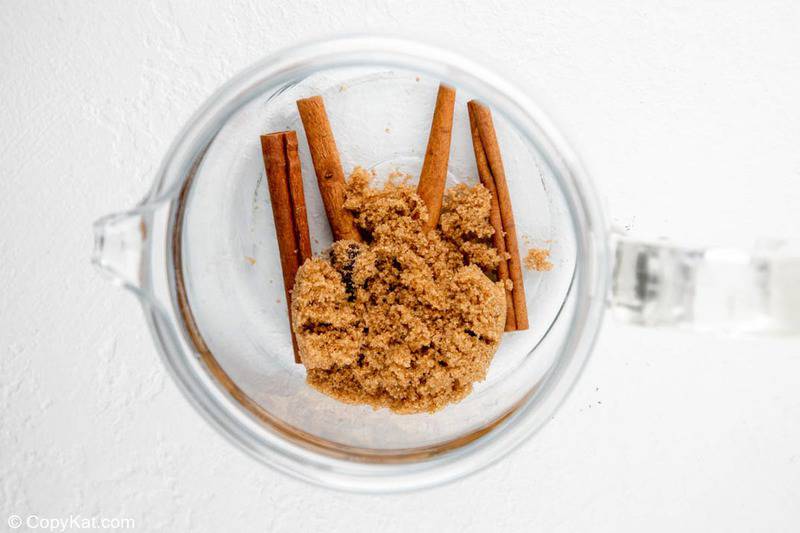 Brew the coffee.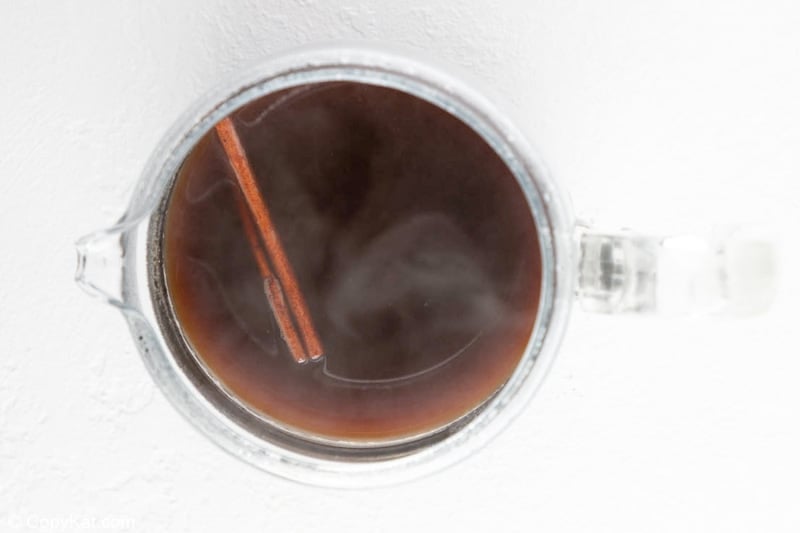 Pour the cinnamon coffee into a mug. Enjoy!
How Much Cinnamon Should Be Added to Coffee?
Adding cinnamon to coffee is really a matter of personal preference. For a subtle taste of cinnamon, one teaspoon per pot of coffee works well. If you want more cinnamon flavor, add up to two teaspoons.
How to Dissolve Cinnamon in Coffee
Of course, you can just sprinkle a little cinnamon into your cup of coffee. It definitely adds to the flavor, but it can make your coffee gritty.
By putting ground cinnamon in coffee grounds in a drip coffee maker, you get a cinnamon-spiced coffee that's both fragrant and smooth.
How to Infuse Coffee with Cinnamon
There are two methods to infuse coffee with cinnamon:
Add cinnamon to coffee grounds. Just sprinkle a little ground cinnamon over the coffee grounds in the coffee filter. Then brew your coffee as usual.
Adding ground cinnamon to coffee may make your coffee a little weaker. So, if you like your coffee strong, consider using an additional scoop or two of coffee grounds.
Place cinnamon sticks in the coffee pot. Put from 1 to 3 cinnamon sticks in your coffee carafe before you brew the coffee.
Recipe Variations
Other Flavors: Use different spices instead of cinnamon such as pumpkin pie spice or cardamom. Here are ten ways to perk up your coffee with spices.
Whipped Cream Topping: Make your cinnamon coffee drink even more special by serving it topped with whipped cream.
Cinnamon Coffee Popsicles: Pour the cinnamon coffee into popsicle molds and freeze.
Cinnamon Mocha Coffee: Pour the freshly brewed cinnamon coffee into your cup and stir in a little chocolate syrup.
Cinnamon Coffee may be a healthier choice
Did you know cinnamon has high antioxidant content, and this may be good for your body? Cinnamon's antioxidants may help to protect your body from oxidative damage caused by free radicals. Cinnamon has anti-inflammatory properties. It can help diabetics help to control their blood sugar levels. So you can enjoy the energy boost a cup of coffee gives you while enjoying other potential health benefits.
How to Make Cinnamon Iced Coffee
Make the cinnamon coffee per the recipe instructions.
Cool the coffee to room temperature or refrigerate it until chilled.
Pour the coffee over ice.
Add milk or cream if desired.
Because the ice will dilute the coffee, you might want to make the coffee stronger or use coffee ice cubes.
Tips for Adding Cinnamon to Coffee
A medium to dark roast coffee works best.
When mixing cinnamon in coffee grounds, a paper filter works better than a reusable one. The paper helps to keep the coffee from clouding by getting filled with either coffee or cinnamon grounds.
Also, the cinnamon can clog in a reusable filter causing your coffee to overflow all over your counter.
What Goes With Cinnamon Coffee?
If you love cinnamon and want something tasty to go with your cinnamon coffee, here are some suggestions: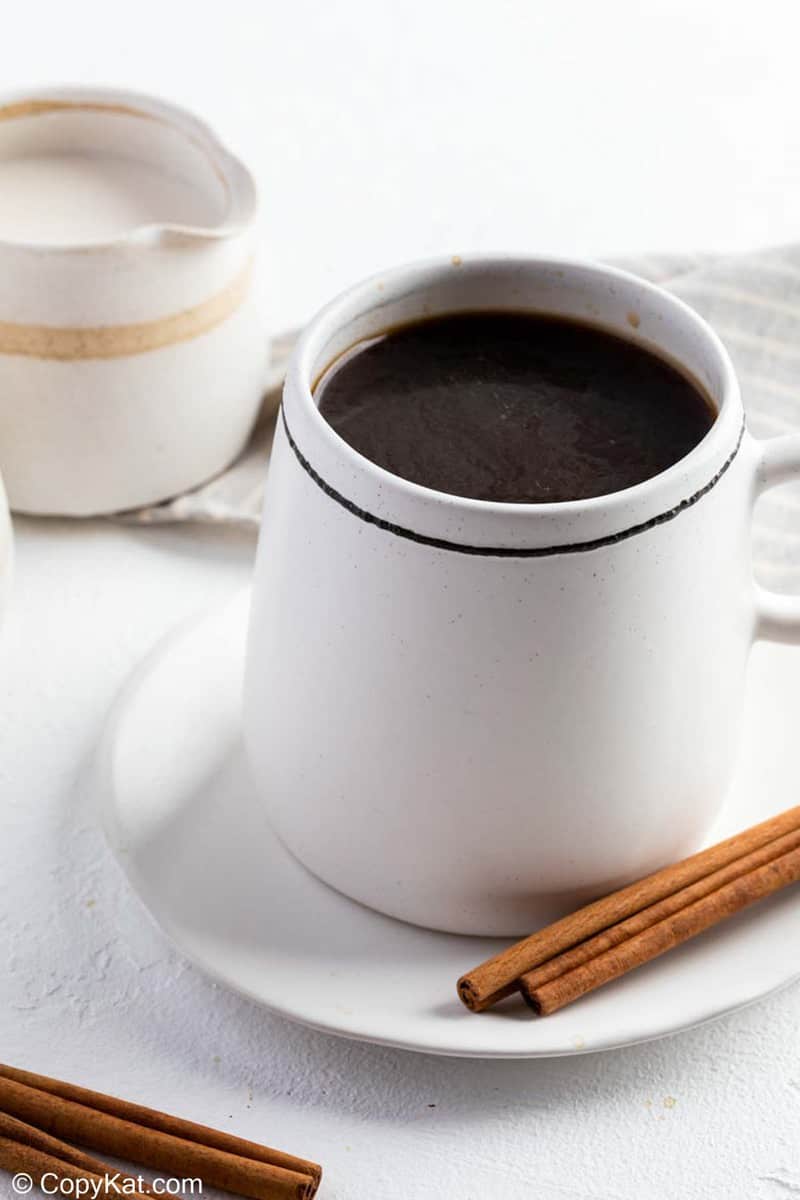 Do you love coffee? Try these recipes!
Favorite Cinnamon Recipes
Check out more of my easy drink recipes and the best copycat restaurant recipes here on CopyKat!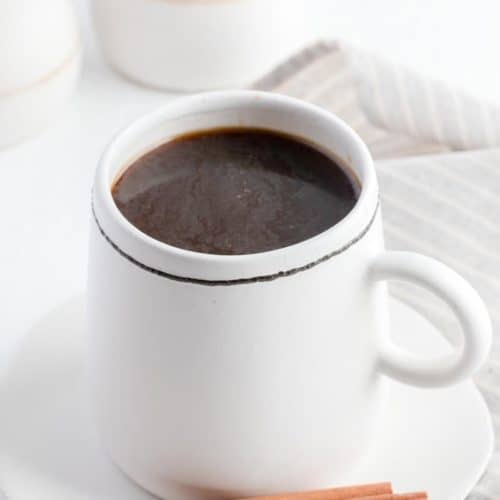 Ingredients
10

cups

water

1

cup

ground coffee

1

teaspoon

ground cinnamon

4

whole

cinnamon sticks

3

heaping teaspoons

brown sugar
Instructions
Pour the water into the water reservoir of a drip coffee maker.

Place a coffee filter into the brew basket and add the ground coffee and ground cinnamon to the filter-lined brew basket.

Place the cinnamon sticks and brown sugar into the glass coffee pot.

Brew the coffee. Once the coffee is brewed, stir it well. The longer it sits, the better it gets!
Notes
You can omit the brown sugar if you do not want sweetened coffee.
Nutrition
Calories:
6
kcal
|
Carbohydrates:
1
g
|
Protein:
0
g
|
Fat:
0
g
|
Saturated Fat:
0
g
|
Cholesterol:
0
mg
|
Sodium:
12
mg
|
Fiber:
0
g
|
Sugar:
1
g
|
Calcium:
14
mg
|
Iron:
0
mg