Awaken your taste buds with Luby's Sausage Steak, a breakfast delight like no other! Succulent pork sausage patties are masterfully broiled in rich beef broth, creating layers of depth in every bite. And the flavor crescendo continues! Each patty is crowned with cheddar cheese, crispy bacon, and a sprinkle of fresh green onions. Start your day with this savory sensation that promises to leave you craving for more!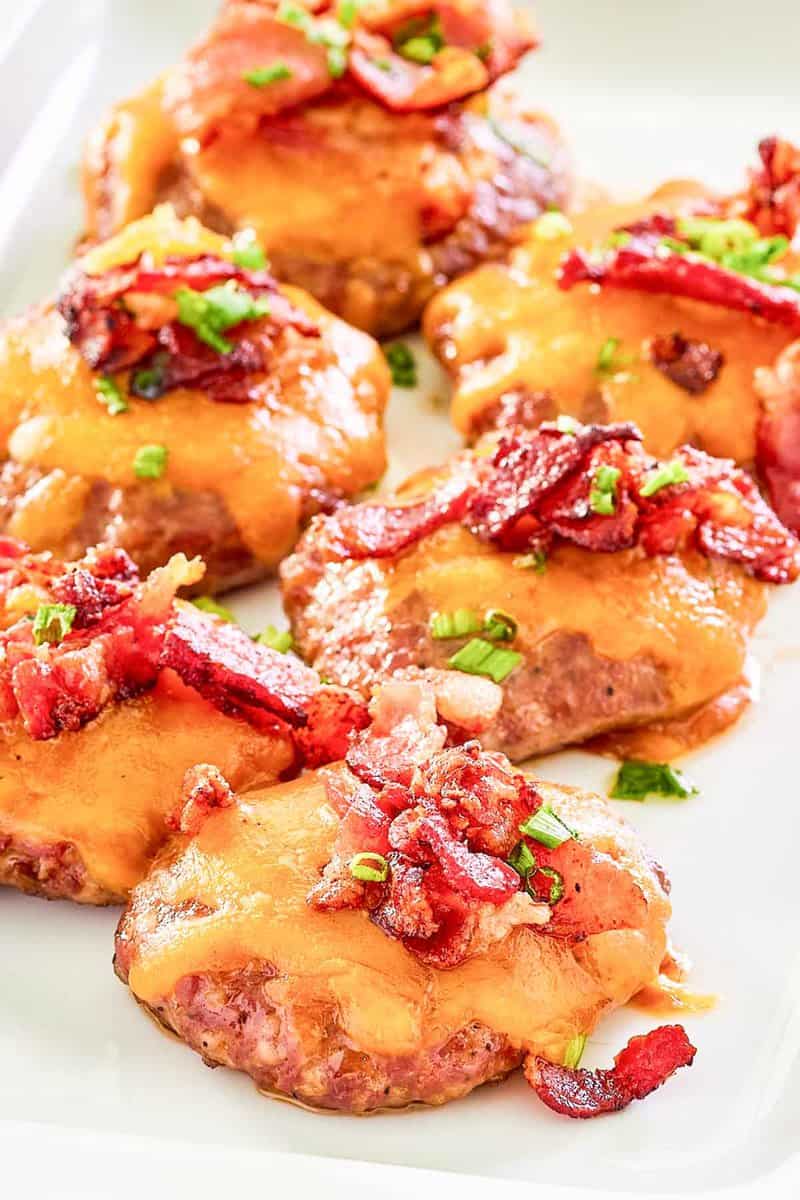 This post contains affiliate links. As an Amazon Associate, I earn from qualifying purchases.
What Makes the Luby's Sausage Steak Stand Out?
You've likely tried Salisbury Steak, but what about Sausage Steak? Unless you are a customer at Luby's Cafeteria, the answer is probably "No." That should change as soon as possible.
Think of Sausage Steak as a breakfast version of Salisbury Steak that starts with braising sausage patties in beef stock under the broiler. Topped with cheddar cheese, sliced green onions, and crispy bacon, the patties go back into the oven to melt the cheese. It's a tasty twist to a breakfast classic.
Why You Should Try This Recipe
Eating the same thing every morning can get dull fast, but this unique recipe is a great way to change things up. And don't worry about needing to run to the store; Luby's Sausage Steaks recipe uses common ingredients you probably already have in your kitchen.
This dish is a fun addition to any brunch menu that you can serve in many ways. And since you can precook the sausage patty, it will take only about two minutes to finish the dish once your guests arrive.
Luby's Sausage Steak Ingredients
For this breakfast dish, you'll need:
Pork sausage
Beef broth
Bacon. cooked
Green onions
Cheddar cheese
Ingredient Notes
Bulk breakfast pork sausage meat is more economical and easier to form into the patties, but you can use any sausage you want for this dish.
Don't cook the bacon until it is crispy since it will go back in the oven for a short time. Cook the bacon however you prefer, or try this baked bacon method.
Low or no-added sodium beef broth is a good choice for this recipe because the bulk sausage meat and bacon already contain enough salt.
How to Make a Breakfast Sausage Steak Platter
To make this one-of-a-kind breakfast:
Slide an oven rack to the top position and set the oven to BROIL.
While the oven is preheating, divide the sausage meat into five or six equal portions and form each into an oblong patty about half an inch thick.
Lay the patties evenly in a broiler-safe baking dish with a rim. Pour the beef broth into the pan.
Put the baking dish in the oven and broil for 10 to 13 minutes until the sausage patties are cooked through.
While the sausage patties are in the oven, wash and thinly slice the green onions and reserve for later. If using block cheese, shred it.
Carefully remove the baking pan from the oven and put it on a trivet or wire rack.
Top the sausage patties with the shredded cheddar cheese, bacon, and sliced green onions.
Put the dish back in the oven and cook until the cheese melts, about a minute or two.
Serve hot.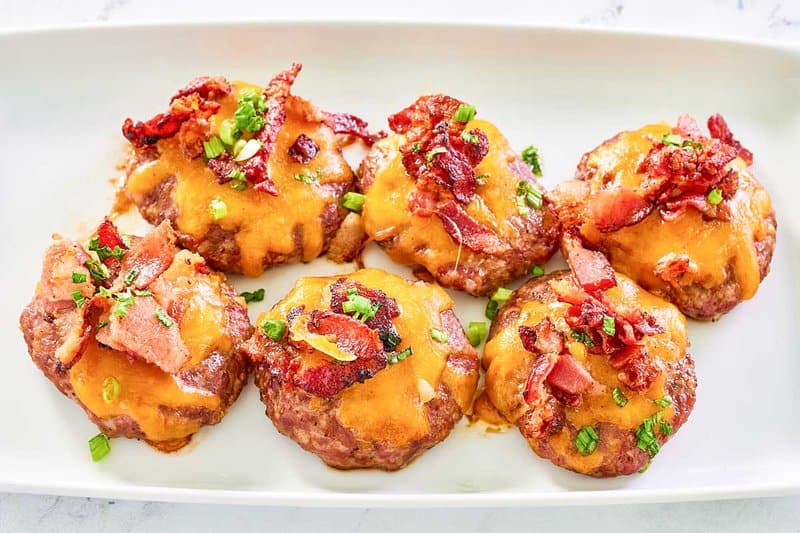 What to Serve With this Recipe
Sausage Steak is extremely versatile. Here are a few suggestions on how you can enjoy it:
Have it with your favorite style of eggs. Replace your regular bacon or sausage side with Luby's Sausage Steak.
Put it on top of a pile of home fries and add a drizzle of gravy. Make your own beef gravy by heating the strained braising liquid in a pan over medium heat. Thicken it with a tablespoon of butter mixed with a tablespoon of flour. Whisk until smooth.
Turn into a breakfast sandwich. Put the topped patty onto toasted bread and add scrambled eggs for a delicious meal you can take with you. Or try chopping the patty into a few pieces and use a pancake to turn it into a breakfast taco.
How to Store Leftover Sausage
You can keep Luby's Sausage Steak in the fridge for up to three days or in the freezer for as long as a month.
Remove the patties from the liquid in the baking tray and allow them to cool to room temperature.
To keep the Sausage Steak in the refrigerator, place a single layer of patties in an airtight container.
For freezer storage, freeze the patties directly on the baking tray and then transfer them to a freezer-safe container. Thaw overnight in the fridge before reheating, or use the quick defrost function on the microwave.
What Is the Best Way to Reheat Sausage
If you are in a rush, there's no shame in popping a patty into the microwave and heating it for one and a half minutes. Allow the patty to rest in the closed microwave for at least a minute before serving. However, if you have the time, try this oven method:
Preheat the oven to 375°F.
Place the topped sausage patty on a baking tray and cover with aluminum foil.
Reheat on the middle rack until hot, about 8 to 10 minutes.
Let the covered patties sit for two minutes before removing the aluminum foil and serving.
Do you love Luby's? Check out these copycat recipes!
Favorite Breakfast Recipes with Sausage
Check out more of my easy breakfast recipes and the best copycat restaurant recipes on CopyKat!
Ingredients
1

pound

ground sausage

1/2

cup

beef broth

1/2

cup

shredded cheddar cheese

1/4

pound

bacon

cooked crisp and chopped into small pieces

1/4

cup

thinly sliced green onions
Instructions
Divide and shape the ground sausage into approximately 6 oblong patties.

Place the sausage patties into a 9×13-inch broiler-safe baking dish (do not use glass) along with the beef broth. Broil for about 10 to 13 minutes, or until the sausage is completely cooked through. Remove the dish from the oven.

Top the sausage patties with cheese, bacon, and green onions and return to the oven for 1 to 2 minutes to allow the cheese to melt.
Nutrition
Calories:
523
kcal
|
Carbohydrates:
1
g
|
Protein:
24
g
|
Fat:
46
g
|
Saturated Fat:
16
g
|
Cholesterol:
115
mg
|
Sodium:
1109
mg
|
Potassium:
384
mg
|
Fiber:
0
g
|
Sugar:
0
g
|
Vitamin A:
290
IU
|
Vitamin C:
2
mg
|
Calcium:
117
mg
|
Iron:
1.6
mg