Satisfy your comfort food cravings with creamy homemade mac and cheese. Made with rich sharp cheddar cheese and baked to perfection, it's a melt-in-your-mouth dish that is soul-satisfying.
This post contains affiliate links. As an Amazon Associate, I earn from qualifying purchases.
What Makes Homemade Mac and Cheese So Good
Blue-box mac 'n cheese may be great for kids, but if you're old enough to use the oven without assistance, it's time to upgrade. Oven baked mac and cheese beats stove-top mac 'n cheese, hands down.
Say goodbye to mushy noodles drenched in gritty, bright orange cheese sauce, and say hello to this Homemade Mac and Cheese sauce recipe. Once you try this decadent sauce made from real cheese and wholesome milk, you'll never want to have powdered cheese sauce again!
Plus, homemade macaroni and cheese is a wonderful dish to serve at Easter, Thanksgiving, and Christmas. It pairs beautifully with ham and turkey.
Why You Should Try This Homemade Mac and Cheese Recipe
There are just a couple of reasons to make mac 'n cheese from a box. The first is that the store-bought version is fast to make. But you can make this recipe in about the same amount of hands-on time and with healthier and better-tasting ingredients.
The second reason is cost. Sure, powdered cheese is cheap, but the real stuff is much more satisfying. Saving an extra buck or so per serving is not worth eating a subpar dinner that will leave you hungry!
Easy Homemade Mac and Cheese Ingredients
For the Homemade Mac and Cheese sauce, you'll need:
White onion
Unsalted butter
All-purpose flour
Freshly cracked pepper
Whole milk
Cheddar cheese, shredded
Shredding the cheddar cheese yourself will ensure it melts evenly. If you don't like cheddar cheese, you can use another type of smooth-melting cheese. Gruyere, Gouda, Monterey Jack, and Colby Jack are good choices. Don't be afraid to mix a few kinds of cheeses together. For extra creamy macaroni and cheese, try adding cream cheese or goat cheese to the mix.
For the macaroni, you'll need:
Elbow macaroni is the classic option for mac and cheese, but you can use any short pasta you prefer. Shells are a popular choice. Tube pasta, like penne, is excellent because there's space for the cheese sauce to get caught.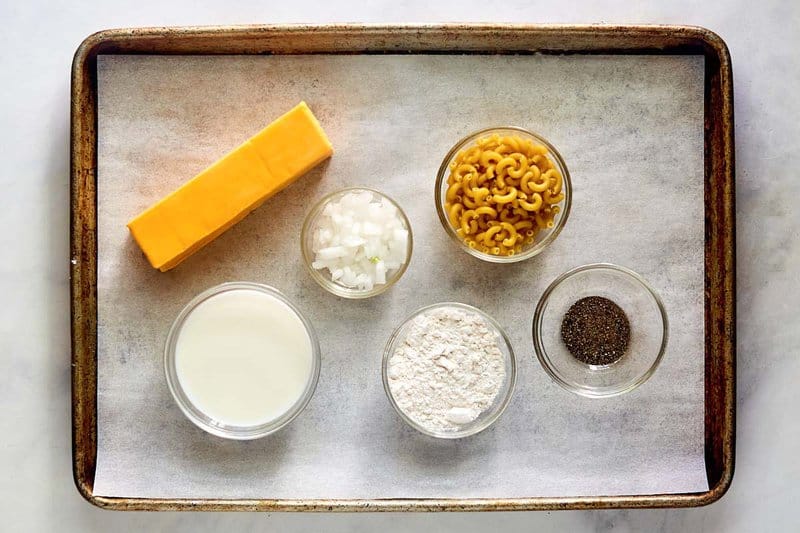 How to Make the Best Homemade Mac and Cheese
To prep the ingredients:
Boil the pasta in a large pot to al-dente according to the directions on the package.
While the pasta is boiling, you have time to make the cheese sauce. Start by chopping the white onions into small pieces. Then shred the cheese.
Melt the butter in a medium saucepan over medium heat. Once the butter stops foaming, saute the diced onions until translucent.
Stir in the flour and freshly cracked black pepper to coat the onions. Cook for about a minute while stirring continuously.
Slowly whisk the whole milk into the roux and continue to whisk until the milk thickens slightly.
While whisking, add a handful of shredded cheese at a time. Ensure the cheese is fully incorporated into the sauce before adding more.
Remove the saucepan from the heat and cover it to keep it warm.
To assemble and bake the best Homemade Mac and Cheese:
Preheat the oven to 375°F and grease a 13 x 9-inch casserole dish.
Drain and dump the cooked pasta into the saucepan with the cheese sauce. Stir to coat the pasta.
Transfer the mac 'n cheese to the prepared casserole dish and bake for 30 minutes.
Remove from the oven and let cool for a minute or two on a wire rack before serving.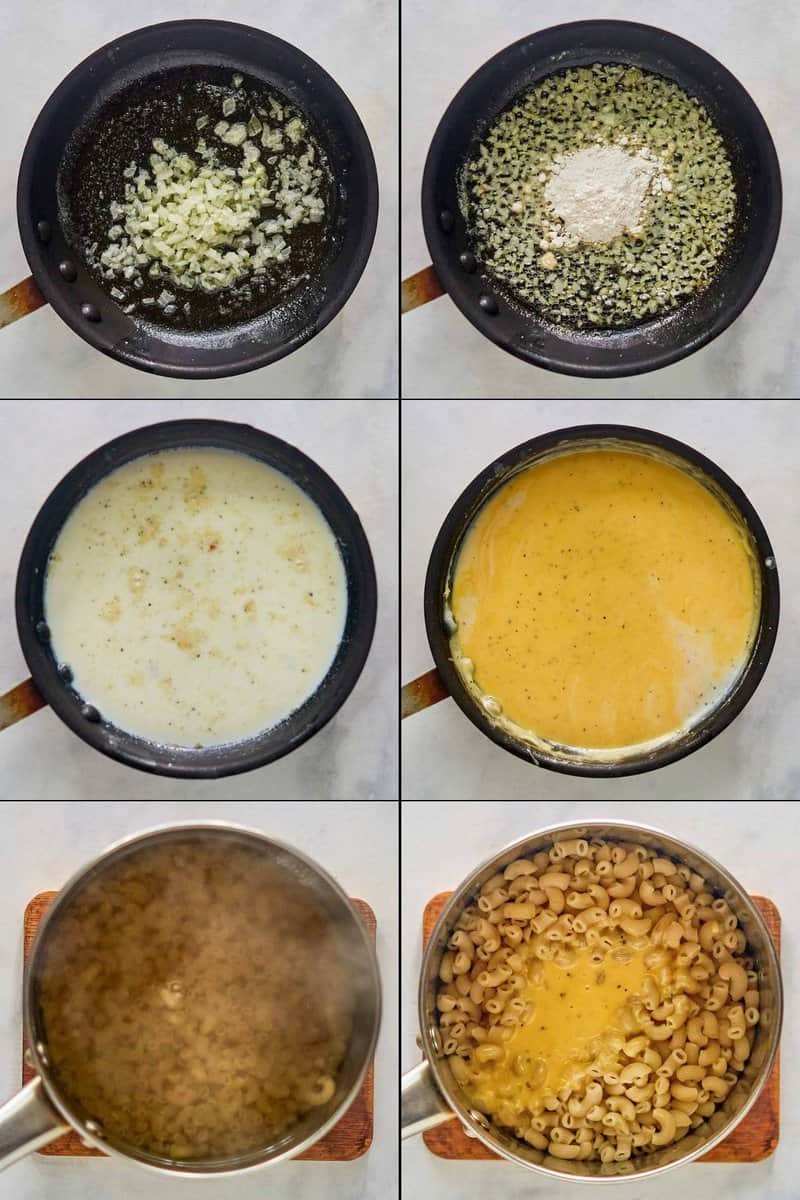 Sprinkle some freshly cracked black pepper on top if desired.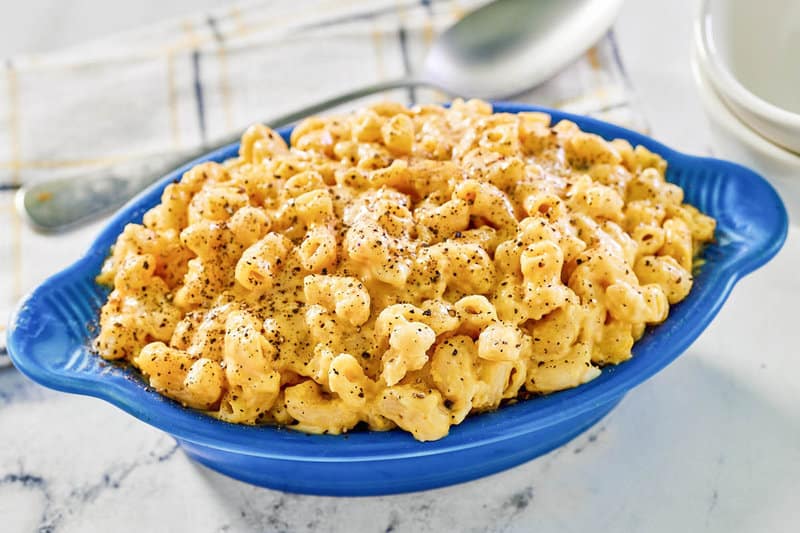 Macaroni and Cheese Recipe Variations
This baked Homemade Mac and Cheese recipe is a great base for your creativity. Here are a few suggestions you can use to make this dish your own:
Add some meat. You can turn this into a main dish by adding your choice of meat to the mix. Almost any kind will work; just make sure it is pre-cooked. Some good options are sausages or hot dogs, leftover roasts, or thick-cut deli meat.
Spice things up a bit. Stir a tablespoon of hot sauce into the cheese sauce. Don't like it hot but want more flavor? Try a sprinkling of your favorite dried herb mix.
Get fancy with the toppings. Although this recipe doesn't call for any toppings, you can add one. Butter-toasted breadcrumbs are traditional, but you may also want to use panko topping, crushed Ritz crackers, crispy fried onions or jalapeno crisps for extra flavor! Sprinkle your topping of choice on the baked Homemade Mac and Cheese before serving.
What to Serve With Mac and Cheese
Although you can enjoy easy Homemade Mac and Cheese as the main course, it is also a wonderful side dish. It goes with a wide variety of classic American entrees. Here are a few outstanding combos:
BBQ ribs. Whether you prefer the sweet tang of Kansas City BBQ or the vinegar-based sauces of the Carolinas, this best Homemade Mac and Cheese recipe is the ideal accompaniment for perfectly cooked ribs.
Meatloaf. Meatloaf doesn't need to be boring. Try this traditional recipe meatloaf from Boston Market, or this smoked meatloaf for something a little unusual.
Fried chicken. Fried chicken and mac 'n cheese is a favorite combo, but you will want to make sure that the chicken recipe is a good one. This Southern Fried Chicken recipe from Cracker Barrel is a very worthy pairing.
How to Store Leftovers
You can save extra mac and cheese in the refrigerator for up to three days. Let the food cool to room temperature, and cover the top of the casserole dish with plastic wrap.
If you want to keep the mac and cheese for over three days, you can freeze it for up to a month. Dividing the macaroni and cheese into individual portions before freezing makes defrosting more convenient.
What Is the Best Way to Reheat It
Warming baked Homemade Mac and Cheese in the oven heats it without drying it out:
Preheat the oven to 350°F.
Place a thawed serving of mac and cheese in a baking dish. Cover with aluminum foil.
Bake for 15 to 20 minutes until the center is hot.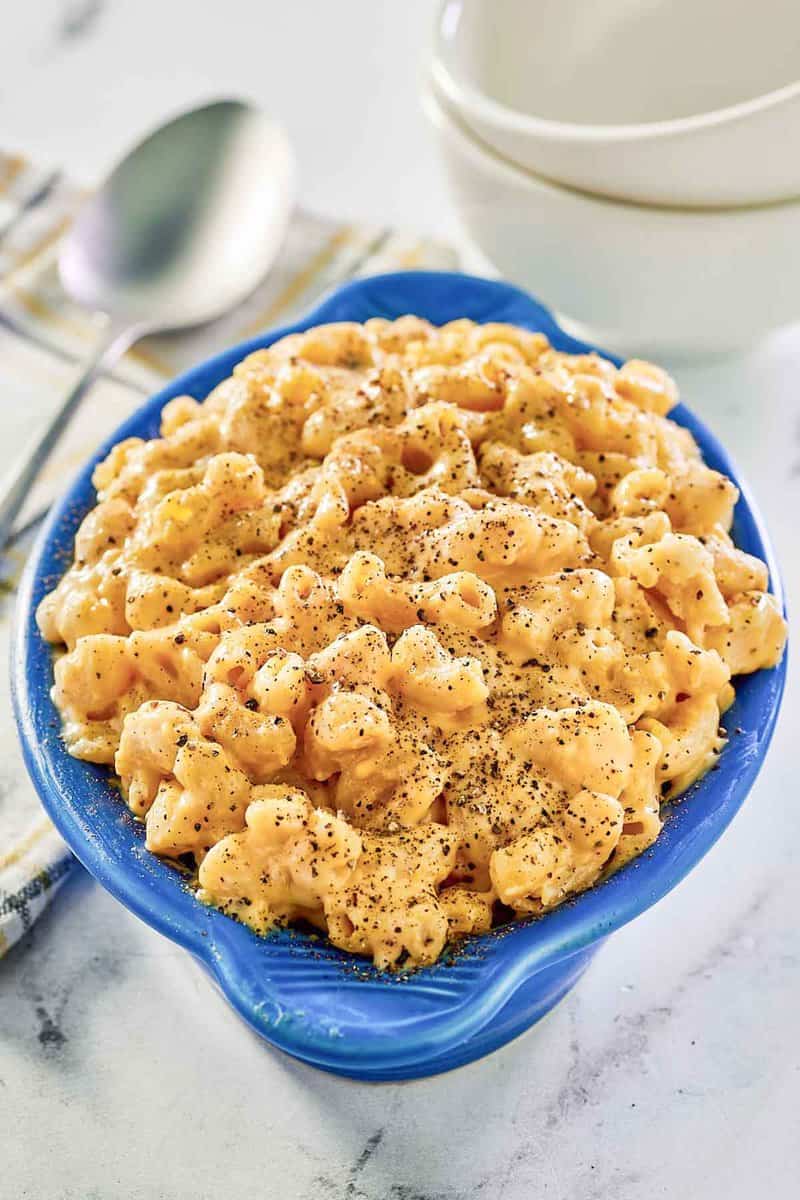 More Mac and Cheese Recipes
Favorite Side Dishes
Check out more of my easy side dish recipes and the best pasta recipes on CopyKat!
Thanks to Judy DeSouter we have her family recipe for how she wows her guests with her favorite macaroni and cheese recipe.
Ingredients
16

ounces

elbow macaroni

3

tablespoons

chopped onion

butter

3

tablespoons

all-purpose flour

1/2

teaspoon

freshly cracked pepper

2

cups

milk

16

ounces

Cracker Barrel Sharp Yellow Cheddar

shredded
Instructions
Preheat the oven to 375°F and spray a 9×13-inch baking pan with nonstick spray.

Cook the macaroni according to the package directions.

While the macaroni is cooking, prepare the cheese sauce: In a saucepan over medium heat, sauté the onion in butter until soft and transparent. Add the flour and pepper and cook for 1 minute, stirring constantly. Slowly add the milk while continuing to stir. Cook over medium heat until the mixture thickens. Add the cheese gradually and stir constantly until all of the cheese is melted.

Drain the macaroni and return it to the pot. Pour the cheese sauce over the macaroni and mix well.

Pour the macaroni into the prepared baking pan and bake for 30 minutes.
Nutrition
Calories:
390
kcal
|
Carbohydrates:
38
g
|
Protein:
19
g
|
Fat:
17
g
|
Saturated Fat:
10
g
|
Cholesterol:
52
mg
|
Sodium:
305
mg
|
Potassium:
214
mg
|
Fiber:
1
g
|
Sugar:
4
g
|
Vitamin A:
535
IU
|
Vitamin C:
0.2
mg
|
Calcium:
392
mg
|
Iron:
1
mg