Olive Garden Salad is one of the best things about the Olive Garden. The Olive Garden salad is so fresh and made up just for you. You can make the Olive Garden salad at home; we will show you how. It is easy to make a salad just like the restaurant.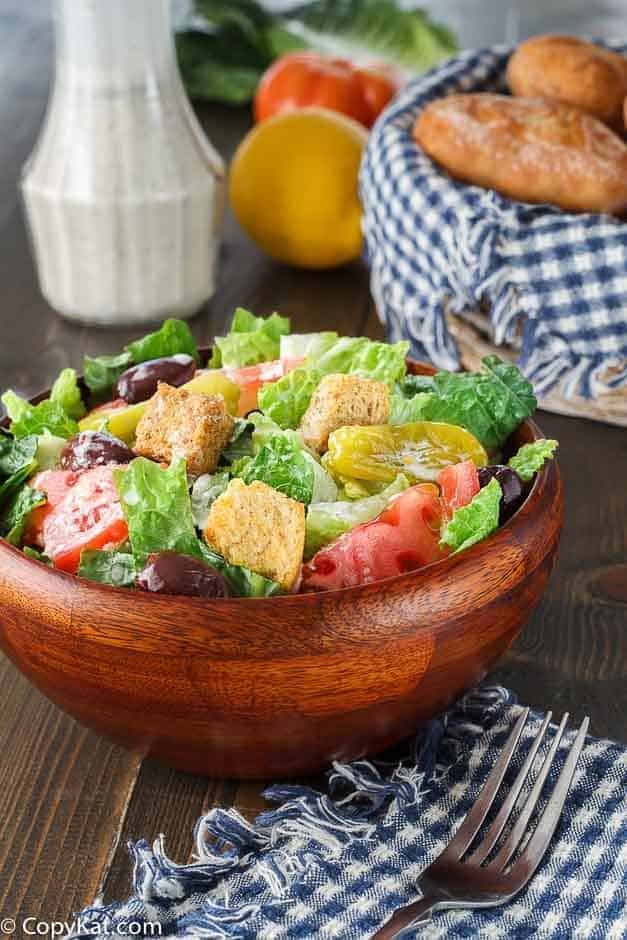 Olive Garden Salad
Have you ever wondered how to put together this famous salad? It is relatively easy to prepare this salad. I like to use a bag of American salad mix to start with, but then you need the special ingredients. What makes this salad special? It is all of the wonderful extra ingredients in it that make it extra special. I don't know about you, but when we grew up eating salad at home, we would add tomatoes, and if we were fancy we would add some sliced cucumber.
Pitted black olives add the right touch to this. I usually have a can or two of these black olives on hand. For the peppers, you have a couple of choices. If you like the peppers hot, add pepperoncini. If you like those peppers mild, you could use banana peppers.
Red onions make this salad special. Slice your red onions very thin. When red onions are freshly sliced they can be a little hot, the air oxides them and takes away the heat. You will want your salad piled high with croutons. If you have some leftover bread, you could always toast up the bread and make them fresh. Finally, don't forget the Olive Garden salad dressing. The salad dressing is sold everywhere now, or you can make your Olive Garden Salad dressing with this copycat recipe.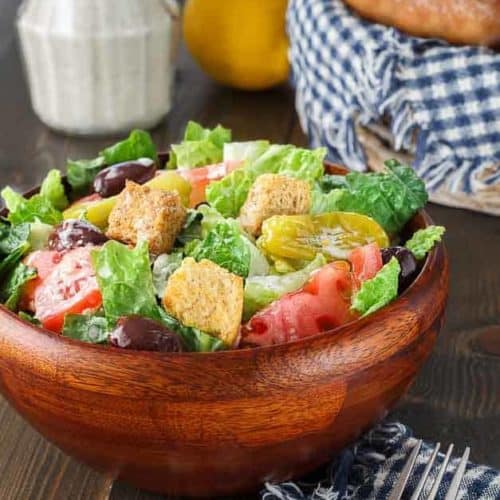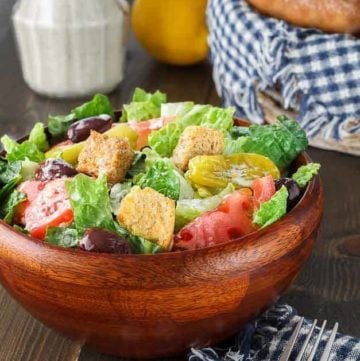 Ingredients
12

ounces

iceberg salad blend

1/2

red onion

sliced

6

pitted olives

4

pepperoncini

(if you like sweet pepper, use banana peppers)

1/2

cup

croutons

1

tomato, quartered

Freshly

grated

Romano or Parmesan cheese (optional)

Olive

Garden

Salad Dressing
Instructions
Chill your salad bowl in the freezer for at least 30 minutes. Empty the bag of salad into the bowl. Top the salad with the onion, olives, pepperoncini, croutons, and tomatoes, and croutons. Add some freshly grated cheese, if you like. Add plenty of Olive Garden salad dressing and mix well. Serve immediately.
Nutrition
Calories:
24
kcal
|
Carbohydrates:
4
g
|
Protein:
0
g
|
Fat:
0
g
|
Saturated Fat:
0
g
|
Cholesterol:
0
mg
|
Sodium:
65
mg
|
Potassium:
119
mg
|
Fiber:
1
g
|
Sugar:
1
g
|
Vitamin A:
370
IU
|
Vitamin C:
7.9
mg
|
Calcium:
14
mg
|
Iron:
0.3
mg