Pumpkin Dump Cake is the perfect combination of pumpkin pie and a yellow cake mix. What's more, this pumpkin dump cake is so easy to make!
This is the ideal recipe if you've put all of your efforts into getting a holiday dinner on the table but totally forgot about dessert! It's also a great crowd-pleasing dish to take to a fall potluck or to make for a Halloween party.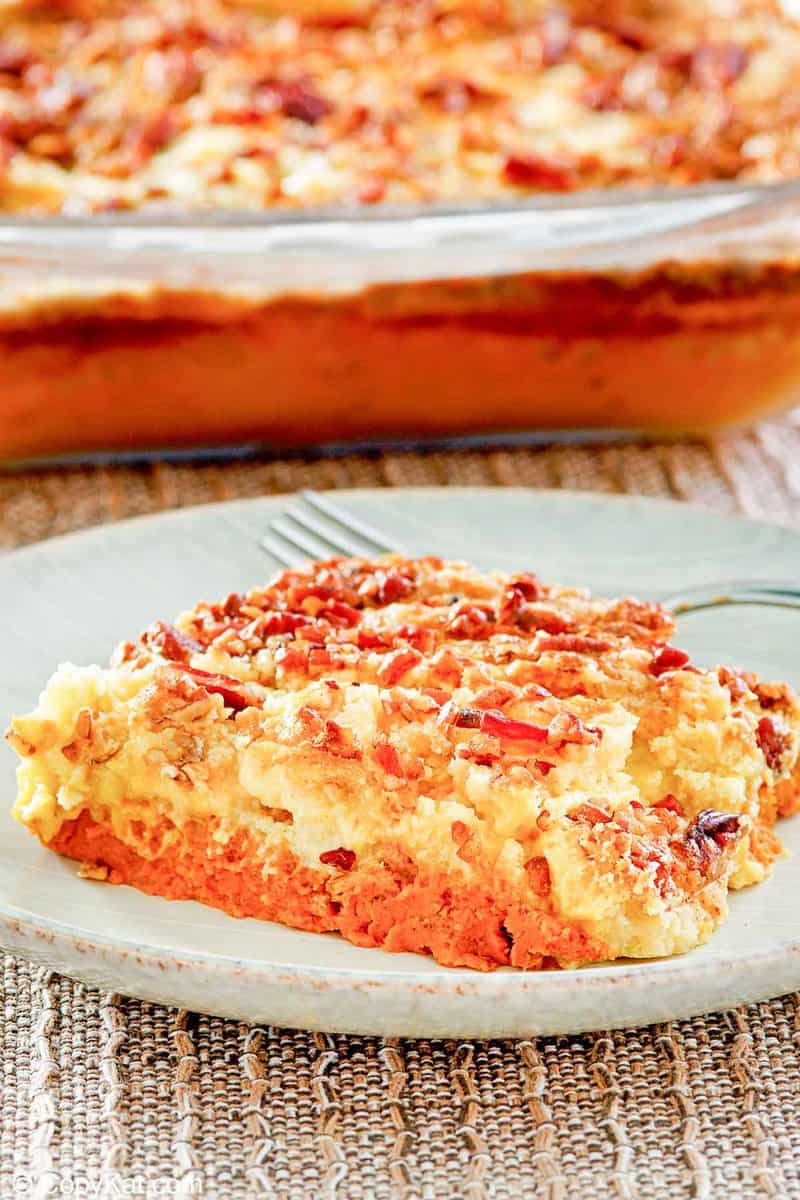 Pumpkin Pie Dump Cake with Yellow Cake Mix
What makes this yellow cake mix and pumpkin recipe so good? It's easy, it's buttery, and as the nuts cook, they become toasty and bursting full of flavor. Hands down, pumpkin dump cake is one of the easiest fall cake recipes you can make!
Love pumpkin pie and cake? Well, this easy pumpkin dump cake recipe is the perfect marriage of these two flavors. This recipe is ideal for all pumpkin spice lovers. And, if you're looking for easy pumpkin desserts, this one should be on top of your list.
What is a dump cake?
Dump cakes are cakes that are so easy to make because you literally just dump the ingredients into a pan and then bake the cake.
For sure, dump cake is not the most eloquent name for a dessert, but when it tastes this good and is this easy to make, who cares what it's called?
Recipe Ingredients
Here's a list of what you need:
Pumpkin puree
Evaporated milk
Brown sugar
Eggs
Vanilla extract
Yellow cake mix
Pecans
Butter
Pumpkin Dump Cake Variations
This recipe combines pumpkin puree and yellow cake mix. However, if you really enjoy the spice flavors of fall, consider using a spiced cake mix instead of the yellow cake mix. You could also use a different kind of nut or candied pecans.
Here's a list of ingredient substitutions or additions you can make when baking the cake:
Use spice cake mix instead of yellow cake mix for extra flavor.
Use walnuts or almonds instead of pecans.
Use toffee bits or crumbled graham crackers instead of nuts.
Spinkle cinnamon sugar on top of the cake mix for an extra dash of spice and sweetness.
How to Make Pumpkin Dump Cake
This recipe requires one additional step over traditional dump cake recipes.
You need to combine the pureed pumpkin, pumpkin spice, evaporated milk, brown sugar, vanilla, and eggs in a bowl before adding it to a greased baking dish. This is the extra step since most dump cakes don't require mixing ingredients.
After the pumpkin pie filling is put in the baking dish, the yellow cake mix is sprinkled on top and then the nuts go on.
Finally, small pats of butter are added. The butter will melt and incorporate into the dry cake mix as it bakes.
Bake the cake at 350 degrees for 50 minutes.
How to Serve Dump Cake
Keep the "dump it" theme going, and just dump a big dollop of your favorite vanilla ice cream on top of your dump cake.
You can also serve it up with whipped cream and/or some caramel sauce. Yum!
Another idea is to crumble some ginger snaps over the top.
Can This Dump Cake Be Made in Advance?
Yes, making it the night before works out perfectly, especially if you choose to serve this cake cold. You can also heat up slices of cake in the microwave for people who prefer them warm.
How to Store Dump Cake
Any leftover dump cake should be refrigerated. Once the cake has cooled, cover it tightly with plastic wrap and it will be good for up to 5 days.
Reheat by microwaving at 30-second intervals until the cake reaches your desired temperature.
Can You Freeze Pumpkin Dump Cake?
Yes, After baking, wrap the cake tightly with foil and place it in the freezer. It will be good for up to two months. To thaw, refrigerate overnight.
Pumpkin Pie Dump Cake
If you are searching for pumpkin desserts with yellow cake mix, I think you will enjoy this easy pumpkin pie dump cake recipe.
It's a wonderful cake to serve while still warm, but it can also be enjoyed cold. If you are not into pumpkin pie, this will be your new favorite thing!
Pumpkin Pecan Dump Cake
I hope you enjoy this easy pumpkin dump cake. The pecans really add a nice nutty flavor and complement both the pie and cake layers.
This recipe always goes over well when I make this dessert. It's a wonderful cake to serve while it is still warm.
More Yummy Dump Cake Recipes
Popular Pumpkin and Fall Recipes
Check out more of my easy dessert recipes and the best fall recipes here on CopyKat!
Ingredients
1

29-ounce can

pumpkin puree

1

14-ounce can

evaporated milk

3

eggs

1

cup

brown sugar

2

teaspoons

pumpkin pie spice

1

teaspoon

vanilla extract

1

15.25-ounce box

yellow cake mix

3/4

cup

butter, cut into small pieces

2

ounces

chopped pecans
Instructions
Preheat oven to 350°F.

In a large bowl, combine the pumpkin, milk, eggs, brown sugar, pumpkin pie spice, and vanilla extract. Stir until blended and pour into a 9×13-inch baking dish.

Sprinkle the dry cake mix evenly over the pumpkin. Place the small pieces of butter over the cake mix, as evenly as possible (as they melt they will spread out), and sprinkle pecans over the top of the cake.

Bake for 50 minutes.
Notes
If you really enjoy the fall spice flavors, consider using a spiced cake mix instead of the yellow cake mix! 
Nutrition
Calories:
208
kcal
|
Carbohydrates:
28
g
|
Protein:
3
g
|
Fat:
9
g
|
Saturated Fat:
5
g
|
Cholesterol:
40
mg
|
Sodium:
208
mg
|
Potassium:
148
mg
|
Fiber:
1
g
|
Sugar:
19
g
|
Vitamin A:
5580
IU
|
Vitamin C:
1.7
mg
|
Calcium:
97
mg
|
Iron:
1
mg