Strawberry Mimosa is a light and fruity cocktail perfect for sipping on any day. This large-batch mimosa recipe with only 3 simple ingredients makes a pitcher and is great for brunch or a party. Cheers!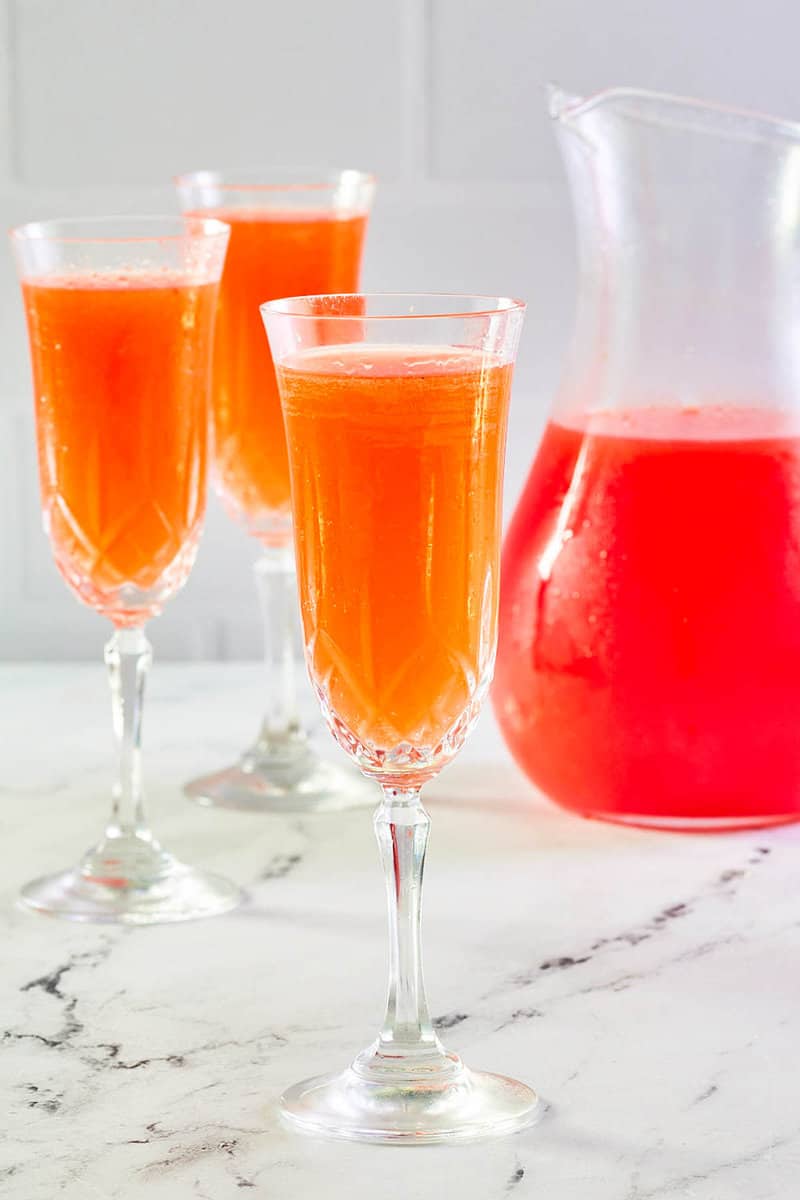 This post contains affiliate links. As an Amazon Associate, I earn from qualifying purchases.
Mimosa Cocktail
Mimosas are an unusual cocktail that is often served with brunch. Most often these cocktails are made with orange juice, but this version is made with Strawberry puree, lemonade, and sparkling Champagne or other sparkling wine. You don't need to get out your blender to make this simple strawberry mimosa recipe.
It might surprise you what makes this mimosa so delicious.
Why you should try this strawberry mimosa recipe
So what makes this strawberry mimosa unique? It's a mixture of lemonade and strawberry juice with sparkling wine. What is the result? A not-too-sweet light strawberry-flavored sparkling beverage you are going to love.
If you juice fresh strawberries, they aren't overly sweet. The juice makes the perfect addition to sparkling wine. You can make these very easily at home. The cocktail has a beautiful color that you will love. If you don't have a juicer, you can use a can of strawberry nectar, it isn't a perfect match, but it will certainly do in a pinch.
What Champagne is best for making a mimosa?
The first thing that I will tell you is it isn't likely to be the best Champagne, but rather a sparkling wine. Champagne means the beverage was made within a particular region of France, but you don't need that for this drink. You could use it if you wanted, but the fruit juice used pretty much knocks out the nuances of the champagne so that you can save your money.
So if not, Champagne, what should you use? I suggest sparkling wine. There are many outstanding sparkling wines you can use. They don't need to come from France; they can come from the US. I know many people will recommend Cava or Prosecco. I think both are good choices if there is a chance someone will drink the sparkling wine. These typically will run from 10 to 30 dollars a bottle. I suggest a brut or one that is dry, meaning not too sweet. The fruit juice will be sweet.
Now, if you know you are going to be serving mimosas only, I think you can get by on sparkling wines such as Cooks, Andre, or even other lower-priced options. Again, we are mixing the alcohol, and the nuances are lost. I recommend going with a dryer beverage, but if I know my friends coming over aren't more experience, wine lovers, I will go with a sweeter sparkling wine.
I hope you enjoy this Strawberry Mimosa.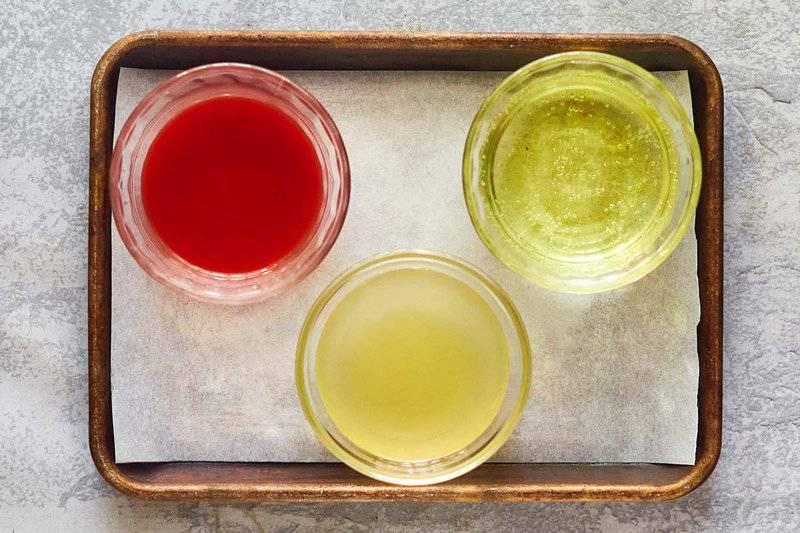 Ingredients you need for a strawberry mimosa
Sparkling wine of your choice
Strawberry juice or Strawberry nectar
Lemonade
Garnishes if you desire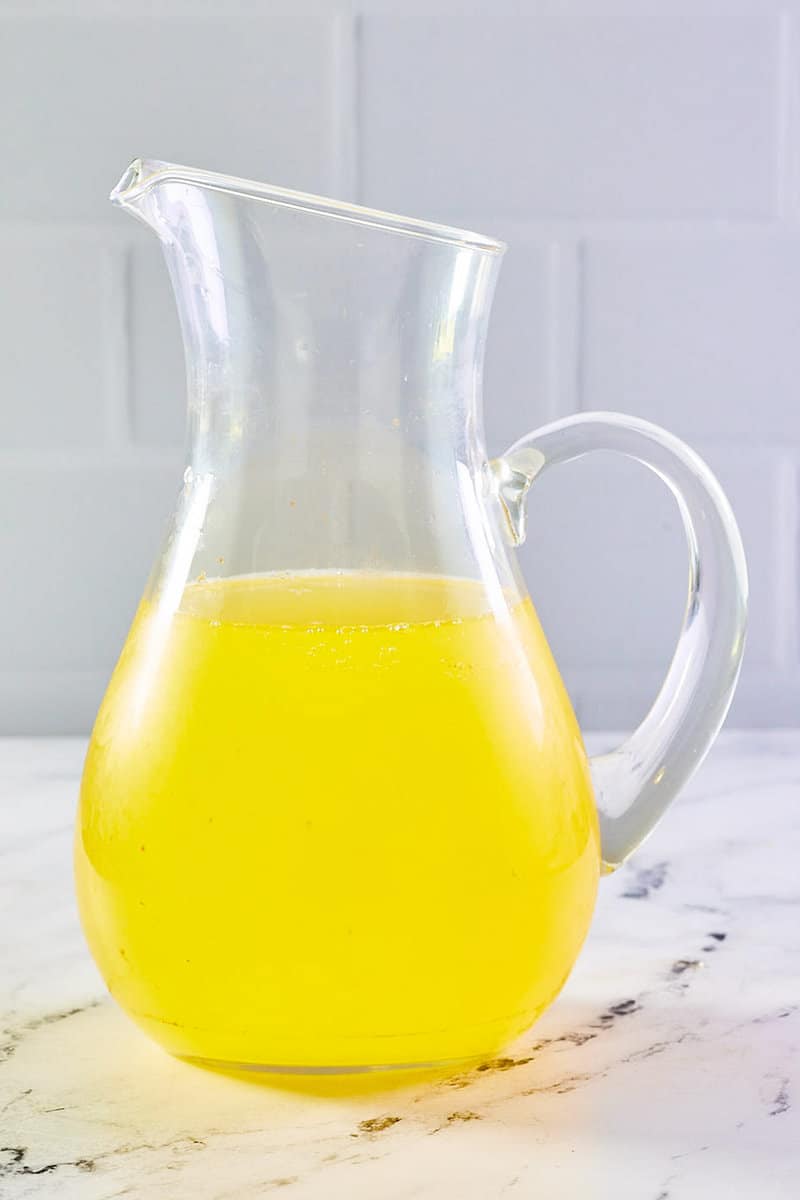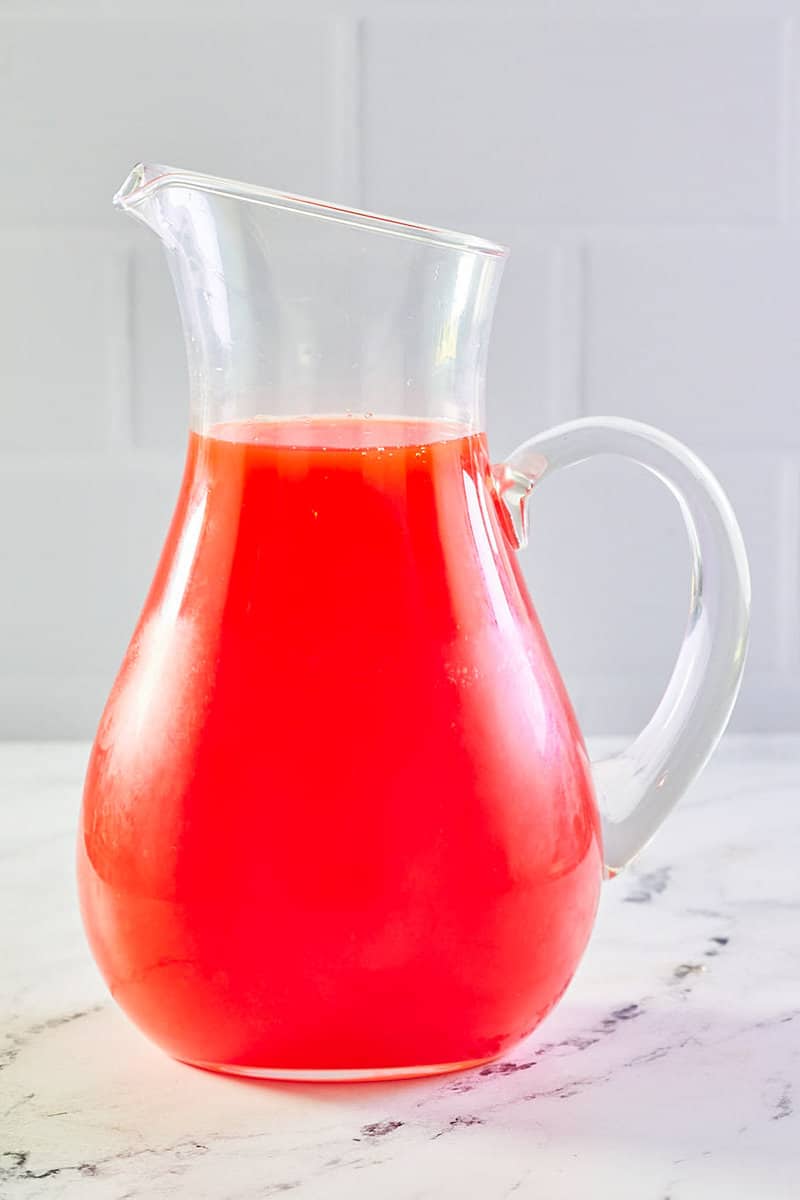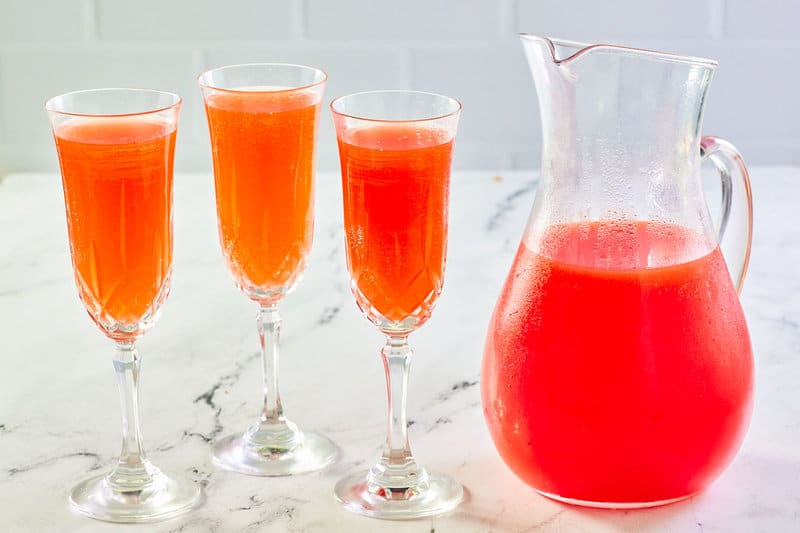 How to make strawberry mimosas
In a large pitcher, mix the lemonade and strawberry juice.
To prepare a mimosa, take a champagne flute.
Pour 2 ounces of strawberry lemonade into the champagne flute.
Add 2 ounces of sparkling wine to the flute.
Repeat steps 2-4 to prepare additional mimosas as desired.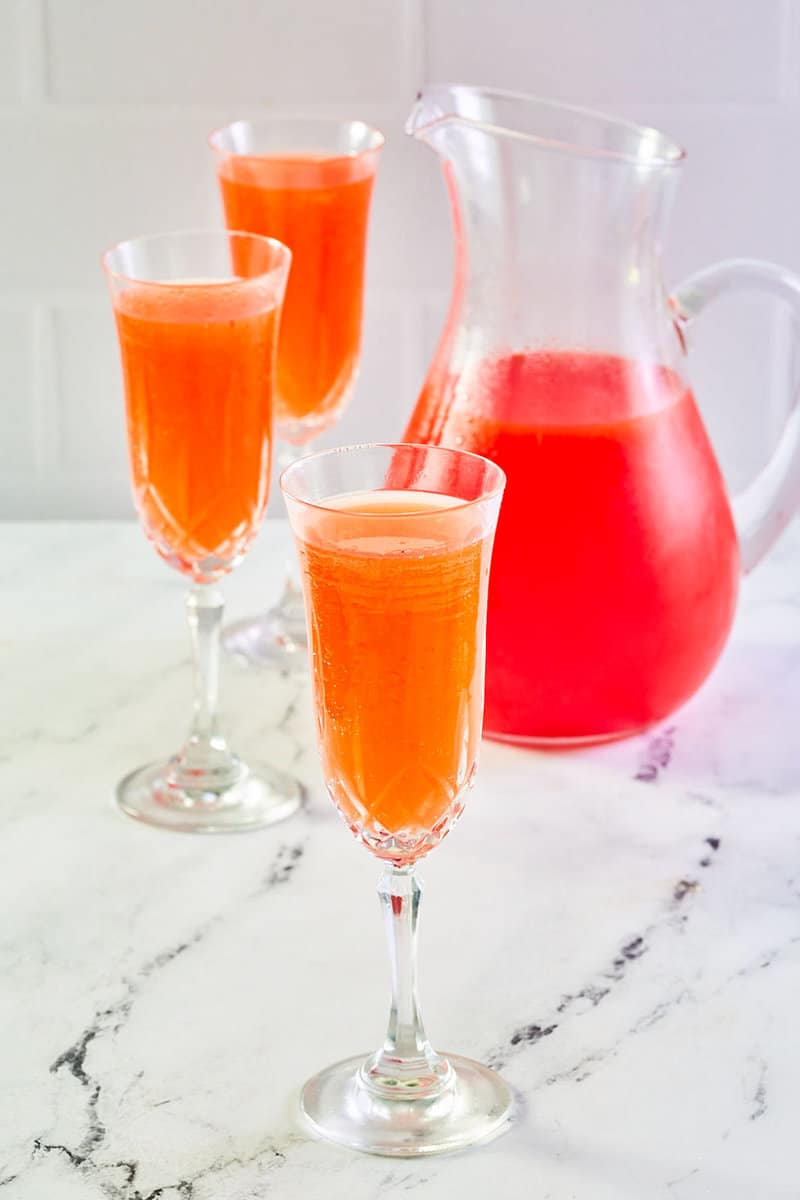 What can you serve with Strawberry Mimosa's
These are perfect for Easter or Mother's day. Here are a few suggestions for you.
Fresh fruit such as strawberries, blueberries, raspberries, and sliced peaches.
Breakfast items such as scrambled eggs, bacon, or breakfast potatoes.
Brunch items such as quiche, frittata, or smoked salmon.
Appetizers such as deviled eggs, shrimp cocktail, or bruschetta.
Favorite Strawberry Drinks
Popular Strawberry Recipes
Check out more of my easy cocktail recipes and the best recipes for spring on CopyKat!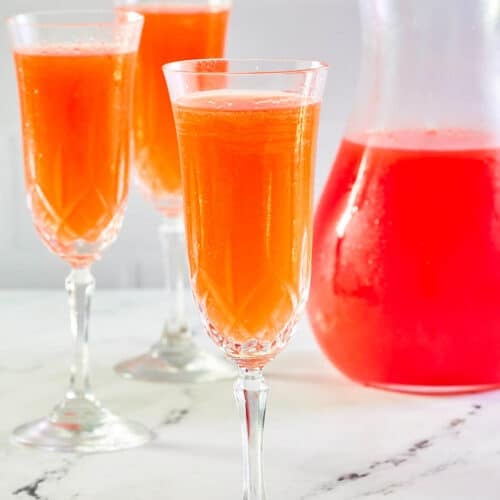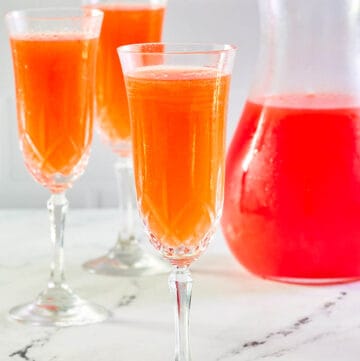 Ingredients
59

ounces

lemonade

1 1/2

cups

strawberry juice

or strawberry nectar

1

750-ml bottle

sparkling wine or champagne

chilled
Instructions
In a large pitcher, mix together the lemonade and strawberry juice.

To prepare each mimosa simply combine half strawberry lemonade and half sparkling wine. In a champagne flute, use 2 ounces of strawberry lemonade and 2 ounces of sparkling wine.
Nutrition
Calories:
132
kcal
|
Carbohydrates:
24
g
|
Protein:
0
g
|
Fat:
0
g
|
Saturated Fat:
0
g
|
Cholesterol:
0
mg
|
Sodium:
16
mg
|
Potassium:
119
mg
|
Fiber:
0
g
|
Sugar:
22
g
|
Vitamin C:
20.5
mg
|
Calcium:
12
mg
|
Iron:
0.5
mg