Strawberry Poke Cake is a luscious dessert! A layer of pudding makes it extra creamy and delicious. You can make the best strawberry poke cake with cake mix, pudding mix, frozen strawberries, and Cool whip.
This poke cake without Jello has natural flavor from the strawberries. French vanilla gives it richness and will have people coming back for seconds.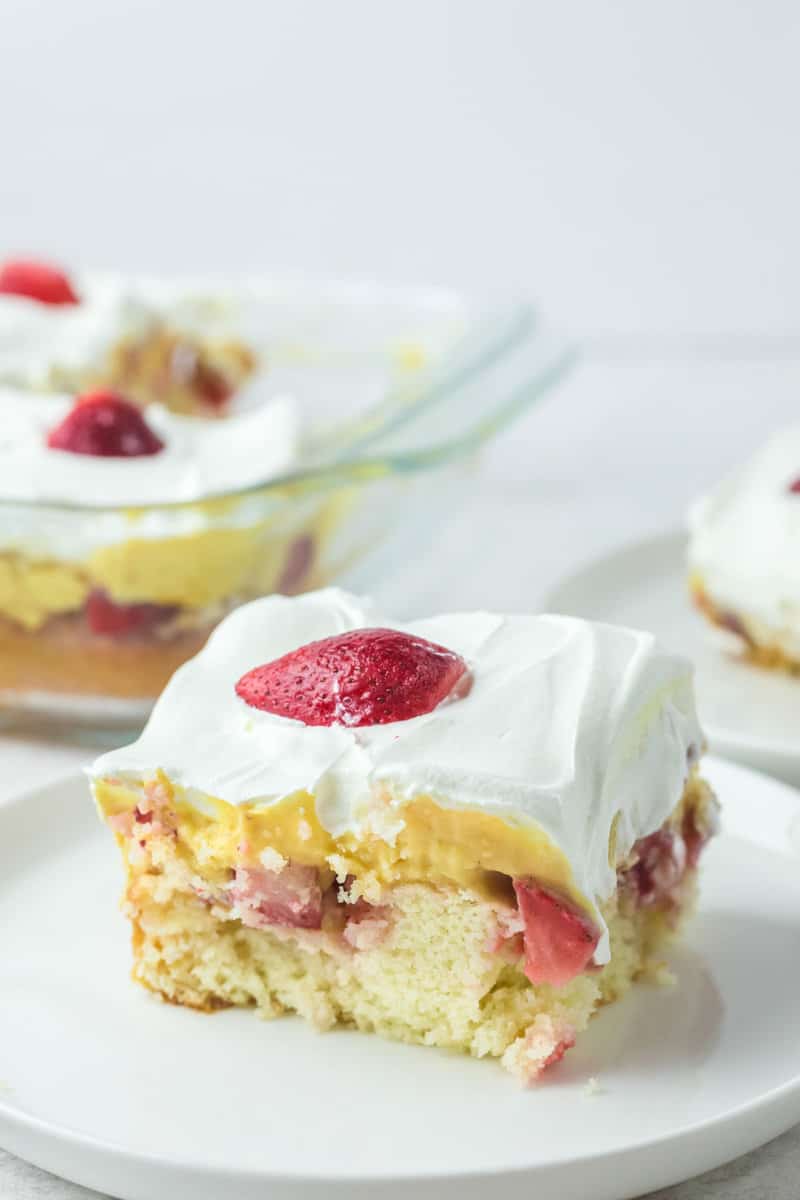 This post contains affiliate links. As an Amazon Associate, I earn from qualifying purchases.
Strawberry Poke Cake with Pudding
Strawberry poke cake is a delicious concoction with the primary flavors of French vanilla and strawberries. You also get to enjoy a creamy pudding layer and a Cool Whip topping.
The basis of this strawberries and cream poke cake is an old-fashioned sheet cake made conveniently with a cake mix. Once the cake is baked, holes are poked in it so that it absorbs the strawberries and their juice. This helps to create a poke cake that's incredibly moist.
Why This Poke Cake With Frozen Strawberries Is So Refreshing
This strawberry poke cake recipe will give you one of the prettiest poke cakes ever. Not only does it look refreshing, but it also tastes refreshing! It's light and perfect for a summer treat.
This strawberry poke cake with pudding is so tender and fluffy that it just melts in your mouth.
What Is a Poke Cake?
A poke cake is one you poke holes into after the cake is baked. You then fill it with a liquid and/or other filling, which infuses extra flavor into every bite and makes the cake very tender.
The liquid is often a flavored Jell-O with a fruity filling added on top, followed by a final layer of whipped cream. Jello poke cakes are popular but this recipe is for a strawberry poke cake without Jello.
Why You Will Love This Strawberry Poke Cake Recipe
If you like strawberry shortcake, you are going to love this strawberry poke cake with vanilla pudding. Here are more reasons why:
It's quick and easy to make.
It's always a hit at parties and for those special occasions.
It's kid-friendly, which means not only will kids enjoy eating it, but they'll enjoy helping you make it. What fun to let them poke the holes in it!
Strawberry Poke Cake Recipe – Ingredients You Will Need
Strawberries enhance each pretty slice of this lovely cake that's easily made from a convenient boxed cake mix. It's the perfect Duncan Hines or Betty Crocker strawberry poke cake for a light dessert! Here are the simple ingredients:
Frozen strawberries
Cool Whip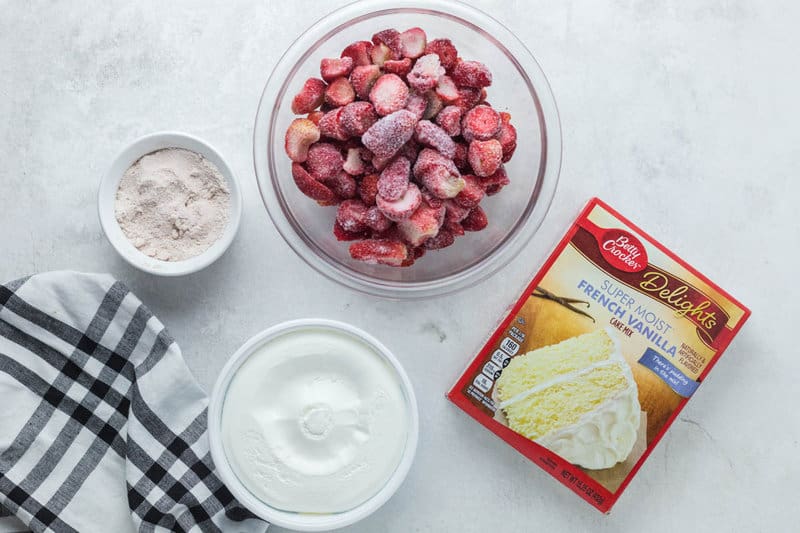 How to Make Strawberry Poke Cake
This Duncan Hines strawberry poke cake is so easy to make, and no one will ever guess that this delicious poke cake began with a box mix! Here's what to do:
Bake the cake in a 9×13-inch baking dish and allow it to cool completely.
With the cake still in the pan, poke holes in it.
Pour the thawed strawberries and juice on the cake and into the holes.
Prepare the pudding and spread it over the berries.
Spread Cool Whip over the pudding.
Put some sliced strawberries on top of the cake and chill it until serving.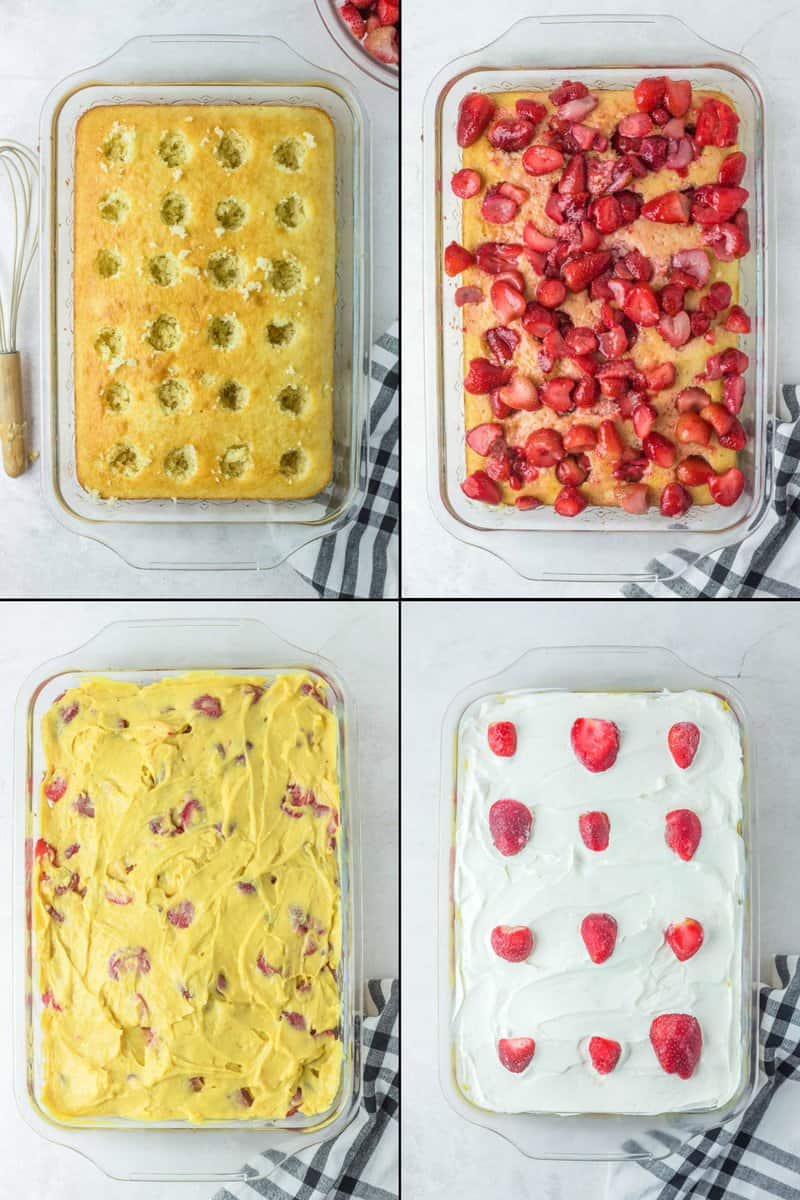 Strawberry Poke Cake Recipe Tips
Using butter instead of oil and milk instead of water in a boxed cake mix makes your cake taste more homemade.
The best way to poke a poke cake is to use the end of a wooden spoon. However, there is a simple rule to keep in mind: poke the holes about one inch apart. If you poke them too close, the dessert will be too moist; too far, and the filling won't be proportionally absorbed.
Avoid poking the holes all the way through to the bottom of the cake.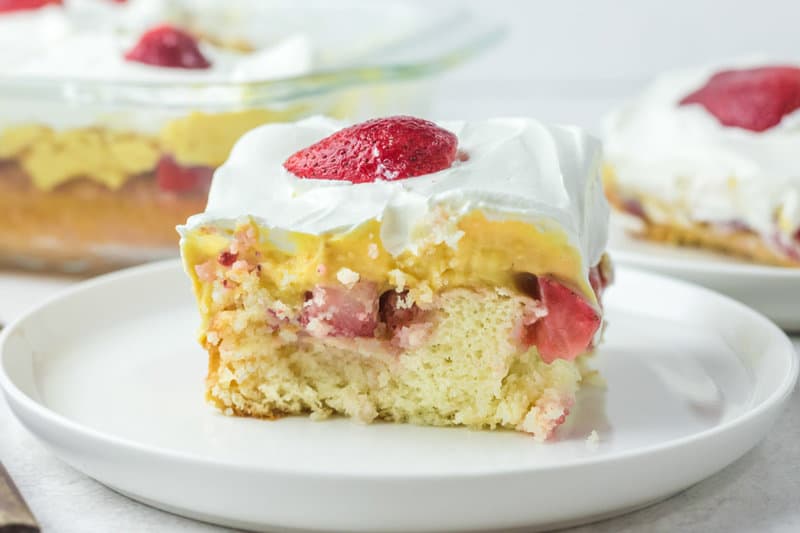 Recipe Variations
There are several customizable components to this cake – the flavor of the cake (white, yellow, chocolate, red velvet, etc.) or different frozen fruit – e.g., peach for a peach poke cake or raspberries for a raspberry poke cake. You can also choose a different pudding flavor and store-bought or homemade whipped topping; you name it!
Use fresh strawberries. Wash, hull, and chop 2 pints of strawberries. Sprinkle 1/4 cup of sugar over them and refrigerate them overnight. This will create a fresh strawberry sauce for pouring into the cake.
You can use a different boxed cake mix. For instance, you can make strawberry poke cake with yellow cake mix or white cake mix if you can't find the French vanilla flavor. You could also go with lemon, angel food cake, or chocolate.
For an adult version, you could add some rum or a liqueur to the strawberries before pouring them into the cake. If you find the idea intriguing, read more on using drunken strawberries.
Another idea is to use strawberry jam or strawberry pie filling instead of frozen strawberries.
Chocolate Strawberry Poke Cake – use a chocolate cake mix and pudding mix. You can also sprinkle chocolate chips over the strawberries before covering them with the pudding.
How to Make Your Own Fresh Whipped Cream
Yes, Cool Whip is convenient, but you might want to try your hand at making your own whipped cream.
Whipped Cream Ingredients
2 cups cold, full fat, heavy whipping cream
2 tablespoons sugar
1 teaspoon vanilla extract
Whipped Cream Instructions
Starting with the mixer on medium speed, beat all the ingredients together until it becomes foamy.
Increase the speed to high and beat until stiff peaks form.
What to Serve With Strawberry Poke Cake
This is an easy dessert that can follow a wide variety of main courses, such as:
Can You Make This Strawberry Poke Cake Recipe Ahead of Time?
You can make this strawberry poke cake with vanilla pudding up to 2 days ahead but leave off the whipped topping until you are ready to serve.
How to Store Strawberry Poke Cake
Refrigerator: Keep leftovers in the fridge in an airtight container for up to 4 days.
Freezer: This poke cake freezes very well. However, you want to make sure you transfer it straight from the fridge to the freezer because you don't want the whipped topping to be soft. Put slices in a freezer-friendly bag or plastic wrap and keep frozen for up to 3 months.
Thawing: Once you've taken your poke cake out of the freezer, let it thaw in the fridge overnight.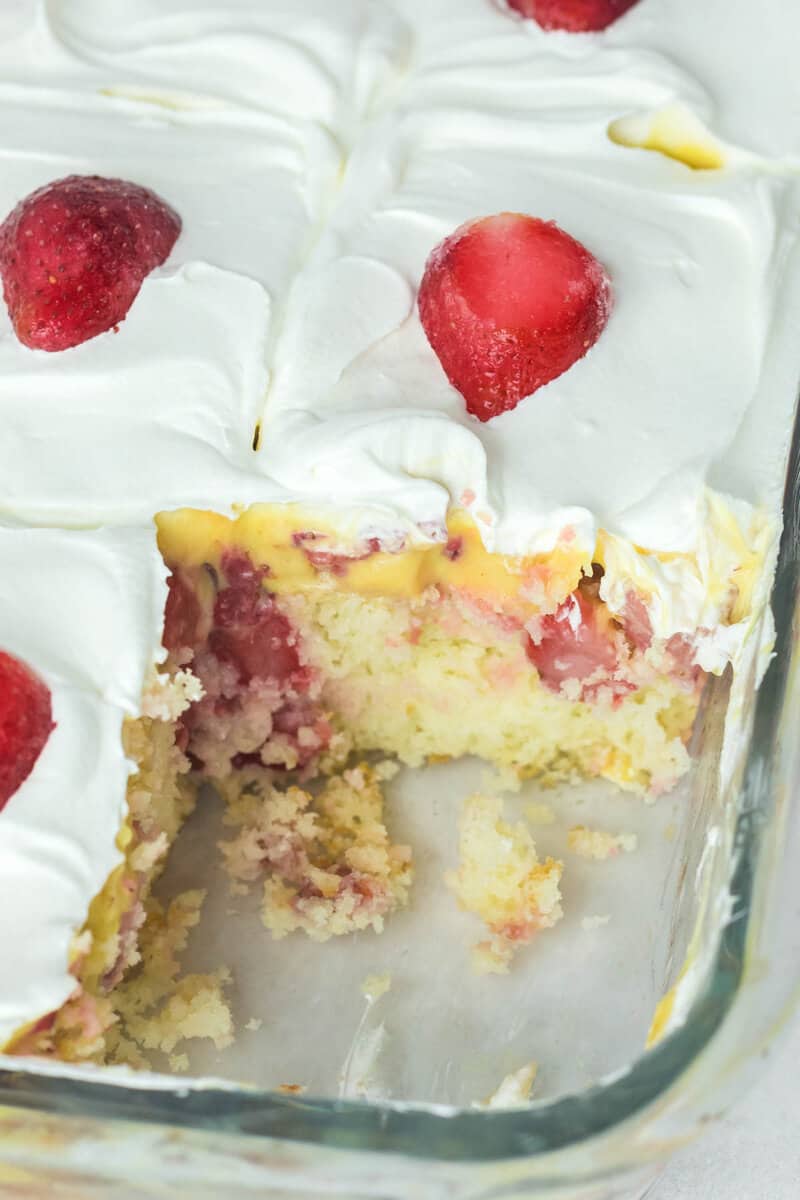 Love Strawberries? Try These Recipes!
Popular Cake Recipes
Check out more of my easy cake recipes and the best desserts for any occasion here on CopyKat!
Thanks to Ginger Husch for this wonderful recipe.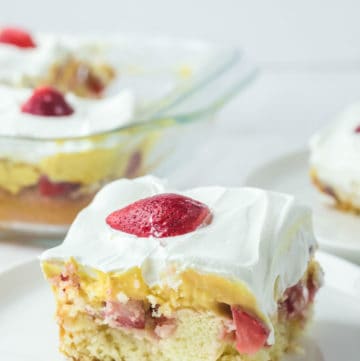 Ingredients
15.25

ounces

French Vanilla Cake Mix

8

ounces

Frozen Strawberries

1

3.4-ounce box

French Vanilla Instant Pudding Mix

12

ounces

Cool Whip
Instructions
Bake the cake in a 9×13-inch pan according to package instructions.

Cool the cake completely. Do not remove the cake from the pan.

After the cake has cooled, poke holes in cake (the handle of a wooden spoon works well).

Pour the thawed strawberries and juice on the cake so the berries and juice go into the holes. Spread them around until the cake is covered.

Prepare the pudding according to the package instructions.

Spread the prepared pudding over the berries.

Spread Cool Whip over the pudding.

Keep the cake refrigerated for best flavor.
Nutrition
Calories:
211
kcal
|
Carbohydrates:
45
g
|
Protein:
2
g
|
Fat:
2
g
|
Saturated Fat:
1
g
|
Cholesterol:
4
mg
|
Sodium:
333
mg
|
Potassium:
76
mg
|
Fiber:
0
g
|
Sugar:
27
g
|
Vitamin A:
50
IU
|
Vitamin C:
11.1
mg
|
Calcium:
110
mg
|
Iron:
0.8
mg