Extremely flavorful and super easy, Garlic Butter Pasta is what needs to be for dinner tonight. This delicious pasta with garlic and butter can be made in 30 minutes or less.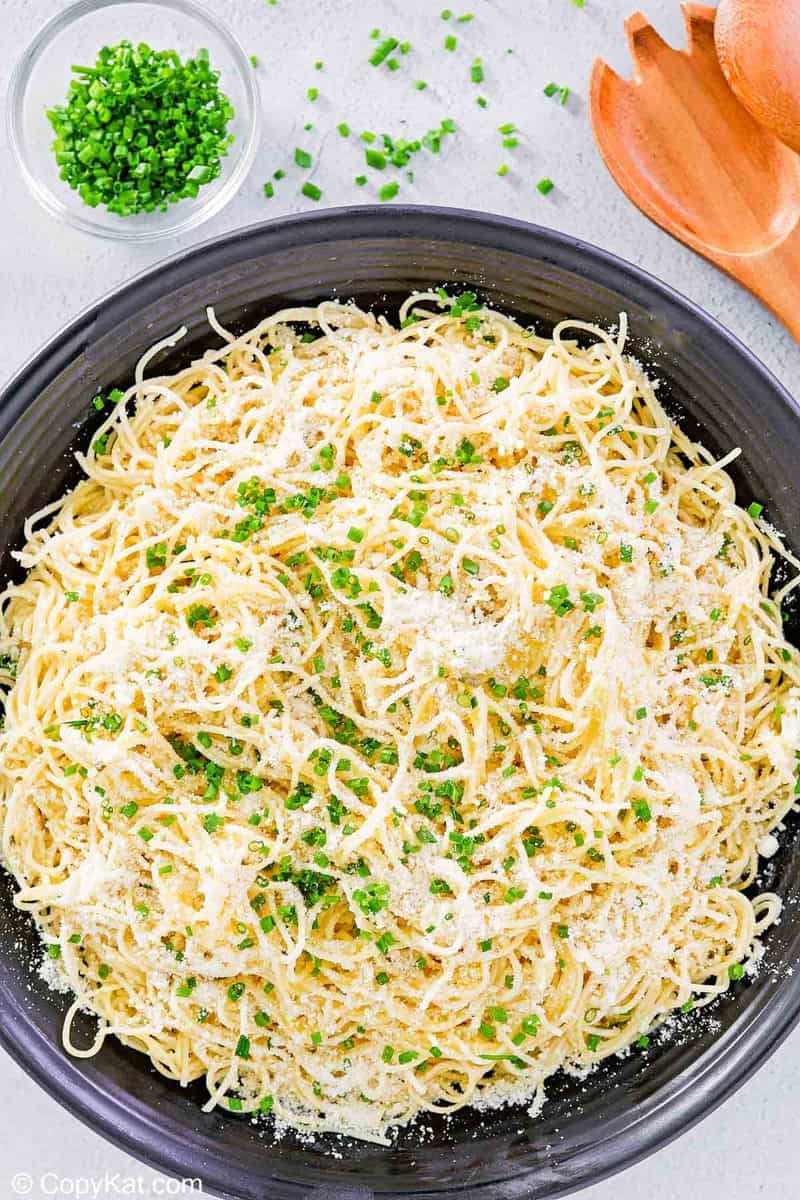 What Makes Garlic Butter Sauce For Pasta So Good
Well when you put butter and garlic together, you really cannot lose! However, this recipe also pairs those two powerhouse flavors with white wine and lemon juice to make the most taste bud pleasing sauce that is still light and refreshing.
Add in a few more seasonings and you have this extravagant tasting yet simple to make garlic butter pasta. Even the pickiest of eaters will love the simplicity and flavor of this dish.
Garlic Butter Pasta Ingredients
I truly love this butter garlic pasta and I'm sure you will too! From the flavor of the dish and how easy it is to make, especially with things you will already have at home, you cannot go wrong.
Here's a list of what you need:
Butter
White wine
Fresh lemon juice
Minced garlic
White pepper
Garlic salt
Chives or other fresh herbs like parsley or even arugula
Angel hair pasta
Parmesan cheese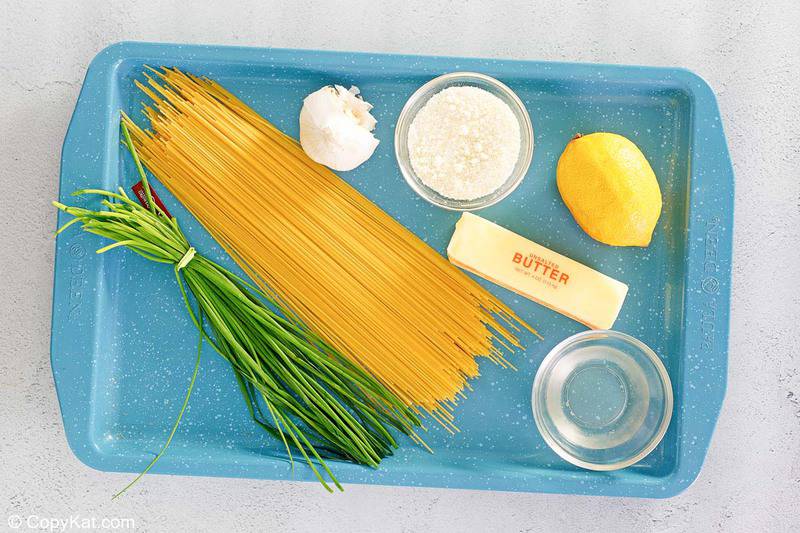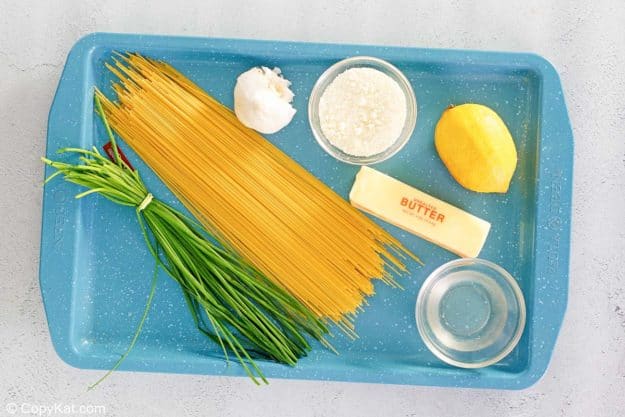 It is better to use salted or unsalted butter in the garlic butter sauce?
Since the only other salt in the recipe is garlic salt, you would probably enjoy using salted butter. However, you can truly use either salted or unsalted.
If you are a little salt-sensitive, I would start with unsalted butter and then you can always add more salt to suit your preference.
Remember, you can always add more, but you can't take it away so add a little bit at a time and then taste to test the saltiness of the sauce.
Which white wine is best for garlic butter sauce?
You need to use a dry white wine for this recipe. I recommend using Chardonnay, Pinot Grigio, or Sauvignon Blanc to make this garlic sauce recipe.
What type of pasta should you use with this Garlic Butter Pasta Sauce?
I am not sure what it is, but I love pairing this garlic butter sauce with angel hair pasta. I feel like you get more of the sauce to noodle ratio and more flavor with each bite.
Some other pasta shape recommendations are:
Bucatini
Capellini
Fettuccine
Linguine
Spaghetti
Vermichelli
However, you can use your favorite pasta or whatever pasta you have in your pantry and cook it according to the package instructions.
Can I substitute garlic powder for minced garlic?
You can but you will need to dial back the garlic by at least half. Garlic powder is more concentrated. If you need to use it, I would use only 1 or 1¼ teaspoon of garlic powder.
As I said before, you can always add more if you need to. Once you've added it you can't take it back and garlic is a super potent (yet delicious) flavor that you need to be a little sparing with.
How to make garlic butter pasta
Cook the pasta according to the package instructions for al dente pasta in a large pot.
Drain pasta and place the cooked pasta in a large bowl.
Melt butter in a large skillet over medium heat.
Add white wine, lemon juice, minced garlic, white pepper, garlic salt, and chives. Stir and cook until heated through.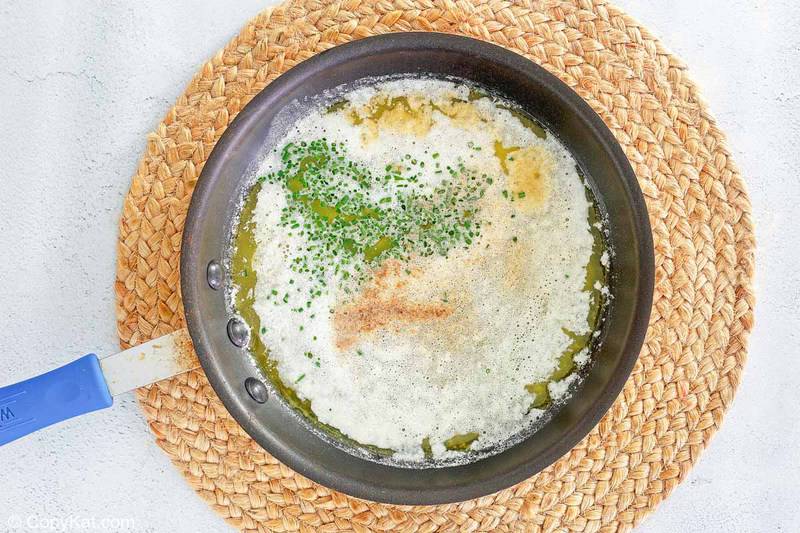 Pour the garlic butter sauce over the pasta and toss it to coat the pasta with the sauce.
Garnish with parmesan cheese and parsley if desired.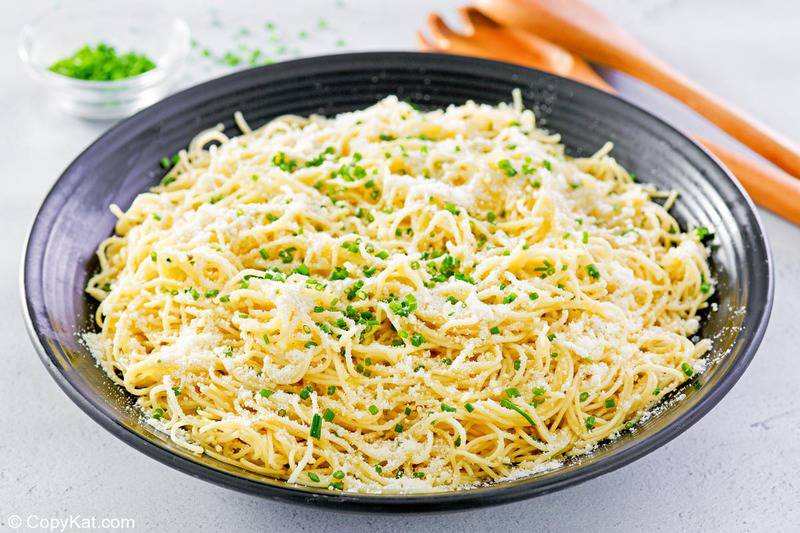 Recipe variations
You can customize this pasta dish with some of these recipe variations.
If you like spicy dishes, try adding 1/2 teaspoon or more of red pepper flakes.
Adding a teaspoon or two of freshly chopped basil adds a very nice touch.
Add a handful of baby spinach, or a cup or two of steamed broccoli when you are tossing the pasta together.
Serving suggestions for garlic butter pasta – What is garlic butter sauce good on?
Sometimes I will eat this pasta by itself for a light meatless meal. Other times I'll add more to it or serve it with sides to make it a heartier meal.
Here is a list of a few of my favorite things to serve with butter garlic pasta:
Grilled Chicken
Fried Chicken
Steak
Shrimp
Roasted Vegetables (these you could mix in or serve on the side)
Bread sticks (Olive Garden Breadsticks are my favorite!)
Can you store garlic butter pasta?
The best way to store this pasta is in an airtight container in the refrigerator or the freezer. This pasta will last for 5 to 7 days in the fridge or up to 2 months in the freezer.
How do you reheat leftovers?
When you are ready to reheat this garlic butter pasta recipe make sure the pasta is in a microwave-safe container. Place it in the microwave and heat it up for 45 to 60 seconds or until it is heated all the way through.
Love pasta? Try these recipes!
Favorite Recipes with Garlic
Check out more of my easy pasta recipes and the best budget-friendly recipes here on CopyKat!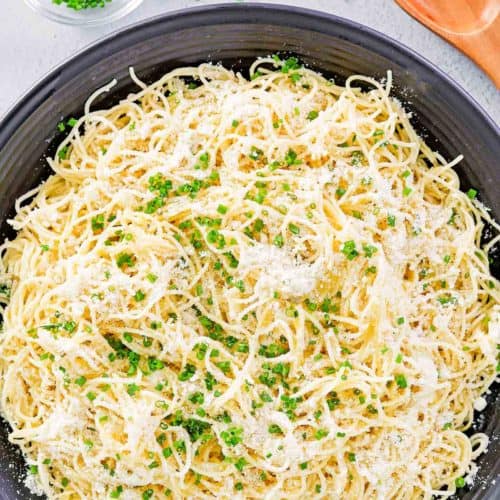 Ingredients
1

cup

butter

2

tablespoons

dry white wine

1

tablespoon

freshly squeezed lemon juice

3

cloves

garlic, minced

1

pinch

ground white pepper

1

pinch

garlic salt

1

tablespoon

chopped fresh chives

12

ounces

angel hair pasta

2

tablespoons

Parmesan cheese
Instructions
Melt the butter in a medium saucepan.

Add all remaining ingredients except the cheese and pasta, and heat through.

Cook the pasta according to the package instructions. Place the cooked pasta in a large bowl.

Ladle the sauce over warm, fresh pasta.

Garnish with Parmesan cheese.
Nutrition
Calories:
742
kcal
|
Carbohydrates:
64
g
|
Protein:
12
g
|
Fat:
47
g
|
Saturated Fat:
29
g
|
Cholesterol:
123
mg
|
Sodium:
487
mg
|
Potassium:
212
mg
|
Fiber:
2
g
|
Sugar:
2
g
|
Vitamin A:
1470
IU
|
Vitamin C:
2.6
mg
|
Calcium:
65
mg
|
Iron:
1.1
mg