The Cheesecake Factory Santa Fe Salad dressing is a cilantro-based salad dressing used in the Santa Fe Chicken Salad. You can recreate this famous salad dressing at home.
This post contains affiliate links. As an Amazon Associate, I earn from qualifying purchases.
Southwestern Sante Fe Salad
One of my favorite things to get at the Cheesecake Factory is the Santa Fe Salad. I just love the cilantro-lime dressing that adds a perfect refreshing zest to this Tex-Mex inspired dish.
So, if you've had the Santa Fe Salad at the Cheesecake Factory and wished you could make the dressing at home, this copycat salad dressing recipe is for you.
Santa Fe Style Dressing
Santa Fe Salad Dressing is a delicious way to add a lot of punch to even the most basic salad. Chockfull of fresh ingredients such as cilantro, garlic, ginger, lime juice, vinegar, and spices, it beats anything you can find on the store shelves, hands down.
If you prefer a salad dressing that is really flavor-forward, you will love this Santa Fe Salad Dressing inspired by the version served at The Cheesecake Factory.
Why This Is the Best Santa Fe Salad Dressing Out There
There are no hard and fast rules about the ingredients in a Santa Fe Salad Dressing. You can find recipes that use thyme instead of cilantro or even versions that resemble ranch dressing with buttermilk and mayonnaise on the list of ingredients.
But this recipe resembles (and dare I say, improves on) the original The Cheesecake Factory Santa Fe Salad Dressing recipe. The secret to why this salad dressing tastes so much better is the freshness and quality of the ingredients, so always choose the highest quality you can find.
Recipe Ingredients
To make Santa Fe Salad Dressing, you will need:
Garlic
Fresh ginger
Fresh cilantro
Fresh lime juice
Wine vinegar
Ground cumin
Salt
Fresh ground pepper
Honey
Freshly grated parmesan cheese
Canola oil
Olive oil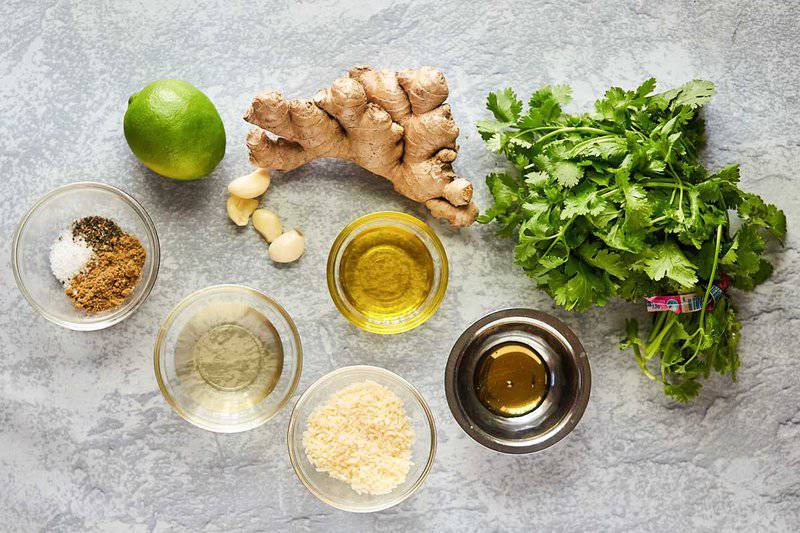 Recipe Variations
Feel free to customize this Cheesecake Factory salad dressing recipe. Here are a few suggestions you may want to try:
Add half an avocado to the recipe to give the dressing a smooth mouthfeel.
Seed a jalapeno pepper and add it to the food processor for some additional spice.
Swap out the white vinegar for rice wine vinegar for a bit more of a bite.
Use queso fresco instead of parmesan to reduce the grittiness of the dressing.
Equipment You May Need
A food processor is your best option for making this dressing, but you can also use a blender. Just be aware that blenders tend to purée ingredients much finer than food processors and heat them.
Use the PULSE option on a blender to break up the solid ingredients. Then transfer them to a bowl to finish making the dressing using a hand whisk.
How to Peel and Mince Fresh Ginger
Fresh ginger has a wonderful taste and can enhance many savory and sweet dishes. Its versatility means that it can be found in a variety of recipes.
Ginger is also widely believed to have many health benefits, so a cup of hot ginger tea with lemon and honey might be the perfect pick-me-up if you're under the weather.
There are several methods for peeling and mincing fresh ginger – click on this link to read about them.
How to Make Santa Fe Salad Dressing
Drop garlic cloves and ginger through the feed tube of a food processor while the motor is on. Continue processing until garlic and ginger are finely minced.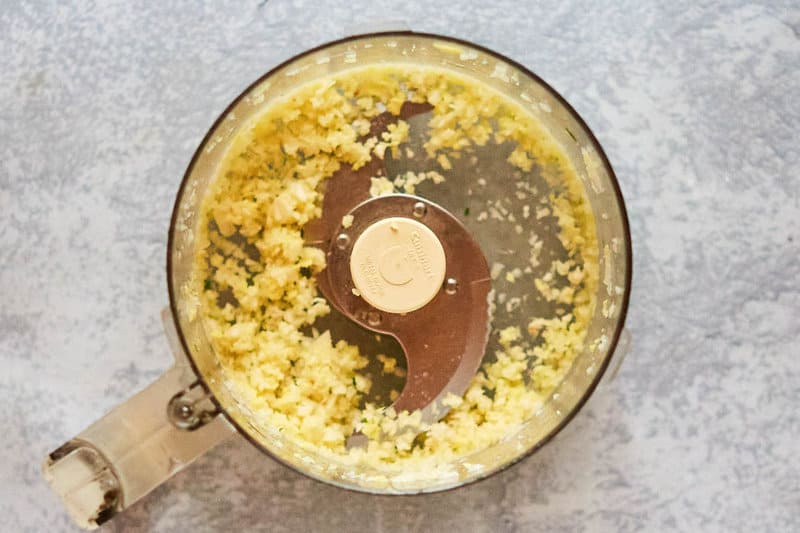 Add the cilantro and process until finely chopped.
Add spices, lime juice, vinegar, honey, and parmesan cheese. Process until well mixed.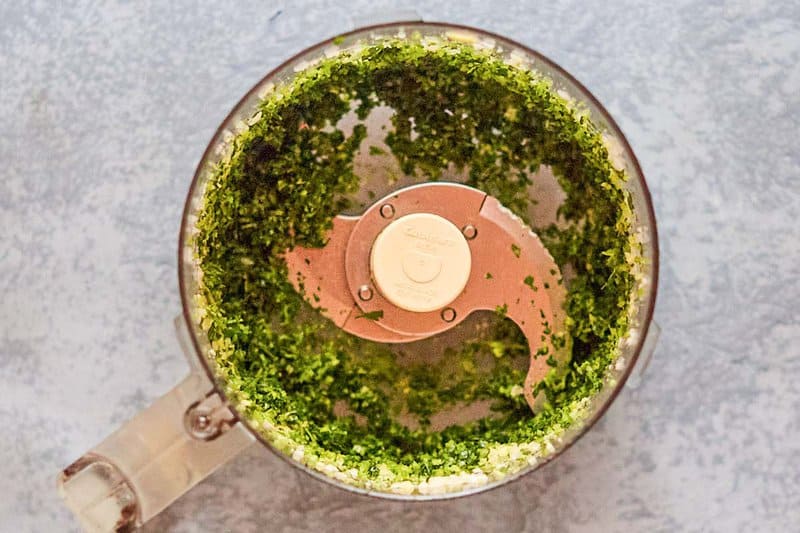 With the motor running, slowly pour the oil through the feed tube. Let it process one more minute.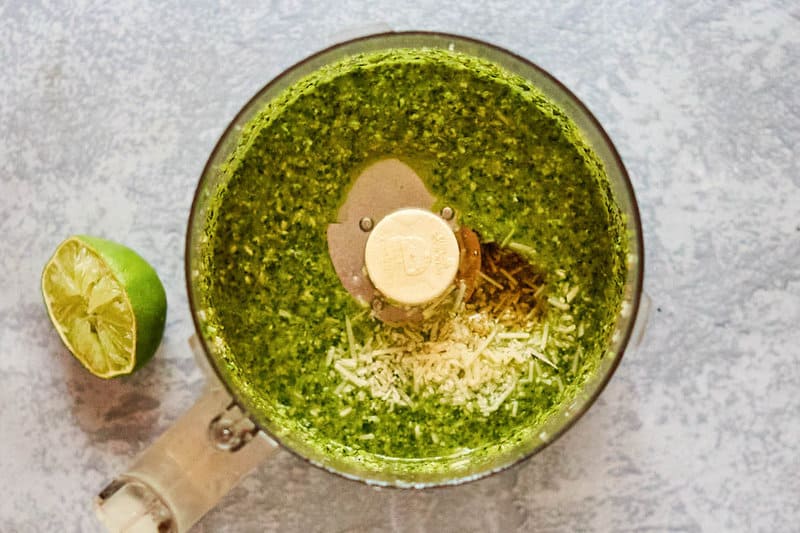 Transfer the dressing to a jar.
Enjoy the dressing on a mixed green salad or a copycat Cheesecake Factory Santa Fe salad.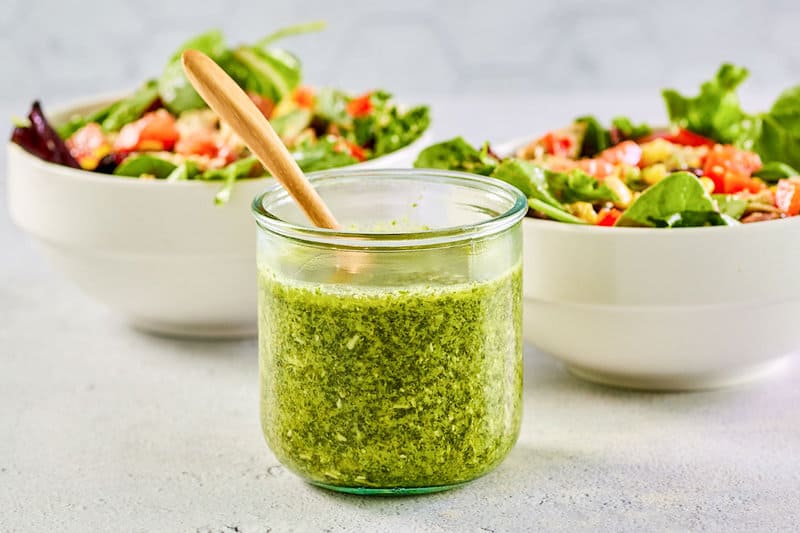 Cheesecake Factory Santa Fe Salad
To make the Santa Fe Salad the way the restaurant serves it:
Slice a grilled chicken breast into bite size pieces or thin strips.
Place the chicken strips on top of a bed of mixed greens. Use your favorite salad blend or baby leaf lettuce and romaine.
Garnish with whole kernel corn, black beans, diced tomatoes, shredded Monterey jack cheese, and corn tortilla strips.
Place the dressing on the side or drizzle it over the salad.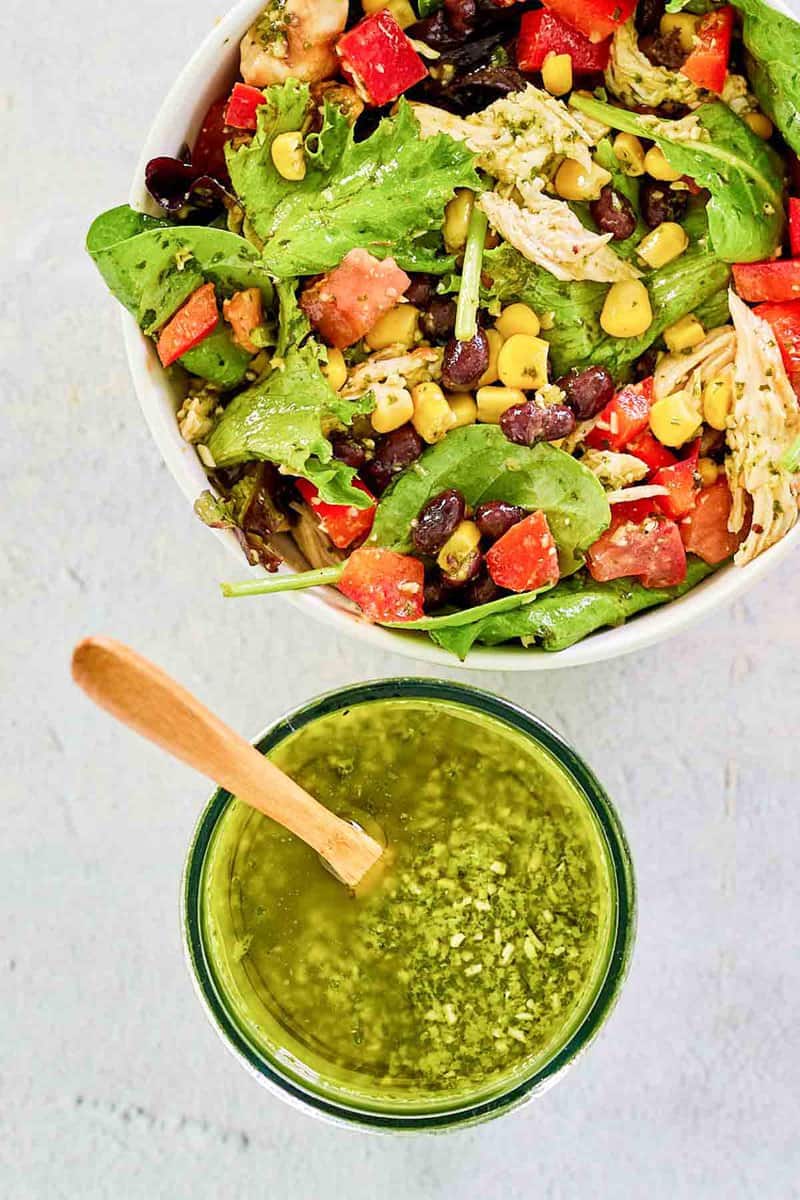 How To Store Cheesecake Factory Salad Dressing
Keep the salad dressing in an airtight container in the refrigerator.
How Long Does It Last
Try to use the Santa Fe Dressing within three days to prevent the cilantro from turning brown and the garlic from overpowering the dressing.
Other Possible Uses for This Homemade Santa Fe Salad Dressing
This salad dressing makes an excellent marinade for chicken, or go ahead and use it as a sauce for grilled chicken or a firm white fish such as tilapia, Atlantic cod, and sole. It is perfect for adding extra zip to fish or chicken tacos!
Did you love the Cheesecake Factory Santa Fe Salad dressing or maybe you only go to the Cheesecake Factory for their irresistible cheesecake?
Or, maybe you are hungry for more copycat Cheesecake Factory recipes? If so, let me know which ones.
And, I would love to hear what your favorite Cheesecake Factory recipe is – drop me a line in the comments section below.
Can't get enough of the Cheesecake Factory? Try these copycat recipes!
Favorite Salad Dressing Recipes
Be sure to check out more of my homemade salad dressing recipes and the best copycat restaurant recipes.
Thanks to dsign4you for sharing this salad recipe.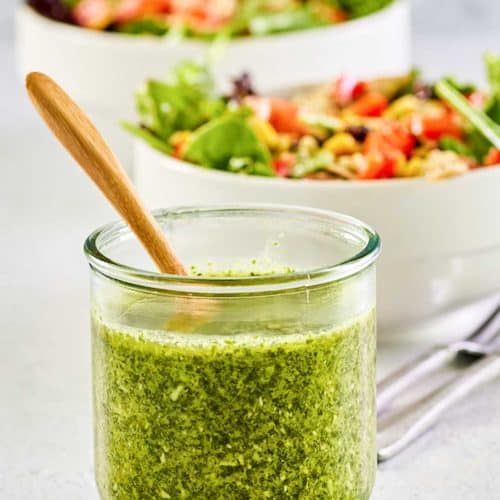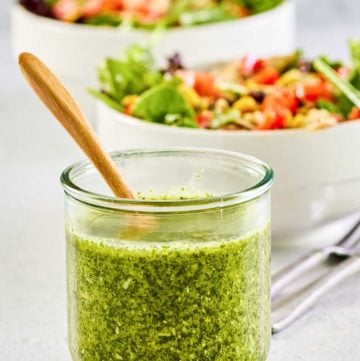 Ingredients
3

tablespoons

garlic

1

tablespoon

fresh ginger

2

bunches

cilantro

rinsed well, most of the stalk ends trimmed off, and finely chopped (about 1 cup loosely packed)

1/2

cup

fresh lime juice

1½

teaspoons

wine vinegar

3/4

teaspoon

salt

1/2

teaspoon

ground cumin

1/2

teaspoon

freshly ground pepper

1

tablespoon

honey

1/2

cup

freshly grated parmesan cheese

1/2

cup

canola oil

1/4

cup

olive oil
Instructions
With a food processor
Drop the garlic cloves and ginger through the feed tube while the motor is on. Mince well.

Add the cilantro and process until finely chopped.

Add the lime juice, vinegar, salt, spices, honey, and Parmesan cheese. Process until well mixed.

With the motor running, slowly pour the oils through the feed tube, and process for one more minute.
Without a food processor
Mince the garlic, ginger, and cilantro, and place them in a mixing bowl with the lime juice, vinegar, salt, spices, honey, and cheese.

Whisk in the oil until it is emulsified into the dressing.
Notes
To make the Cheesecake Factory Santa Fe Salad, you will need mixed greens, shredded grilled chicken breast, corn kernels, rinsed black beans, bell pepper, chopped tomato, shredded cheese and toasted tortilla strips.
Nutrition
Calories:
300
kcal
|
Carbohydrates:
6
g
|
Protein:
3
g
|
Fat:
29
g
|
Saturated Fat:
3
g
|
Cholesterol:
5
mg
|
Sodium:
427
mg
|
Potassium:
61
mg
|
Fiber:
0
g
|
Sugar:
3
g
|
Vitamin A:
255
IU
|
Vitamin C:
8
mg
|
Calcium:
110
mg
|
Iron:
0.3
mg