Easy Chicken Paprikash is a super quick dinner to put together. This recipe was inspired by the classic Hungarian Chicken Paprikash. A jar of your favorite pasta sauce, fresh chicken, and peppers, and you will have dinner done in about 30 minutes.
What Makes This Recipe So Easy
We are going to use your favorite pasta sauce as the base of the sauce. I personally use Prego sauce, or whatever is on sale.
My philosophy is I can always tweak a store-bought sauce. Pasta sauce is already seasoned very well. By adding sour cream, you can mimic this classic dish.
This chicken paprikash is a great hungarian dish that gives a great spin on how to use boneless chicken breasts. Enjoy this juicy and flavorful chicken with delicate egg noodles.
Where Does the Paprika Chicken Come From?
This amazing dish is based off of a hungarian paprika chicken dish. It originated in Hungary and is extremely creamy and delicious. It gets its name because of the ample amounts of hungarian paprika used to make this flavorful dish.
Paprika is actually a very common spice used in hungarian dishes, so it is no surprise that this chicken is named after its use of paprika.
Great Sides to Serve with this Chicken Paprikash Recipe
Since this paprika chicken has the protein of the meal covered this would be wonderfully paired with cheesy bread for dipping like this Copycat Commander's Palace Garlic Bread recipe.
Then to add a little healthier option, a well dressed salad like Cracker Barrel Cucumber Tomato and Onion Salad is a wonderfully light and refreshing side to serve with chicken paprikash.
What is Hungarian Paprika?
Hungarian paprika is paprika that is sourced with peppers that are grown in Hungary, then toasted and blended together to create the rich hungarian paprika flavor.
Depending on location and pepper, the paprika will vary in its amount of heat when you eat it and how strong it smells. But you will always get the underlying sweet red pepper notes.
If you want to learn more about the differences in the types of paprika, check out The Kitchn's article about what's the difference in paprika.
Can You Subsititute Regular Paprika for Hungarian Paprika?
While arguabley some form of paprika is better than no paprika, obviously, this dish will definitely not taste the same or near as authentic as it should if you use standard or regular paprika.
You will be missing out on the smokey undertones of the hungarian paprika. So, while it technically can be substituted, it should not be if you want to get the optimal flavor profile of the dish you are trying to make.
What Can You Use In Place of Hungarian Paprika?
So, since you shouldn't really use just regular paprika, what should you use if you don't have hungarian paprika on hand?
Well take a look at this article from A Couple Cooks to choose your best option for the best hungarian paprika substittue for this chicken paprikash recipe.
How to Store and Reheat Chicken Paprikash
To store this hungarian dish, you will want to keep the sauce in a separate airtight container and the noodles in their own airtight container in the fridge.
This dish will last for about 4-5 days in the fridge. Past that the sauce will begin to separate and look watery and unappealing.
The best way to reheat this dish would be to pop it back into the frying pan and turn it on low to slowly heat it up.
If you turn the heat up too fast you run the risk of the sour cream separating from the sauce leaving you with a chunky mess.
Should the sauce become too thick when you are reheating it, add in small amounts of chicken stock until you get your desired thickness for the sauce.
Recipe Ingredients
Here's a list of what you need:
Boneless skinless chicken breasts
Vegetable oil
Green bell pepper
Spaghetti sauce (meatless)
Hungarian paprika
Sour cream
Egg noodles
How to Make Chicken Paprikash
Cut the chicken and bell pepper into bite-size pieces.
Heat vegetable oil in a large skillet over medium-high heat.
Add chicken and bell pepper to the skillet.
Cook the chicken, stirring occasionally, to brown on all sides.

When chicken is browned, drain.
Place spaghetti sauce, chicken, peppers in the skillet over low heat.
Simmer for 30 minutes, stirring occasionally.
Cook the egg noodles according to the package directions.
Add sour cream in the chicken and sauce skillet. Stir to combine.

Serve the chicken and sauce over the noodles.
How to Complete this Dinner
You may want to serve a quick and easy salad with this. And if you want to serve hot cheesy bread with it, I recommend this Garlic Cheese Bread recipe.
Serve Chicken Paprikash over zucchini noodles (zoodles) for a low carb meal.
Love easy chicken breast recipe ideas? Try these!
Favorite Weeknight Dinner Recipes
Check out more of my easy chicken breast recipes and the best recipes for dinner here on CopyKat!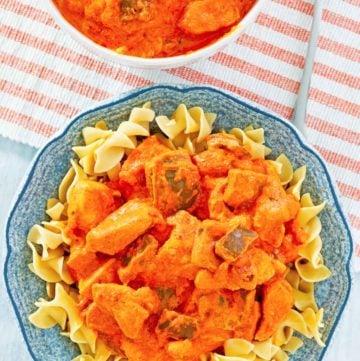 Easy Chicken Paprikash
Easy Chicken Paprikash is a quick and easy dinner you can prepare in about 30 minutes. A couple of simple ingredients from your pantry, and you will have a delicious chicken dinner on your table.
Print
Pin
Rate
Add to Collection
Go to Collections
Ingredients
2

tablespoons

vegetable oil

2 1/2

pounds

boneless skinless chicken breasts

1

green bell pepper

24

ounces

spaghetti sauce

(meatless)

1

tablespoon

hungarian paprika

2

tablespoons

sour cream

16

ounces

egg noodles
Instructions
Cut the chicken and green bell pepper into bite-size pieces.

Add vegetable oil to a large skillet and heat on medium-high heat.

When the oil is warmed up, add chicken and green peppers.

Cook chicken, be sure to turn over the chicken so all sides are browned.

When chicken is browned, drain.

Place spaghetti sauce, Hungarian paprika, browned chicken, peppers in the skillet over low heat.

Simmer for about 30 minutes, stirring occasionally.

Cook egg noodles according to the package instructions with a dash of olive oil.

Five minutes before noodles are done, add sour cream in the chicken and sauce skillet. Stir to combine.

This will turn the sauce an orange color. Add more sour cream if needed to make the color orange.

Drain noodles.

Serve the chicken and sauce over the noodles.
Notes
Feel free to use any color of bell pepper for this recipe.
You can finish the dish with fresh herbs.
Nutrition
Calories:
877
kcal
|
Carbohydrates:
91
g
|
Protein:
78
g
|
Fat:
20
g
|
Saturated Fat:
9
g
|
Cholesterol:
279
mg
|
Sodium:
1249
mg
|
Potassium:
1940
mg
|
Fiber:
6
g
|
Sugar:
10
g
|
Vitamin A:
1040
IU
|
Vitamin C:
39.2
mg
|
Calcium:
86
mg
|
Iron:
5
mg