Funnel Cake Fries are a tasty snack served at fairs and amusement parks. There's no need to go to a fair or park to get them. You can make the best homemade funnel cake fries from scratch with this easy recipe.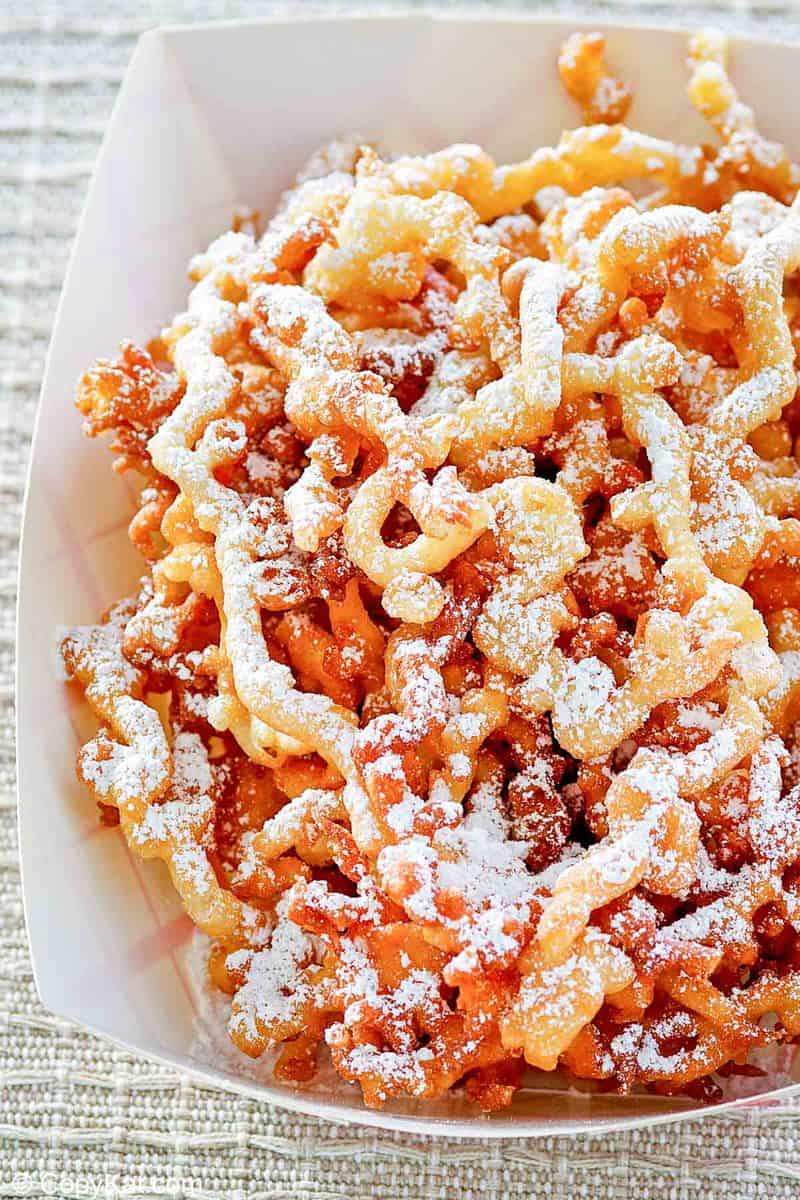 This post contains affiliate links. As an Amazon Associate, I earn from qualifying purchases.
The Best Fair Food
Let's be honest for a minute, rides and games are fun and all, but it's the food that you look forward to the most when you go to the fair. And the culinary king of the midway has to be funnel cake.
This Funnel Cake Fries recipe captures all the flavor of a classic carnival funnel cake and turns it into an easy-to-make and easily share snack that's perfect any time.
When you can't get your funnel cakes at the fair you can get Checker's Funnel Cake Fries, or you may want to grab some of Burger King's Funnel Cake Fries.
What are funnel cake fries?
Funnel cake fries are a twist on traditional Funnel Cakes. The only real difference is the shape. The batter is put into the hot oil in long strips instead of round swirls.
Unfortunately, this is one fried food you can't make in your air fryer. But don't let that stop you from making it. Deep frying is pretty simple once you know what you are doing.
Frying Doesn't Have to be Scary
One of the easiest ways to fry at home is by using an electric deep fryer. You can pick one up online for less than a hundred bucks, but you can make this Funnel Cake Fries recipe without one. All you need is a heavy-bottom pot, a clip-on frying thermometer, a skimmer, and the correct type of oil.
The ideal pot is a 5- or 6-quart cast iron dutch oven. Not only do dutch ovens have heavy bottoms, but their thick sides help to distribute heat evenly.
Cast-iron retains heat wonderfully so that the oil won't cool down as quickly. For added safety, most dutch ovens are extremely heavy and don't have long handles, making them less likely for someone to knock over the hot oil.
The clip-on thermometer is a must for helping to maintain the correct oil temperature of 375 degrees. Frying at the proper temperature ensures that the dough cooks thoroughly without burning and prevents the dough from getting too greasy.
To fry funnel cake fries, use an oil that can withstand high heat without smoking. Probably the best neutral-tasting oil with a high smoke point is canola, but some people prefer sunflower oil's slightly nutty flavor that matches well with sweet fried foods.
Stay safe while frying by using a long-handled skimmer to remove the cooked funnel cake fries from the hot oil.
Recipe Ingredients
Here's a list of what you need:
Eggs
Milk
Brown sugar
All-purpose flour
Baking powder
Salt
Powdered sugar
Vegetable oil for frying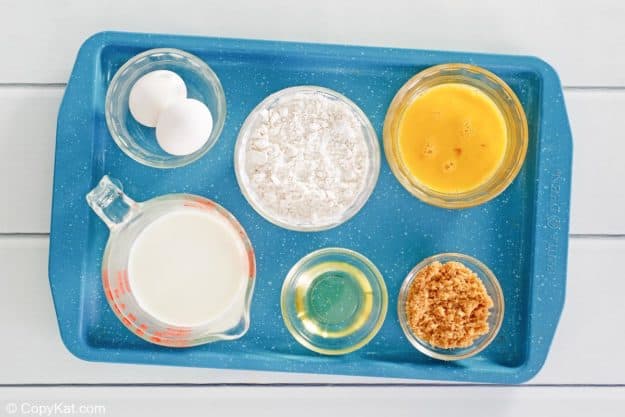 See more of our delicious recipes on Instagram!
How to Make Funnel Cake Fries
Combine eggs, milk, and brown sugar in a bowl.
Combine flour, baking powder, and salt in a separate bowl.
Add the dry ingredients to the wet ingredients and beat until smooth.
Once you mix the funnel cake batter, transfer it into a clean squeeze bottle with a decent-sized hole. A plastic squeeze ketchup bottle is just about perfect.
Heat oil in a deep fryer to 375 degrees.
Squeeze a line of batter into the hot oil about four inches long. Repeat two or three times, depending on the size of the fryer.
Cook for about 30 to 45 seconds on the first side and use the skimmer to flip the funnel cake fries over. Cook for another 30 or so seconds.
Remove the funnel cake fries from the oil using the skimmer and place them on a paper towel. Remember to let the oil drip back into the pot for a few seconds.
Blot the funnel cake fries with paper towels and transfer them to a wire rack to cool.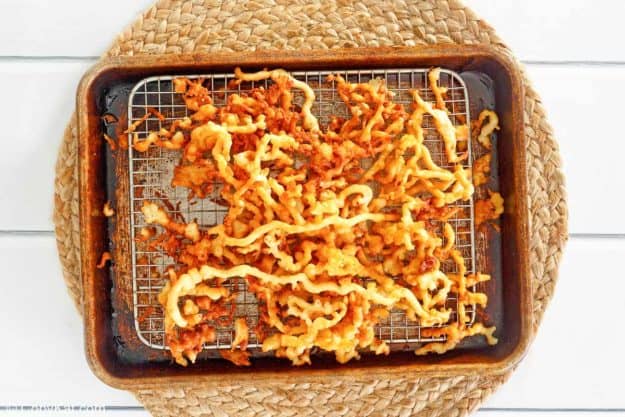 Sprinkle the warm funnel cake fries with powdered sugar and serve.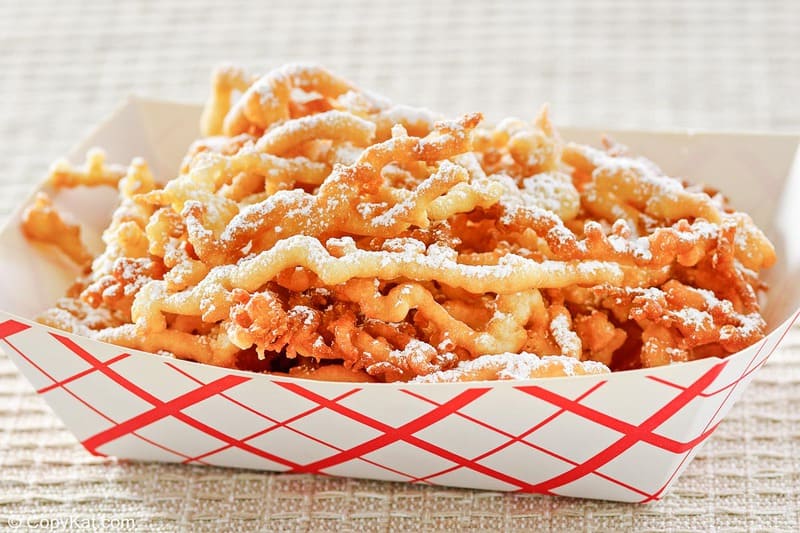 What to Serve with Funnel Cake Fries
Here are some great dipping sauces you can serve with the fries:
Marshmallow Fluff Dip with some special flavoring to make it extradorinary.
Sweet and Creamy Dip made with cream cheese, Cool Whip, and brown sugar.
Strawberry Cream Cheese thinned out with milk or cream to make it dippable.
Strawberry Jam thinned out with hot water.
Vanilla Icing Dip – combine a cup of powdered sugar with a 1/2 teaspoon of vanilla extract and just enough milk to make it thin enough for dipping.
Hot to Store and Reheat Funnel Cake Fries
Store for a day or two in a paper bag on the counter. Reheat in a 350-degrees oven for 5 minutes or pop them in an air fryer for two minutes at 350 degrees.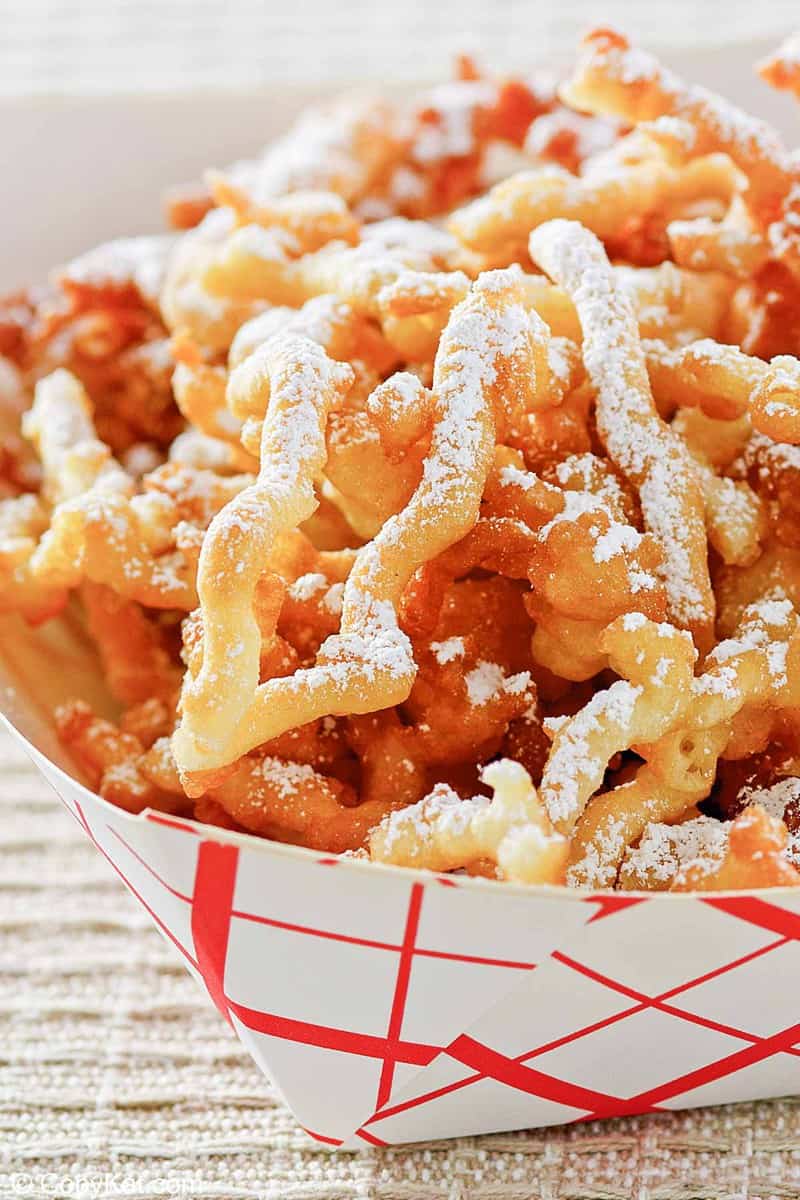 Favorite Snack Recipes
Check out more of my easy snack recipes and the best side dish recipes here on CopyKat!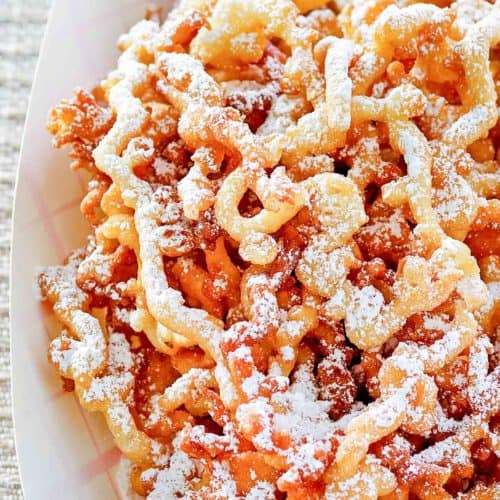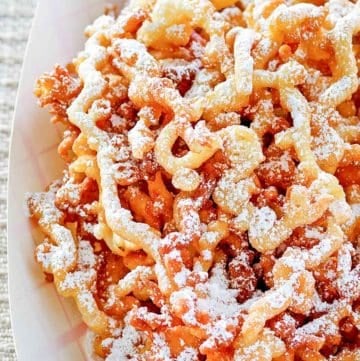 Ingredients
2

eggs

lightly beaten

1 1/2

cups

milk

1/4

cup

packed brown sugar

2

cups

all-purpose flour

1 1/2

teaspoons

baking powder

1/4

teaspoon

salt

vegetable oil for frying

1

tablespoon

powdered sugar for dusting
Instructions
In a bowl, combine the eggs, milk, and brown sugar.

In a separate bowl, combine the flour, baking powder, and salt.

Add the dry ingredients to the wet ingredients and beat until smooth. Pour the batter into a bottle that has a spout (a clean ketchup bottle works nicely).

Add enough oil in an electric skillet or deep fryer so the depth is about 3 inches. Heat the oil to 375°F.

Pipe the batter into the oil in lines that are about 4 inches long, and fry until golden, or about 30 to 45 seconds on each side.

Remove the fries from the oil and place them on a

wire rack

or

cookie sheet

. Dust with powdered sugar before serving.
Nutrition
Calories:
500
kcal
|
Carbohydrates:
68
g
|
Protein:
12
g
|
Fat:
20
g
|
Saturated Fat:
4
g
|
Polyunsaturated Fat:
5
g
|
Monounsaturated Fat:
10
g
|
Trans Fat:
1
g
|
Cholesterol:
91
mg
|
Sodium:
222
mg
|
Potassium:
388
mg
|
Fiber:
2
g
|
Sugar:
20
g
|
Vitamin A:
267
IU
|
Calcium:
202
mg
|
Iron:
4
mg