Homemade Potato Wedges are perfectly seasoned, crispy on the outside, and fluffy on the inside. Serve these breaded and deep-fried russet potato wedges with dipping sauce for a tasty appetizer or side dish. These potatoes are tender on the inside and crispy on the outside. You are going to love these potatoes.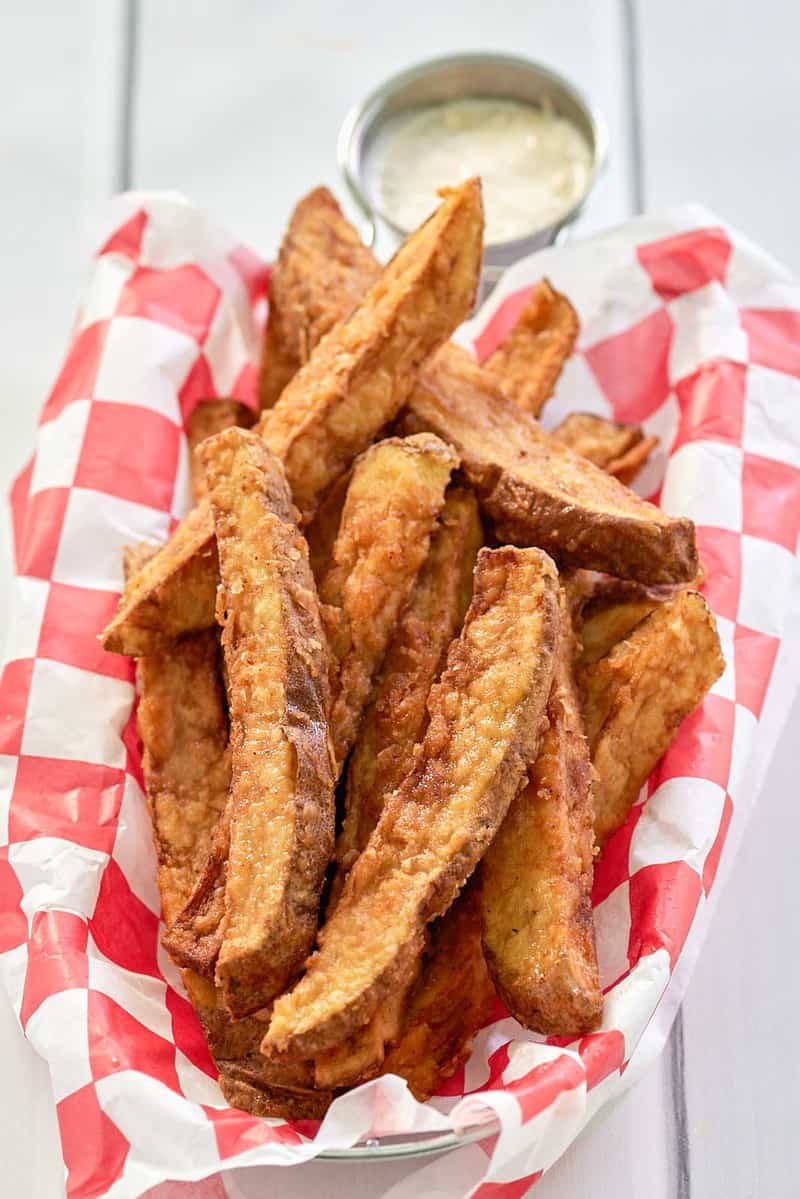 This post contains affiliate links. As an Amazon Associate, I earn from qualifying purchases.
Fried Potato Wedges
Crispy potato wedges are just as popular as fries and make perfect appetizers, snacks, or side dishes. They'll satisfy when that French fry craving strikes, but they're not in the least bit fussy to make. They are also perfect for feeding hungry kids at sleepovers.
Homemade deep-fried potato wedges are so much better than store-bought, and they are quick and easy to make. These wedges are generously and tastily seasoned with garlic salt, celery salt, and salt and pepper, which makes them the best potato wedges – they are utterly irresistible!
What Makes Homemade Potato Wedges So Good
This is the absolute best potato wedges recipe because when you dip them in eggs before dredging them in a flour mixture, it results in an extra-crispy coating! The eggs help the flour and seasonings to adhere, providing the ultimate crunch factor.
Also, these potatoes are incredible because they don't turn out dry or mealy inside. Oftentimes, it can be tricky to find the right balance between under and overcooking potatoes. Fortunately, I've discovered the ideal frying time for crisp yet tender wedges.
Why You'll Love This Recipe
You'll love how easy it is to make these restaurant-quality potato wedges! Nevertheless, if you're not comfortable with frying, I have other means by which you can make them, like the oven or air fryer.
This recipe is adaptable, so home cooks of all experience levels can successfully make this tasty potato wedges recipe! Another appealing thing about these homemade potato wedges is that you don't need to spend any time peeling them! They turn out significantly better with the skin on.
Ingredients to Make Seasoned Potato Wedges
The ingredients for crispy potato wedges are very basic. Here's what you need:
All-purpose flour
Garlic salt
Ground black pepper
Celery salt
Salt
Russet potatoes
Egg
Vegetable oil for frying
Dipping sauce for serving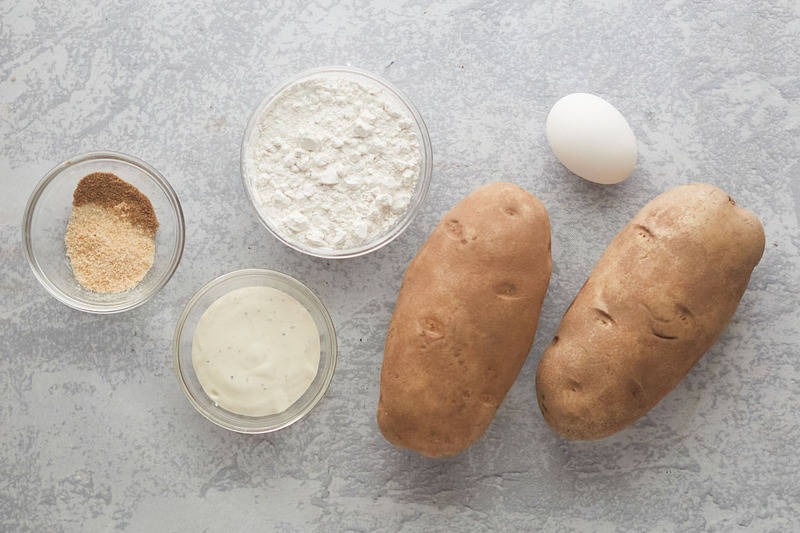 Which Potatoes Are Best for Crispy Potato Wedges?
For wedges that are crispy on the outside but fluffy when you bite into them, go for a waxy potato like russets, Yukon Gold, or red potatoes. For a primer on what potatoes to use for different dishes, read this article on what types of potatoes are best for which recipe.
How to Cut a Potato Into Wedges
Cutting potato wedges is so much easier than cutting fries because they're bigger. Here's what you do:
Cut a potato in half lengthwise.
Halve each half lengthwise again, so you have four pieces.
If the potato is very large, cut each wedge in half again, giving you a total of eight wedges.
That's it! Easy peasy!
How to Make Homemade Potato Wedges
These are the steps for deep-fried potato wedges:
Heat oil in a large pot or deep fryer to 375°F.
Mix flour and spices in a shallow dish.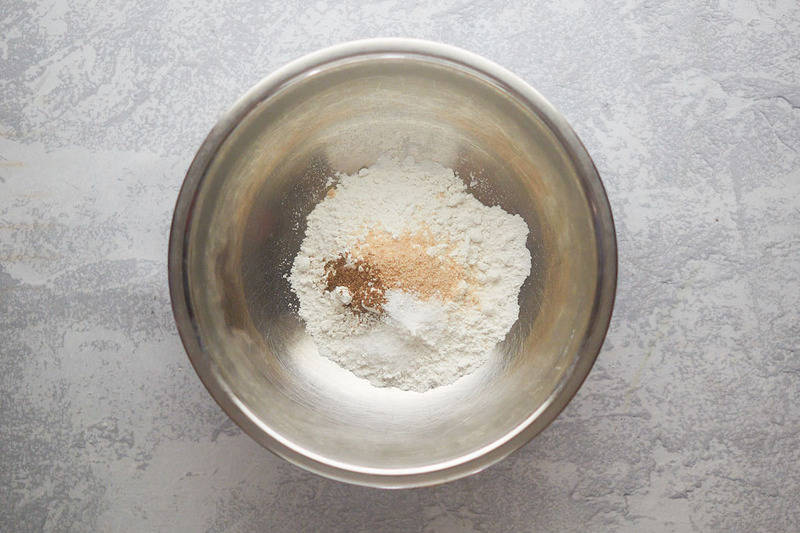 Cut the potatoes into 1/2-inch thick wedges.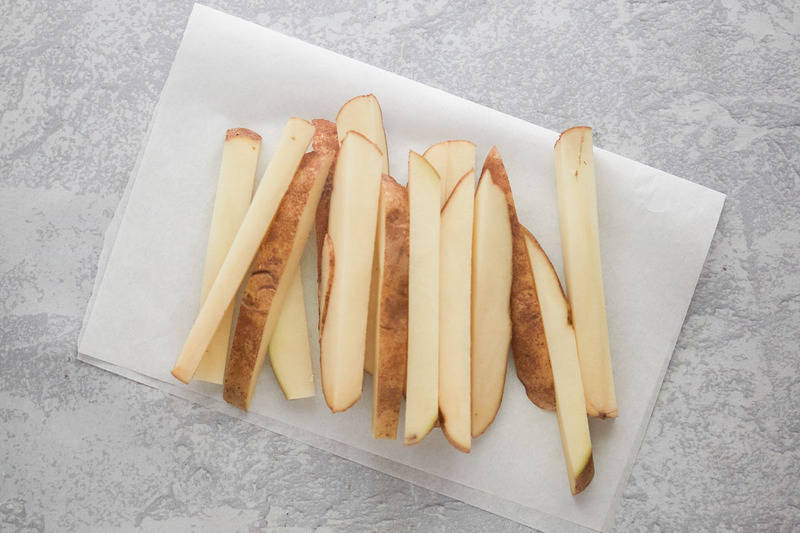 Dip the potato wedges into the beaten egg, then into the flour mixture.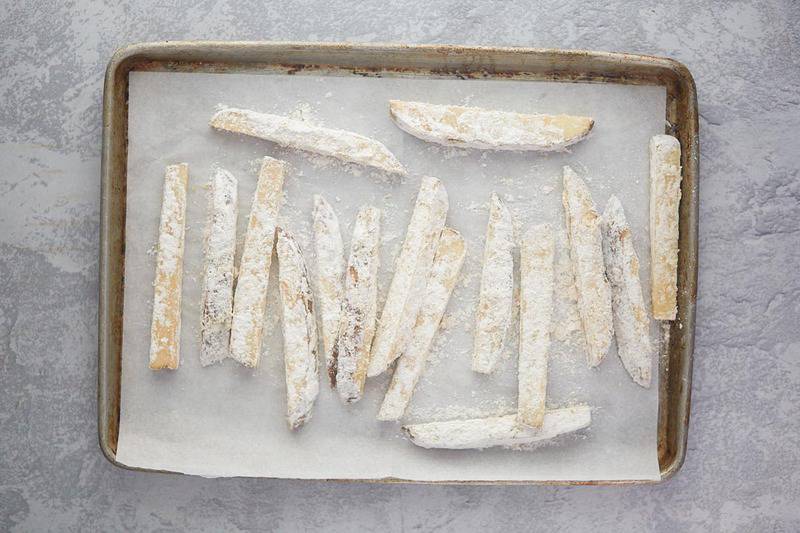 Deep fry the breaded wedges in hot oil until golden brown, about 5 to 7 minutes.
Serve with a dipping sauce.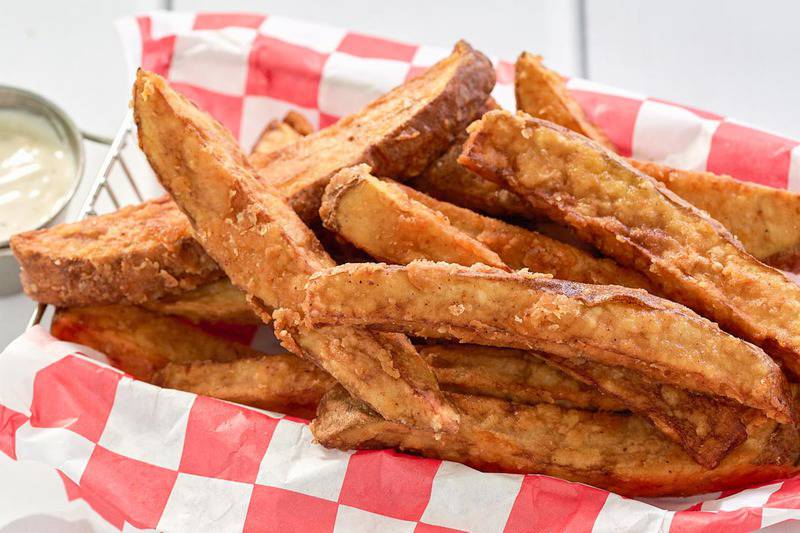 How to Make Baked Potato Wedges
If you would prefer to bake these seasoned potato wedges, here's what to do:
Preheat the oven to 450°F.
In a bowl, toss the sliced potatoes with vegetable oil in a large mixing bowl until well coated.
Coat the oiled potatoes with seasoned flour.
Cover the bottom of a baking sheet with a thin glaze of oil.
Add the battered potato wedges to the sheet in one layer.
Bake for about 20 to 25 minutes.
Remove the potatoes from the oven, turn the wedges over, and bake for another 5 to 10 minutes or until they are golden brown.
How to Air Fry Potato Wedges
You can also opt to make these crispy potato wedges in your favorite kitchen gadget – your air fryer! Here's how to go about it:
Preheat the air fryer to 400°F.
Slice the potato wedges.
In a bowl, toss the sliced potatoes with vegetable oil until well coated.
Coat the oiled potatoes with seasoned flour.
Lay the battered potato wedges in a single layer in the air fryer basket.
Cook for 10 minutes, then turn over the potatoes and cook for another 10 minutes.
Read more about air fried potato wedges.
Recipe Variations
These crispy fried potato wedges are also delicious with a sprinkle of paprika or Parmesan cheese on top. you could add garlic powder, or onion powder to the flour mixture if you want to amp up the flavor.
Sprinkle with parsley for bonus points in the good looks department.
6 Tips to Make the Best Potato Wedges
Scrub your potatoes thoroughly. However, they should not be peeled – the skin will add to the crispiness.
For the best potato wedges, slice your wedges into even-sized pieces so they will cook evenly.
For extra tasty and crispy potato wedges, soak them in salted ice water for about 20 minutes before beginning. The salt contributes flavor and soaking takes away some of the starch that can cause the potatoes to stick to the pan. It also gives you a much crisper finish. Be sure to dry well after soaking, or the oil won't coat your wedges.
If you choose not to soak your wedges, lay them out on paper towels, cover them with more paper towels, and then press down to dry them completely. The drier, the better.
If you are baking your wedges, line your baking sheet with non-stick aluminum foil. Your potatoes will brown without sticking to the pan and burning.
For best results, be sure not to overcrowd the pan or air fryer basket. Overcrowding will cause steam to develop, which impedes that crispy finish you want. Also, ensure that one of the flat sides of each wedge touches the pan's/basket's surface.
What to Serve with Potato Wedges
What can you serve with these easy potato wedges? There are many choices of condiments, dips, or sauces you can serve with them. Here are a few ideas:
BBQ Sauce
Ketchup
Mayonnaise
Ranch Dressing
Sour Cream
Deliciously seasoned potato wedges are the perfect side dish and great with many entrees. Here are my favorite ones:
How to Store and Reheat Seasoned Potato Wedges
Refrigerate cooled leftover potato wedges in an airtight zip-top bag. They'll be good for 3 to 5 days.
To reheat refrigerated potato wedges, place them on a baking sheet and bake at 350°F for 10 to 15 minutes until they are warm and crisp.
You can freeze your homemade potato wedges. When they are cool, freeze them on a baking sheet in a single layer. When frozen, place them in a freezer bag or freezer-safe, airtight container. They will be good for up to 3 months.
To reheat frozen potato wedges, place them on a baking sheet then bake them at 350°F until warm and crisp, about 15 to 20 minutes.
Love Potatoes? Try These Potato Recipes
Favorite Fried Vegetable Recipes
Check out more of my easy appetizer recipes and the best vegetable side dish recipes here on CopyKat!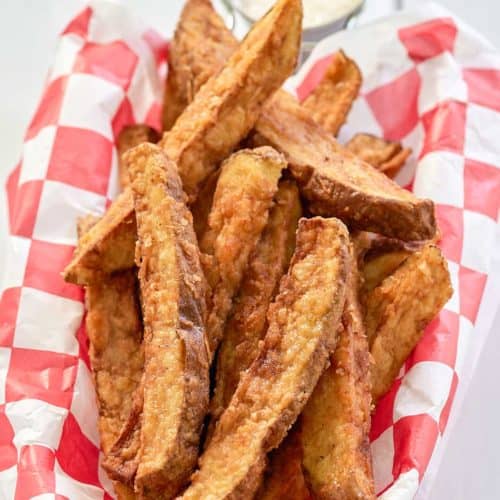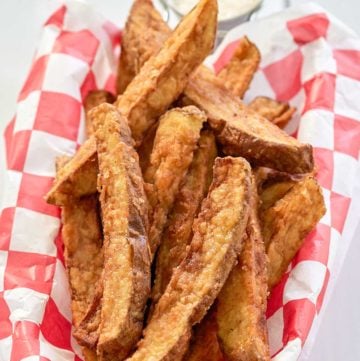 Ingredients
1/2

cup

all-purpose flour

1

teaspoon

garlic salt

3/4

teaspoon

pepper

1/4

teaspoon

celery salt

1/4

teaspoon

salt

4

russet potatoes

unpeeled but scrubbed

1

egg

beaten

vegetable oil for frying

ranch dressing, sour cream, or ketchup for serving
Instructions
Preheat oil to 375 degrees.

Mix flour and spices in a shallow dish.

Cut potatoes into 1/2-inch thick wedges.

Dip the potato wedges into the beaten egg, then into the flour mixture.

Deep fry in hot oil until golden brown, about 5 to 7 minutes.

Serve with ranch dressing, dipping sauce, ketchup, or sour cream.
Notes
Do not let your grease get too hot or the potatoes will burn.
Shake off excess flour from the potatoes because too much flour may make the potatoes burn.
Cook the potatoes right away. If you do not, the potato slices may brown and look unappealing.
Nutrition
Calories:
181
kcal
|
Carbohydrates:
38
g
|
Protein:
7
g
|
Fat:
0
g
|
Saturated Fat:
0
g
|
Cholesterol:
0
mg
|
Sodium:
894
mg
|
Potassium:
896
mg
|
Fiber:
5
g
|
Sugar:
0
g
|
Vitamin C:
24.3
mg
|
Calcium:
64
mg
|
Iron:
7.6
mg