Keto Friendly Chicken Divan is a great low carb chicken casserole your whole family can enjoy. Based on the classic Chicken Divan recipe, this recipe removes the carbs, but the flavor remains.
This post contains affiliate links. As an Amazon Associate, I earn from qualifying purchases.
It seems like everyone these days is trying to reduce the amount of carbs they eat. Whether you are already committed to the keto diet or just want to eat a bit healthier, it's a challenge to find easy and satisfying meals that are not loaded down with starch. If you are looking for a few new low carb chicken recipes to add to your meal rotation, add this Keto Chicken Divan Casserole to your list. It has all the classic comfort of the Chicken Divan casserole that you grew up loving, but without all those nasty carbs your body doesn't need.
Kill the Carbs, Keep the Flavor
The bread crumb topping and carbohydrate-load cheese sauce from the traditional recipe have to go in this low carb version. Using keto-friendly mayonnaise as a substitute for the cheesy cream sauce of the classic recipe is a no-brainer. But when it comes to replacing the crunch of the bread crumbs, you have to get a little more creative.
Your first option is to leave them out entirely. With so much going on in the dish, there is a good chance you won't really miss them all that much flavor-wise. But it is hard to escape the fact that everyone loves the crunch that bread crumbs provide. If the lack of a crispy casserole top is a dealbreaker for you, try one of these clever solutions.
Crushed pork rinds Not only will pork rinds deliver on the crunchiness of bread crumbs, but they will add a new level of flavor to the dish. Put the pork rinds in a sealed plastic bag and use a rolling pin to crush them into bread crumb-sized pieces.
Hard cheese If you just aren't that into pork rinds, you can consider substituting a hard cheese like Parmesan or Pecorino. Grate the cheese using the medium-sized holes of a box grater for the best results.
Sesame seeds A favorite on bagels, a layer of sesame seeds will give the Keto Chicken Divan Casserole a bit of the crunch that you are craving. No sesame seeds, no problem. Try using golden flaxseeds instead.
Do I Have to Use Frozen Broccoli?
Nope, but if you opt for fresh broccoli, you will need to take a few extra steps.
Start by putting a large pot of water on the stove over high heat to boil. In the meantime, cut the florets from the head of broccoli. Cut the smaller florets in half and the larger ones into quarters. Once the water is boiling, cook the broccoli for about one and a half minutes. Meanwhile, fill a large bowl half full of ice and water. Strain the cooked broccoli and put it directly in the bowl to cool rapidly.
Make sure to dry the broccoli thoroughly before using it in the low carb chicken casserole.
Tips for Making and Storing the Keto Chicken Divan Casserole
Make it your own. If you like things a bit on the spicy side, try adding your favorite hot sauce to the mayonnaise. Why not experiment by replacing some of the broccoli with cauliflower or using leftover turkey instead of chicken?
Store for a few days covered in the fridge or wrap in tin foil and freeze for a month. To reheat, let the casserole come to room temperature and then cut into individual serving sizes. Place the casserole pieces on a baking sheet. Cover with tin foil and heat for 20 minutes in a preheated 350-degree oven.
See what's cooking on our Facebook page!
Low Carb Chicken Casserole Perfection
One bite and your whole family is going to love this low carb chicken broccoli divan! It's easy to prepare and is rich and filling. Did I mention, it reheats well too!
Chicken Divan Casserole Recipe Ingredients
Here's a list of what you need:
Boneless skinless chicken breasts
Shredded sharp cheddar cheese
Mayonnaise
Frozen broccoli
Chopped onion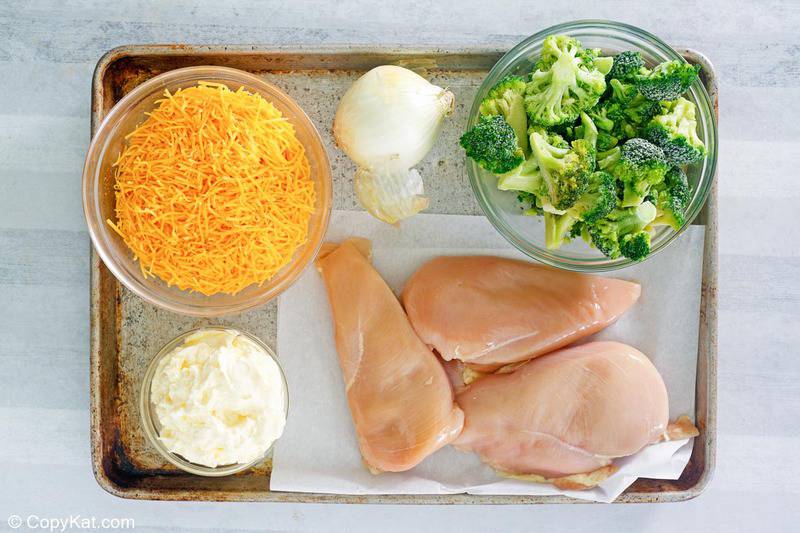 Ingredient Notes
You can use pre-cooked chicken for this recipe. I often simply poach inexpensive bone-in split chicken breasts for about 20 to 25 minutes and use these. The split chicken breasts are a lot cheaper than the boneless skinless chicken breasts we so often buy.
I then quickly remove the skin and bones and throw the chicken into my Bosch mixer with my cookie paddle. It beautifully shreds the chicken breast.
To make cooking this even easier, I purchase frozen broccoli and use that for the recipe. Frozen broccoli has already been blanched, so it makes cooking a breeze.
How to Make Chicken Divan Casserole
Boil the chicken breasts until done.
Cut the chicken into bite-sized cubes.
In a large bowl, mix all of the ingredients except for a third of the cheese.

Place the mixture in a large glass baking dish.
Sprinkle the remaining cheese on the top.

Bake at 350 degrees for 60 minutes or until the cheese topping bubbles.
Remove the casserole from the oven and let it stand for 15 minutes before serving.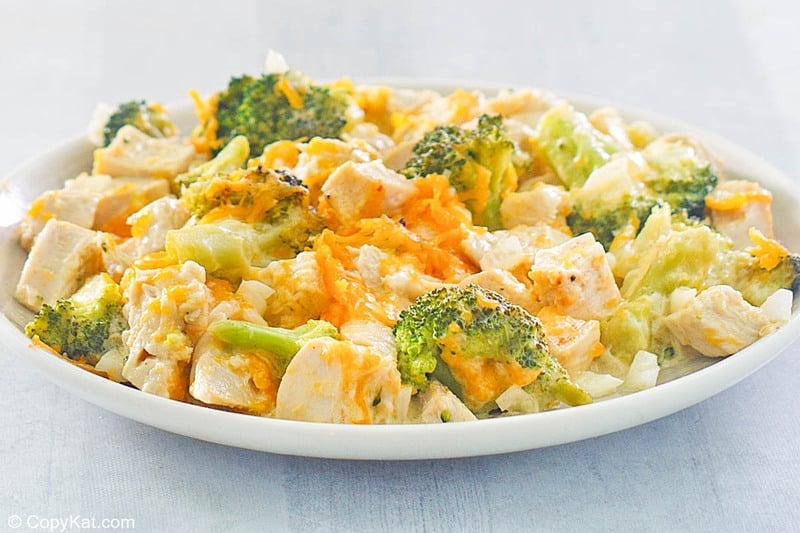 More Low Carb and Keto Friendly Recipes
Favorite Casserole Recipes
Check out more of my easy low carb recipes and the best casserole recipes here on CopyKat!
Before you go, please share your ideas for creating a great low carb chicken casserole!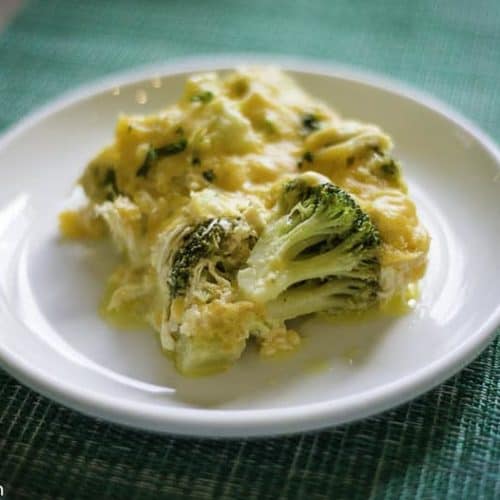 Ingredients
3

Pounds

boneless skinless chicken breasts

3

Pounds

Shredded Sharp Cheddar Cheese

2

Cups

Mayonnaise

2

pounds

frozen broccoli

1

cup

chopped onion
Instructions
Boil the chicken breasts for 20 minutes and then cut into 1/2 inch cubes. In a large bowl mix all of the ingredients, except for 1 pound of Shredded Cheddar Cheese. Place the mixture in a large glass baking dish, and sprinkle the remaining pound of Shredded Cheddar Cheese on the top.

Preheat oven to 350 degrees F. Bake for 60 minutes or until the topping on the cheese bubbles. Remove from oven and let stand for 15 minutes to allow the cheese to congeal before serving.
Nutrition
Calories:
871
kcal
|
Carbohydrates:
7
g
|
Protein:
54
g
|
Fat:
68
g
|
Saturated Fat:
28
g
|
Cholesterol:
207
mg
|
Sodium:
1098
mg
|
Potassium:
796
mg
|
Fiber:
2
g
|
Sugar:
3
g
|
Vitamin A:
1665
IU
|
Vitamin C:
69.8
mg
|
Calcium:
865
mg
|
Iron:
1.9
mg