Olive Garden Meatballs are incredibly delicious and great for spaghetti, pasta, and sandwiches. There's no need to go to the restaurant when you can easily make homemade Italian meatballs with a few simple ingredients.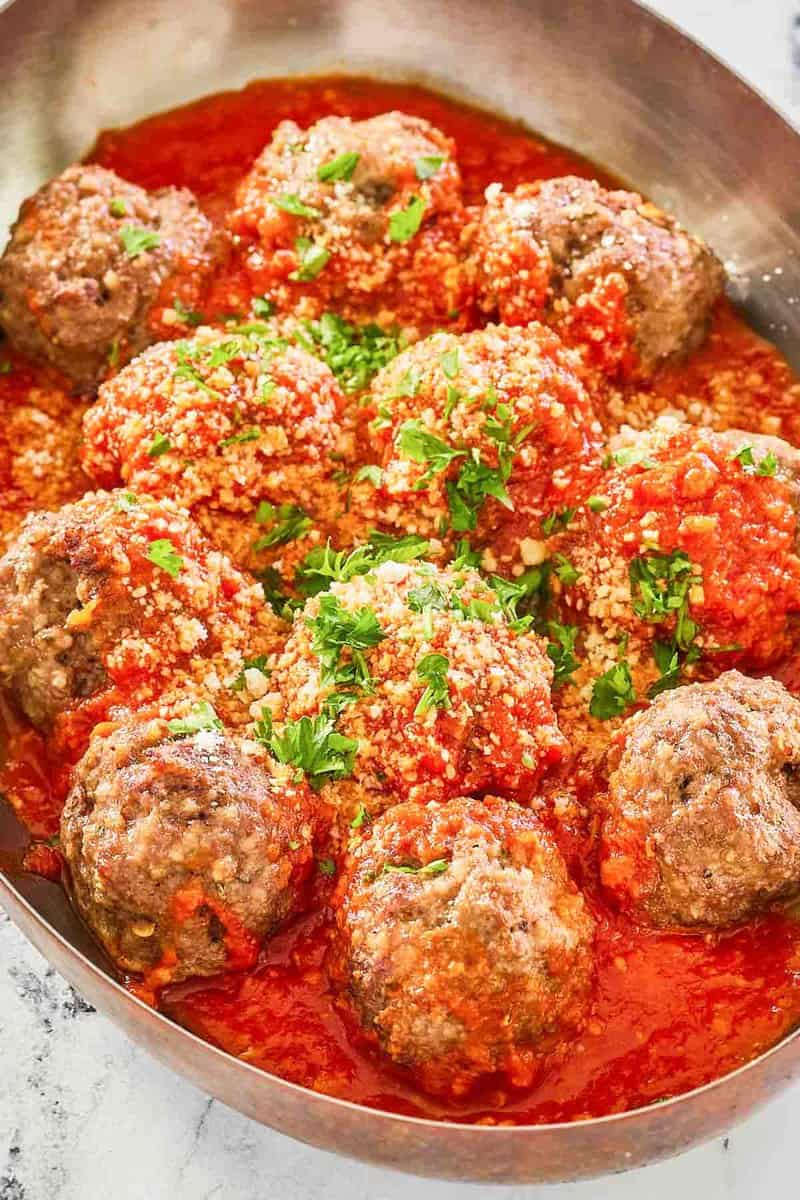 This post contains affiliate links. As an Amazon Associate, I earn from qualifying purchases.
What Makes the Olive Garden Meatballs So Delicious?
Guests at Olive Garden love the chain's meatballs on spaghetti or served as Meatball Parmigiana. Olive Garden Meatballs are juicy, tender, and so flavorful. But they are also expensive.
You can make enough Olive Garden-style meatballs to feed an entire family for the cost of a single meal at the restaurant with this simple meatball recipe.
Why You Should Try This Recipe
If you want to try a genuine copycat recipe for Olive Garden meatballs, this one is what you want! There is a popular Olive Garden Meatballs recipe floating around the internet that calls for ground pork and ground beef.
But do Olive Garden meatballs have pork? While according to the restaurant's Pork and Alcohol Menu Information pamphlet, the answer is no; they do not. Therefore, this version of the recipe is much more authentic and the taste is just like the meatballs you get at the Olive Garden.
These ground beef meatballs of the rich juicy texture of the original with all the Italian flavors.
Ingredients For Olive Garden Meatballs
To make these meatballs, you'll need:
Ground chuck
Plain bread crumbs
Whole milk
Egg
Italian seasoning
Dried parsley
Red pepper flakes
Onion powder
Granulated garlic
Salt
Ground black pepper
For the meat, you want at least an 80/20 blend. That means a mixture containing at least 20 percent fat. For even juicer meatballs, you can choose to use ground beef with a fat content of up to 30 percent since the bread crumbs will soak up any excess fat wonderfully.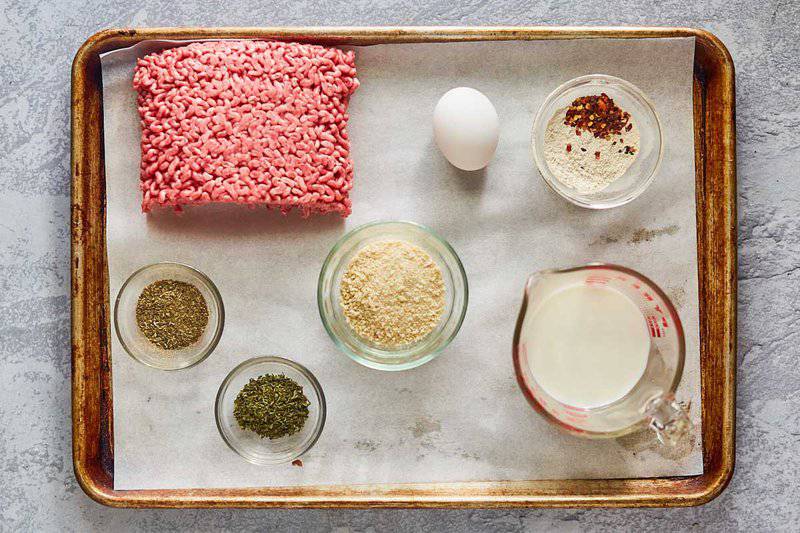 How To Make This Recipe For Olive Garden Meatballs
Making the meatball mixture for this copycat Olive Garden meatballs recipe can be done in one of two ways, either all at once or in steps:
Everything at Once Method:
Place all the meatball ingredients in a large bowl.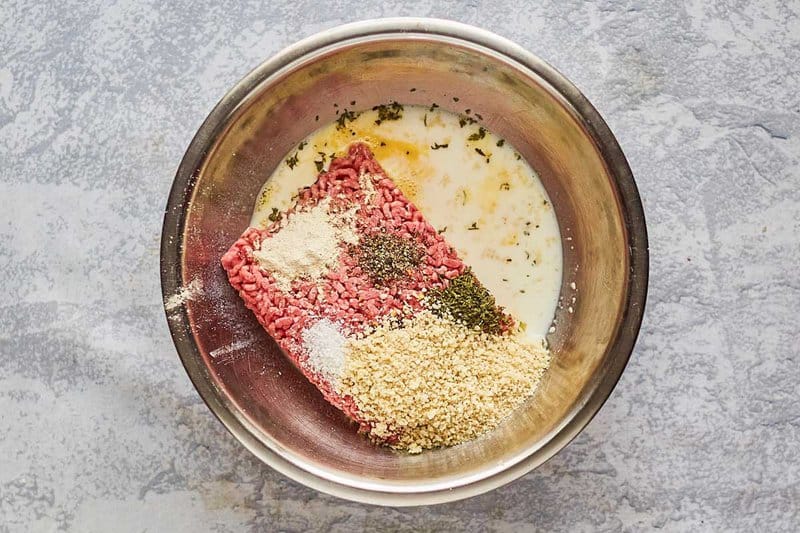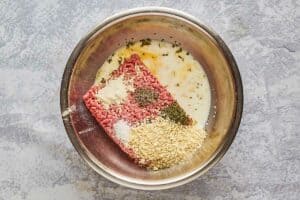 Stir or mix gently with your hands and do not overwork the meat.
Steps Method
Or place the ground beef and bread crumbs in a large mixing bowl. Lightly toss with your fingertips to evenly distribute the bread crumbs.
Whisk together the whole milk, egg, Italian seasonings, dried parsley, onion powder, granulated garlic, red pepper flakes, salt, and pepper in a measuring bowl with a spout.
Slowly add the milk and egg mixture to the beef mixture in stages. Lightly combine the meatball mixture with your fingertips, but don't overwork it, or the meatballs can turn out tough.
After the meatball mixture is prepared:
Cover the meatball mixture with plastic wrap and refrigerate it for at least 30 minutes. Resting the meat will allow the flavors to meld and the bread crumbs to soak up some extra moisture.
Preheat the oven to 425°F.
Grease a shallow baking dish with cooking spray or line a roasting tray with parchment paper.
Wet your hands and form 1-1/2 inch diameter meatballs. Place the meatballs on the tray or in the baking dish.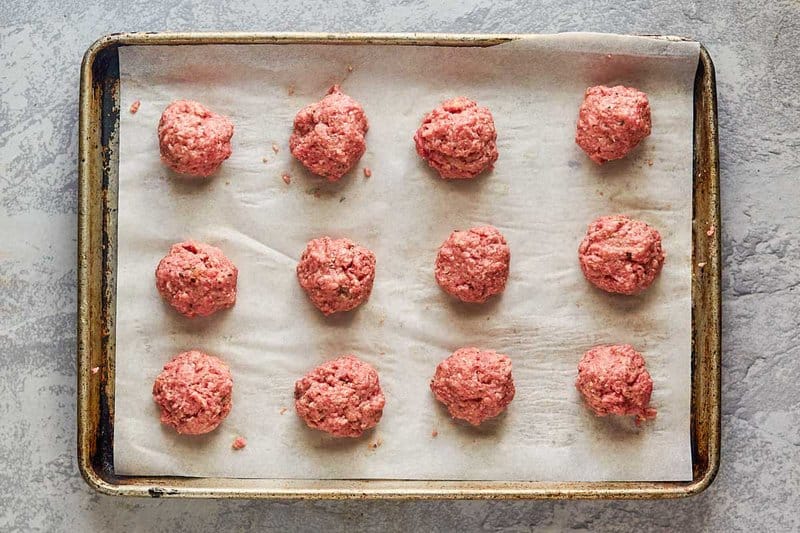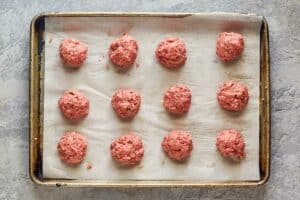 Bake for 10 to 15 minutes. Turn the meatballs midway through the cooking time. Use an instant-read thermometer to check that the meatball's internal temperature has reached at least 165°F.
If desired, serve the meatballs in warm marinara sauce and/or sprinkle fresh parsley, oregano, or parmesan cheese on top of the meatballs.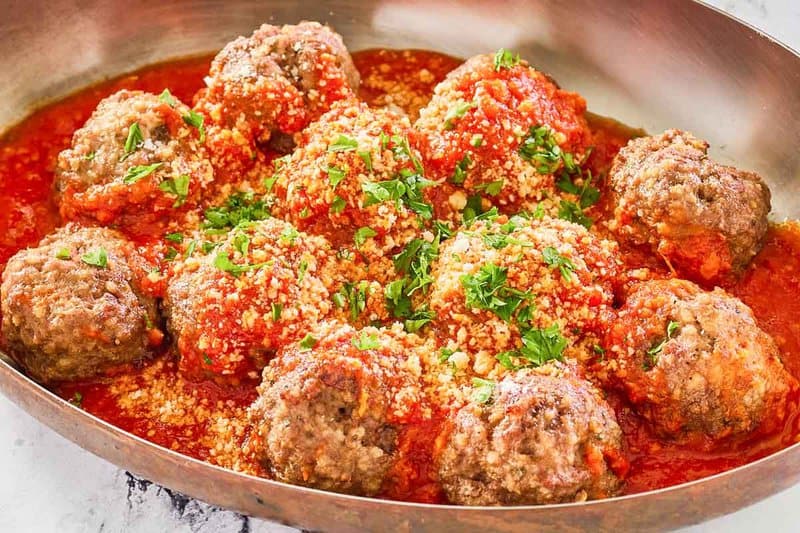 Recipe Variations
Baked is the preferred method for preparing these meatballs. You can also make pan-fried meatballs by cooking them in a large skillet. First over medium-high heat to sear them, then lowering to medium heat to cook until done.
What To Serve With Italian Meatballs
The classic way to serve Olive Garden's Italian meatballs is in a rich marinara sauce over spaghetti and topped with grated cheese. A garden salad or steamed broccoli is great for a side dish. Breadsticks are the perfect addition to this meal along with a glass of red wine, such as an Italian Chianti.
Olive Garden Spaghetti and Meatballs may be the most meatball item on the menu, but you can use these meatballs for more than just pasta. Here are a few ideas:
Meatball Sub – Brush a sub roll with melted butter and garlic powder. Toast and top with meatballs, marinara sauce, and fresh mozzarella. Place the sandwich back in the oven until the cheese melts.
Meatballs and Sauteed Broccolini – Blanch the broccolini in salted water and drain. Saute the broccolini in a pan with butter, olive oil, minced garlic, and red pepper flakes. Season the broccolini with salt and pepper. Serve the meatballs on top of the broccolini with any extra pan drippings drizzled on top.
Meatballs and Mashed Potatoes – Make your favorite mashed potatoes or, better yet, Irish Champ and serve with the meatballs. Drizzle homemade beef gravy on top for even more deliciousness!
How To Store the Leftovers
Allow the meatballs to cool to room temperature. Place them in an airtight container in the refrigerator for up to three to four days. For longer than that, try freezing them:
Place the meatballs on a baking tray and put them in the freezer until frozen solid, about three hours.
Wrap the meatballs individually in plastic wrap and store them in a freezer-safe container or heavy-duty freezer bag for up to three months.
What Is the Best Way to Reheat Meatballs?
Let the meatballs thaw in the fridge overnight. The best way to reheat the meatballs is in the pasta sauce on the stovetop. But if you are not serving them with sauce, try the oven:
Preheat the oven to 300 degrees F.
Place the thawed meatballs on a baking tray and sprinkle them with water or beef stock.
Cover the baking tray with aluminum foil.
Reheat the meatballs for 15 to 20 minutes or until warm.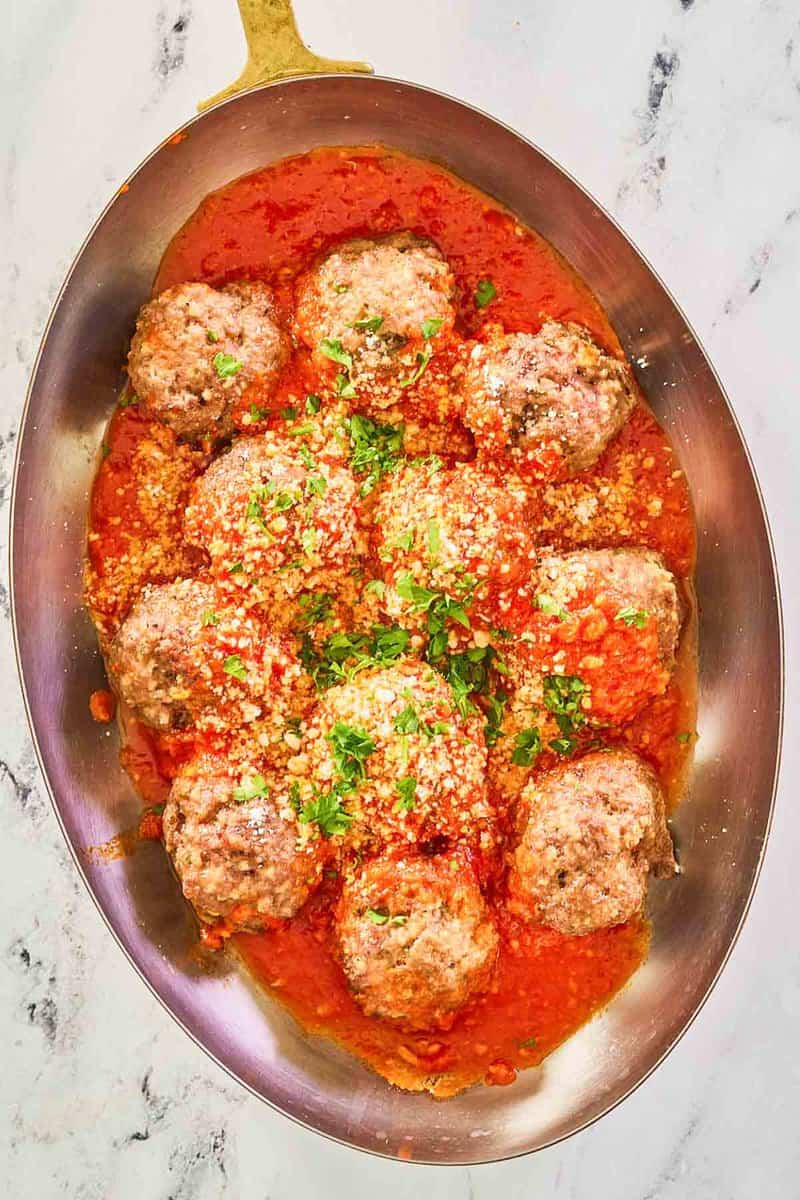 More Olive Garden Copycat Recipes
Make one of these Olive Garden drinks to go with your meal.
Favorite Italian Recipes
Check out more of my easy Italian recipes and the best copycat Olive Garden dishes on CopyKat!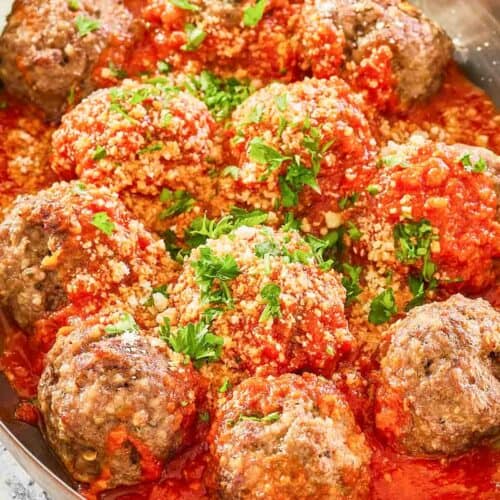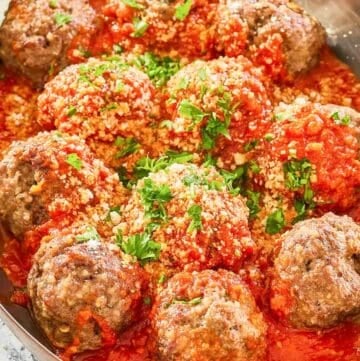 Ingredients
1

pound

ground chuck

1/2

cup

plain breadcrumbs

1/4

cup

milk

1

egg

beaten

1

teaspoon

Italian seasoning

1/2

teaspoon

dried parsley

1/4

teaspoon

red pepper flakes

1/2

teaspoon

onion powder

1/4

teaspoon

granulated garlic

1

teaspoon

salt

1/2

teaspoon

ground black pepper
Instructions
Combine all the ingredients in a medium bowl, and gently mix until all is combined.

Cover and refrigerate for at least 30 minutes.

Preheat the oven to 425°F and line a rimmed baking sheet with foil. Spray the foil with non-stick spray.

Form the meat into 1 1/2–inch balls and place them on the prepared baking sheet.

Bake for 10 to 15 minutes or until the meatballs are browned and cooked through.
Nutrition
Calories:
370
kcal
|
Carbohydrates:
11
g
|
Protein:
23
g
|
Fat:
25
g
|
Saturated Fat:
10
g
|
Polyunsaturated Fat:
1
g
|
Monounsaturated Fat:
11
g
|
Trans Fat:
1
g
|
Cholesterol:
123
mg
|
Sodium:
780
mg
|
Potassium:
388
mg
|
Fiber:
1
g
|
Sugar:
2
g
|
Vitamin A:
131
IU
|
Vitamin C:
0.1
mg
|
Calcium:
81
mg
|
Iron:
3
mg