Who doesn't love a coffee frappuccino? This Copycat Starbucks Caramel Frappuccino may be the best way to enjoy a delicious frozen coffee without going to Starbucks. You can make similar drinks to the famous coffee house at home, and you need only simple ingredients to make this refreshing treat, this is so good, you will think it is the real thing!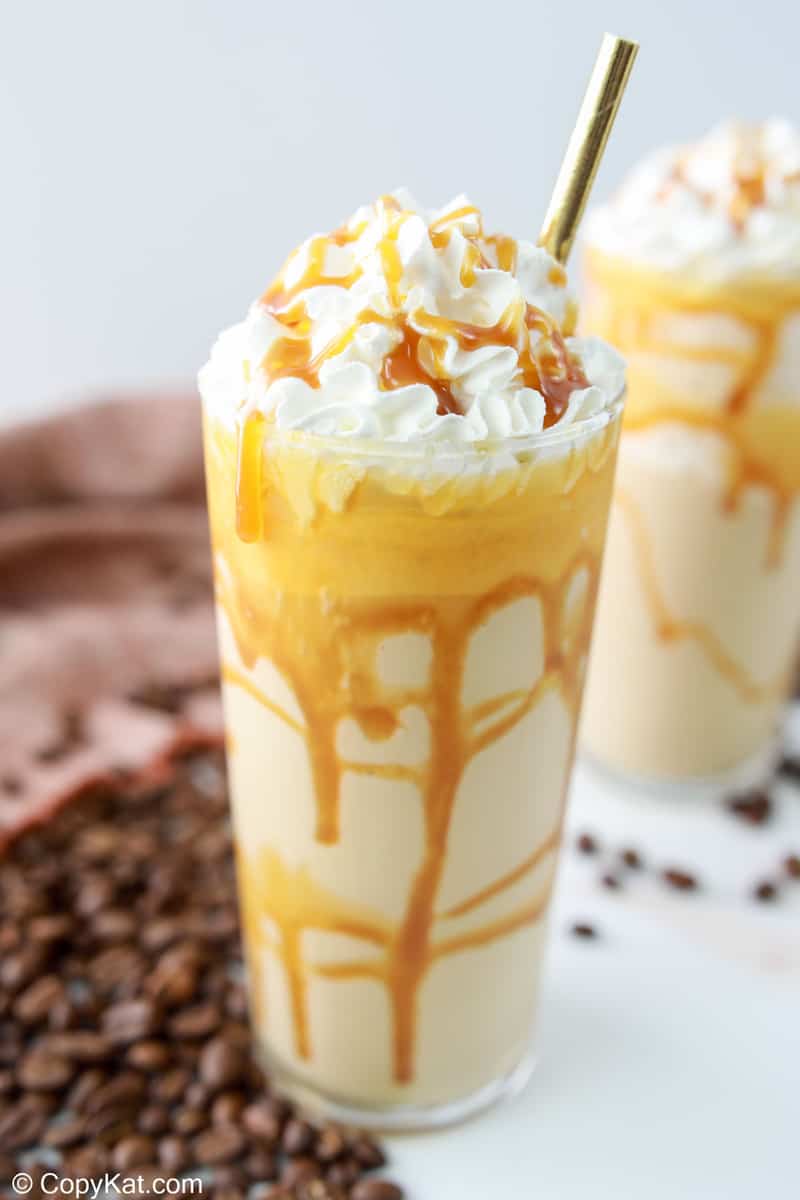 This post contains affiliate links. As an Amazon Associate, I earn from qualifying purchases.
Why This Caramel Frappuccino Recipe Works
I always joke that the sugar in my coffee gets me going way before the caffeine. I like my coffee sweet with just a hint of coffee flavor. To be fair, though, I don't drink coffee often, it's usually a treat. You can also treat yourself by recreating this famous Starbucks taste at home with this homemade frappuccino recipe.
Starbucks caramel drinks are the best, and the caramel frappuccino has been one of the most popular since its introduction. Starbucks' website tells us it's "hands down" the most popular. You have to drink one, and it's easy to understand why!
If you like a strong coffee taste, we suggest using espresso or super strong coffee for this recipe. You could even purchase coffee beans roasted for espresso for a bold flavor. You are going to love this copycat Starbucks caramel frappuccino recipe!
What Is a Starbucks Caramel Frappuccino?
A Starbucks Caramel Frappuccino is made by blending espresso with caramel syrup, milk, and ice until it becomes a chunky, blended drink. A swirl of whipped cream on top gives it a decadent finish, then you must add a drizzle of caramel sauce. Your homemade caramel frappuccino is perfect for a sweet tooth on a hot summer day.
How Does a Starbucks Caramel Frappuccino Taste?
In a word, heavenly! If you like sweet drinks, you will love the buttery caramel-syrupy taste of this frappuccino. And, the taste of the caramel drizzled cream on top will stay with you long after your drink is finished. One thing you won't get is a strong taste of coffee.
How Much Caffeine is in a Starbucks Frappuccino?
Starbucks frappuccinos do not contain as much caffeine as drinking regular coffee. A caramel frappuccino has about 100mg of caffeine compared to 182mg in a regular-sized cup of coffee.
Starbucks Caramel Frappuccino Ingredients
Here's a list of what you need to make your favorite blended beverage: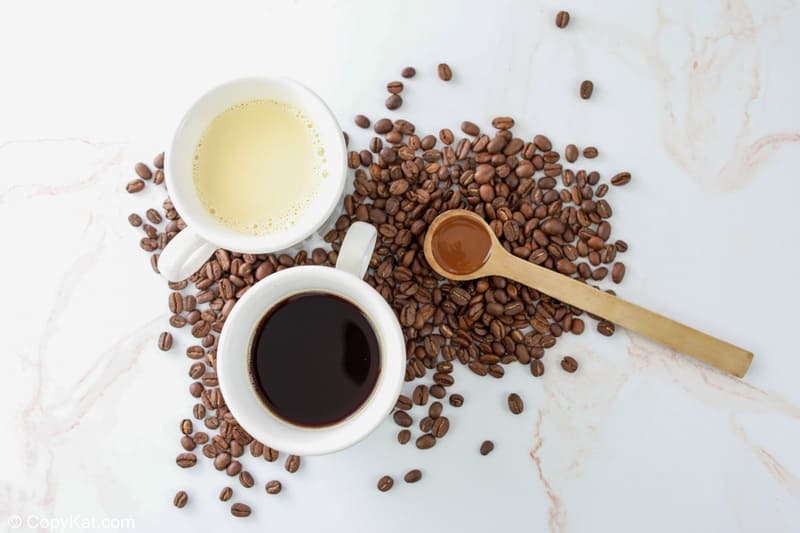 How to Make Starbucks Caramel Frappuccino
You start with a coffee base. Add some caramel for sweet, delicious flavoring, milk, and ice. You blend the ingredients well, and top with whipped cream. And more caramel on top, of course. It's easy to make at home and a perfect way to treat yourself without going through the drive-thru line.
Here are the copycat caramel frappuccino recipe steps:
Put milk and coffee in a blender.
Add caramel syrup and ice. Blend until it has a smooth consistency.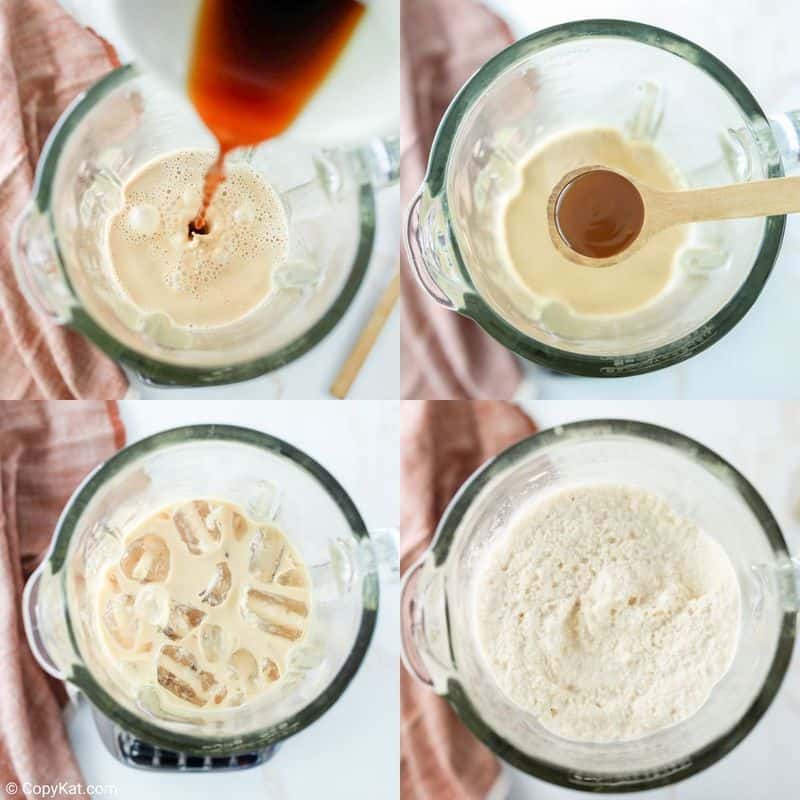 Drizzle caramel sauce around the inside of tall glasses.
Pour the blended frappuccino into the glasses.
Top with whipped cream and caramel sauce. Grab a straw! And enjoy!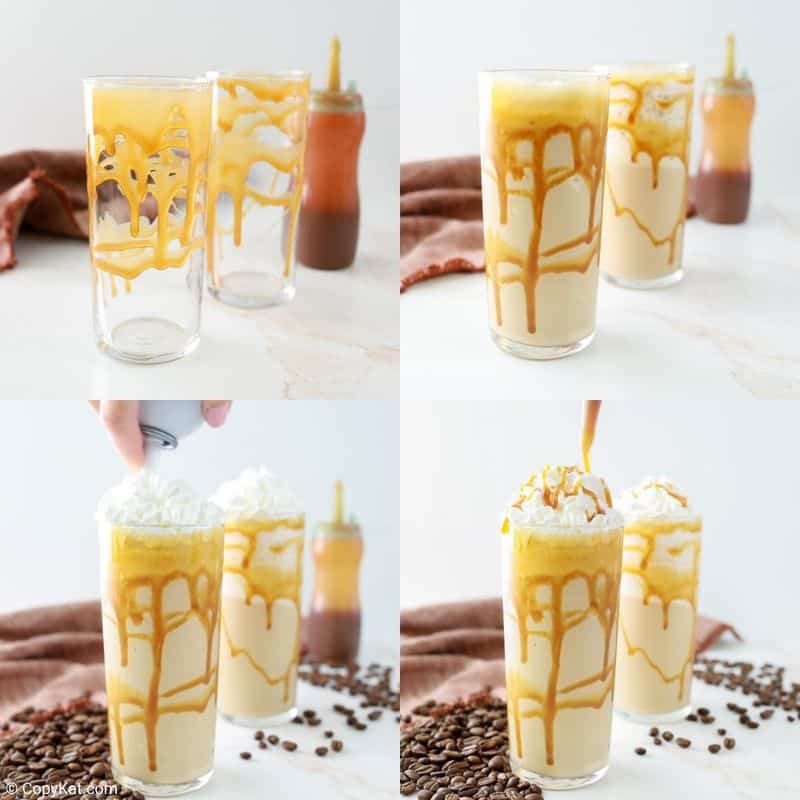 Recipe Notes and Variations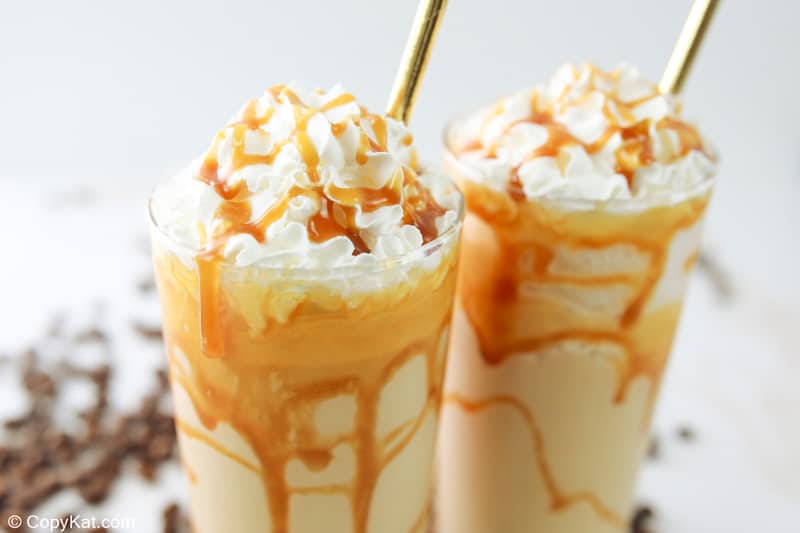 Freezing Your Frappuccino
Why not make extra caramel frappuccino and put the excess beverage in the freezer (minus the topping)? The next time you want a frappuccino, it's ready! – no need to dirty your blender.
All you have to do is allow it to defrost a bit – 1 hour in the fridge, 30 minutes at room temperature, or about 1 minute in the microwave. Top it with whipped topping and caramel sauce just before you're ready to enjoy it.
Making a Stronger Frappuccino
If you want more of a coffee taste in your caramel frappe, you can freeze any leftover coffee in an ice cube tray and use coffee cubes instead of some or all the ice cubes in your frappuccino.
How to Make a Healthier Version of Starbucks Caramel Frappuccino
If you want a lighter version, you can use skim milk. You can also go with almond milk or cashew milk (my new favorite).
Would you like a skinny caramel frappuccino? Sounds too good to be true? Well, think again! You can create a cold, rich, creamy, and satisfying frappe with only around 50 calories per single serving.
Keep in mind that a 16 oz size (Grande) of Starbucks Caramel Frappuccino adds up to approximately 380 calories. Here's what you'll need:
Feel free to add extra whipped topping and caramel. Even if you double the recipe amounts, we're still only talking 100 calories.
How to Make Espresso at Home
If you don't have an espresso maker, you can use instant espresso such as Medaglia D'Oro. Espresso is slightly different than regular drip coffee as the water is steamed through the coffee, making it a little stronger.
You may also consider using a Bialetti Moka Pot which Italians use to make espresso at home and costs under 30 dollars.
I can't wait for you to try this recipe, it is one of my favorite Starbucks recipes. When you make this in your own home you can add extra caramel sauce, and go to town with the caramel drizzle. Best of all you can make this luxurious treat for a fraction of the cost.
Love Starbucks food and drinks? Try these Starbucks copycat recipes!
More Coffee Recipes
Be sure to check out more of my easy drinks and delicious Starbucks drinks to make at home.
Did you make and love this recipe? Give your review below and make sure to share your creations by tagging me on Instagram!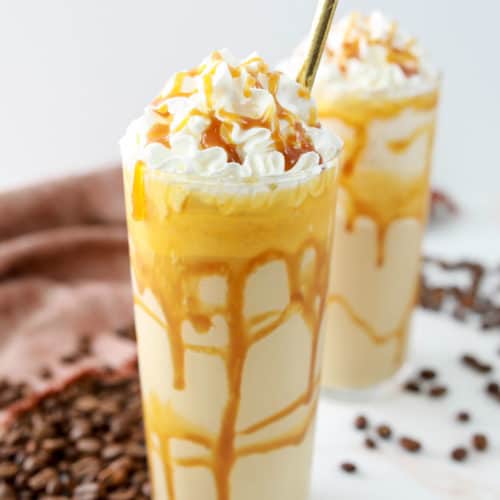 Ingredients
1

cup

coffee

cold or room temperature

1

cup

milk

2

tablespoons

caramel syrup

1-2

cups

ice

more ice if you want it less thick

2

tablespoons

whipped cream

1

tablespoon

caramel sauce

plus more for drizzling in the glass if desired
Instructions
Place coffee and milk in a

blender

.

Add caramel syrup and ice. Blend until smooth.

Drizzle caramel sauce around the inside of a glass if desired.

Pour the blended frappuccino into the glass.

Top with whipped cream and caramel sauce. Enjoy!
Notes
Notes:
I suggest getting some caramel syrup to have on hand. It's great in the caramel frappuccino, but also any coffee drink. Some people think it is sweetened condensed milk that makes this drink thick, but I think it is caramel syrup.
This recipe does not contain any chocolate syrup. If you want to add some, feel free to do so.
You can also use a shot of espresso, instant espresso, instant coffee, cold brew coffee, or use day old coffee like I did!
If you want a lighter version, you can use skim milk. You can also use almond milk or cashew milk.
Nutrition
Calories:
325
kcal
|
Carbohydrates:
52
g
|
Protein:
9
g
|
Fat:
10
g
|
Saturated Fat:
5
g
|
Cholesterol:
31
mg
|
Sodium:
320
mg
|
Potassium:
438
mg
|
Fiber:
0
g
|
Sugar:
13
g
|
Vitamin A:
455
IU
|
Calcium:
308
mg