Bacon Wrapped Stuffed Hatch Chile Peppers are a mouthwatering appetizer! The special flavor of Hatch chilies with a delectable cheese filling and crisp bacon exterior will tantalize your taste buds. Whether you're grilling, baking, or air frying, these stuffed green chilies are perfect for any occasion. It's the ultimate way to enjoy fresh hatch peppers when they are in season.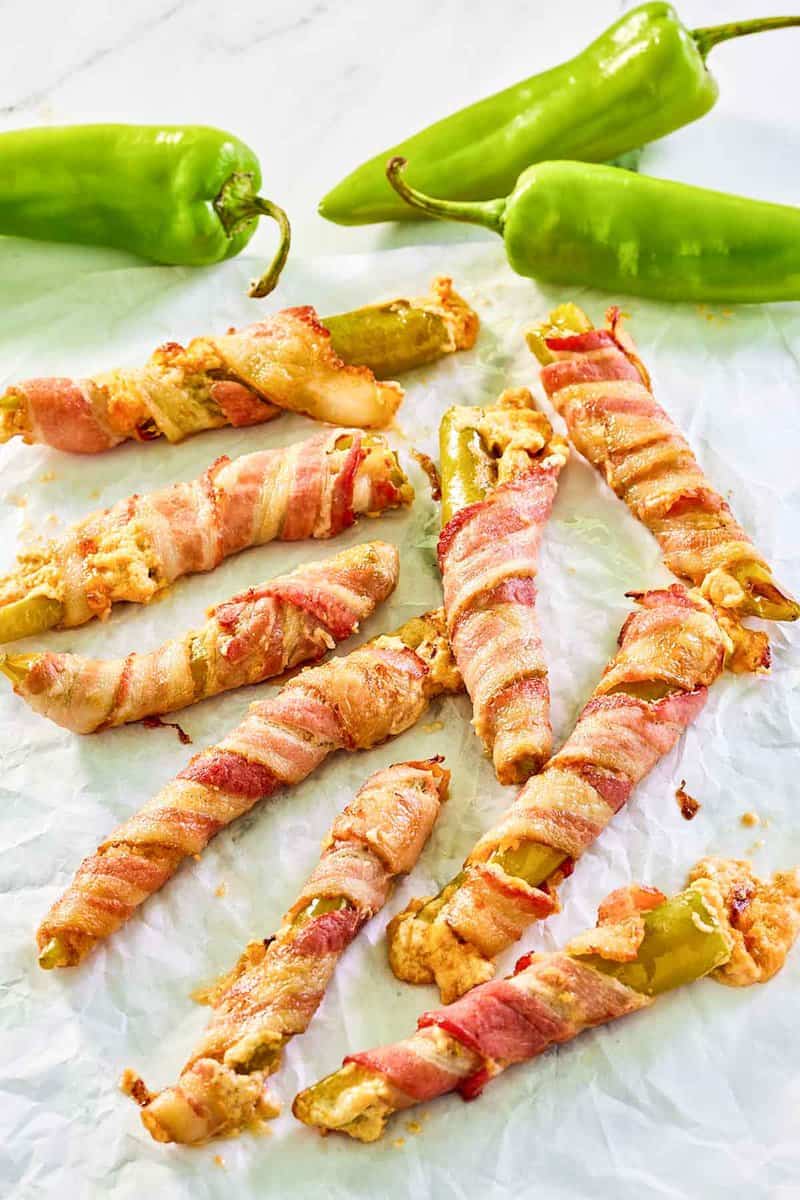 This post contains affiliate links. As an Amazon Associate, I earn from qualifying purchases.
New Mexico Hatch Green Chile Pepper Season
Every August, it is Hatch pepper season, and making stuffed Hatch peppers is one of the best ways to enjoy them. You can choose to grill these stuffed Hatch chilies, bake them in the oven, or cook them in your air fryer.
However, you need to be quick because the season is short! Sure, many stores claim they have Hatch peppers all year long, but the season lasts only about four to six weeks. These peppers can only be grown in Hatch, New Mexico, so if you see something labeled a Hatch pepper and it isn't August or September, chances are that pepper isn't legitimate.
What Are Hatch Chili Peppers?
A Hatch chili is a cousin to the more well-known Anaheim pepper, which was first grown in California. Hatch peppers have a unique flavor and are only grown in the Hatch Valley of New Mexico. These bright green peppers come in many different sizes – most are 4 to 6 inches long, but some get up to over a foot in length.
Both Texas grocers Central Market and H.E.B. ship in tons of peppers during the season and they'll be roasting them in front of the stores. An annual Hatch Chile Festival takes place in the village of Hatch, New Mexico.
How Hot Are Hatch Chilies?
These peppers vary a little in hotness, but on average, they are about three times milder than jalapenos.
Why You Should Try This Stuffed Hatch Chilies Recipe
These bacon-wrapped stuffed Hatch peppers with cream cheese are perfect for any get-together; everyone will love them!
They are wonderfully flavorful, creamy, not too spicy, and really simple to make. These amazing green chili peppers are only available during August and September, so after you fall in love with these bright green delectables, make sure to mark your calendar so you never miss out!
Stuffed Hatch Peppers – Ingredients You Will Need
Here's what's required to make bacon-wrapped stuffed hatch peppers:
Hatch peppers
Cream cheese
Cheddar cheese
Bacon
Worcestershire sauce
Smoked paprika
Garlic salt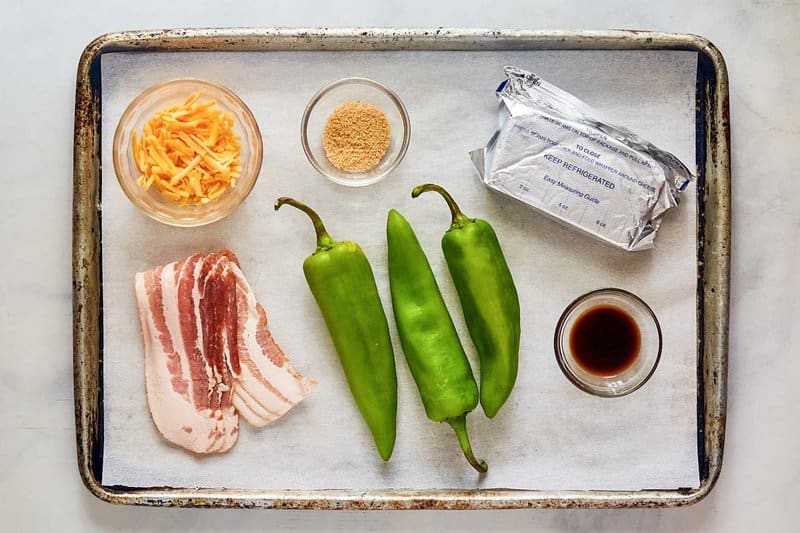 How to Make This Stuffed Hatch Peppers Recipe
Making stuffed green chiles is really easy to do. Here's how to go about it:
Use a sharp knife to cut the peppers horizontally into 2 halves.
Scrape out the seeds and white parts.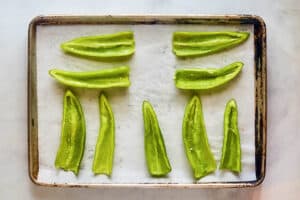 Combine the filling ingredients.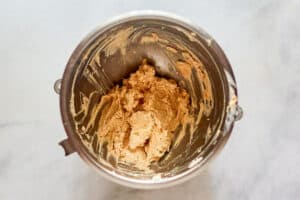 Spread the filling mixture on the pepper halves.
Wrap a slice of bacon tightly around each half.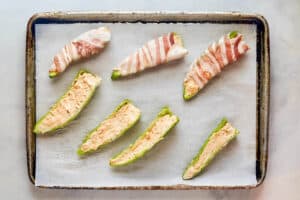 Cook until the peppers are tender and the bacon is browned.
Note: There is no need to blister the chiles and remove the skin before stuffing and wrapping.
Grilling Instructions
Cook over moderate heat for about 20 to 25 minutes on a raised rack. Do not place the peppers directly into the fire.
Oven Instructions
Place the peppers on a wire rack over a baking sheet This allows the peppers to cook evenly. Bake at 350°F for about 20 to 25 minutes.
Air Fryer Instructions
Preheat the air fryer to 390°F. Air fry for about 15 minutes until the pepper is tender and the bacon browned.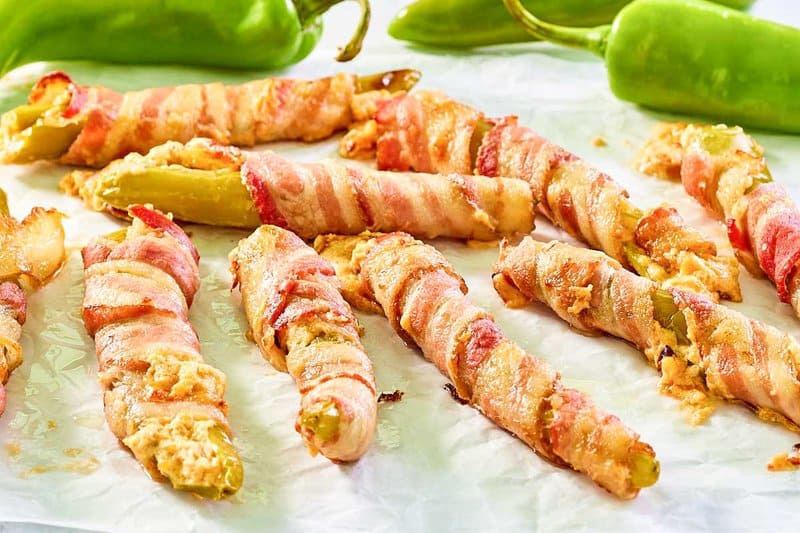 Recipe Variations
If you can't get these tasty Hatch peppers, you can substitute Anaheim peppers. This recipe also works well with poblano peppers. It's easy to customize the filling. Here are a few suggestions:
For a little more dimension, you could add some caramelized onions.
Add in some cooked chicken, pork, ground beef, ground turkey, or sausage (a good way to use up leftovers).
Add 3 to 4 shrimp, depending on the size of the shrimp.
How to Serve Bacon-Wrapped Stuffed Hatch Peppers
These stuffed Hatch peppers cream cheese style are perfect as a starter for many meals. Here are some ideas of what to serve with them:
Other Ways to Use Hatch Chilies
These are mild peppers with a wonderful balance of earthy and buttery flavors that melts perfectly into almost anything, so you can use them in various ways. Here are a few ideas:
How to Store Stuffed Hatch Chilies
Make Ahead: You can prep these up to 48 hours in advance and store them in the refrigerator until ready to cook. You can also freeze them uncooked. When ready to use, allow them to thaw thoroughly before cooking.
Leftovers: If you have leftovers, allow them to cool completely, and store them in an airtight container in the refrigerator for up to 5 days.
Reheat: Place in the air fryer at 350°F for about 5 minutes or in the oven at 350°F for about 10 minutes.
Can't find fresh Hatch peppers? Try these jalapeno recipes instead!
You can also adapt these recipes for Hatch or other peppers.
Popular Bacon-wrapped Recipes
Check out more of my easy appetizer recipes and favorite recipes for summer on CopyKat!
Ingredients
8

Hatch chile peppers

use peppers that are straight, not curved

8

ounces

cream cheese

softened at room temperature

8

ounces

cheddar cheese

shredded

1/2

teaspoon

garlic salt

1

teaspoon

Worcestershire sauce

1/2

teaspoon

smoked paprika

8

ounces

bacon

(16 slices)
Instructions
Wash and dry the peppers with a paper towel. Cut the peppers in half horizontally and use a spoon to scrape out the seeds and white pith.

In a medium bowl, combine the cream cheese, cheddar, garlic salt, Worcestershire sauce, and smoked paprika. Mix well.

Fill the peppers with the cream cheese mixture, evenly distributing the cream cheese among the peppers. Wrap 1 slice of bacon tightly around each pepper.

Cook the peppers in the oven, air fryer, or on the grill.
Oven Instructions
Preheat the oven to 350°F.

Place the peppers on a

wire rack

over a baking sheet and bake for about 20 to 25 minutes.
Air Fryer Instructions
Preheat the air fryer to 390°F.

Place the peppers in the air fryer basket with room between them. You may have to air fry them in batches. Cook for about 15 minutes, until the peppers are tender and the bacon is browned.
Grilling Instructions
Cook over moderate heat for about 20 to 25 minutes. Do not place the peppers directly into the fire; ideally, cook them on a raised rack.
Nutrition
Calories:
354
kcal
|
Carbohydrates:
7
g
|
Protein:
13
g
|
Fat:
30
g
|
Saturated Fat:
15
g
|
Cholesterol:
79
mg
|
Sodium:
611
mg
|
Potassium:
337
mg
|
Fiber:
2
g
|
Sugar:
4
g
|
Vitamin A:
1175
IU
|
Vitamin C:
95.7
mg
|
Calcium:
246
mg
|
Iron:
0.9
mg