Sweetie Pie's Mac and Cheese is a creamy, cheesy, delicious macaroni and cheese from a famous St. Louis soul food eatery! It is hard to turn down a baked and mac cheese recipe like this one. Try it and you'll see what I mean.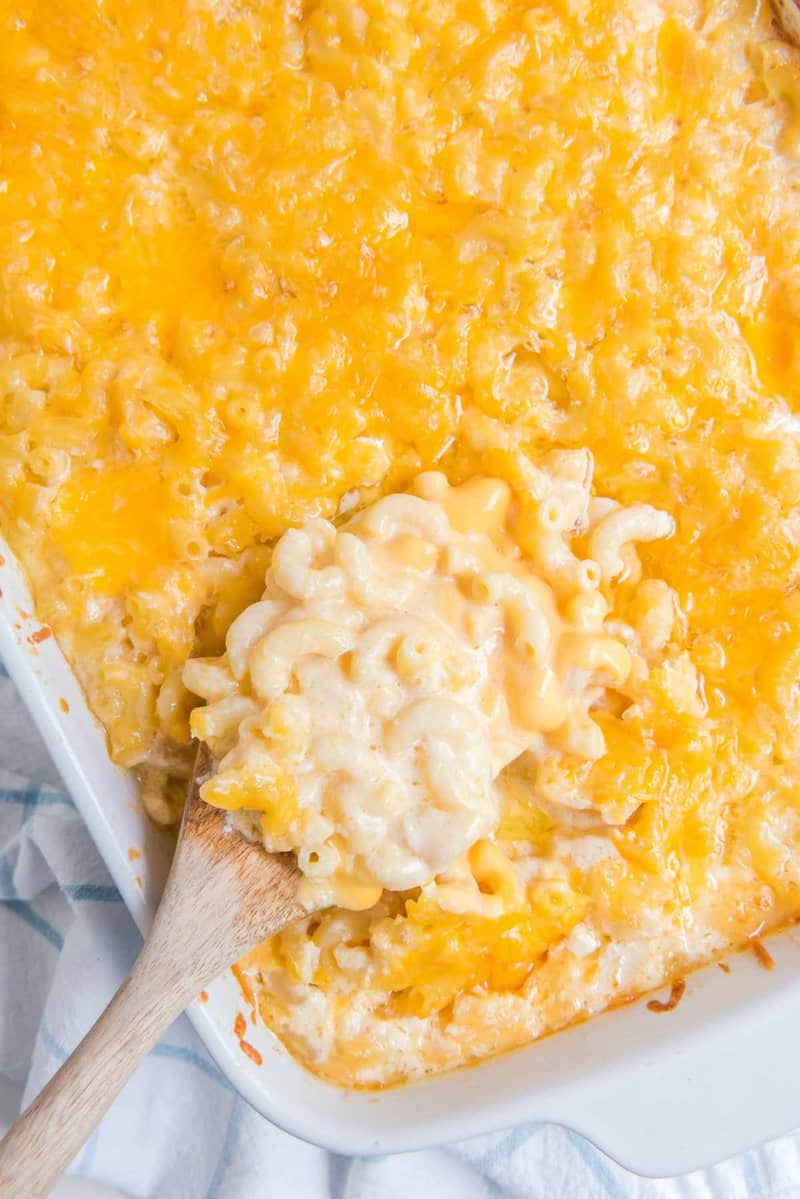 This post contains affiliate links. As an Amazon Associate, I earn from qualifying purchases.
Creamy Macaroni and Cheese
Here's a creamy, cheesy, delicious mac and cheese from a famous St. Louis soul food eatery. People who have eaten this mac and cheese at Sweetie Pie's say it's the best they've ever had.
Not everyone can get to Sweetie Pie's restaurant, but now you can make their mac and cheese at home!
About Sweetie Pie's
The owner of Sweetie Pie's is Robbie Montgomery (known to everyone as Miss Robbie). As the oldest of nine children, she learned to prepare dozens of her mother's classic soul food dishes. One of the dishes they are most down for is their baked mac n cheese.
Robbie led a very wonderful life as a talented vocalist and was a backup singer (an Ikette) for Ike and Tina Turner. While on the road, she often prepared meals for the band on hot plates in hotel rooms. She subsequently toured with other famous musicians.
When she eventually returned to St. Louis, the drive to open a restaurant was overpowering, and Sweetie Pie's was born. Sweetie Pie's has become a St. Louis landmark and a must-visit for anyone looking for delicious comfort food and great service. You can read more about Miss Robbie's inspiring life.
The History of Baked Mac n Cheese
Mac and cheese is so familiar, you've probably never even thought it has a history. As far as the United States is concerned, Thomas Jefferson met up with macaroni in Paris. In 1793, he asked the American ambassador to Paris to buy a machine for making it.
However, the device apparently didn't work out or Jefferson just found it easier to import both macaroni and Parmesan cheese for making dishes at Monticello.
In 1802, Jefferson served "a pie called macaroni" for a state dinner. Since that time, baked mac and cheese has remained a popular dish. You can read a lot more about the history of mac and cheese.
Not Exactly the Original Baked Mac and Cheese Recipe But Just as Good
Once you've had real homemade mac and cheese, the orangy-looking box mix will never be the same! Homemade mac and cheese is always the best.
This copycat recipe is not Sweetie Pie's original, but it's pretty close. Your family will love it and it's perfect to take to a potluck. Everyone will keep asking you how to make it.
Soul Food Mac and Cheese Recipe Ingredients
Here's a list of what you need:
Elbow macaroni pasta
Whole milk
Evaporated milk
Eggs
Butter
American cheese
Colby cheese
Monterey Jack cheese
Sharp Cheddar cheese
Velveeta cheese
Sour cream
Salt
White pepper
Sugar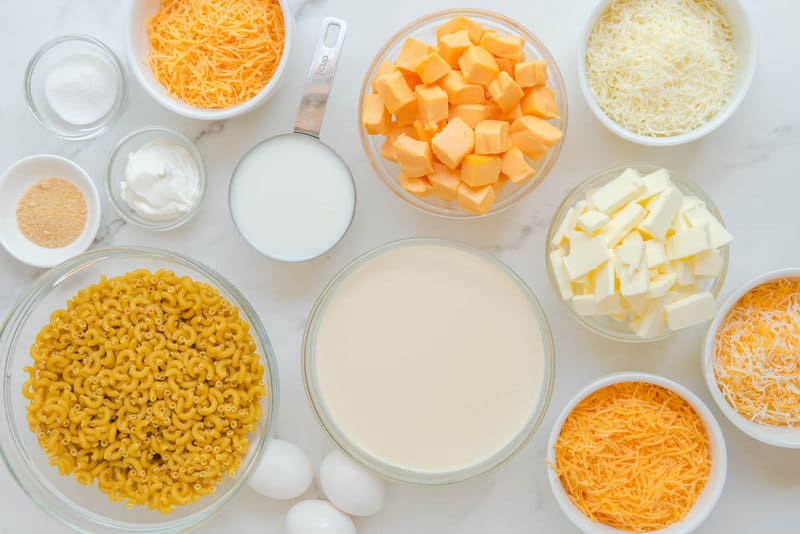 How to Make Sweetie Pie's Macaroni and Cheese
Preheat the oven to 350°F. Spray a 9 x 13-inch casserole dish with cooking spray.
Cook elbow macaroni until tender in a large pot of water according to package al dente directions. Drain and transfer the pasta to the casserole dish.
In a large bowl, pour in whole milk, evaporated milk, and whisk in eggs with a fork until thoroughly combined.
Add the butter, Colby, Monterey Jack, Sharp Cheddar, Sour Cream, and Velveeta cheeses to the macaroni.
Pour the milk and egg mixture over the macaroni.
Season with salt, pepper, and sugar, and stir to combine.
Sprinkle shredded American cheese over the top of the pasta.
Bake at 350°F for 30 to 45 minutes or until the top is light golden brown.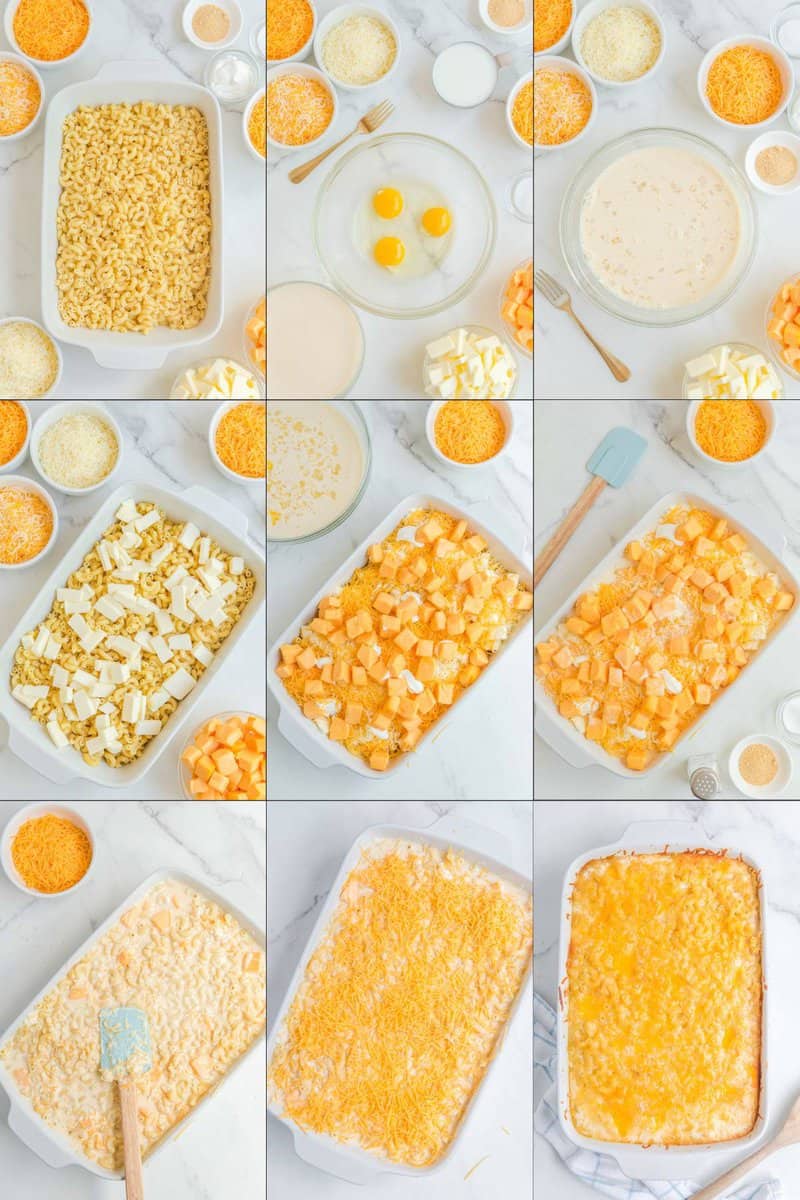 Storing and Reheating Baked Mac n Cheese
Store any leftover mac and cheese in an airtight container in the refrigerator for up to five days.
You may freeze leftover portions in an airtight container or a freezer bag for up to three months.
How to reheat Southern baked mac and cheese with evaporated milk
Small single-sized portions can be reheated in the microwave. If you have a larger portion to reheat, I recommended placing the portion of pasta in a covered dish and reheating at 350°F between 10 and 15 minutes.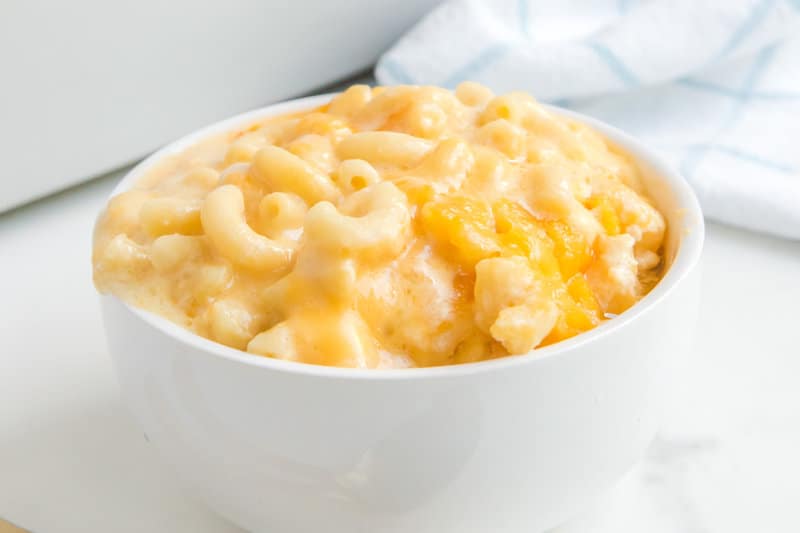 Frequently Asked Questions About Baked Macaroni and Cheese
Can I substitute regular milk for evaporated milk? What is the difference between evaporated milk and regular milk?
This recipe uses both regular milk and evaporated milk. Evaporated milk is canned milk that the water level has been reduced. The flavor difference is a richer flavor. The texture difference is that your final sauce is creamier than it would be with regular milk. I suggest using both types of milk, using just evaporated milk may make the sauce too rich for many of your guests.
Can I use pre-shredded cheese for this recipe or should the cheese be freshly grated?
For when it is important for the cheese to melt I prefer to use freshly grated cheese. Pre shredded cheese has an anti-caking agent in it, and it won't melt as well as cheese as you shred.
Is mac and cheese baked covered or uncovered?
In this recipe the pasta dish is not covered, we want that browned topping, and if you cover the dish, the cheese won't brown.
How do you keep mac and cheese creamy?
This recipe uses evaporated milk to keep the mac and cheese sauce creamy. We don't thicken this sauce with flour, so that helps to keep this creamy.
Can baked mac and cheese be made ahead of time?
I recommend preparing the dish as if you were going to bake it, you could then wrap it in plastic wrap and then bake for up to 24 hours later for best results.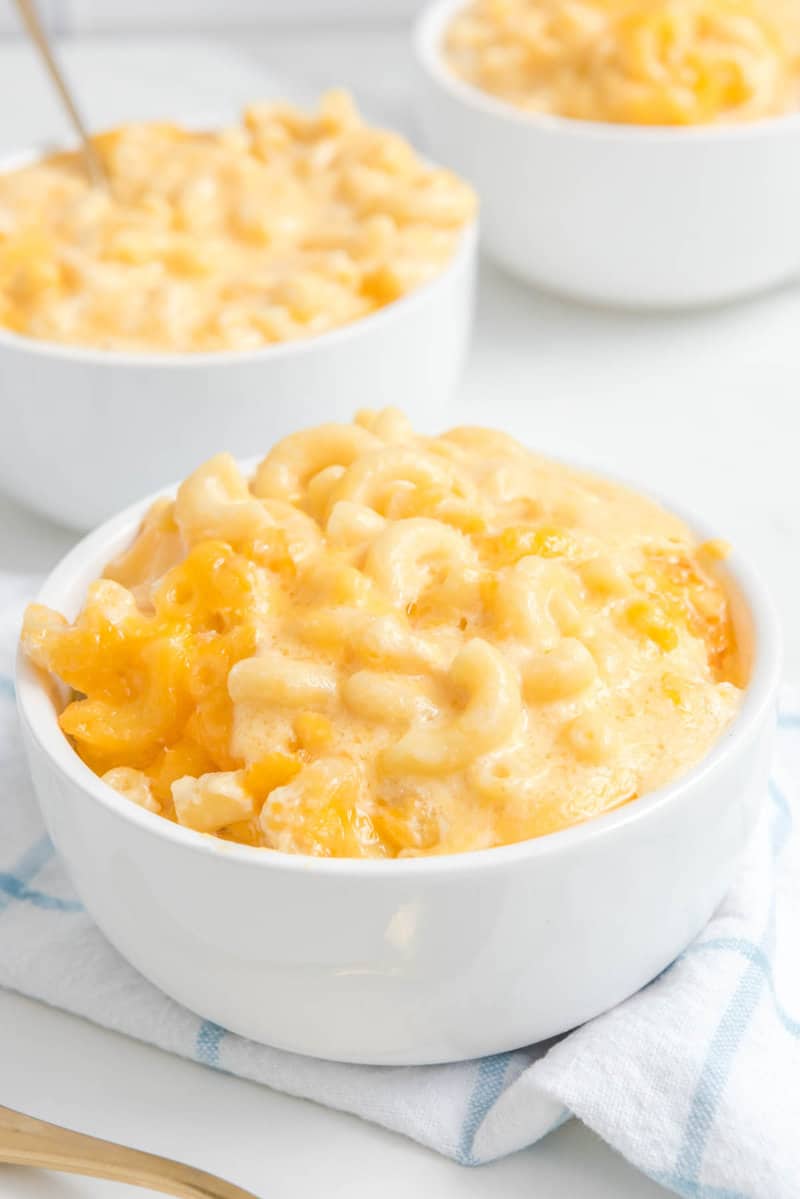 Looking for more mac and cheese recipes? Try these!
Favorite Cheesy Side Dishes
Be sure to check out more of my easy side dish recipes and the best restaurant copycat recipes here on CopyKat.com!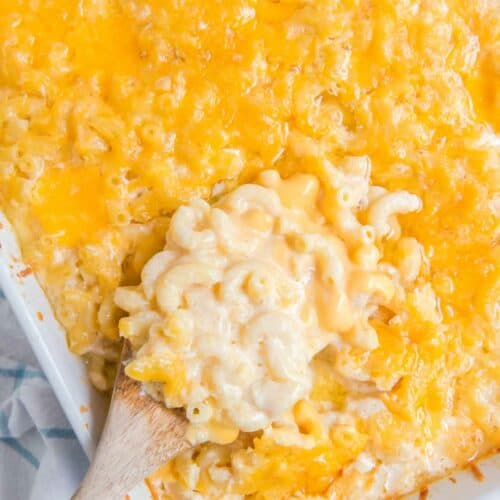 Ingredients
1

pound

elbow macaroni

prepared according to package directions

8

ounces

butter

cut into small pieces

2

tablespoons

sour cream

1/2

pound

Colby cheese

shredded

1/2

pound

Monterey Jack cheese

shredded

1/2

pound

sharp cheddar cheese

shredded

1

pound

Velveeta cheese

cut into small chunks

3

eggs

1

cup

whole milk

24

ounces

evaporated milk

1/2

teaspoon

salt

or to taste

1

tablespoon

white pepper

1

tablespoon

sugar

1

cup

shredded American cheese
Instructions
Preheat the oven to 350°F.

Place the prepared macaroni, butter, and sour cream into a 9×13-inch casserole dish along with the Colby, Monterey Jack, cheddar, and Velveeta cheeses. Mix well.

In a large mixing bowl, whisk the eggs, milk, and evaporated milk until thoroughly combined.

Pour the egg mixture over the pasta and season with salt, white pepper, and sugar. Toss to combine.

Sprinkle the American cheese over the macaroni.

Bake for 30 to 45 minutes, until lightly golden brown.
Nutrition
Calories:
717
kcal
|
Carbohydrates:
41
g
|
Protein:
32
g
|
Fat:
47
g
|
Saturated Fat:
28
g
|
Cholesterol:
182
mg
|
Sodium:
1481
mg
|
Potassium:
414
mg
|
Fiber:
0
g
|
Sugar:
11
g
|
Vitamin A:
1640
IU
|
Vitamin C:
1.2
mg
|
Calcium:
924
mg
|
Iron:
1.4
mg