I personally love the Olive Garden Zuppa Toscana. This sausage and potato soup is one that I crave often. Many of you have wanted the Olive Garden Zuppa Toscana Slow Cooker version, so I want to make sure you have the recipe you want. So here we go.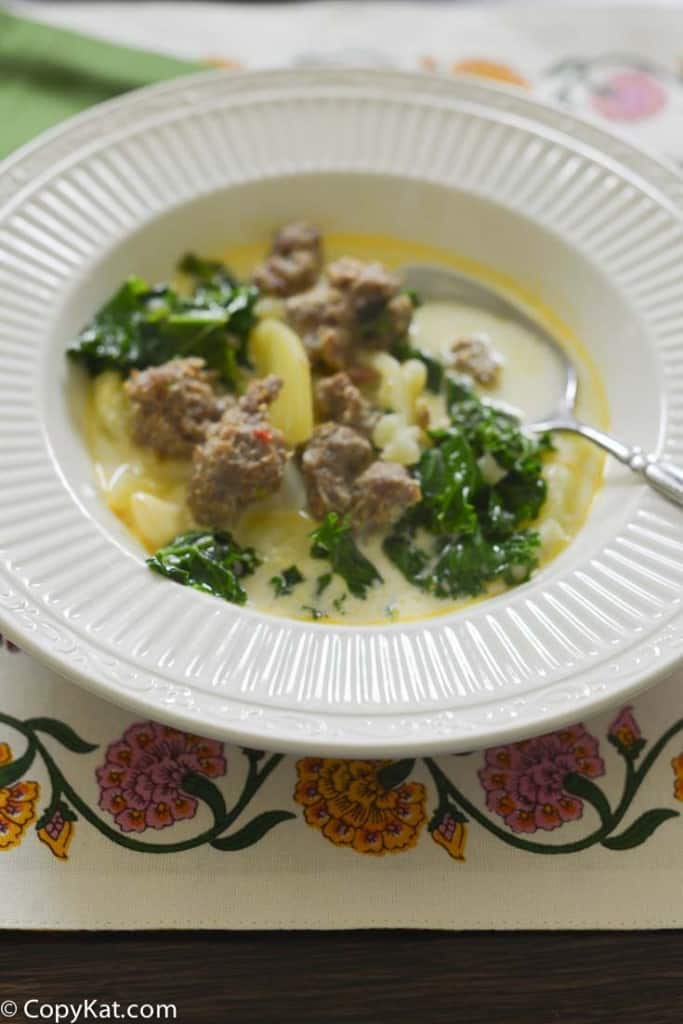 Sometimes we all want a recipe we can quickly toss in our slow cooker, and get about our business. This version of my Olive Garden Zuppa Toscana is easy to put together, so you don't have to stand at the stove, you can go do other things while this soup finishes cooking. We are going to brown to meats in this soup before we put it in the slow cooker. I think this helps to eliminate the excess fat from the sausage and you will get a better flavor by browning these ingredients ahead of time.
Now I have to say that the Olive Garden has changed their recipe from when I originally did this recipe almost 20 years ago. They have removed bacon from the ingredients. I haven't found a bit of bacon in there in awhile. I do go back and recheck recipes from time to time to make sure they haven't changed. I personally like the bacon in there, the smokiness of the bacon adds a very nice touch. So if you want to make it super authentic leave it out. They also used to use sausage links, but they now use sausage not in links. I even have a recipe you might want to try, I can show you how to make homemade Italian sausage if you like.
We are going to add in the half and half (which is half heavy cream and half whole milk) and the kale about 30 minutes to even an hour before serving. You don't want to over cook the kale, and the dairy, in my opinion tastes best when added later in the process.
Now you can serve this up with your favorite salad and breadsticks and have an enjoyable dinner for all.
Drop me a comment down below of copycat recipe you want to see slow cooker style. I'd love to hear what you want.