Cabbage soup is the perfect savory vegetable soup. This recipe for cabbage soup is easy to prepare and makes a perfect warmup for a cold winter day. It's a great dinner starter and also makes a good light lunch. You are going to love all of the flavors this soup has.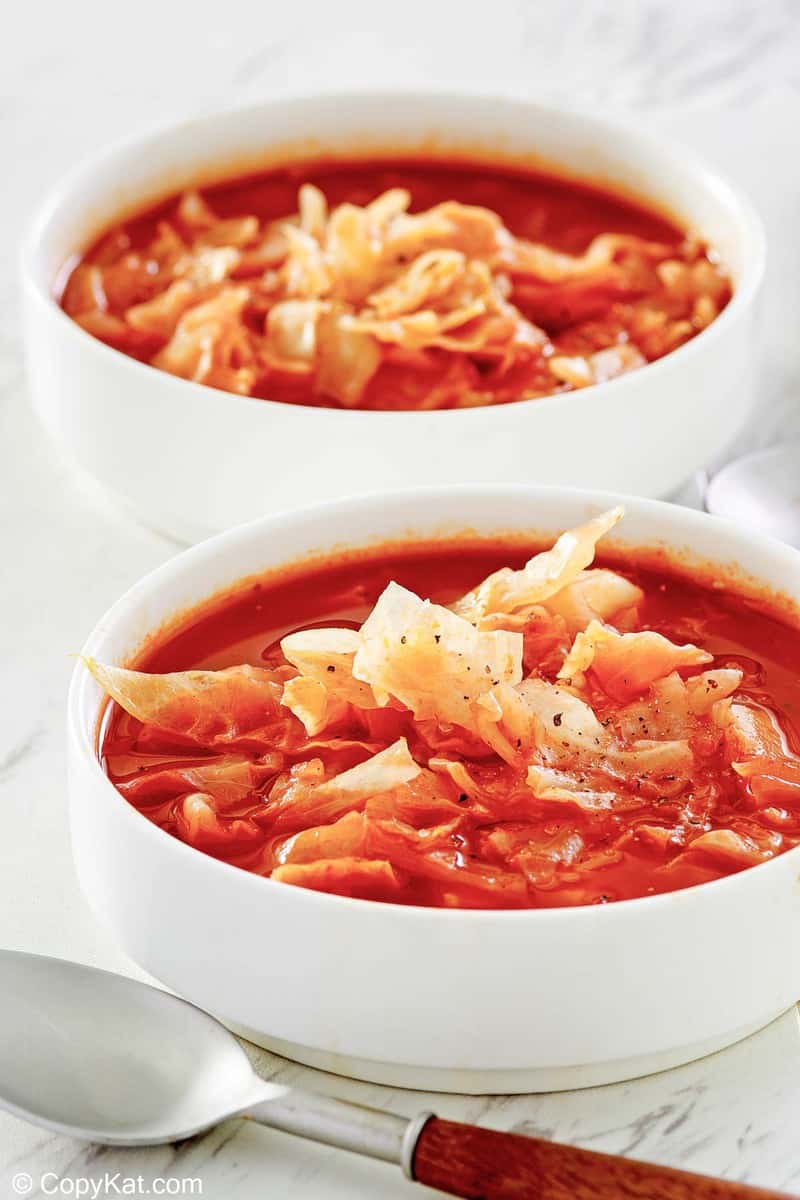 This post contains affiliate links. As an Amazon Associate, I earn from qualifying purchases.
Tomato Cabbage Soup
This recipe includes tomato sauce and tomato puree. Tomato cabbage soup is inspired by the popular cabbage soup diet.
The essence of this diet is eating cabbage soup two to three times per day. The rest of the diet consists of many other veggies and some fruits, and a prescribed amount of other foods such as brown rice and chicken.
However, you don't have to be a fan of this diet to enjoy this tomato cabbage soup; the soup by itself is flavorful and healthy.
Note: This soup is also a keto cabbage soup that is perfect for anyone on a keto diet.
This is a quick, inexpensive, and tasty soup that's great for using up extra vegetables you were wondering what to do with. Serving this with crusty bread makes a great warming meal in wintertime.
Add beef, chicken, or ham for a heartier meal option.
What Makes this Cabbage Soup Recipe so Good
This recipe for cabbage soup might do the impossible – depending on its size, it can use up an entire head of cabbage in one go! No more whittling away at your cabbage for weeks, making slaw, or adding shreds of cabbage to a taco.
Cabbage Trivia: A medium head of cabbage weighs about 2 pounds.
If you are trying to lose weight, this low-calorie cabbage soup is a tasty addition to your diet. It's also super easy to make and easy on your budget.
And, you might just convert the cabbage hater in your family into a cabbage lover. You can also sneak in some other veggies that your veggie hater won't normally eat.
CopyKat Tip: If you have a child who might be squeamish about the texture, you could choose to puree the soup.
Cabbage Soup Ingredients
Here's what you will need to make this delicious old-fashioned cabbage soup.
Green cabbage
Beef soup bone
Tomato sauce
Tomato puree
Sugar
Worcestershire sauce
Salt
Water
Ingredient Substitutions
You can substitute vegetable broth for the beef bone if you want to make a vegetarian soup. You could also use chicken broth if you don't have a handy beef soup bone.
Worcestershire sauce may contain anchovies, be sure to use a vegetarian brand if you want a fully vegetarian cabbage soup.
If you are watching your sugar intake, substitute with a non-sugar sweetener.
How to Make Cabbage Soup
This is a very simple soup to make. If you can cut up cabbage, you can make this soup!
Chop your cabbage into bite-size pieces.
Put all the ingredients in a large pot.
Cook on simmer until the cabbage is very tender.
How to Make Cabbage Soup in a Slow Cooker
Place all the ingredients in a CrockPot or slow cooker and give them a good stir.
Cook on low for eight hours or high for four hours.
Your soup is ready when the vegetables are soft, and your kitchen smells amazing.
How to Make Cabbage Soup in an Instant Pot
Place everything in an Instant Pot and stir.
Lock the lid and set the Instant Pot on high for 10 minutes.
Let the pressure naturally release for 15 to 20 minutes.
Cabbage Soup Recipe Variations
This recipe for keto cabbage soup does not have to remain keto! The recipe is very versatile, and you make it your own. You can also easily turn it into a complete meal by adding some protein. Here are a few ideas.
Add more veggies – green beans, bell peppers, corn, broccoli, carrots, celery, andcauliflower. (For easier prep, use shredded cabbage and frozen vegetables.)
Add some leafy greens – baby kale, spinach, chard. Add them toward the end of cooking time; otherwise, they'll get too mushy.
Spice it up – adding a spoonful of hot sauce, a dash of red pepper flakes, ground black pepper, basil, oregano, fresh parsley or cayenne pepper gives the soup some spice.
If you want more carbs, include 2 cups of cooked white rice or add some potatoes.
Hamburger cabbage soup – Brown 1 1/2 pounds of ground beef and add it to the soup. This also turns it into stuffed cabbage soup.
Add meat for protein – Throw in some ham, Italian pork sausage, turkey sausage, or leftover pieces of rotisserie chicken.
For a vegetarian protein option, use extra firm tofu (cut into cubes) or white beans.
What to Serve with Cabbage Soup
A dollop of sour cream on top or some chopped green onions finishes this cabbage soup off nicely.
Serve your cabbage tomato soup up with some crusty bread, garlic bread, dinner rolls, crackers, biscuits, or breadsticks.
Pair your cabbage soup with a sandwich, salad, or an entrée for a larger meal. It goes well with a chicken salad sandwich or wedge salad.
How to Store Cabbage Soup
This recipe is perfect for making ahead because it stores so well. Your tomato cabbage soup will be fine in the refrigerator for 4 to 5 days when sealed tightly. This tastes better when you store it in the fridge for a day or two before you enjoy the taste of this cabbage soup.
How to Freeze Cabbage Soup
Make a big batch of soup and freeze it for future use. Allow your soup to cool completely before placing it into an airtight container and freezing. It will be good in your freezer for 2 to 3 months.
Still need ways to use up your cabbage? Try these recipes!
More Vegetarian Soup Recipes
Check out more of my easy soup recipes and the best budget-friendly recipes here on CopyKat!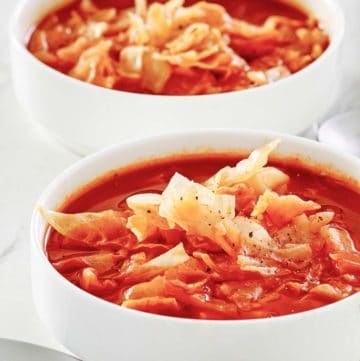 Ingredients
2

pounds

cabbage

1

small

beef soup bone

1/2

cup

sugar

1

tablespoon

salt

1

tablespoon

Worcestershire sauce

2 1/2

cups

tomato sauce

2 1/2

cups

tomato puree

1

gallon

water
Instructions
Chop the cabbage into bite-size pieces.
Stovetop Instructions
Combine all the ingredients in a large pot.

Cook over low heat until the cabbage is very tender.
Instant Pot Instructions
Lock the lid and set the Instant Pot on high for 10 minutes.

Let the pressure release naturally for 15 to 20 minutes.
Slow Cooker Instructions
Place all ingredients in a Crockpot or slow cooker and stir to combine.

Cook on low for 8 hours or high for 4 hours.
Nutrition
Calories:
127
kcal
|
Carbohydrates:
30
g
|
Protein:
3
g
|
Fat:
0
g
|
Saturated Fat:
0
g
|
Cholesterol:
0
mg
|
Sodium:
1361
mg
|
Potassium:
822
mg
|
Fiber:
5
g
|
Sugar:
23
g
|
Vitamin A:
860
IU
|
Vitamin C:
55.9
mg
|
Calcium:
87
mg
|
Iron:
2.9
mg